Ranking the 3 Biggest Improvements for the New York Mets Since Opening Day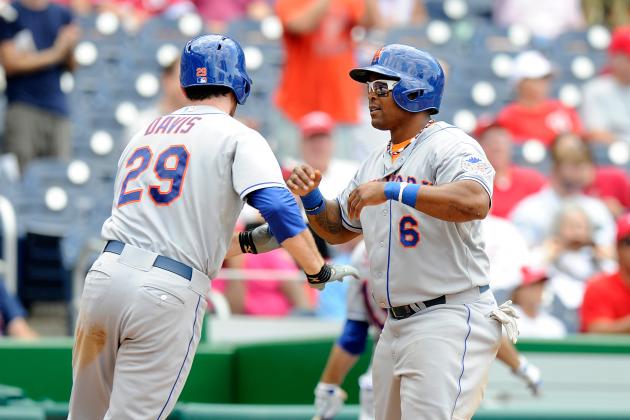 Greg Fiume/Getty Images

Although the New York Mets are sitting in forth place in their division, the team has improved in a number of areas in just over half a season.
As a young squad, there was a sense of unpredictability to the Opening Day team. An optimistic pundit on Opening Day could have feasibly argued that they had the potential to finish in the top half of their division.
But due to the youth and inexperience of the team, one could just as plausibly have argued that they were on their way to a 100-loss season.
Despite the unsurprising overall record of 47-56, the team has made some unexpected improvements that could shape their future.
Here are the biggest improvements of the Mets' starting roster since Opening Day:
Begin Slideshow

»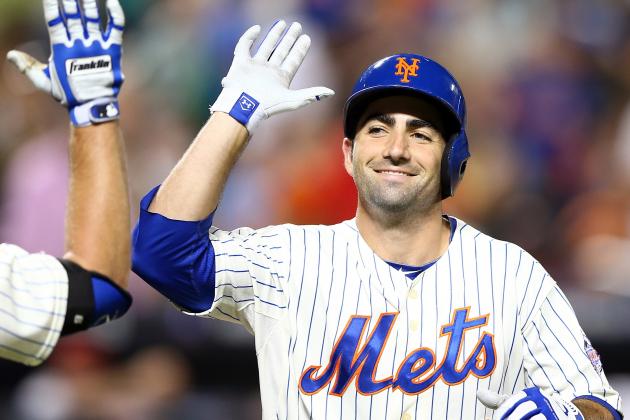 Elsa/Getty Images
The competition at first base between Josh Satin (above) and Ike Davis has produced exponentially better than Davis alone did for the first half of 2013.
In a matter of a month, the Mets have gone from no first basemen to two first basemen.
Ike Davis began 2013 much the same way he began 2012. His confidence plummeted, his batting average plummeted, his strikeout rate skyrocketed and fans let Davis know how unhappy they were with him.
With the team struggling mightily, Davis was among those sent down to Triple-A for a number of younger players. The Mets defended him nonstop, but they finally pulled the trigger and sent him down.
When Davis in particular was sent down, that was the moment the players knew none of their jobs were secure.
Competition can certainly bring the best out of players. The team as a whole became exponentially more competitive.
Josh Satin, Davis' close friend and replacement at first base, instantly contributed offensively. Satin was an on-base machine and was the next dangerous bat the Mets desperately needed.
Currently, Satin has a great .310/.437/.464 line with 10 doubles, one home run, eight RBI and an incredible 19 walks in 84 at-bats.
But Davis also picked up his game as soon as he got to Triple-A.
In 21 minor league games, Davis had an unbelievable .293/.424/.667 line with seven doubles, seven home runs and 13 RBI.
When Davis earned his call-up back to the majors, suddenly the Mets had two in-form first basemen on their team.
Unfortunately, both players appear to have cooled off from their June form.
Interestingly, though, both players still appear to be getting on base at an extraordinary rate.
Satin is hitting just .269 in July, but has drawn 11 walks in 52 at-bats to earn a .397 on-base percentage for the month. Davis is hitting just .232 since his promotion, but he has stopped chasing curveballs and shown great discipline, leading to a .368 on-base percentage in July.
The Mets will likely continue to platoon both players at first base until one cools off noticeably or they find a place for Satin to play. But Davis, in spite of his horrible start, is a guy who hit 32 home runs as a 25-year-old.
Considering how rare that is, both players will likely get many chances at the plate for the rest of the year.
But Mets fans certainly do not forget how poorly Davis played for the first half of the season. While Davis clearly has more work to do, he and Satin are getting on base plenty and producing much more than Davis alone did for much of this season.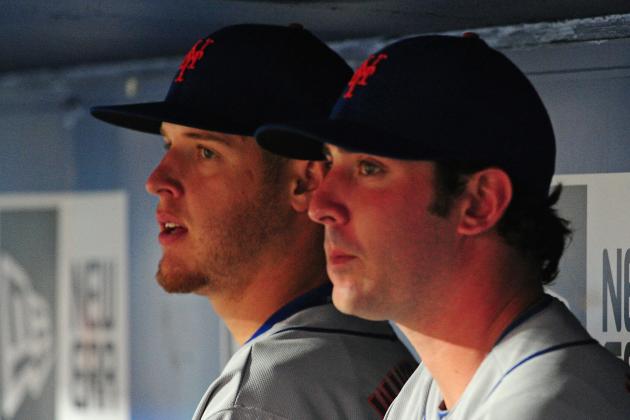 Scott Cunningham/Getty Images
While Zack Wheeler (left) is still a work in progress, he and Matt Harvey represent the incredible youth movement that the Mets' rotation is successfully undertaking for the coming years.
At the beginning of the season, the Mets' rotation was considered extremely weak, and Matt Harvey and Jon Niese were arguably the only respectable pitchers they had.
Now, the rotation is loaded with Cy Young-candidate Harvey, Zack Wheeler, Dillon Gee, Jeremy Hefner, Carlos Torres and Jenrry Mejia. Incredibly, all six starters are performing very well of late. Unfortunately, though, one of them will undeservedly have to make room in the rotation for Niese when he returns from injury.
Nonetheless, the staff deserves nothing but praise this season.
On the whole, the starting pitchers rank 12th in the majors in ERA, despite some early struggles to the season.
Quite simply, the staff has been able to get out of trouble when necessary and keep the Mets in games. The starters have also allowed the fifth-fewest home runs in the majors, as well as the 10th-fewest hits.
Hefner and Gee have raised their games to entirely new levels of late. Although neither one is an ace like Harvey, both pitchers are in the form of their lives right now.
Also, many Mets fans are quickly becoming aware of the plethora of high-ceiling pitchers in the current farm system. Guys like Noah Syndergaard and Rafael Montero already project to be above-average starting pitchers in the majors. Syndergaard in particular is already showing superstar potential and command at a very young age.
The Mets will employ a six-man rotation for the rest of 2013. This is in part to gain more experience for younger starters, but also to save the prized arms of Harvey and Wheeler for the rest of the year and beyond.
By 2014, though, Mets fans should finally get to see a majority of these great young pitchers in the farm system. In just a year or two, the Mets could potentially boast one of the best rotations in baseball.
And based on the superb track record of this year's current rotation, that goal does not seem too unrealistic.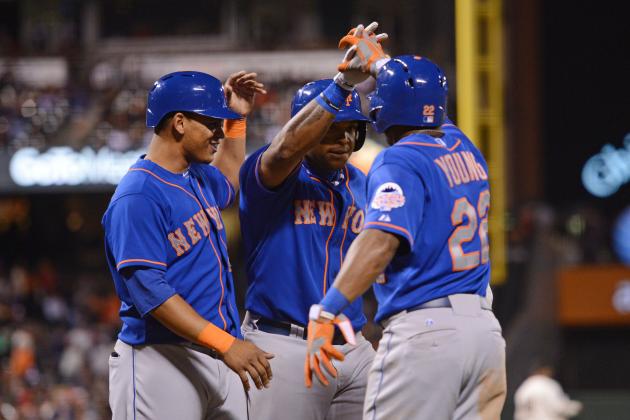 Kyle Terada-USA TODAY Sports
Guys like Eric Young Jr. (right), Marlon Byrd (middle) and Juan Lagares (left) have helped the Mets' outfield go from a laughingstock to a fast, dynamic and productive group.
On Opening Day, Lucas Duda was expected to carry the load offensively for an outfield that was considered a laughingstock.
Now, there may not even be room for Duda in the outfield when he returns from a rehab assignment.
The Opening Day outfield of Duda, Collin Cowgill and Marlon Byrd has become a dynamic and productive group with Byrd, Eric Young Jr. and Juan Lagares. In fact, Cowgill is not even on the team anymore.
The 35-year-old Byrd is having a resurgent season, hitting .280 with 17 doubles, 17 home runs and 60 RBI. Young, acquired from the Colorado Rockies for Collin McHugh, has quickly become the dangerous leadoff hitter the Mets have long coveted. And Lagares is playing Gold Glove-caliber defense in center field while showing rapid improvement on offense.
As for Duda, he was in a minor slump before he strained the intercostal muscle in his left side. But the 27-year-old still has an impressive .353 on-base percentage, 13 doubles and 11 home runs in just 68 games.
Furthermore, if Ike Davis can hit at all like he did in the second half of 2012, the Mets will need to find a place for Josh Satin to play. Since Daniel Murphy and David Wright are manning his two best positions, he may even get thrown into a corner outfield spot if the Mets need his bat that much.
Suddenly, a position of desperate need on Opening Day is now perhaps a strength of the Mets. The poster-child of this quick turnaround is Duda, who went from the best outfielder on the team to possibly the fourth or fifth outfielder.
The Mets finally have some competition, stability and production in the outfield, and it will be interesting to see who establishes themselves the most down the stretch.
Stats and/or info via ESPN.com, mlb.com, baseball-reference.com