2013 MLB Trade Deadline: Key Moves Houston Astros Could and Should Make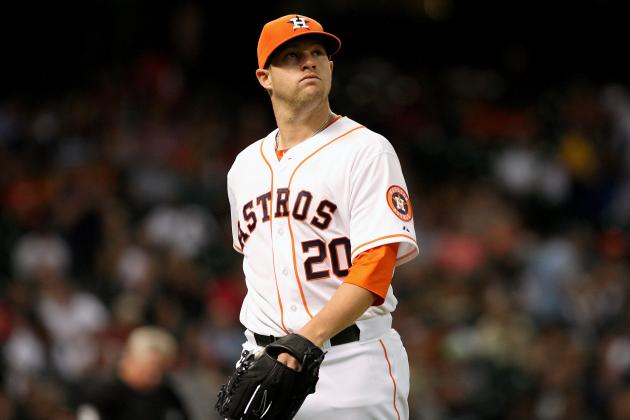 Troy Taormina-USA TODAY Sports
Bud Norris could be on his way out of Houston as the Astros' best trade bait.
As the deadline approaches, the Houston Astros will be busy shipping off any player that has trade value. The Astros have been aggressive sellers for the past few seasons, and this year is no different.
The Astros have a small handful of players on the team that could be dealt. Houston will be looking to deal any valuable players that are not a part of the team's future.
The Astros already struck a deal with the Tigers, relinquishing closer Jose Veras for 19-year-old outfielder Danry Vasquez and another player to be named later. Vasquez was the No. 4 prospect for Detroit, and now is the No. 16 prospect on the Astros' list.
Houston's plan is to continue to stockpile prospects as they rebuild for the future. The Astros do not plan on contending for a few more years, and will be looking to acquire prospects that can help the team out down the road.
With certain players such as ace Bud Norris not a part of the future plans, the Astros should try and make some deals at the deadline to bring in more talented prospects.
Begin Slideshow

»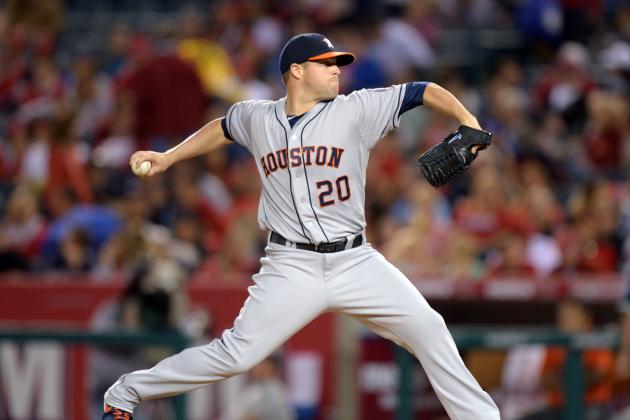 USA TODAY Sports
Norris has been the ace of the Astros' rotation this season, and he could help a lot of teams trying to make a playoff run.
Bud Norris has been the Astros' best pitcher this season. He is 6-9 this year with a 3.93 ERA, but he has good stuff. His stats don't tell the whole story because he has been stuck on a bad team. He would be a great addition to any contender.
Rumors have been swirling around the clubhouse after Norris was scratched from his scheduled start Tuesday night.
There are a number of potential suitors for Norris, among them Pittsburgh and Baltimore. The Pirates are unwilling to part ways with their No. 2 prospect, outfielder Gregory Polanco, but the Astros are also interested in pitcher Tyler Glasnow, the No. 7 prospect.
Houston starts a series with the Orioles in Baltimore Tuesday night, and Norris may wind up in Baltimore for good.
Norris is as good as gone, but the Astros will have a high asking price for their ace. He has been the team's best starter and his departure will create a tough void for it to fill.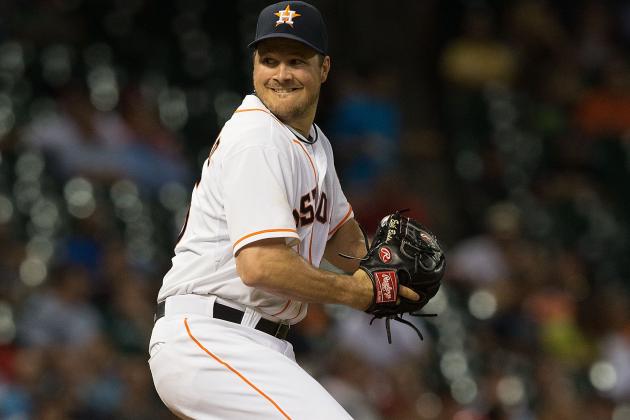 Bob Levey/Getty Images
Bedard has proven himself to be a consistent starter that could help out a team in need of a starting pitcher.
Erik Bedard has had a decent year in Houston. He is 3-8 with a 4.28 ERA, but his last few starts have been much more impressive. He carried a no-hitter into the seventh inning two weeks ago against Seattle, in which he questionably removed himself from the game.
Bedard is coming off from a number of operations on his shoulder, but he is not a huge risk. He hasn't had any injury problems this year because he has watched his pitch-count very closely.
There are a handful of teams that could use a lefty pitcher like Bedard. The Astros have no need for Bedard down the road, and should try and get any value they can for the southpaw.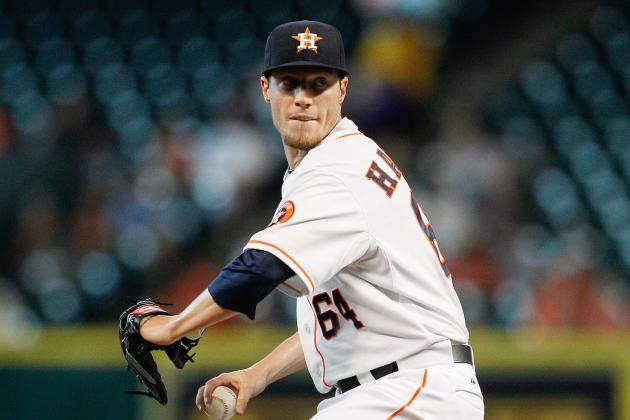 Bob Levey/Getty Images
After a great campaign in 2012, Harrell has struggled this season.
Neither Lucas Harrell nor Wesley Wright are having good seasons for the Astros.
Harrell started the year as a starter for the Astros, but has been demoted to the bullpen for his recent struggles. After winning 11 games with a 3.76 ERA last year as one of the Astros' most dependable starters, he has been a disappointment so far this year.
Harrell has posted a 5.17 ERA this year which has led to his 5-10 record. He has not been a happy camper in the clubhouse throughout this frustrating season.
Wright has been in the Astros' bullpen for half a dozen years now. The lefty specialist is 0-4 with a 4.30 ERA this season.
Neither Harrell nor Wright will bring in top prospects, but it's worth a shot at trading the vets with the hopes of getting something in return. Harrell and Wright are not a part of the Astros' plans for the future, and perhaps the Astros can get lucky and get a decent prospect in return.
At this point, it can't hurt giving up these two guys and hoping for the best.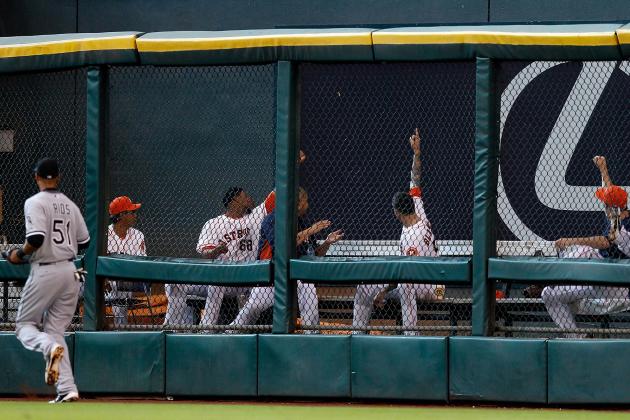 Bob Levey/Getty Images
The Astros' bullpen has been abysmal this season.
The Astros have several areas where there is room for improvement. They are set for the near future at some positions, but others are vacant and for the taking.
The middle infield is set with Jose Altuve and Jonathan Villar. Catcher is taken by Jason Castro, and consider third base a lock with Matt Dominguez. Pretty much every other position is a need for the Houston lineup.
The Astros have been stockpiling outfielders. They acquired outfielder Danry Vasquez in a trade on Monday to add to their list of outfielders developing in the minors.
The biggest need for the Astros, however, is pitching.
More specifically, Houston is desperate for relievers to help out their pathetic bullpen. The Astros bullpen has the most losses and the highest ERA in the entire league.
Now that closer Jose Veras is in Detroit, the Astros' bullpen is barren. They need all the help they can get, and should look to acquire some talented prospects to help fix that problem.