MLB front offices are buzzing with activity as the non-waiver trade deadline, which is set for 4 p.m. ET on Wednesday, July 31, is fast approaching.
Houston Astros pitcher Bud Norris, Philadelphia Phillies infielder Michael Young and San Francisco Giants outfielder Hunter Pence are among the hottest names on the market, and there is good reason to believe at least two of them will be traded before the deadline.
Making a trade is much more complex than most of us can imagine.
General managers must balance their teams' present circumstances with the future, and the consequences for making a bad deal can be devastating.
But with the playoffs looming, the pressure to win now can be overwhelming.
With that in mind, here's a closer look at the buzz surrounding Norris, Young and Pence on the eve of the trade deadline.
Bud Norris Could Be Headed to Pittsburgh or Baltimore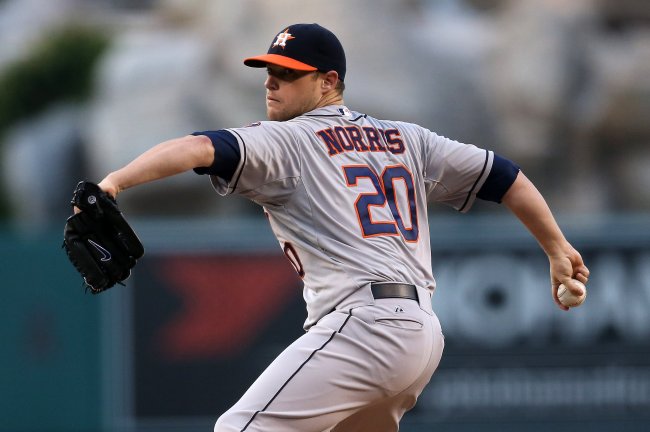 Stephen Dunn/Getty Images
Norris appears to have played his last game with the Astros.
He's been scratched from the starting lineup for Tuesday night's game against the Baltimore Orioles, as noted by the team's official Twitter account:
RHP Lucas Harrell will start in place of RHP Bud Norris tonight in Baltimore.

— Houston Astros (@astros) July 30, 2013
While we don't yet know where he's headed, Norris won't be headed to San Francisco, according Henry Schulman of the San Francisco Chronicle:
If Bud Norris has been traded, it's not the #sfgiants.

— Henry Schulman (@hankschulman) July 30, 2013
Three teams are pursuing Norris, as noted by Astros beat writer Brian McTaggart, who specifically mentions Baltimore as a team seriously interested in the starting pitcher:
Orioles among three teams pursuing Norris, who was scratched by #Astros. http://t.co/qYpdjQWK4f

— Brian McTaggart (@brianmctaggart) July 30, 2013
Jeff Passan of Yahoo! Sports is hearing from his sources that Norris is likely to be traded Tuesday and could be headed to Pittsburgh:
Sources: Bud Norris very likely to be dealt today, and Pittsburgh could be landing spot. Package built around Tyler Glasnow makes sense.

— Jeff Passan (@JeffPassan) July 30, 2013
But Danny Knobler of CBS Sports, while he doesn't refute the rumors, says that the Astros are not close to making a deal with any team:
We'll see what happens with Norris, but I'm told Astros have no trade even close with anyone as of now.

— Danny Knobler (@DannyKnoblerCBS) July 30, 2013
Clearly, Norris is being hotly pursued, but at this point it's safe to say nobody really knows where he'll finish the 2013 season.
Michael Young's Replacement Already Called Up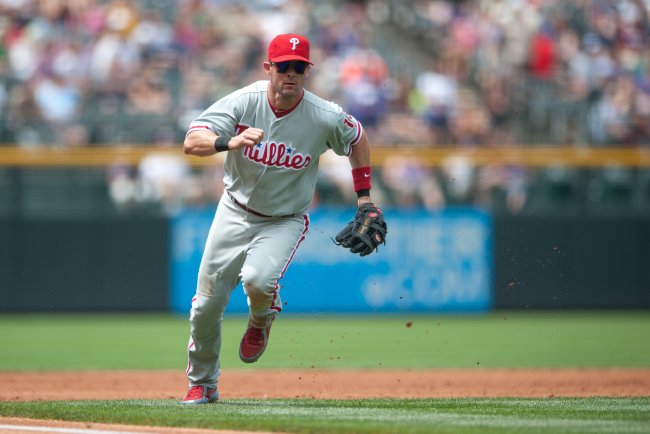 Dustin Bradford/Getty Images
The Phillies are seven games under .500 and 11.5 games behind the Atlanta Braves in the NL East. The playoffs appear to be out of reach at this point, and Young was one of the players recently put up on the trade block, as noted by ESPN's Buster Olney:
PHI has reached out to other teams to let other teams know that players are available, including Michael Young. Cliff Lee not on the list.

— Buster Olney (@Buster_ESPN) July 28, 2013
One team that was linked to the third baseman soon thereafter was the Texas Rangers, but those rumors were quickly squashed by T.R. Sullivan of MLB.com: "The Rangers are not planning to bring back Michael Young. Major League sources said a trade for Young between the Phillies and the Rangers is not going to happen."
Young has a no-trade clause in his contract, however, and he will reportedly only sign off on a trade that would send him back to Texas, as noted by Ken Rosenthal of Fox Sports:
Sources: #Phillies' Michael Young only approve trade to #Rangers. Has full no-trade clause.

— Ken Rosenthal (@Ken_Rosenthal) July 30, 2013
This revelation seemed to indicate that Young couldn't be moved, but a development Tuesday paints a different picture.
The Phillies will reportedly call up third baseman Cody Asche from Triple-A Lehigh Valley, which indicates the team is preparing for Young's departure, as noted by Passan:
Source: Phillies plan on calling up 3B Cody Asche. Points to Michael Young being traded today.

— Jeff Passan (@JeffPassan) July 30, 2013
Either Texas has changed its tune about Young or Young has changed his tune about where he's willing to be traded. One way or the other, it appears his time in Philly is at an end.
Hunter Pence Likely Isn't Going Anywhere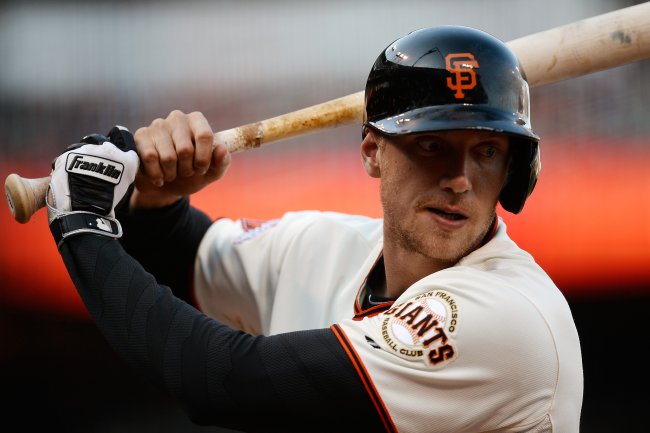 Thearon W. Henderson/Getty Images
As the Giants continue to struggle, buzz has continued to surround Pence—a solid outfielder with decent power, veteran leadership and a knack for making big plays during key moments in games.
The Giants recently made it clear he wasn't necessarily on the trade block. However, Andrew Baggarly of CSNBayArea.com states that "while the Giants are not shopping Pence, they'll answer the phone—especially if a contender is willing to give up a controllable starting pitcher that they'd feel good about putting on the mound every fifth day."
While this season has been a bitter disappointment for San Francisco and its fans, the franchise isn't ready to throw in the towel just yet.
The Giants won't let Pence go without getting a "serious haul" in return, as noted by Schulman:
Also, from what I hear, #sfgiants are not close on any deal for Pence or Lincecum, not motivated to move them for less than a serious haul.

— Henry Schulman (@hankschulman) July 30, 2013
Essentially, the Giants are telling the rest of the league that Pence is not for sale, but if an organization wants to pay more than he's worth, it can feel free to make an offer.
Follow me on Twitter @JesseReed78