James Anderson Turns 31: His England Career and Projecting His Test Wicket Tally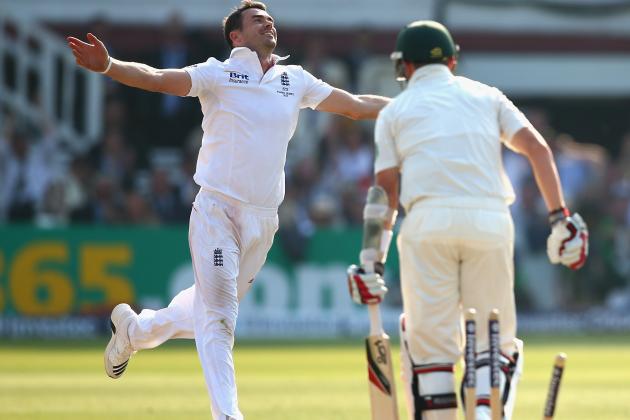 Ryan Pierse/Getty Images

It might feel as if he's been around forever, but James Anderson only celebrates his 31st birthday today.
The England seamer made his Test debut 11 years ago and, after an up-and-down start to life as an international cricketer, he has now developed into one of the country's great bowlers.
In good health and relatively free from injuries, Anderson could yet have a few years at the top level left in him, in which time he is expected to sail past Ian Botham's record of 383 Test wickets.
How many will he end up with? To try to predict that, let's take a look at his year-by-year statistics.
Begin Slideshow

»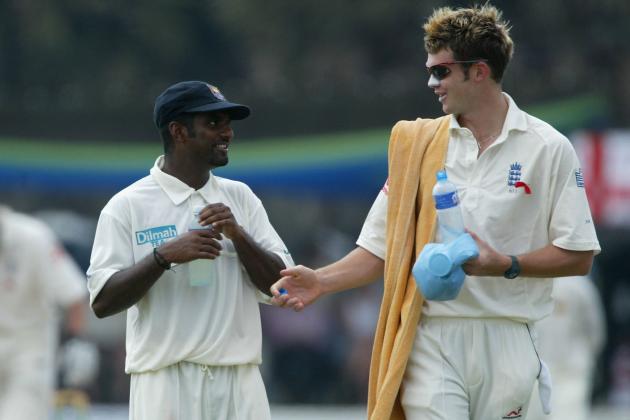 Stu Forster/Getty Images

James Anderson in 2003
8 Tests, 26 wickets at 34.84
Having announced himself as a rising star in the 2002-3 Cricket World Cup, Anderson makes his Test debut in the summer of 2003.
He takes a five-wicket haul in his first Test against Zimbabwe, although his form dips in the winter when he goes wicketless in his first Test abroad in Sri Lanka.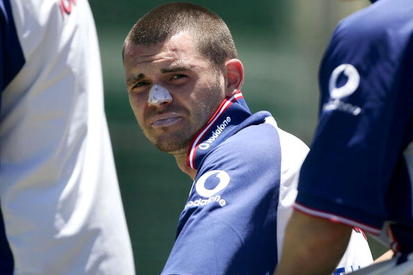 Paul Gilham/Getty Images

James Anderson in 2004:
3 Tests, 7 wickets at 31.28
Cumulative: 11 Tests, 33 wickets at 34.09
Anderson comes back into the England team in the summer, but makes little impression in the home series against the West Indies. He travels for the 2004-5 series in South Africa, but by now has been relegated to a squad member.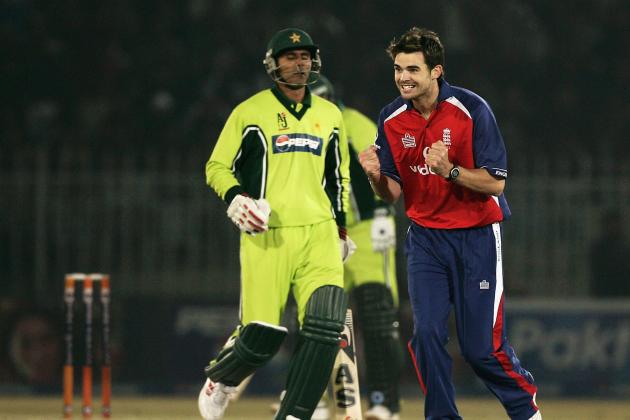 Paul Gilham/Getty Images

James Anderson in 2005:
1 Test, 2 wickets at 74.50
Cumulative: 12 Tests, 35 wickets at 36.40
Anderson is dropped in 2005 as his action is remodelled by bowling coach Troy Cooley and his confidence takes a dip. As England win a famous Ashes series, Anderson is a forgotten man this year. His one match in South Africa is a disappointment, but he is still used by England in ODI cricket.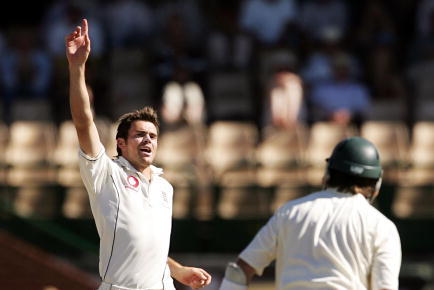 Mark Dadswell/Getty Images

James Anderson in 2006:
3 Tests, 8 wickets at 47.75
Cumulative: 15 Tests, 43 wickets at 38.51
A year that looks unspectacular on paper, but it's one that opens the door again for Anderson at Test level. England have fallen away from the heights of 2005 and Simon Jones' injury problems mean a bowling slot is up for grabs. Anderson plays the final three Tests of the 2006-7 Ashes series in Australia, which England lose 5-0.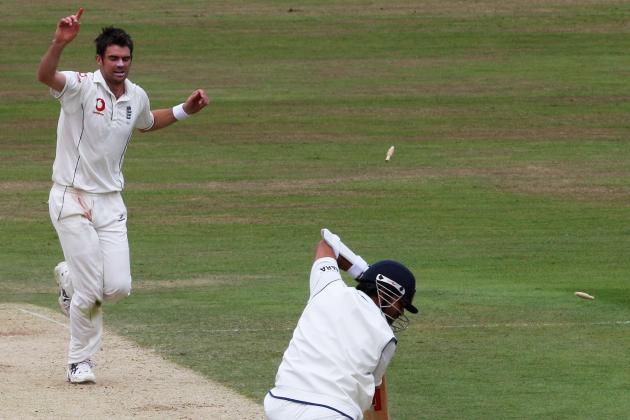 Hamish Blair/Getty Images

James Anderson in 2007:
5 Tests, 19 wickets at 40.78
Cumulative: 15 Tests, 62 wickets at 39.20
Peter Moores replaces Duncan Fletcher as England coach after the team struggle at the 2007 World Cup. Anderson opens the bowling alongside Ryan Sidebottom against India and takes a career-best 5-42 at Lord's. But while he shows he can be devastating when on form, Anderson also struggles for consistency and his average worsens.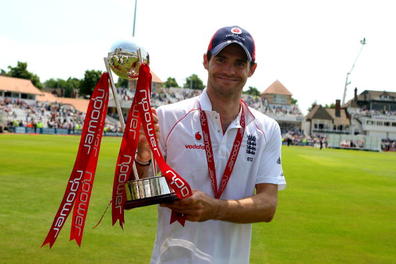 Stu Forster/Getty Images

James Anderson in 2008:
11 Tests, 46 wickets at 29.84
Cumulative: 31 Tests, 108 wickets at 35.22
Anderson finally becomes a first-choice England player. He shines against New Zealand in the summer and plays the full series against South Africa and India. The team goes through turmoil, however, when Michael Vaughan resigns as captain mid-series. Kevin Pietersen takes over but by the time the year is out, both Pietersen and coach Peter Moores have lost their roles.
Pool/Getty Images

James Anderson in 2009:
13 Tests, 40 wickets at 33.87
Cumulative: 44 Tests, 148 wickets at 34.85
England come back from a horror start under a new leadership team of captain Andrew Strauss and coach Andy Flower to beat Australia 2-1 in the 2009 Ashes. Anderson plays every game, but 12 wickets for 45 in five Tests point to a bowler who does not dominate the big matches. Andrew Flintoff proves to be the key man while Stuart Broad also bowls a crucial spell in the final Test.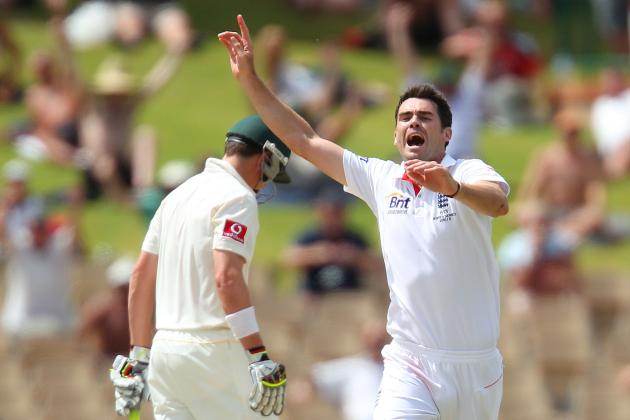 Scott Barbour/Getty Images

Anderson in 2010:
12 Tests, 57 wickets at 22.96
Cumulative: 56 Tests, 205 wickets at 31.55
Anderson's busiest and best year by far to date, He destroys Pakistan with 23 wickets at 13.7 apiece in the summer, then rips through the Australians on the road as England seal their first Ashes triumph abroad in a generation.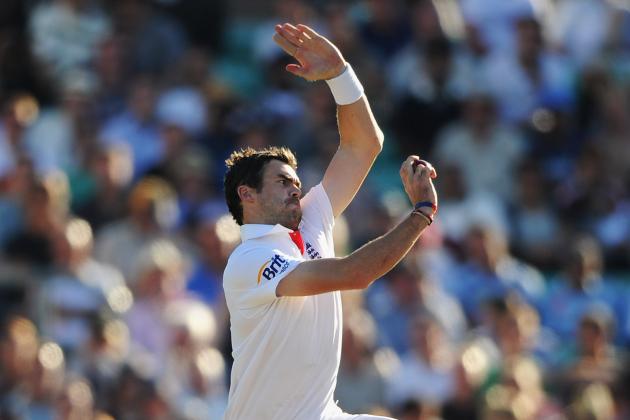 Gareth Copley/Getty Images

James Anderson in 2011:
7 Tests, 35 wickets at 24.85
Cumulative: 63 Tests, 240 wickets at 30.57
Anderson has another excellent year as he and his England team-mates whitewash India 4-0. The result sees England rated the world's best Test side and Anderson is now firmly in the world's top 10 players, with his overall bowling average coming down further.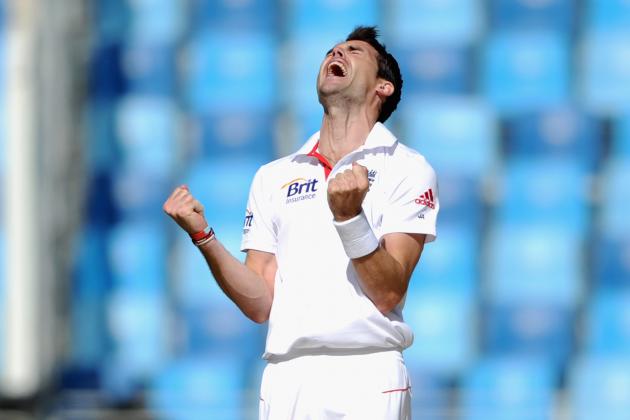 Gareth Copley/Getty Images

James Anderson in 2012:
14 Tests, 48 wickets at 29.50
Cumulative: 77 Tests, 288 wickets at 30.39
2012 is a year to forget for England—they lose heavily in the UAE to Pakistan, then relinquish their No. 1 status in a home series loss to South Africa. Anderson, however, is a success story. He proves that he can make the ball swing either way and reverse in unhelpful subcontinental conditions, a skill that is crucial in helping England end the year on a high by beating India away from home.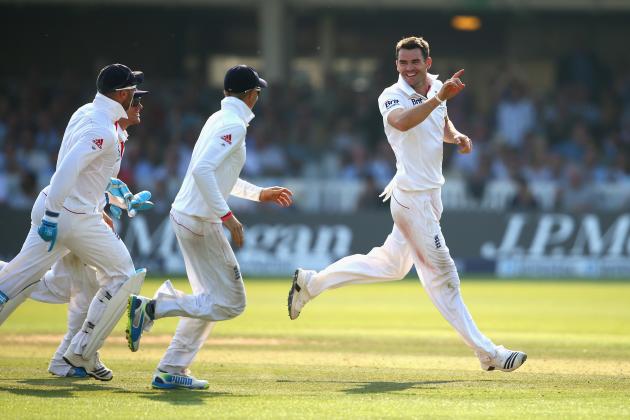 Ryan Pierse/Getty Images

James Anderson in 2013 (to his 31st birthday, July 30):
7 Tests, 32 wickets at 23.12
Cumulative: 84 Tests, 320 wickets at 29.66
Anderson wins plaudits with 13 wickets in the first two Ashes Test matches of the summer. It's been a summer of landmarks for Anderson as his stock continues to rise. He passes 300 Test wickets, then eclipses fast bowler Fred Trueman on the all-time list. Only Bob Willis (325) and Ian Botham (383) remain ahead of him.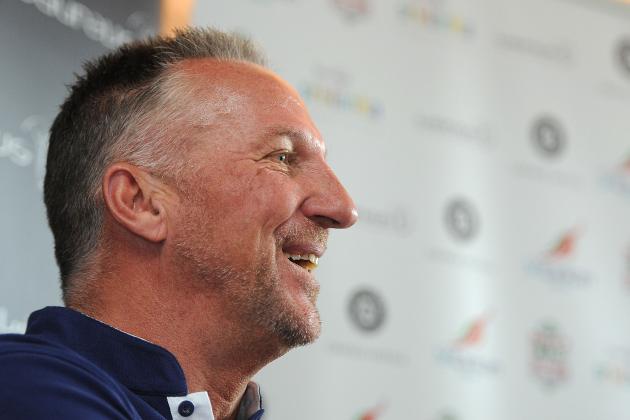 Getty Images/Getty Images

Much depends on when James Anderson retires, but even the man who holds the current England wicket record, Ian Botham, thinks he will finish as the best there has ever been.
Botham told the Independent earlier in the summer:
"I think he'll hit 450. I said that to him but he wasn't overly impressed. I think he suddenly thought '450—that's a long, long way away' but he will definitely reach it.

"I think by the end of the Ashes, he will be very close to overhauling me if he hasn't already, which will be great.

"He's got four or five years left as the leader of the attack and with the amount of cricket they play these days, he'll sail past it."
If we take as an estimate that Anderson, who is in good physical shape, plays on until he is 35 and is involved in most of England's cricket until then, he could approximately play a further 40 Test matches.
Coincidentally, this is precisely the number of Tests he has played since 2010, according to Cricinfo's Statsguru.
In that time he has taken 172 wickets and if he were to emulate that, he would finish on 492 Test wickets for his career.

Even if James Anderson falls short of that, he will still have had an exceptional career.