How Ryan Ludwick's Return for Cincinnati Reds Affects Both Lineup and Bench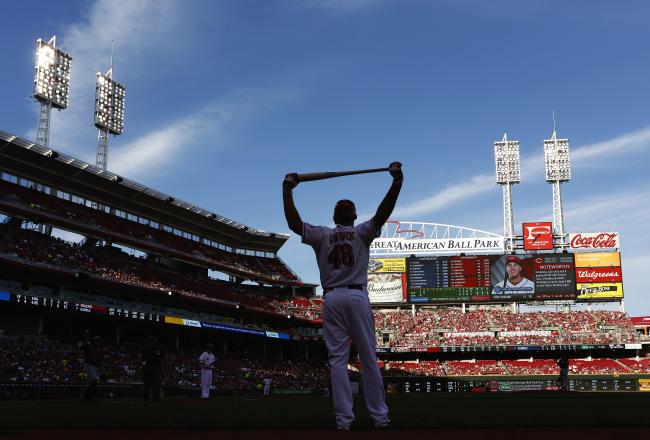 The Reds are hoping Ryan Ludwick can repeat his 2012 performance.
Joe Robbins/Getty Images
The Cincinnati Reds have been without their starting left fielder since Opening Day, but Ryan Ludwick is on his way back and will impact the team's roster.
Ludwick has already started his rehab assignment. It's unclear when he'll rejoin the team, but it should be by next weekend.
The NL Central was supposed to belong to the Reds in 2013. Unfortunately injuries have been a big issue, and the team currently sits in third place (standings courtesy of MLB.com). Devastating losses on the current West Coast trip have cost the Reds a chance to gain ground on the St. Louis Cardinals.
With the MLB trade deadline less than a day away, the Reds aren't likely to make a huge move. Instead, the team will get Ludwick back soon. Setup men Jonathan Broxton and Sean Marshall will hopefully rejoin the team in August, and catcher Ryan Hanigan shouldn't be too far behind them.
Johnny Cueto won 19 games last season but has missed the majority of this season. Tony Cingrani has exceeded expectations in Cueto's place, so the Reds don't have to rush their ace back.
August will be a month for the team to get healthy. Ludwick appears to be the closest to returning, so let's check out what his return will mean for the Reds.
The Lineup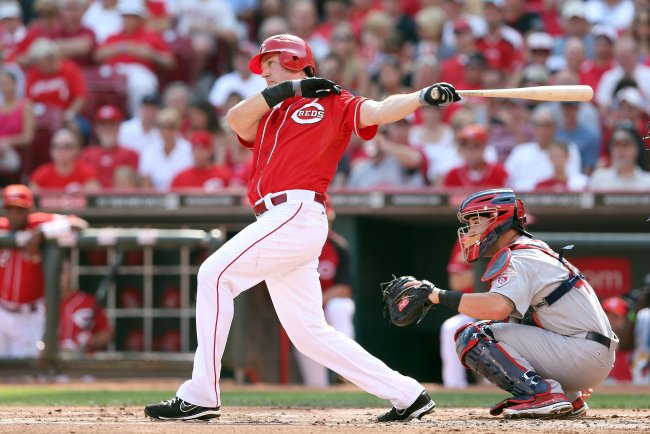 Andy Lyons/Getty Images
When Joey Votto went down with an injury last year, Ludwick's bat was one of the biggest reasons the team took control of the division. The left fielder hit .275 with 26 home runs and 80 RBI last season.
The team hasn't gone on a huge run yet this season, but that could change if Ludwick can be productive.
Manager Dusty Baker had his lineup set entering the season. Ownership traded for Cleveland's Shin-Soo Choo to lead off. Second baseman Brandon Phillips would be the team's second hitter, so the team would finally have runners on base for Votto, a four-time All-Star.
Once Ludwick went down in the third inning on Opening Day, everything changed.
Baker needed to find a replacement to bat cleanup. Batting left-handers back-to-back isn't the ideal situation, so Jay Bruce wasn't going to move up in the order. That left Phillips as the only option.
Phillips has carried the offense this season. He has 12 home runs and 81 RBI, the latter ranks second to Arizona's Paul Goldschmidt in the National League. The second baseman is hitting .389 with runners in scoring position, so he has done his job.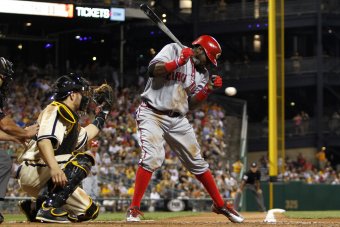 Justin K. Aller/Getty Images
His batting average has plummeted since getting plunked in Pittsburgh in early June. He was batting .296 at the time of his injury but has hit just .211 since. Phillips missed four games with an injury after that, and John Fay of the Cincinnati Enquirer reported that Phillips initially thought the injury was much worse.
Even with Phillips' struggles, he still has knocked in 35 runs in the last two months. His ability to drive in runs will keep him in the cleanup spot when Ludwick returns.
The Reds have struggled against southpaws this season. Phillips is the only key hitter who isn't left-handed, so Ludwick's bat will help the lineup. He bats from the right side, and he hit 10 home runs against southpaws last season.
Ludwick also hit .296 with runners in scoring position, which is something the bottom of the order needs help with. Frazier has hit .272 in those situations but has only 30 RBI since the end of April. The catchers have combined to hit .170 with runners in scoring position.
Cincinnati needs to ease its left fielder back into the lineup. Putting him in the cleanup spot would be tough, so look for him to start lower in the order. Bruce will remain at No. 5. The struggling Todd Frazier will move down to No. 7, so Ludwick will bat sixth when he returns.
Ludwick's return will force Baker to upset Reds fans by putting shortstop Zack Cozart higher in the order. The manager will have no other options until Ludwick shows that he can be productive.
Current
Projected
Shin-Soo

Choo

Choo

LF

platoon

Cozart

Joey

Votto

Votto

Brandon Phillips
Phillips
Jay Bruce
Bruce
Todd Frazier
Ryan

Ludwick

Devin

Mesoraco

Frazier
Zack

Cozart

Catcher
Pitcher
Pitcher
The projected lineup will be tough on pitchers. The No. 7 hitter will be a serious threat to hit homers, which puts pressure on pitchers not to make a mistake to the bottom of the lineup. If Ludwick can produce enough to get back to the cleanup spot and Phillips moves to No. 2, the first six hitters will be tough to beat.
The Bench
Not only will the lineup look different, but the Reds will have a tough call on who will remain on the 25-man roster.
Ludwick's return has no effect on the infielders. Cesar Izturis, Jack Hannahan and the backup catcher will remain on the roster—barring any trades.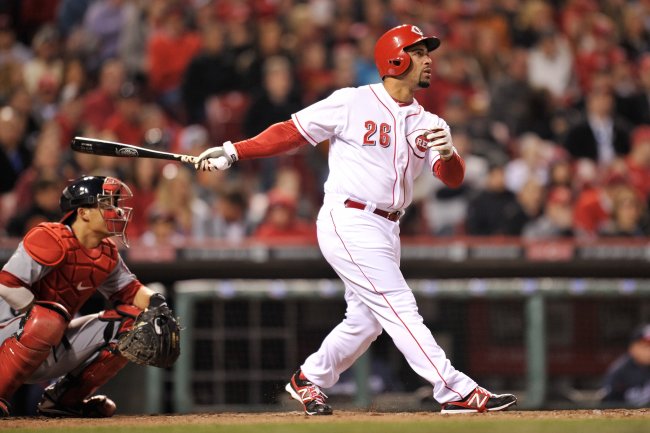 Jamie Sabau/Getty Images
Chris Heisey, Xavier Paul and Derrick Robinson have all split time in left field since Ludwick went down. One of them will be the odd man out when Ludwick comes back.
Here are the numbers for the outfielders:
Name
Bats
AVG
2B
3B
HR
RBI

OBP

SLG

Chris

Heisey

R
.216
9
1
5
12
.267
.410
Xavier Paul
L
.241
10
0
6
28
.340
.402
Derrick Robinson
S
.270
7
3
0
7
.343
.355
Heisey isn't going anywhere. He will remain on the team unless he gets hurt. He has battled a hamstring injury this season, which could explain his low average. Heisey is the best fielder of the group and is the most versatile offensive threat.
The battle will come down to Paul and Robinson.
Paul is mainly a power bat. He is called upon in key situations late in games, but that is the only reason he is on the team. Paul will strike out a lot and isn't a great defensive player.
Robinson, on the other hand, isn't going to hit many home runs. He provides the team speed and can lay down great bunts. As a switch-hitter, he can be in the lineup against any pitcher. Unlike some of his teammates, he has fared well against southpaws. He is hitting .292 against left-handers this season.
The speedy Robinson isn't limited to left field. His versatility allows him to play center as well, so he and Heisey can replace any outfielder late in games.
Who should the Reds keep as a reserve outfielder when Ludwick returns?
Based on performance this year, Robinson has earned the final spot. However, Paul does have three pinch-hit home runs since joining the Reds last July. His bat is valuable late in games.
Robinson is similar to Heisey but doesn't have pop in his bat. It's good to have versatile players, but keeping Robinson would make Heisey the lone power threat off the bench.
Although it will be a tough choice, the Reds will be able to expand their roster a month later. Robinson is likely to be sent down when Ludwick returns, but he will be rejoin the team in September.
Robinson has earned the spot, but the Reds will need someone who can hit home runs off the bench. There won't be many days for the starting outfielders to rest. Cincinnati is looking to make a run at the division, so it will be playing its starters every day.
With playing time tough to come by, the Reds need role players on their bench. Heisey will serve as the fourth outfielder, and Paul will be the power bat. Robinson will get playing time down in Louisville and will be back with the team in September.
Ludwick will be back in the lineup soon, and it will change the makeup of the team. The veteran's return could be enough to get the Reds rolling and challenge for the division title.
*All stats are courtesy of Baseball-Reference.com
This article is
What is the duplicate article?
Why is this article offensive?
Where is this article plagiarized from?
Why is this article poorly edited?

Cincinnati Reds: Like this team?