Dallas Cowboys Training Camp Photo Gallery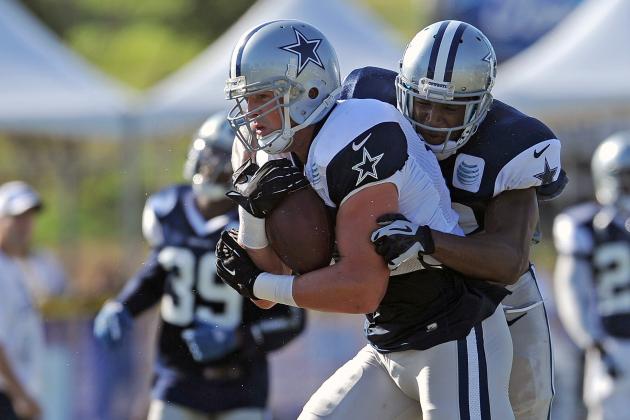 Jayne Kamin-Oncea-USA TODAY Spor

The Dallas Cowboys have officially begun training camp out in Oxnard, Calif., and are beginning to shape their 2013 season. The team is just several practices into camp and just held its first blue-white scrimmage on July 28.
Here are some of the latest shots from Cowboys camp where the completion of every practice is one step closer to Week 1 against the New York Giants.
Begin Slideshow

»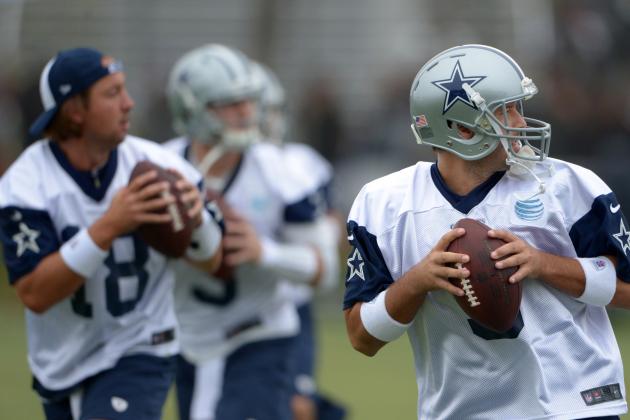 USA TODAY Sports

Tony Romo is pictured here taking his usual quarterback reps with backup Kyle Orton. According to recent reports, taking QB reps is not something Romo will be doing much of in Canton, Ohio.
There has been speculation about just how much playing time, if any, Romo will see against the Miami Dolphins in the Hall of Fame game. The Dallas starter admitted to Carlos Mendez of the Fort Worth Star-Telegram that he won't play much in that exhibition, saying:
If I did play, it would be a series. Whether you went eight plays or three plays, I'm not sure how much that is going to affect that. Saying that, I still want to play every time I suit up.
Less Romo on Aug. 4 means that backup Kyle Orton is likely to run much of the Cowboys' first team offense that day. Orton attempted just 10 passes in the 2012 regular season, so he'll likely welcome the extra work in August.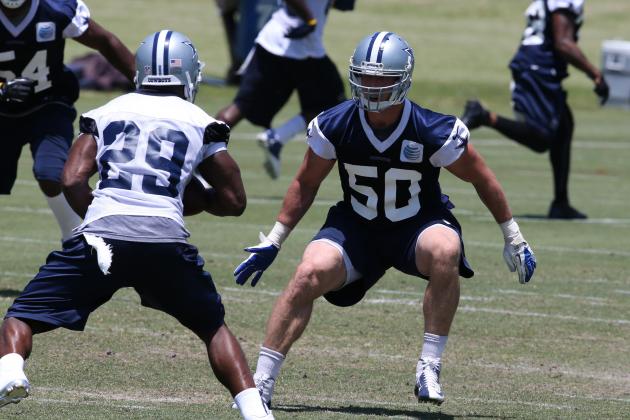 USA TODAY Sports

According to Brandon George of the Dallas Morning News, Sean Lee had his "best day" of camp on July 26.
During the practice, Lee broke up a pass, tallied an interception and stripped the football away from DeMarco Murray, according to George's notes.
The Cowboys are expecting big things from Lee this season and are hoping he can stay off the injury report. The Penn State product suffered a big toe injury in Week 6 last season that landed him on injured reserve.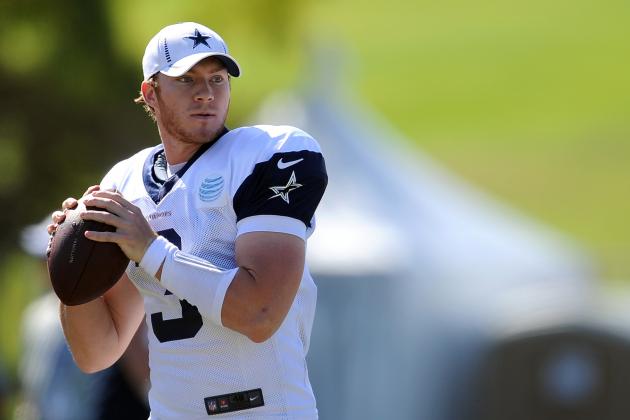 Jayne Kamin-Oncea-USA TODAY Spor

The Cowboys have plenty of experience on the quarterback roster between Kyle Orton and Tony Romo. Nick Stephens is doing his best this training camp to convince the coaching staff it needs some youthful talent on the depth chart at the position.
Stephens is a quarterback out of Tarleton State that the Cowboys signed to a two-year, $900,000 contract.
It's not going to be an easy road for Stephens to make the final 53-man roster in Dallas. That being said, less Romo against the Dolphins in the Hall of Fame game means more opportunities for the man from Tarleton State.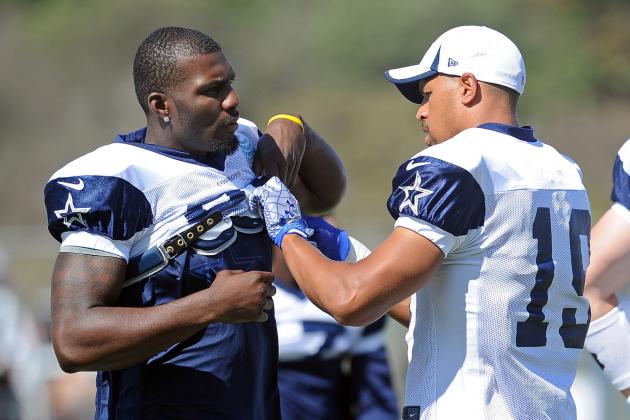 Jayne Kamin-Oncea-USA TODAY Spor

Dez Bryant and Miles Austin are likely just getting used to putting the pads back on right now. The Cowboys will need both these two wide receivers padded up and on the gridiron for all 16 games this season.
Austin was nagged with reoccurring injuries last year and missed six games in 2011. Bryant had the best season of his young NFL career in 2012 with receiving 1,382 yards and 12 touchdowns.
If the two receivers stay healthy for all or most of this upcoming season, Tony Romo has two of the best in the NFC to throw the football to.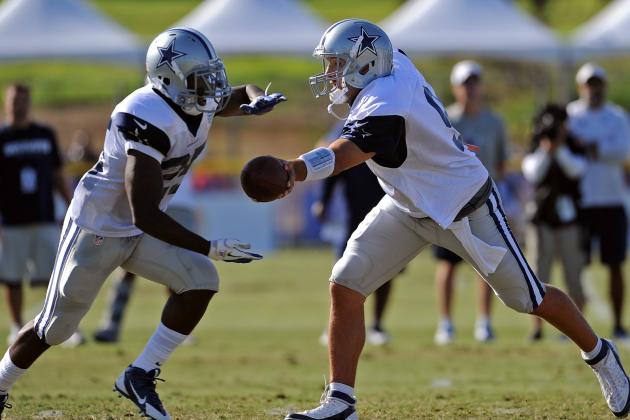 Jayne Kamin-Oncea-USA TODAY Spor

Lance Dunbar might soon get used to receiving handoffs from quarterback Tony Romo. As Carlos Mendez of the Fort Worth Star-Telegram recently pointed out, head coach Jason Garrett gets asked about the rusher quite a bit.
"He's a little guy, but he's quick," Garrett told Mendez on July 30. "He's explosive, he knows what to do, and he loves playing football...He's a very good receiver, and he's got good vision as a runner."
Dunbar has been one of the most impressive players this entire offseason and is working his way towards a role as DeMarco Murray's backup. Rookie Joseph Randle is his biggest competition for that role but early on it looks like Dunbar is ahead in the camp battle.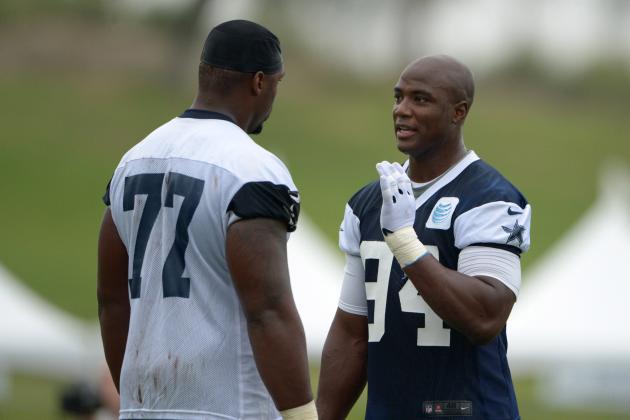 USA TODAY Sports

DeMarcus Ware is no stranger to training camp and the veteran looks ready for the regular season. According to Brandon George of the Dallas Morning News, Ware had two sacks during the Cowboys' first blue-white scrimmage on July 28.
The newest edition to the Dallas defensive line also beat Tyron Smith twice to record those two sacks on Romo, according to George. Some veterans with secure roster spots might dial it back during training camp, but not the Cowboys' future Hall of Fame defensive end.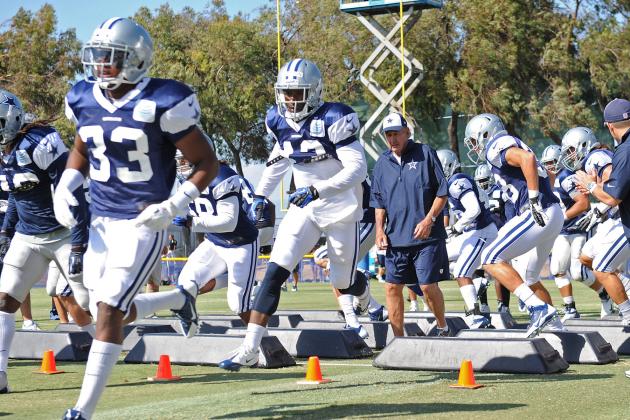 Jayne Kamin-Oncea-USA TODAY Spor

The Cowboys put the pads on for the first time on July 23, which likely only adds to the sweat players are putting in out in the California sun.
Head coach Jason Garrett laid out his expectations for his squad while wearing the pads, telling ESPN Dallas' Todd Archer:
We create competitive situations. Everything we do is competitive … but at the same time you have to understand these guys are your teammates. Stay off the ground, practice the right way and have a healthy respect for each other.
Dallas has already had to ask certain newcomers like rookie J.J. Wilcox to dial down their play during practices.
While that intense mentality might not be welcomed by Garrett in practice, he'll be looking for that during the upcoming Hall of Fame game against Miami.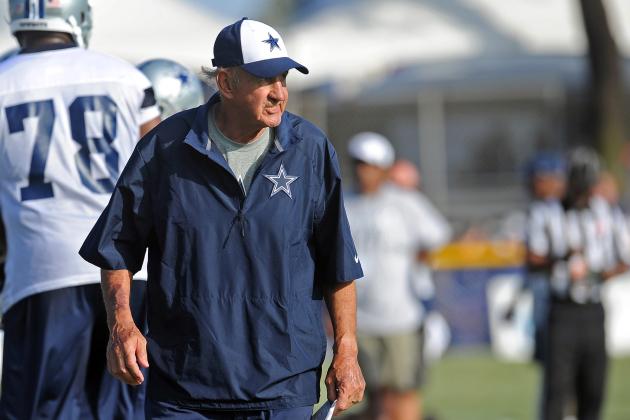 Jayne Kamin-Oncea-USA TODAY Spor

Monte Kiffin is entering his first year as the Cowboys' defensive coordinator and will be bringing his 4-3, Tampa 2 defense to Dallas.
Unfortunately for Kiffin, he'll need to go through his first season without defensive end Tyrone Crawford, who suffered a season-ending Achilles injury earlier in camp. Kiffin will also be without Anthony Spencer, at least in pads for two to four weeks as he recovers from knee surgery.
Even without two of his defensive linemen, Kiffin will need to make quick learners out of his defensive players. The Cowboys have played in a variation of the 3-4 defense since the Bill Parcells era in the early 2000s.
Expect the new Dallas defensive coordinator to have a keen eye out throughout training camp and the upcoming preseason.