Pittsburgh Steelers: Observations from the 1st Padded Training Camp Practice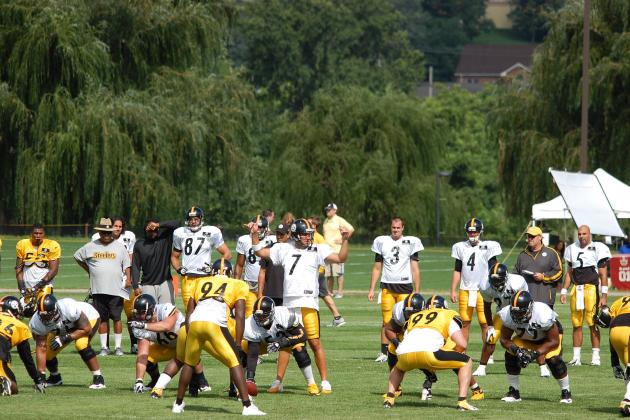 The Steelers had their first padded practice on Monday. Photo Credit: Chris G.
The crack of the pads officially signified the start of training camp for the Pittsburgh Steelers. They wasted no time getting physical after a weekend of football in shorts.
Mike Tomlin set the tone with his favorite drill—backs on backers—in addition to the offensive linemen battling the defensive linemen in one-on-one drills.
It was also the first time that the players on defense were able to showcase their physical skills now that they could lay a hit on the offense. The secondary, in particular, took advantage of this.
There was a lot of action on Monday as we finally got a peak at what the Steelers are made of. Here are my observations from the first padded practice.
Note: All photos in this article were taken by me.
Begin Slideshow

»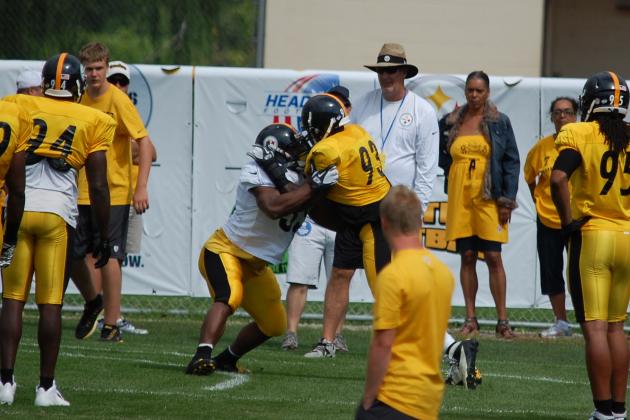 Isaac Redman and Jason Worilds battle during backs-on-backers drill. Photo Credit: Chris G.
The backs-on-backers drill is one of the most popular in training camp. I am personally not a fan because too many worry about "wins and losses" and take too much away from the results.
For instance, when Baron Batch was a rookie, he had an outstanding block on James Harrison. Forget that he got schooled several times in the drill, this guy was going to be a star! Well, that is at least what you were led to believe.
With that said, here is some of what I took away from this session.
LaMarr Woodley was very impressive, particularly against Le'Veon Bell.
Woodley took on Bell twice in a row and dominated him each time. It wasn't even competitive, but that should be expected. Woodley is the team's premier pass-rusher, and he should dominate a rookie.
Bell struggled early on against Woodley and had several tough matchups with Jarvis Jones.
Jones was very physical in the first battle and had his hands up in Bell's face as he got the best of him. However, things would even out throughout their reps.
As expected, Isaac Redman was impressive in several blocks, as was Matt Spaeth. These two are strong blockers, and they will need to continue this once the games start.
David Paulson had some problems, as did Batch.
While I did not watch every rep, every time I looked up and saw Batch, he was getting beat. On one particularly match, he was completely overmatched and then got into a spat with the linebacker who took him on. TibLive Radio's Ken Laird tweeted that it was with Marshall McFadden.
Anticipate some more physical battles for this drill on Friday night under the lights.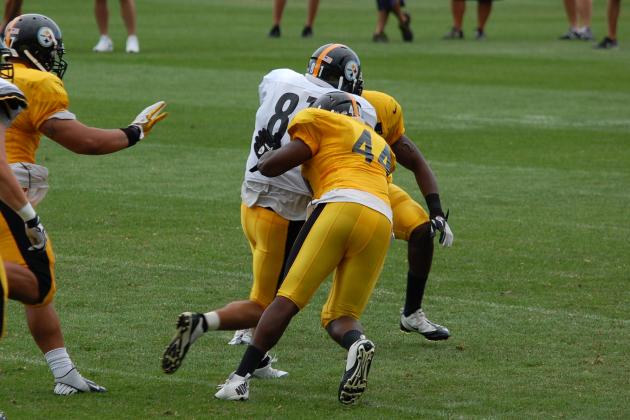 David Paulson about to be hit between two defenders. Photo Credit: Chris G.
Besides drills where hitting was required, the Steelers had a physical practice as guys began to hit each other during team drills.
On an outside run to the right, Bell began to break into the open field when Troy Polamalu caught up with Bell and pushed him over with two hands. It wasn't the hardest hit ever applied by Polamalu, but Bell instantly went to the ground.
Shamarko Thomas demonstrated the ability to jam Markus Wheaton. He hit him so hard off of the line that it drew a reaction from the crowd.
The physical play in the defensive backfield continued with Curtis Brown popping Emmanuel Sanders immediately after he caught the ball for a modest gain of seven or eight yards.
But the hit of the day came on Paulson.
Paulson caught the ball and was running down field when I heard a loud smack. He was surrounded by defenders, but I think it was DaMon Cromartie-Smith who got him.
The front seven was kind by comparison, and they held back from any hard hits and instead just wrapped up the ball-carrier on running plays or avoided making a hit all together.
Jarvis Jones in position to pounce on a fumble by the quarterback. Photo Credit: Chris G.
After a rather lackluster practice on Sunday, Jarvis Jones began to flash why he was a first-round pick on Monday.
Jones looked much more comfortable in coverage after struggling in this area the day before. He was able to run with the men he was matched against and recognized a pass over the middle which could have resulted in a decapitation of David Gilreath.
Later in practice, Jones was covering Jamie McCoy and snuck his hand in to deflect the pass away for an incompletion.
Jones flashed his pass-rushing ability as well. He came to the inside on a rush to break the line and would have sacked Landry Jones had he been permitted to.
He also batted a pass from John Parker Wilson straight into the air, which Wilson then caught before being tackled immediately.
Dick LeBeau has not been exclusively using Jones on the outside either. He has bounced him to the inside in various formations where he has blitzed and dropped into coverage.
It has just been a few days, but Jones has already shown growth in multiple phases of the game.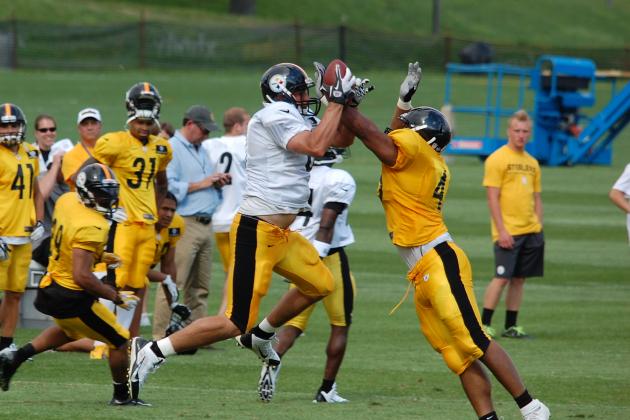 David Paulson reaches over the defender to make the reception. Photo Credit: Chris G.
David Paulson continues to shine as a receiver in camp.
The 6'4" tight end regularly used his height to make receptions on Monday and is beginning to develop into a solid No. 2 option.
Paulson jumped over Alan Baxter for one reception. What made the play impressive was that Baxter had his hand in Paulson's face and was in perfect position to knock the ball away, yet Paulson still came down with it.
He made another reception in which he used his height and size to shield off the defender to make the catch.
While Paulson may not put up 40 or 50 receptions, he has at least demonstrated to ability to help replace Heath Miller's presence in the passing game.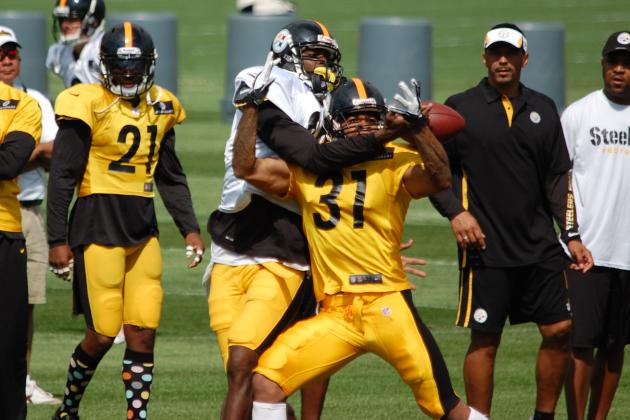 Curtis Brown breaks up a pass intended for Plaxico Burress. Photo Credit: Chris G.
Pittsburgh's top-rated secondary has been performing well in camp so far and continues to make plays on the ball.
Ike Taylor has two interceptions in two days after he intercepted Ben Roethlisberger during one-on-one drills defending against a receiver.
William Gay picked off Roethlisberger as well during seven-on-seven drills.
For a team that lacked turnovers, defensive backs intercepting passes is an encouraging sign. Of course, some will be concerned that Roethlisberger has thrown multiple interceptions in camp. But I wouldn't put too much stock into that.
Shamarko Thomas is being used all over the field by Dick LeBeau. Sometimes he plays near the line and others he drops deep into coverage. He also has lined up in the slot against Markus Wheaton on numerous occasions.
As mentioned earlier, Thomas, Brown and Cromartie-Smith all had big hits, and Ryan Clark had a couple of others lined up, but he held off.
Brown had a strong defensive effort to knock a ball away from Burress on a deep pass.
Several cornerbacks near the bottom of the depth chart should get some extra reps over the next few days as Cortez Allen, Terry Hawthorne and DeMarcus Van Dyke are all injured.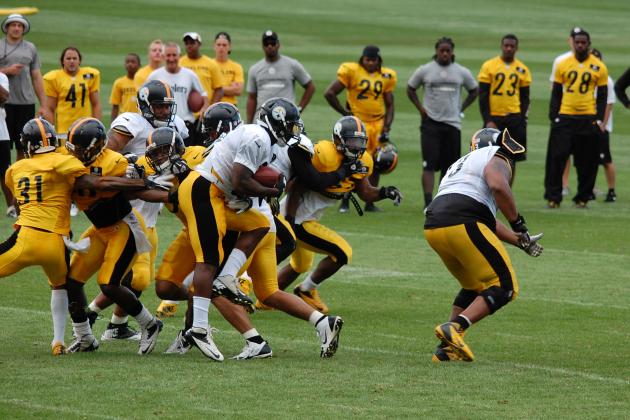 Le'Veon Bell attempts to find room to run. Photo Credit: Chris G.
Isaac Redman doesn't look quite so explosive once the pads go on. That isn't to say that he isn't explosive, but rather he no longer has the gaping holes to run through that he had over the weekend.
Redman still is looking good, but he had to use more of his physical style as the run defense looked strong on Monday, with Steve McLendon clogging up the middle.
Le'Veon Bell continues to get the ball through the air and had more opportunities to run the ball as he was the focus of the offense during the final session of 11-on-11.
He had one play with little room to run, but made his own yards. This is something that the Steelers have lacked from their running backs on a consistent basis over the past few seasons.
LaRod Stephens-Howling flashed plenty of talent as well. He is tough to see coming through the line given his lack of height and is very shifty. He had some great runs using his quick-cutting ability and should definitely be considered a favorite to make the team.
Will Johnson continues to shine as a receiver and blocker.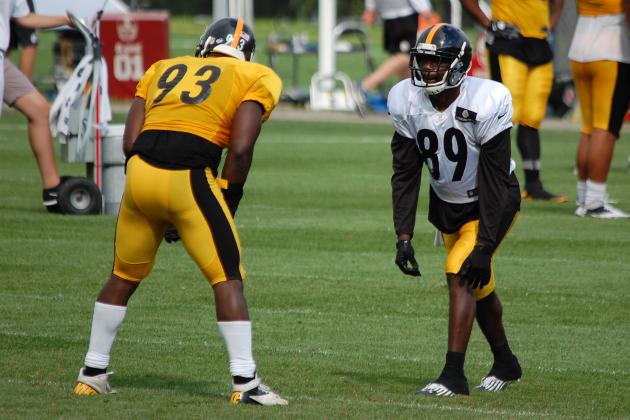 Jerricho Cotchery is ready to make an impact. Photo Credit: Chris G.
Much will be made about the young receiving trio of Antonio Brown, Emmanuel Sanders and Markus Wheaton, but Jerricho Cotchery and Plaxico Burress showed their value on Monday.
Both players use their hands very well, and that helps them against the younger, faster defensive backs.
Cotchery used his hands to beat Curtis Brown off of press coverage. The separation he created was enough for him to make an easy reception for a first down.
Never known for his speed, Burress is even slower now than he was at the start of his career, so his use of hands is big if he is going to create space. He used his hands coming out of a break to gain an edge on a short out pattern.
These are the small things that you don't see from the younger receivers. However, they had a strong effort Monday as well.
Brown is outstanding when he has the ball in space with his rare acceleration and shiftiness to avoid tackles.
Derek Moye had his best practice of the summer highlighted by a deep reception in which he used his height to make a reception over Thomas.
Reggie Dunn bounced back from a poor practice on Sunday to make some nice catches, including one on a deep crossing route. He is getting a lot of passes thrown his way and needs to make the most of his chances.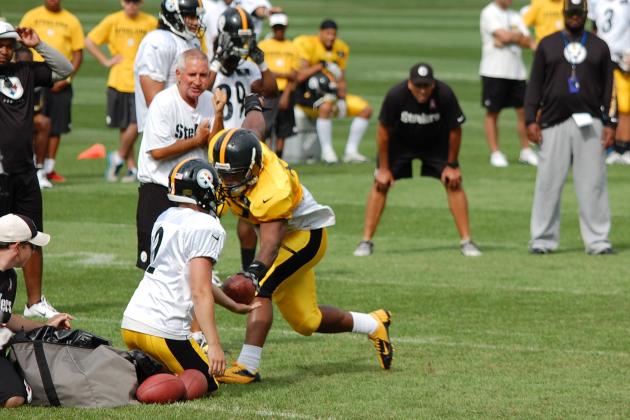 Special teams works on field goal blocking drills under the watchful eye of Danny Smith. Photo Credit: Chris G.
Danny Smith runs an up-tempo practice when the special teams is on the field. It is very energetic and productive as he maximizes his time to get in as many reps as possible.
Besides implanting the catching punts while holding balls drill, Smith focused a lot on individual responsibilities during coverage and return drills.
He called out Vince Williams on one play because he was not happy with his blocking.
The special teams also worked on a field-goal blocking drill. Rather than dive at the ball, the players ran up and either swatted or picked up the ball from the holder's hands and had to run it into the end zone.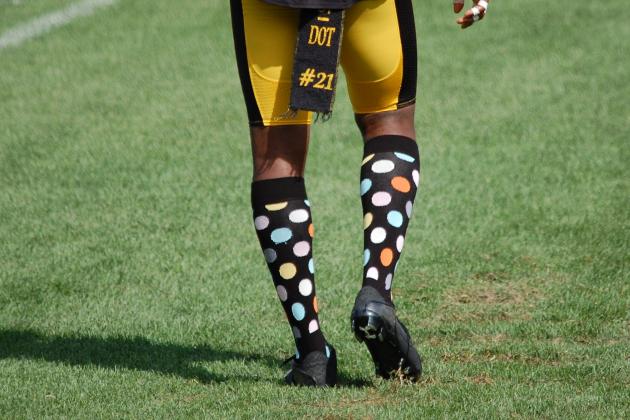 Ryan Clark shows off his camp fashion. Photo Credit: Chris G.
LaRod Stephens-Howling, J.D. Woods and Curtis McNeal fielded kickoffs while Antonio Brown, Emmanuel Sanders, David Gilreath, Markus Wheaton and Justin Brown fielded punts. Reggie Dunn got work in both areas.
Justin Brown nearly had one of the plays of the day when he just missed catching a punt while holding five footballs. The entire team watched him attempt this, and Mike Tomlin had to urge them to "stay back" to give him space.
During special teams drills, most of the team stands around waiting for stretches, but not the offensive line. Jack Bicknell Jr. uses this time to teach his scheme to the linemen.
Prior to starting a blocking drill, David DeCastro asked Bicknell to explain to him a technique. Bicknell spent several minutes demonstrating what he wanted. On the next rep after that, he told DeCastro that he was "perfect." Mike Adams earned praise as well.
Tomlin took some time out of watching special teams practice to give a pep talk to the offensive line. It sounded like he mentioned some of their struggles last season.
The early stars of camp are Will Johnson and David Paulson. Both players are more involved in the passing game.
Based on early observations, I can see Jones, Bell, Wheaton and Thomas all contributing this season. They have shown a lot of potential and have progressed each practice.
Ryan Clark does not wear Plaxico Burress' line of socks.