Every NBA Team's Biggest Offseason Change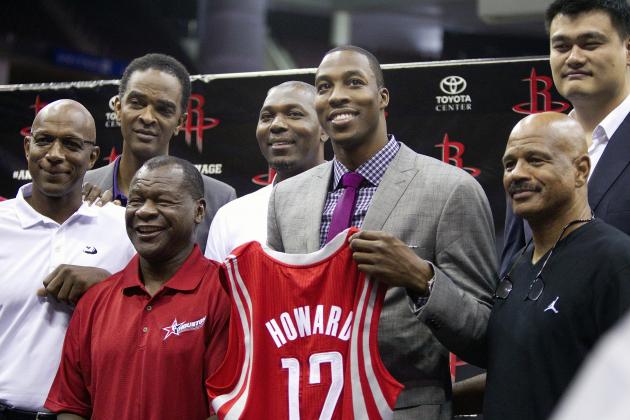 Bob Levey/Getty Images
The fallout from the Dwight Howard sweepstakes had a major impact on multiple teams.
From the busiest franchises to the teams with the quietest offseason, every NBA organization underwent some significant change this summer.
Now that the rapid movement of free agency has largely died down, we can examine the fallout and what rosters will look like next season. How did the squads that lost stars cope with the departures, and how much better will their new teams be?
On top of the major signings, there were some blockbuster trades and smaller, subtler moves that will also do their parts to reshape the landscape of the league.
From the winners to the losers to everybody in between, no one is going to be the same in 2013-14.
Begin Slideshow

»
Doug Pensinger/Getty Images

Josh Smith is gone after nine seasons with the Atlanta Hawks, though his former franchise may not fall off very much.
Credit will go to Paul Millsap if the Hawks hold up.
Atlanta's new power forward lacks J-Smoove's style, but he will be able to replace much of the lost substance. Millsap is not the athlete or the defender Smith is, but he is a bull in the low post offensively and is a more reliable jump-shooter.
All in all, Atlanta could end up breaking even with the Millsap signing. It will come down to Al Horford anchoring the defense alone and Millsap providing better spacing than Smith did. Under those circumstances, the Hawks won't miss a beat next year.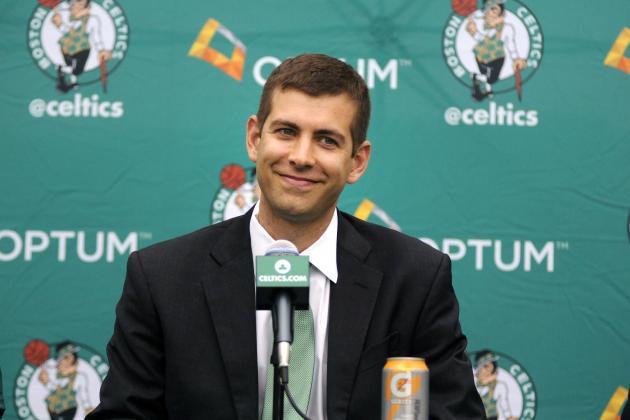 Darren McCollester/Getty Images

So the Boston Celtics are going to look a little bit different from now on.
In one fell swoop, Boston dispatched the remnants of Ubuntu and launched into a transitional period. Rajon Rondo is still in town, but the C's are currently counting on Jeff Green to be their primary scorer; there is no evidence he is actually up for the task.
Doc Rivers is gone, and Brad Stevens, with his blend of grit and analytics, is at the helm. Kris Humphries and Keith Bogans now hold the roster spots Paul Pierce and Kevin Garnett once took up, though the new coach will probably count on the likes of Kelly Olynyk to make up the difference.
At best, Boston is a fringe playoff team in the East now. On the other hand, this perennial contender could very well finish on the outside of the postseason.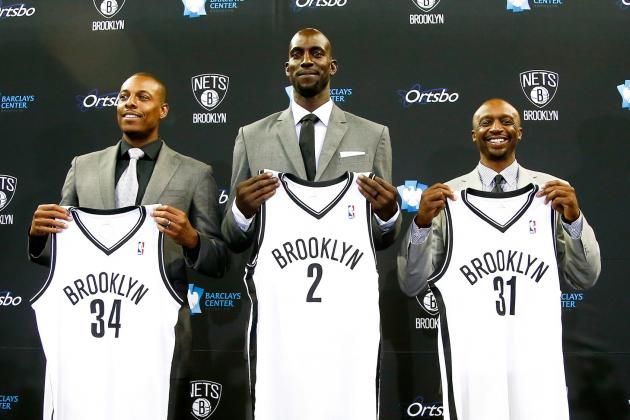 USA TODAY Sports

And here is where Ubuntu landed—the reward for so many Mikhail Prokhorov rubles.
Pierce and KG are now Brooklyn Nets, bringing defensive toughness, savvy offense and championship experience to the Barclays Center. Playing them alongside Deron Williams, Joe Johnson and Brook Lopez gives the Nets a true five-star lineup.
Adding those two former Celtics, as well as Andrei Kirilenko, will give Brooklyn a couple of wing stoppers and a true interior defender—two things it sorely lacked in a first-round playoff exit last season.
That's when Brooklyn's acquisitions will finally come into play. The name of the game will be time management during the regular season; that way, the Nets will be fresh enough to get plenty of run in May and June.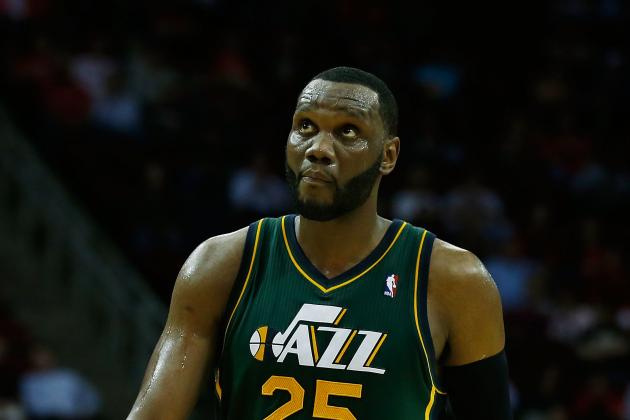 Scott Halleran/Getty Images

At long last, the Charlotte Bobcats have made a big free-agent signing.
Free agents don't come much bigger than Al Jefferson—physically, that is. The 6'10", 289-pound center is an absolute load when he gets the ball on the left block. He's too strong to move out of his comfort zone offensively and too adept down low to stop when he attacks from there.
With the amount of touches he'll get on the woeful Bobcats, Big Al has the potential to average 20 and 10 in 2013-14. That said, his slow feet make him a defensive liability, and his teammates lack the smarts to compensate for him.
Bringing in Jefferson is an unprecedented addition for Charlotte, establishing the team as an actual free-agent destination for the first time. Big Al will make the Bobcats better, but he still won't make them good.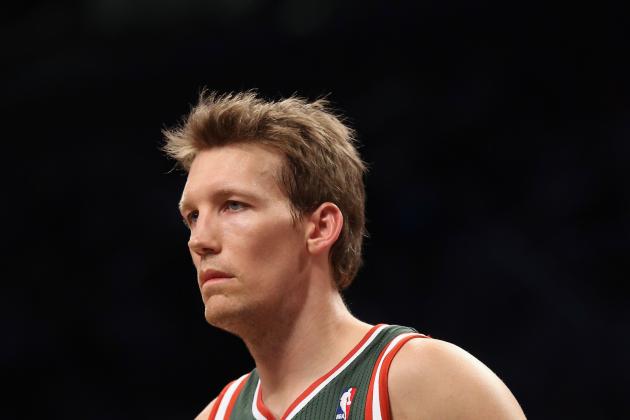 Bruce Bennett/Getty Images

The Chicago Bulls had an uneventful offseason, banking on the return of Derrick Rose to restore Tom Thibodeau's crew to elite form. That's justifiable, but it doesn't quite count as a true change.
Instead, let's talk about Mike Dunleavy.
The swingman, who will be 33 when next season starts, provides the Bulls with a dimension they have sorely lacked: three-point shooting. He has hit at least 40 percent of his treys in each of the last three seasons, and he can use his 6'9" frame to score over smaller defenders inside the arc as well.
Dunleavy's defensive game will be key to his value in Chicago. While he's a step too slow to contain wings in isolation, he is willing and able to use his experience to do his part within a system.
If he can knock down threes and play his part within Thibs' team defensive scheme, it will open up the Bulls offense without any significant drop-off in return.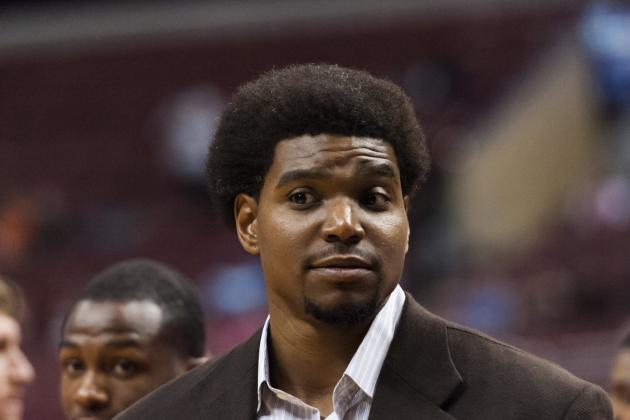 Howard Smith-USA TODAY Sports

Andrew Bynum will surely bring change to the Cleveland Cavaliers; just what kind of change is to be determined.
No one has seen Bynum in an NBA game since the 2012 postseason. Catastrophic knee injuries robbed the young center of his entire 2012-13 campaign with the Philadelphia 76ers, and it's unclear whether he can be a star again.
But the potential is still there. If his knees are stable enough for him to perform (and yes, it's a 7'0", 285-pound if), he can be the double-double threat he once was and give Kyrie Irving the inside scoring presence he has never had.
There's no way to know which Bynum will show up for the Cavs. The answer will decide whether Cleveland makes it back to the postseason or ends up in the lottery yet again.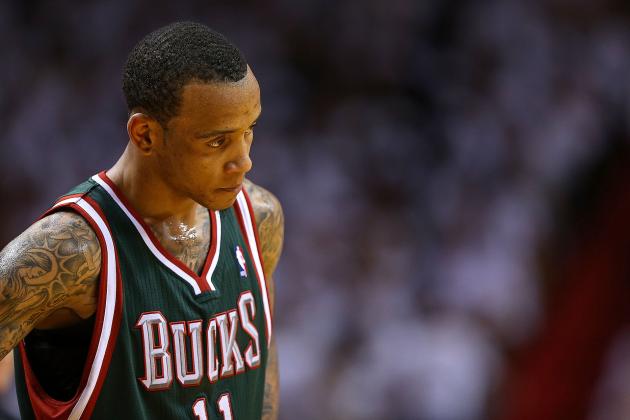 Mike Ehrmann/Getty Images

Two years in a row, the Dallas Mavericks struck out on Dwight Howard. Their Plan B leaves a lot to be desired.
Rather than pair Dirk Nowitzki with a formidable post defender, Mark Cuban resorted to adding Monta Ellis and Jose Calderon to the backcourt. Needless to say, those two guards are not equivalent to the league's best center.
Dallas is banking on Ellis developing some shred of efficiency in his offensive game. Considering he's a shoot-first, shoot-second and shoot-third player as well as a defensive agnostic, he'll definitely need it. His fellow guard is equally apathetic on defense, but at least he'll create for Dirk and company.
Unable to make a big splash, Dallas resorted to simply doing something, and it's unlikely it leads to anything more than mediocrity.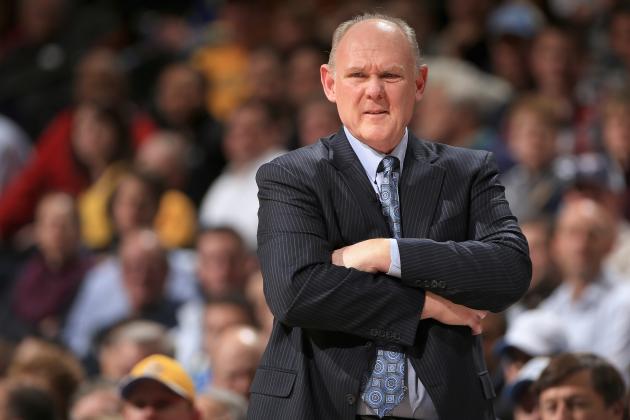 Doug Pensinger/Getty Images

In 2012-13, the Denver Nuggets fast broke all the way to a 57-25 record—the best record in franchise history. George Karl received the Coach of the Year award for his work, and GM Masai Ujiri was also named Executive of the Year.
Naturally, neither man is still with the organization.
Now, extenuating circumstances pulled Ujiri away from Denver. He took over the general manager job for the Toronto Raptors, the first team to give him a front office position. While Josh Kroenke is a capable executive, Ujiri promptly turned Andrea Bargnani for three draft picks; he will be missed.
On the other hand, the Nuggets simply decided that their most successful coach ever wasn't the man to lead Denver to a title.
Brian Shaw should still look to play an up-tempo style to best utilize the talent he has on hand, but the team's idiosyncratic identity left with Karl. Bits and pieces will remain, but expect the new Nuggets regime to push the team toward more conventional play.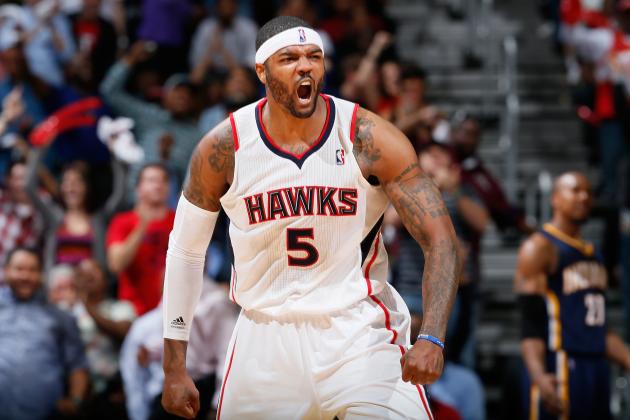 Kevin C. Cox/Getty Images

Let the large-ball movement commence for the Detroit Pistons!
Detroit may have been desperate for a star, but this was a bizarre destination for Josh Smith. With Greg Monroe and Andre Drummond already forming an imposing, young interior core, there doesn't seem to be much room for Smith inside.
Of course, there is merit to a best-player-available philosophy (best available to the Pistons, that is). Mo Cheeks will surely work out a rotation that allows Smith to line up at power forward with either fellow big at center, then throwing out the incumbent frontcourt tandem while Smith sits.
By that logic, Detroit would nearly never have to bench more than one of its forwards at a time. It also transforms J-Smoove into a giant J.R. Smith with a heftier price tag, thus diminishing his utility.
The fact is, Smith is not a small forward. He has the mobility to guard wings and the strength to beat them off the bounce, but he doesn't have the jumper to constitute positioning him away from the rim on a regular basis. Because of this, lineups including all three players could run into spacing issues offensively.
Then again, Detroit struggled with its perimeter shooting last season, so it's not like the ultra-big lineups would be much of a downgrade, if any at all. This is absolutely an improvement for the Pistons; what remains to be seen is how it affects Detroit's future plans for Monroe.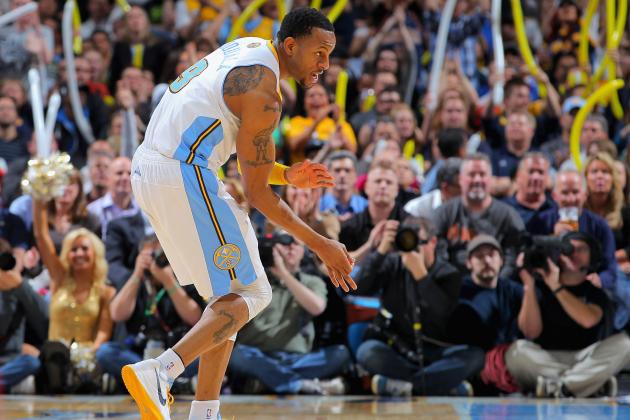 Doug Pensinger/Getty Images

The Golden State Warriors discovered last season that they could win by flooding the floor with guards and releasing a barrage of three-pointers. They have since doubled down on that small-ball strategy while getting even better defensively.
Andre Iguodala was the big grab of the offseason. While he is nowhere near the shooter Steph Curry, Klay Thompson or even the departed Jarrett Jack are, he's a true lockdown defender. That takes a huge burden off the offense-first players, who will have free rein to rain threes without worrying about depleting all their energy on the other end.
It will be a change for the Dubs to play without an offensive perimeter threat at small forward. Harrison Barnes will help, since his breakout as a stretch power forward in last season's playoffs allows Iggy to play inside the arc more. He could then use his skill at cutting off screens to keep defenses cognizant of action around the basket, giving the shooters more room to operate.
Spacing would get tricky in a traditional lineup including Iguodala and two true bigs. If Mark Jackson gets creative with the cast he puts around his new two-way toy, Iguodala can fit in nicely to the Warriors' system and add a brand-new dimension.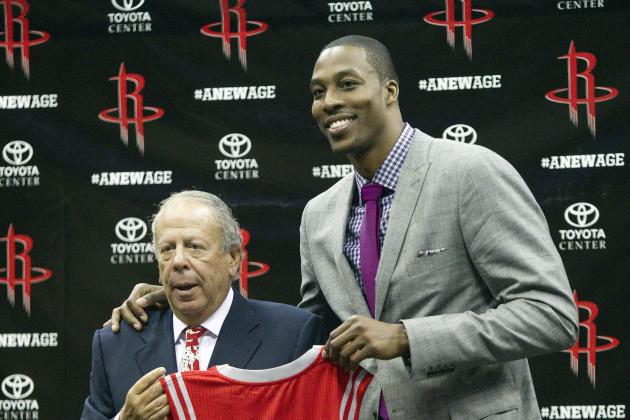 Bob Levey/Getty Images

Now that Marcus Camby has joined the Houston Rockets frontcourt...
Just kidding, Dwight Howard is the biggest change.
The winners of the Howard sweepstakes are now bona fide contenders in the Western Conference. James Harden now has a star center to play with, creating an inside-out combo that rivals any other in the NBA today.
Even at less than full strength last season, Dwight still led the league in rebounds and was a double-double machine. Now his back has had another offseason to heal, allowing him to be more mobile on the defensive end. On offense, he should presumably get more post-up opportunities in Houston, so he'll be more comfortable there.
Both team and player are in their best respective positions to succeed; this was a win-win for them. We've already touched upon some of the third parties that lost here, but there's more to come.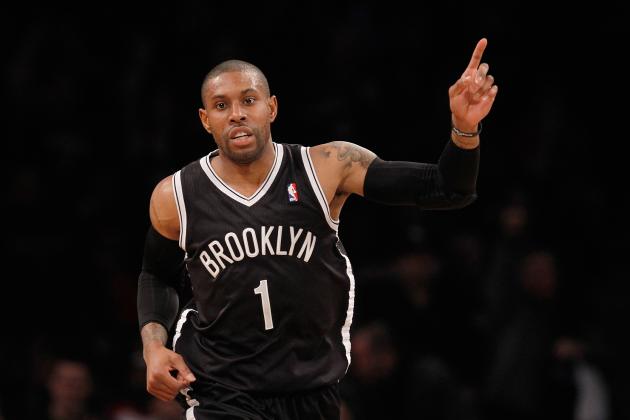 Mike Stobe/Getty Images

With nearly no second unit, the Indiana Pacers pushed the Miami Heat to the brink in the Eastern Conference Finals. Heading into next season, they'll have plenty of depth.
Danny Granger should become a glorified sixth man in 2013-14, and Indy has added a number of pieces around him to substantially improve its offense.
C.J. Watson provides the Pacers with a second primary ball-handler, something they could not trust D.J. Augustin to be. Luis Scola will allow Indy to field a post-up threat in its second unit, while Chris Copeland has the versatility to be a reserve stretch forward.
Frank Vogel's starting lineup nearly carried the team to the NBA Finals with stifling defense and a bruising, yet effective offense. The Pacers lost because the bench couldn't keep up the scoring; that won't be the case anymore.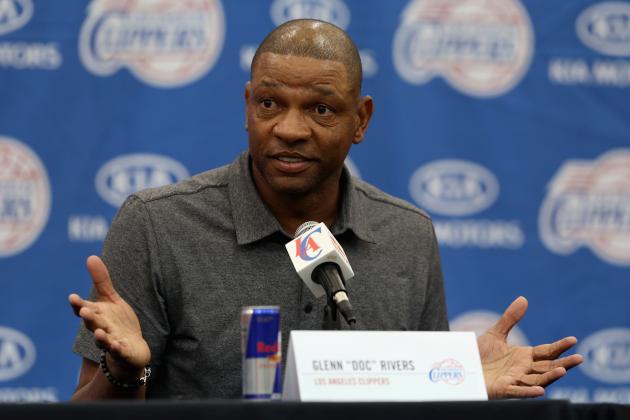 Jeff Gross/Getty Images

At long last, Vinny del Negro and his deer-in-the-headlights eyes are gone from the Los Angeles Clippers bench. In his place is one of the most experienced and respected coaches in the NBA today.
Doc Rivers will have a plethora of offensive weapons to work with on his new team, but scoring has never been the issue for Lob City. Rather, his main impact will come on the defensive end.
His teaching will be integral to the development of Blake Griffin and DeAndre Jordan as interior defenders. Both have the athleticism to dominate in that role, but not the awareness. If they can learn to contain the roll man on pick-and-rolls and generally how to position themselves on the floor, the Clippers D will become an entirely different animal.
With tons of firepower and plenty of perimeter stoppers, that's the missing link for Doc's squad. If L.A. puts it all together, watch out.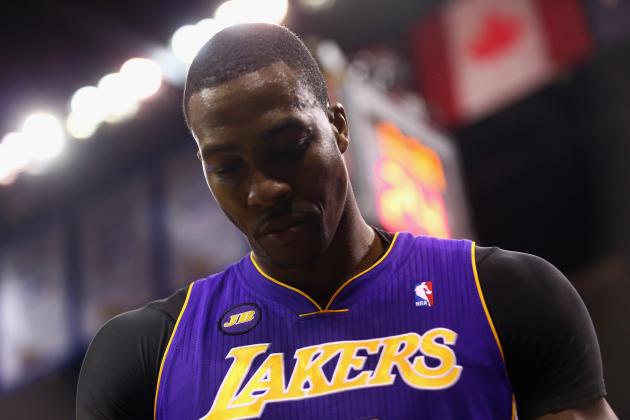 Ronald Martinez/Getty Images

Fact: Chris Kaman is a step down from Dwight Howard.
Fact: The last fact was a total understatement.
The Los Angeles Lakers have to be begging for Kobe Bryant to make it back for the beginning of the season. If he's too banged up to be the guy in L.A., this is going to be a sorry team.
Steve Nash turns 40 next season. Pau Gasol is coming off the worst season of his career and may now carry some injury concerns of his own. Now that Howard is gone, that means newcomers like Kaman, Nick Young and Wesley Johnson are the next guys up.
L.A.'s saving grace will be adding another superstar to this roster. Since that can't happen until the summer of 2014, it will be rough going in the interim.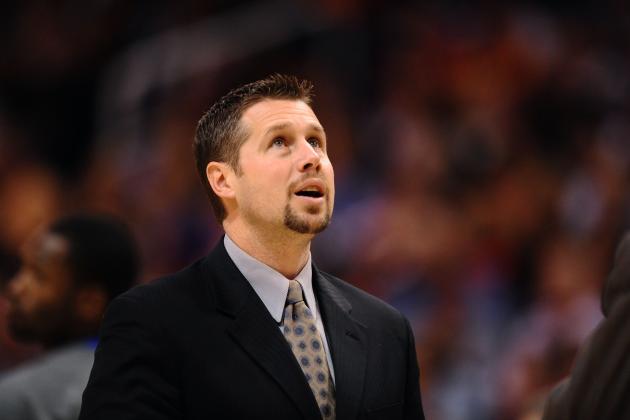 Mark J. Rebilas-USA TODAY Sports

Another team coming off its best record ever, another head coach let go.
Lionel Hollins built the Memphis Grizzlies up from a team without an identity to the grit-and-grind Grizz we know and love today. His no-nonsense approach to the game made him a stern leader, something that will have to be replicated to maintain this squad's brutish style.
In terms of both his philosophy and his methods, David Joerger is the man for the job.
Hollins' defensive assistant hasn't been the head man at the highest level before, but he is already a familiar presence to the Grizz players. They trust him and his system, so though it may seem jarring that Hollins is gone, things won't be too much different under his replacement.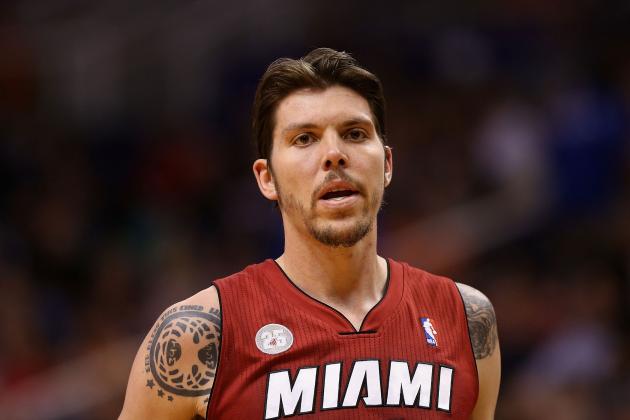 Christian Petersen/Getty Images

When the departure of Mike Miller is your biggest personnel change, you know you're having the least noteworthy offseason in the league.
If you're the Miami Heat, why mess with success?
Though they have met some struggles in each of their postseason forays, the Big Three are the reason the Heat are back-to-back champs. As long as LeBron James is the best player in the world, Dwyane Wade's knees stay healthy and Chris Bosh keeps knocking down mid-range jumpers, Miami will find a way to win.
So while spacing is a high priority for the Heat, they can afford to replace a three-point specialist. Miller has been a key piece to the Heat's two titles, but he shouldn't be missed too much.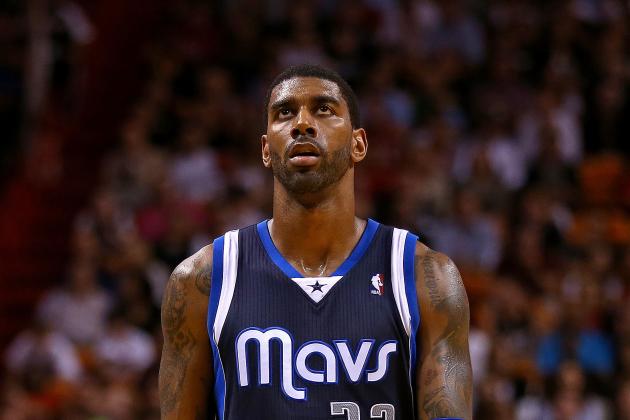 Mike Ehrmann/Getty Images

Last season, the Milwaukee Bucks attempted to win with two speedy volume-scoring guards. Both looked to shoot first and pass second and neither had much interest in defense.
Now Brandon Jennings and Monta Ellis are gone, and the Deer don't look nearly so fearsome.
That's not to say Milwaukee wantonly discarded its backcourt. It turned out that two combo guards didn't add up to one point guard, meaning the Bucks offense lacked offense while its defense had no perimeter containment.
Brandon Knight and O.J. Mayo are the new starters in Milwaukee, meaning there will be something resembling a pecking order in the offense. That said, Knight has floundered as a distributor at the professional level; it's unclear whether point guard play is in his repertoire.
The new Bucks guards are very much the same as the old ones; their ceiling is just considerably lower.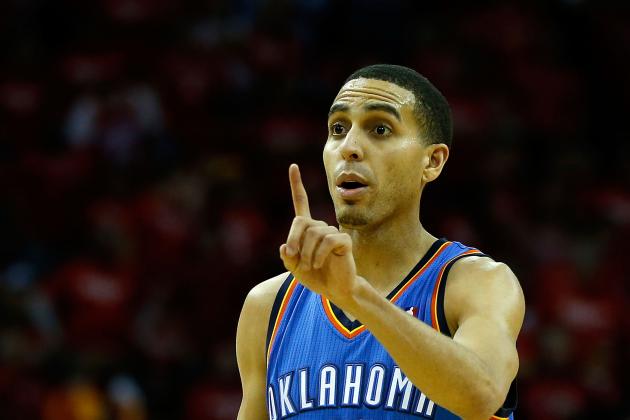 Scott Halleran/Getty Images

In today's NBA, you need to surround your big men with shooters, or else they will get swarmed inside.
With that in mind, Kevin Love and Nikola Pekovic have to be ecstatic the Minnesota Timberwolves signed Kevin Martin.
The Wolves did a woeful job surrounding their big men with perimeter offense last season, though that wasn't as big a deal considering Love was hurt for most of the season. Pek was able to bang inside as the lone post scorer, but Minny needed more help at full strength.
Consider this: Martin shot 42 percent from beyond the arc last season; no one on Minnesota even shot 35 percent on threes.
His efficiency from the field makes him an ideal weapon to add to a post-oriented offense. If everyone stays healthy this time around, Martin will help the Wolves contend for a playoff spot.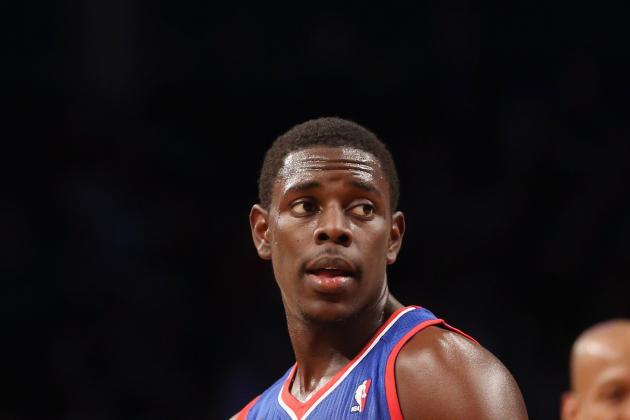 Bruce Bennett/Getty Images

If the New Orleans Pelicans had kept Nerlens Noel, they would have been destined for failure next season, possibly longer.
Instead, they chose to play for competitiveness, and the former Hornets dealt their first-round pick for a 23-year-old All-Star point guard.
With Anthony Davis, Eric Gordon and now Tyreke Evans on the Pellies, they need someone to quarterback the offense. Jrue Holiday brings explosiveness Greivis Vasquez lacked while maintaining the old point guard's knack for distribution.
Holiday's ability to drive and kick will be a great addition to New Orleans' offense. Gordon, Evans and Anderson can spot up beyond the arc as the point guard slashes toward the rim. He can either finish himself if he has the space, swing it to a shooter outside or find Davis inside for an easy bucket.
That's the benefit of having a guy with some speed running the offense. Without Holiday, the Pelicans would likely be in play for Andrew Wiggins next June. For their aggressiveness in building their roster, they may escape the lottery yet.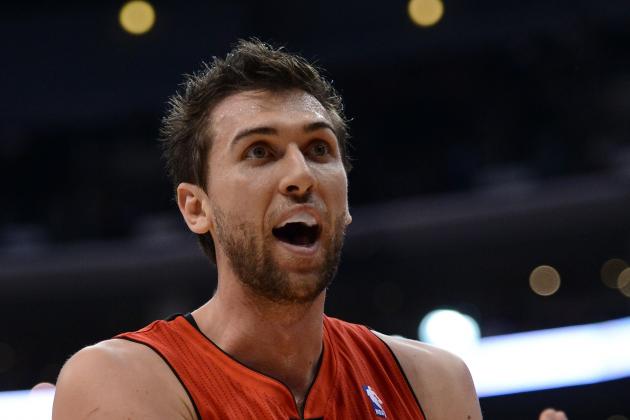 Harry How/Getty Images

Well, this is depressing.
The New York Knicks paid an absurd price for Andrea Bargnani. They won't miss Steve Novak or Marcus Camby, but there was no reason to give up a first-rounder and two seconds for a guy Toronto was considering amnestying if it couldn't move him.
Even so, that deal is in the past. Bargnani is a New York Knick now, and he can actually help this team win.
He's not the spot-up savant Novak is, but he does have some range on his jumper and a much more diverse offensive game. Bargnani is a skilled passer for a seven-footer, and he is good at getting to the line and knocking down his free throws.
Despite his many flaws, Bargnani did average over 20 points per game just three seasons ago. Without the responsibility of carrying an offense, he'll be useful in terms of creating his own shot and setting up teammates.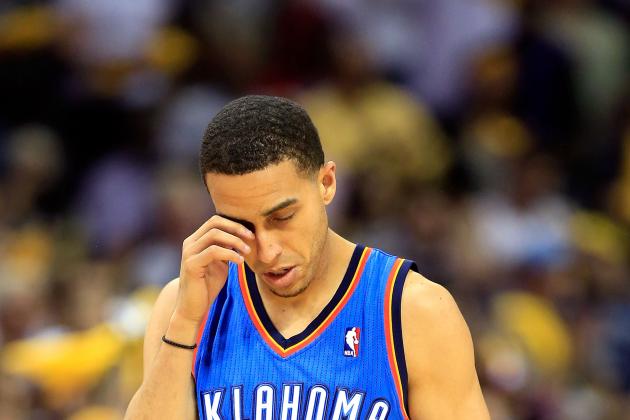 Jamie Squire/Getty Images

Remember when James Harden was the Oklahoma City Thunder's shooting guard?
Now they don't even have Kevin Martin in OKC, leaving the Thunder without a capable third scorer to play alongside Kevin Durant and Russell Westbrook.
The list of options without Martin is not pretty whatsoever. Between the offensively incomplete and the unproven players, there isn't anyone Scott Brooks can trust to give him some more points out of the backcourt.
If, say, Jeremy Lamb takes over the starting shooting guard job, OKC will need Serge Ibaka to contribute more on the offensive end to keep up its elite play. Durant and Westbrook can't do much more, while Lamb won't likely be ready for a major offensive load in his first significant season.
OKC has two bona fide superstars, so they'll be just fine. But the Thunder are by no means the undisputed Western Conference favorites anymore.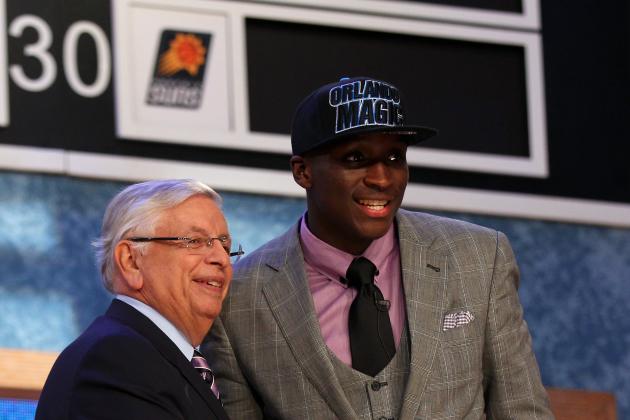 Mike Stobe/Getty Images

The Orlando Magic were already fully invested in a rebuilding effort in 2012-13, so they didn't experience much turnover this offseason.
Victor Oladipo is therefore their biggest addition by default, though that's no indictment of his game.
In terms of talent and skill set, the Indiana product is the rookie most prepared to succeed right away. He will be a legitimate lockdown defender from the first day, he's a solid spot-up shooter from three-point range, and he has a quick enough first step to beat NBA guards off the bounce.
Oladipo will fit right in alongside young'uns like Moe Harkless and Tobias Harris. That core won't win right now in Orlando, but it is promising.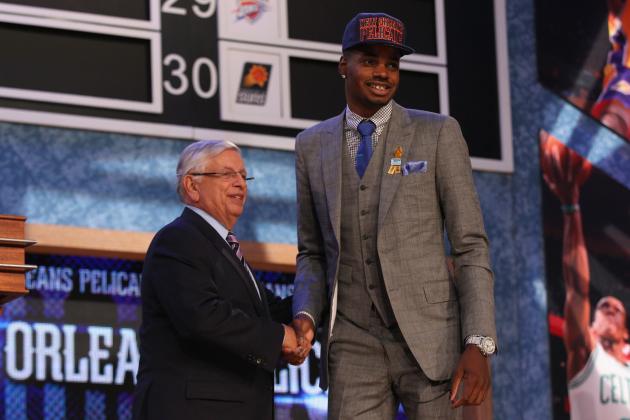 Mike Stobe/Getty Images

While the Pelicans acted aggressively in pursuit of a place spot, the Philadelphia 76ers partnered in that trade as part of a headlong charge for a high lottery pick.
Jrue Holiday was the only guy in Philly remotely resembling a star, but his stardom powered the Sixers no further than mediocrity. New GM Sam Hinkie decided that starting from scratch would be more effective than building around Jrue, instead creating a youthful core around Nerlens Noel.
At this point, Noel matters less for what he does on the court and more for how he is valued in the abstract. In that regard, he is a physicalization of a draft pick, a commodity whom Hinkie might hang on to if he breaks out or move if he doesn't seem like a piece to a championship team.
Noel might be a dominant rim protector for years to come. In the meantime, bringing him in and shipping Holiday out puts Philly smack dab in the race for Andrew Wiggins.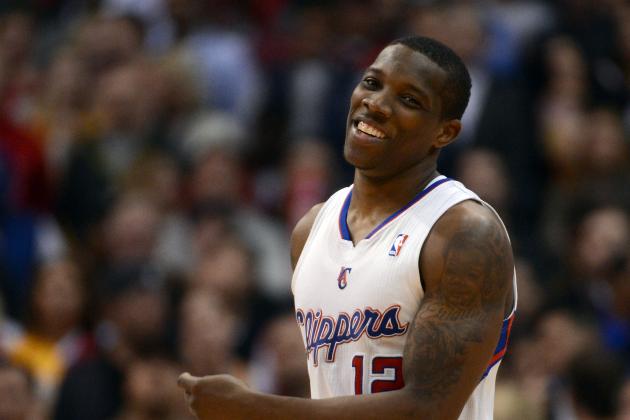 Harry How/Getty Images

Now the Phoenix Suns finally have a young player with star potential.
Ryan McDonough made a killing in his first trade as Suns GM. He gave up Jared Dudley, a useful swingman but not someone aiding a rebuilding effort, and a second-round pick in return for a point guard who plays suffocating D and is devastating attacking off the pick-and-roll.
Led by Bledsoe and Goran Dragic, Phoenix still doesn't have even one of the 50 best players in the NBA, but it does have some sort of identity. Though neither is tall enough to play shooting guard for a full game, the Suns guards will force a ton of turnovers and get easy points off the break.
The Suns are still a long way from respectability, but at least they are now moving in the right direction.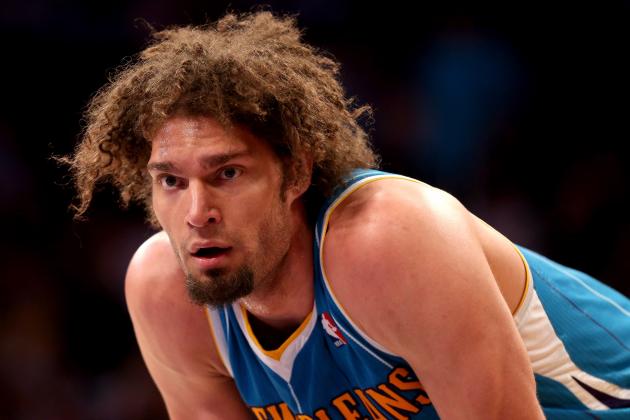 Stephen Dunn/Getty Images

Much like the Indiana Pacers, the Portland Trail Blazers struggled because of a weak bench. Unlike the Pacers, that shortcoming knocked the Blazers out of the playoff picture.
This offseason, Portland went out of its way to shore up its openings and bolster its second unit. The result is a Rip City squad much better suited to compete for the postseason.
Not only did the Blazers get Robin Lopez to replace J.J. Hickson at center, but they also dealt for Thomas Robinson to add depth to the front line. Similarly, the newly drafted C.J. McCollum should be an explosive point guard with nice instincts to back up Damian Lillard, while Dorell Wright gives them a much-needed shooter off the bench.
Portland will finally be able to give its starters some rest next season; we'll see if that contributes to more effective play.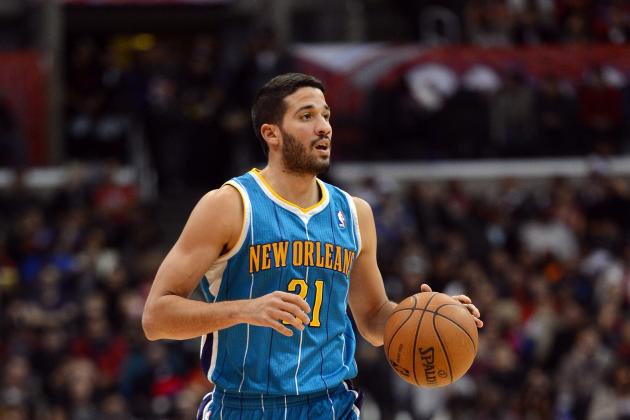 Harry How/Getty Images

It's practically a novelty for the Sacramento Kings to have a pass-first point guard.
Sacramento is filled with combo guards, none of which has been particularly interested in sharing the rock; Isaiah Thomas led the team in assists per game last season with a paltry 4.0 per game.
On the other hand, Greivis Vasquez is a true point guard in the body of shooting guard. Standing 6'6", he uses his height to find passing lanes over and around smaller defenders, a tactic that allowed him to dish out the second-most assists in the league last season.
Vasquez will be able to feed DeMarcus Cousins in good position to score and find his fellow shot-happy Kings with open looks. That's a crucial facet to this young team's growth.
Elsa/Getty Images

Manu Ginobili is aging, but the San Antonio Spurs now have another creative shooting guard on their roster.
He doesn't have the efficiency that Ginobili once had, but Belinelli has some of the same unorthodoxy in his game. It's not always the safest style of play, but it provides a change of pace to the methodical San Antonio offense.
While he can fit in nicely as one of the plethora of spot-up shooters in Gregg Popovich's arsenal, Belinelli can throw defenses by creating his own shot. That off-the-bounce attack is why Pop likes playing Gary Neal as a small-ball shooting guard; Belinelli isn't quite as good offensively, but he has the size to keep up with wings on defense.
The Spurs system will live on for another year, and this wrinkle of deviation will help it do so.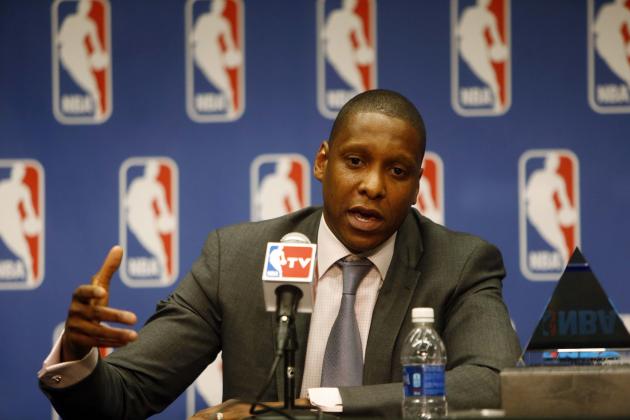 Chris Humphreys-USA TODAY Sports

The Toronto Raptors' new general manager successfully traded Andrea Bargnani for three draft picks. That cannot be overstated and it is enormous.
Masai Ujiri has not yet reshaped the Raptors, but he has proven in Denver that he is willing to take unconventional approaches in order to build a winner. In the short term, that means he will view his new roster less as a cohesive group of players and more as a stockpile of resources.
Expect Rudy Gay and his two remaining years to be moved as soon as possible—by this coming trade deadline if his stock is high, or else by the next one at all costs. Considering the glut of swingmen in Toronto, DeMar DeRozan should be on the table, too.
Those talented scorers are the cost of dealing present-day contributors for future options and flexibility. Toronto has enough intriguing young players to transition without blowing everything up, but that commodity-based philosophy will still drive Ujiri.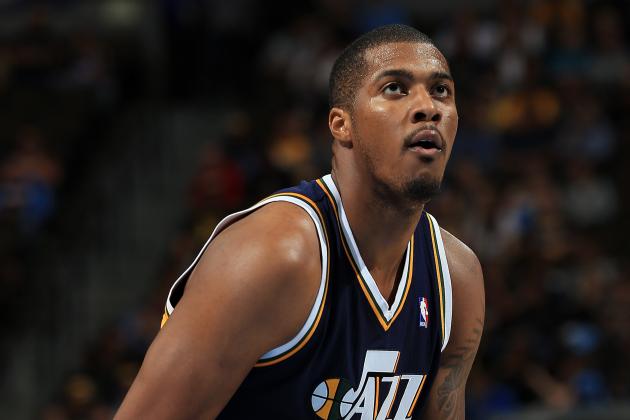 Doug Pensinger/Getty Images

In his fourth season with the Utah Jazz, Derrick Favors is finally going to be the guy.
He has consistently been blocked in the rotation by Al Jefferson and Paul Millsap, relegating Utah's best defensive big to the second unit. Now Big Al and Millsap are both gone, giving Favors the chance to get starter minutes for the first time.
Favors' entry into the starting lineup should certainly help the Jazz keep points off the board, though scoring will drop in kind. That said, Utah is more than ready to let its prospects take their lumps and bottom out in 2013-14.
After years of fighting for the eighth seed with Jefferson and Millsap, Favors, Enes Kanter and Gordon Hayward will almost surely lead the Jazz to a lottery pick. It's a step backward, but it's progress.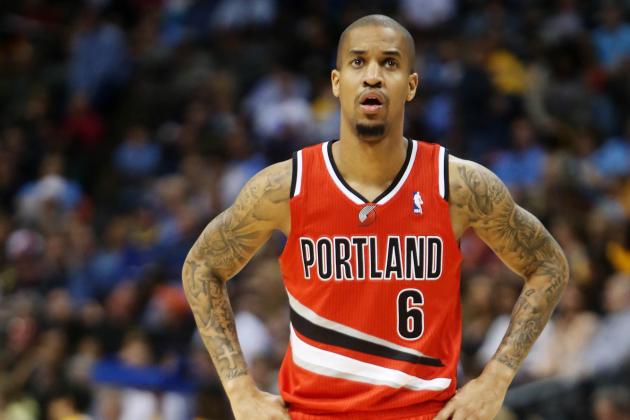 Chris Humphreys-USA TODAY Sports

Once John Wall returned from injury, the Washington Wizards went 24-25—by no means great, but respectable for a lottery team. That's especially true considering the Wiz were 5-28 before that.
Moral of the story? Washington badly needed a backup point guard.
Wall is emerging as a star, but A.J. Price was by no means the answer in his absence. Forced to start 22 games, Price proved to be a willing defender, but his offensive limitations were too much on a team with no dominant scorer.
Washington is gambling on Eric Maynor to bounce back to pre-injury form and be the offensive catalyst that Price couldn't be. Maynor has shown an ability to create for himself and others off the dribble, though he will not match his predecessor's production on the defensive end.
Nevertheless, that scoring boost will greatly benefit the Wizards' second unit. Maynor's not a sexy signing, but he could vault Washington into the Eastern Conference playoffs.