Assembling Perfect Jake Peavy Trade Packages for Top 5 Suitors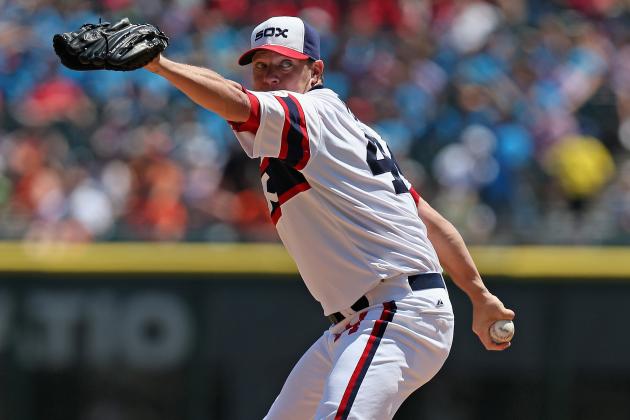 Jonathan Daniel/Getty Images
Who will win the sweepstakes for veteran starter Jake Peavy?
In case you didn't know, the Chicago White Sox will be sellers at the 2013 trade deadline.
Currently trailing Detroit by 18 games in the American League Central, general manager Rick Hahn and company are looking to move many of their top players, including veteran starter Jake Peavy.
Peavy, 32, is the team's most valuable trade chip heading into the deadline, as he's easily the top pitcher on the market and therefore capable of commanding a significant return.
And with their eyes set on the future, the White Sox are hoping to land multiple top-ranked prospects in exchange for the former NL Cy Young winner. However, as ESPN.com's Buster Olney mentioned in his column this morning (Insider subscription required), few teams are entertaining the idea of parting with their top prospects in exchange for the oft-injured right-hander.
"What the White Sox have indicated to other teams is that they want major league ready pitching in return for Peavy, which, in 2013, is like saying to other folks on a sinking ship that you want to acquire their lifeboat," said Olney. "Teams are not nearly as willing to part with that sort of commodity as they used to be."
But despite Chicago's steep asking price, there are numerous teams that figure to remain involved in the Peavy sweepstakes over the next couple of days.
Here's a look at five teams capable of putting together a realistic prospect package to land Peavy before Wednesday's deadline.
Begin Slideshow

»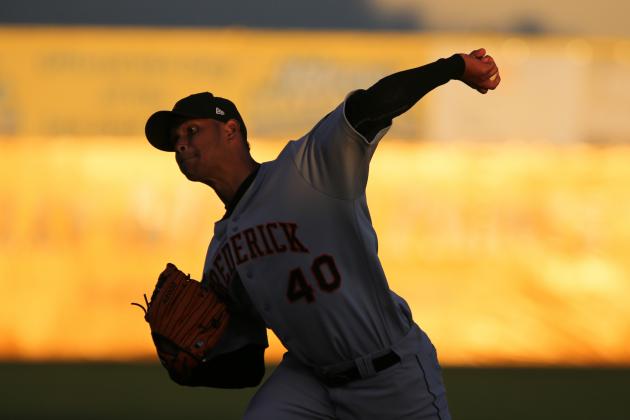 USA TODAY Sports
Eduardo Rodriguez
LHP Eduardo Rodriguez
Ranked behind right-handers Dylan Bundy and Kevin Gausman, the Orioles' first-round picks from the 2011 and 2012 drafts, respectively, Rodriguez doesn't receive the recognition he deserves.
Recently promoted to Double-A Bowie after an excellent first half at High-A Frederick, Rodriguez boasts a three-pitch mix that includes an above-average fastball, plus slider and average changeup. But perhaps what's most impressive about the 20-year-old left-hander's prowess on the mound is his feel for pitching at such a young age.
INF Jon Schoop
Meanwhile, Schoop has moved through the Orioles' system quickly. Considering that he was handed an Opening Day assignment to Triple-A Norfolk, there's a decent chance the 21-year-old would have already reached the major leagues had it not been for a stress fracture in his back that resulted in over two months on the disabled list.
While he's capable of playing several infield positions, Schoop projects as an above-average everyday second baseman at the next level.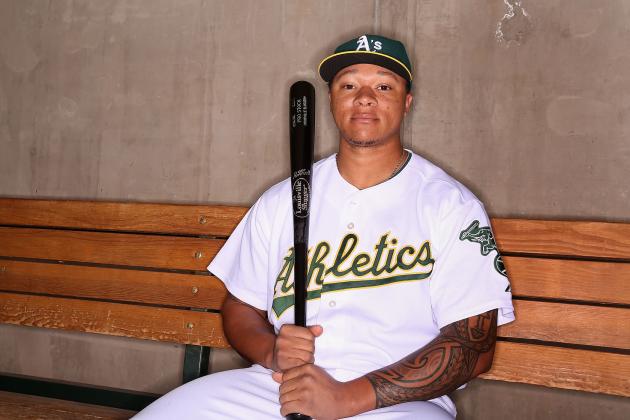 Christian Petersen/Getty Images
Michael Choice
OF Michael Choice
While the White Sox already have a slew of high-risk outfielders scattered throughout their weak system, Choice would give them a safer option given his proximity to the major leagues. Although he hasn't showcased it this season as expected at Triple-A Sacramento, the 23-year-old possesses plus raw power and has made noticeable strides toward improving his plate discipline.
3B Renato Nunez
Nunez is a strong candidate to be included in a deal for Peavy, as the White Sox have struggled to develop a legitimate third baseman since the Joe Crede era. The 19-year-old is still a very raw prospect; however, he's made a splash this year during his full-season debut at Low-A Beloit, collecting 37 extra-base hits (15 home runs) in 97 games.
RHP Michael Ynoa
Signed to a club-record $4.25 million bonus as a 16-year-old in 2008, Ynoa had logged only 39.2 innings headed into the 2013 season due to a host of injuries—including Tommy John surgery in 2010.
Finally let off the leash this season, the 6'7" right-hander has shown glimpses of the pitcher the A's envisioned when he was signed. However, Ynoa is still very much a project and likely won't contribute in the major leagues until the 2015 season.
Brad Penner-USA TODAY Sports
Garin Cecchini
3B Garin Cecchini
Cecchini has been one of the top hitters in the minor leagues over the last two seasons and jumped on the prospect radar in a big way as a result. Although he projects to have a plus hit tool with equally impressive on-base skills at maturity, the 22-year-old lacks the power typically associated with a third baseman.
And with the Red Sox prepping Xander Bogaerts to take over at the position down the stretch—and possibly beyond—Cecchini lacks a clear path to playing time with the organization.
RHP Brandon Workman
After excelling at both Double-A Portland and Triple-A Pawtucket over the first half of the season, Workman was called up to the major leagues in early July. While the promotion was mostly a result of injuries to the team's starting rotation, it also allowed the organization to showcase the 24-year-old to other teams.
Workman has pitched well in both of his starts with the Red Sox, allowing four total runs on nine hits with a 9-3 strikeout-to-walk ratio in 12.1 innings. And if the organization is targeting a big-name starting pitcher such as Peavy, there's a realistic chance that Workman will be part of the deal.
LHP Drake Britton
Like Workman, Britton is another potential sell-high candidate due to his recent exposure in the major leagues. The 24-year-old was promoted on July 20 to bolster the bullpen after a rash of injuries and is yet to allow an earned run in four appearances. And considering his successful track record against same-side pitching, Britton could be a nice toss-in as part of a larger deal.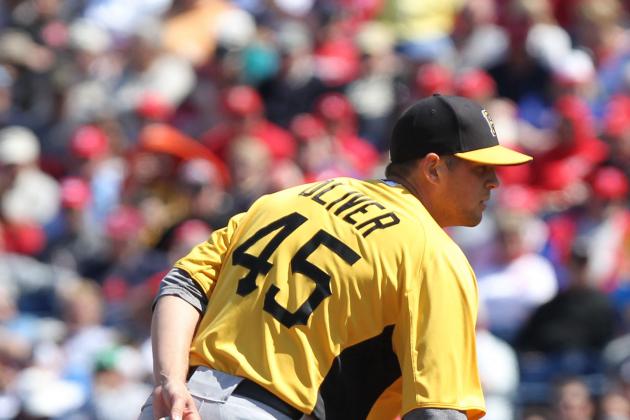 Kim Klement-USA TODAY Sports
Andrew Oliver
RHP Tyler Glasnow
Even though the Pirates house top prospects such as Jameson Taillon, Gregory Polanco and Alan Hanson, Tyler Glasnow represents their most intriguing trade chip heading into the deadline.
The 6'7" right-hander's stock has taken off this season thanks to his dominance at Low-A West Virginia. Beyond his sexy 2.27 ERA and .154 opponent batting average, the 19-year-old currently paces the South Atlantic League with 122 strikeouts (compared to 48 walks) in 87.1 innings.
Yes, Glasnow comes with a considerable amount of risk, but the final product could be well worth the investment at the trade deadline.
2B Dilson Herrera
While Pittsburgh is unlikely to make Alen Hanson available—especially given his recent promotion to Double-A Altoona—it could potentially make second baseman Dilson Herrera available.
Herrera's production has fallen off a bit this year during his full-season debut for Low-A West Virginia, though the 19-year-old has still showcased projectable power with 31 extra-base hits (nine home runs) in 83 games. He may not move as fast as Hanson—who may eventually block him at the major league level—but Herrera could conceivable take over at the keystone for Gordon Beckham in 2016.
LHP Andrew Oliver
It's not a secret that the White Sox love reviving once-promising pitching prospects. And there may not be a better candidate in the minor leagues than Andy Oliver. Selected by the Tigers in the second round of the 2009 draft, the left-hander breezed through their system and reached the major leagues during his professional debut in 2010.
Unable to regain his form over the next two years, the Tigers finally parted with the 25-year-old prior to the 2012 season, dealing him to Pittsburgh in exchange for catcher Ramon Cabrera.
In his first year with the Pirates, Oliver has held his own in the Triple-A Indianapolis starting rotation, registering a 3.97 ERA and .217 opponent batting average with 110 strikeouts in 102 innings. However, his ability to evade bats has only masked the ongoing control issues, as the left-hander has also recorded a career-high 93 walks.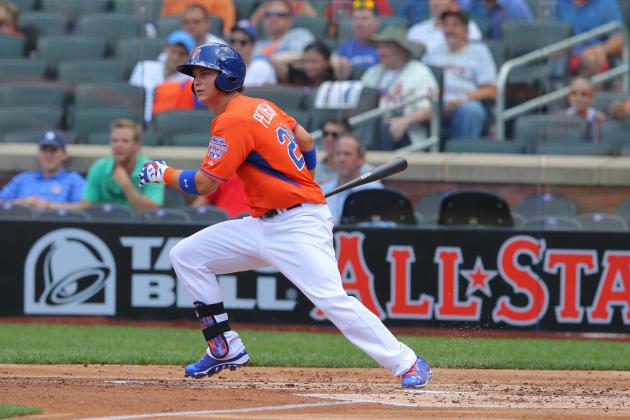 Brad Penner-USA TODAY Sports
Joc Pederson
OF Joc Pederson
As we've learned over the last year, the Dodgers can never be ruled out of trade rumors—even when they say they're out. And because their major league outfield is already crowded with Matt Kemp, Yasiel Puig, Andre Ethier and Carl Crawford, 21-year-old Joc Pederson could be dangled as bait at the deadline.
After a breakout 2012 season in the hitter-friendly California League, Pederson has improved his prospect stock with a strong sophomore campaign with Double-A Chattanooga. However, despite his projection for an above-average hit and power tool, some scouts remain divided about his potential to be an everyday outfielder in the major leagues.
With that being said, Pederson likely would be given a chance to develop at a healthier and more reasonable pace with a different organization.
OF Alex Castellanos
Although Castellanos isn't considered to be much a prospect these days, he has received a taste—albeit brief—of the major leagues in each of the last two seasons. Beyond his ability to play all three outfield positions, the 26-year-old also has seen time at second and third base. However, that's largely the result of a need to keep his underrated bat in the lineup.
Originally selected by the Cardinals in the 10th round of the 2008 draft, Castellanos has hit at every minor league stop, posting double-digit home run and stolen-base totals in each of the past four seasons. But even though he's clearly proven himself against inferior pitching and has little left to prove in the Pacific Coast League, it's difficult to see him cracking the Dodgers lineup anytime soon.
That sounds just like the type of player the White Sox tend to target.
LHP Onelki Garcia
A third-round draft pick of the Dodgers in 2012, Garcia logged only two innings (one start) during his professional debut last summer. However, he showed the organization enough to warrant a promotion to Double-A Chattanooga for the 2013 season.
In his first full season as a professional, the 23-year-old got off to a slow start with a 4.00 ERA and 13-15 strikeout-to-walk ratio in 18 innings spanning four starts. Due to his control problems, the Dodgers relegated the left-hander to the bullpen where he's been lights-out over the last two months.
As a reliever, Garcia has posted a 0.35 ERA with 14 hits allowed and a 28-15 strikeout-to-walk ratio in 25.2 innings. There's a chance the Dodgers attempt to utilize him as a LOOGY later this season, but it looks like he'll serve as trade bait for the time being.
RHP Yimi Garcia
Since joining the organization in 2009, Garcia has made a strong case to become the Dodgers' future closer. The 6'1" right-hander enjoyed a breakout full-season debut in 2012, registering a 2.92 ERA with 16 saves and an 82-22 strikeout-to-walk ratio (14.1 K/9) in only 52.1 innings between Low-A Great Lakes and High-A Rancho Cucamonga.
Moved up to Double-A Chattanooga for the 2013 season, the right-hander has continued to baffle opposing hitters with his deceptive, unorthodox delivery, as well as a plus fastball-slider combo that's ideal for a late-inning role at the major league level.