10 Bold Predictions for the SEC on 2014 College Football Recruiting Trail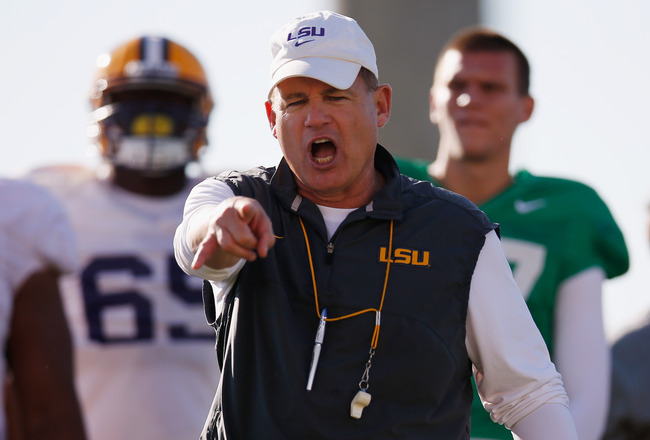 LSU head coach Les Miles
Chris Graythen/Getty Images
The SEC recruiting trail has proven to be unpredictable over the years. Anything can happen in the South, as SEC recruiting is without question the most competitive trail in the country. Shocking decommitments, last-minute visits and many other surprising moments have taken place in SEC recruiting.
The 2014 class will bring many more memorable moments, as predicting what will happen can make one look silly in hindsight when looking back on this cycle. However, predictions are fun and the bolder the better, especially when it comes to talking about SEC recruiting.
A program in the SEC West division is in position to land a remarkable amount of elite prospects. A pair of juggernauts in the conference will be spurned by top targets, and an upstart underdog will beat out several traditional SEC powerhouses for a defensive line prospect.
Player evaluations are based on review of tape at Scout.com, Rivals, 247Sports and ESPNU.
Auburn Will Beat out Alabama for More Than 1 Recruit Before Signing Day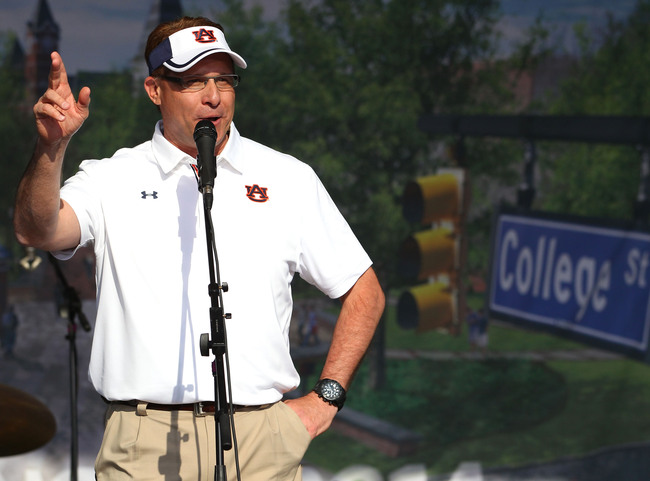 Auburn head coach Gus Malzahn
Mike Zarrilli/Getty Images
Alabama is the premier program in college football, as the Crimson Tide enter the 2013 season looking to win a third straight national championship.
Auburn is restarting its program, as Gus Malzahn has replaced Gene Chizik as head coach. Chizik proved during his tenure that he could match up with Nick Saban for an in-state/regional prospect, but questions arose when Malzahn was hired.
However, Malzahn has shown early during this cycle that he can recruit quality prospects. Whether it's Racean Thomas, Ronnie Clark or Rashaan Evans, per 247Sports, the Tigers will beat out 'Bama for more than one additional in-state prospect before signing day.
Jamal Adams Will Sign with Florida
Jamal Adams is one of the best safeties in America, as he has an excellent set of skills. The 6'0", 199-pounder has impressive short-area quickness, speed, athleticism, instincts and is a solid tackler.
When evaluating Adams, it is easy to see that he could be an All-SEC selection in a few seasons. Although he is from Texas, Adams will sign with Florida, where his godfather Joker Phillips serves as the Gators' receivers coach.
Ermon Lane Will Spurn Miami for an SEC School
The SEC is known for its physical style of football, as teams know to win they must be able to effectively run the football. However, possessing great receivers on the perimeter is also crucial.
Ermon Lane, who is from Florida, has the talent to become one of the best receivers in the SEC. However, Miami will not let the 6'3", 193-pounder leave home without a fight.
Yet, in the end, Lane will choose to catch touchdowns at either Alabama or Florida.
Jalen Tabor Will Choose Not to Play in the SEC
Jalen Tabor is a 6'1", 182-pound cornerback who stands out on the field. His size is fantastic for his position, but Tabor also has solid hip flexibility, short-area quickness and cover skills.
He is from Washington D.C. and, according to the experts at 247Sports, is expected to sign with Florida. If he had to choose right now, Tabor would indeed be a Gator.
However, as time wears on, Tabor will begin to experience the same thoughts and feelings Terps receiver Stefon Diggs likely did in 2012. He will realize that playing close to home for Maryland and being a living legend in his region is priceless.
Taylor will sign with the Terrapins.
Texas A&M's Texas Location and SEC Membership Will Deliver Myles Garrett
The Aggies' being a powerhouse program in talent-rich Texas while being an SEC school is a significant recruiting advantage. Texas A&M can collect prospects in its state by telling them "you can play for us, in your home state, while competing in the SEC."
That's a powerful message to a young recruit in Texas, and that same message will help head coach Kevin Sumlin sign stud defensive end Myles Garrett.
Garrett, who is 6'4" and 240 pounds, has great quickness at the snap, point-of-attack strength and athleticism. He would be a great fit in the Aggies' defensive scheme and would likely earn playing time as a true freshman.
Da'Shawn Hand and Raekwon McMillan Will Not Sign with an SEC School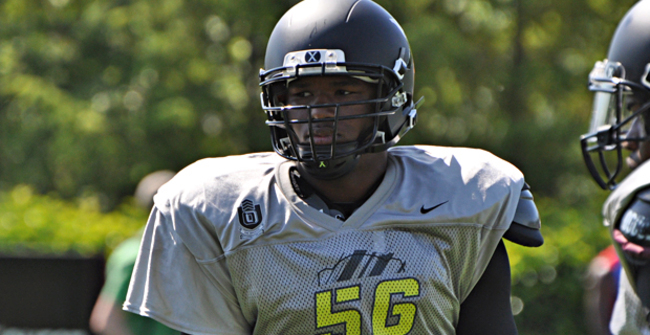 Da'Shawn Hand (247Sports)

Da'Shawn Hand and Raekwon McMillan are two of the best defensive players in the country. Hand is a 6'4", 254-pound defensive end with good strength, quickness and athleticism.
McMillan is a 6'2" and 242-pound 'backer with explosive short-area quickness, instincts and the ability to be dominant versus running plays. Each prospect is coveted on the SEC recruiting trail, but they will not be joining the conference.
Interestingly enough, both will sign with Big Ten schools. Hand will sign with Michigan, while McMillan will pick Ohio State.
Elisha Shaw Will Make Hugh Freeze Happy
Ole Miss head coach Hugh Freeze signed defensive end Robert Nkemdiche in 2013, as the talented edge-defender picked the Rebels over several traditional SEC powerhouses.
Freeze will score another defensive line upset, as 2014 defensive tackle recruit Elisha Shaw will choose to play in Oxford. A defensive line featuring Nkemdiche and Shaw will be lethal in the SEC, as the pair are powerful players.
Alabama and Georgia will be the losers of the Shaw sweepstakes.
Marlon Humphrey Will Follow in His Father's Footsteps
Bobby Humphrey was a running back at Alabama in the late 1980s. His son, Marlon, is one of the best players in the country for the class of 2014.
A talented cornerback, Humphrey is a 6'1", 175-pounder who has 10 interceptions in the past two seasons. Humphrey has great range, awareness, instincts and natural cover skills.
He is uncommitted at this time, but Humphrey is essentially an Alabama lock.
LSU Will Land the "Magnificent 7"
The Tigers are no strangers to dominating the SEC recruiting trail, as they routinely have one of the most talented rosters in the conference. However—believe it or not—the talent in Baton Rouge will be upgraded after the 2014 recruiting cycle.
Head coach Les Miles will pull one of the biggest recruiting coups in history, as running back Leonard Fournette, offensive tackle Cameron Robinson, safety Laurence Jones, linebacker Clifton Garrett, defensive tackle Gerald Willis, receiver Malachi Dupre and cornerback Tony Brown will all sign with LSU.
When Miles pulls this off, his recruiting reputation will ascend to new heights.
LSU Will Have the No. 1 Class in the SEC and in the Country
LSU has an excellent chance to elevate up the recruiting rankings in the coming months. The Tigers have their hands in many elite recruiting pots and will land an amazing amount of elite talent.
The team that signs the best class in the SEC usually has the No. 1 national ranking. Look for LSU to win both honors, as this will be a banner recruiting year for the folks in Baton Rouge.
Edwin Weathersby is the College Football Recruiting Analyst for Bleacher Report. He has worked in scouting/player personnel departments for three professional football teams, including the New York Giants and Cleveland Browns.
Keep Reading