Projected 2013-14 Stats for Washington Capitals' Top Stars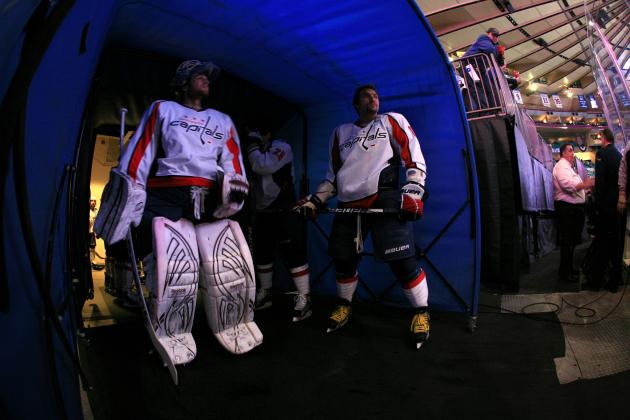 Bruce Bennett/Getty Images

The Washington Capitals enter the 2013-14 NHL season with as much pressure to excel as virtually any team in hockey, as the team will try to advance beyond the Eastern Conference semifinals for the first time since 1998.
Fortunately, the Capitals do appear to have the personnel to meet those expectations.
Head coach Adam Oates has reigning league MVP Alex Ovechkin as well as a dangerous collection of secondary scorers at his disposal.
Beyond the offense, Washington has a handful on standouts on the back end, including young stopper Braden Holtby and elite rearguards John Carlson and Mike Green, so it's not as if this roster is without high-end talent.
Here's an early look at what kind of numbers the Capitals' stars will put up this season.
Begin Slideshow

»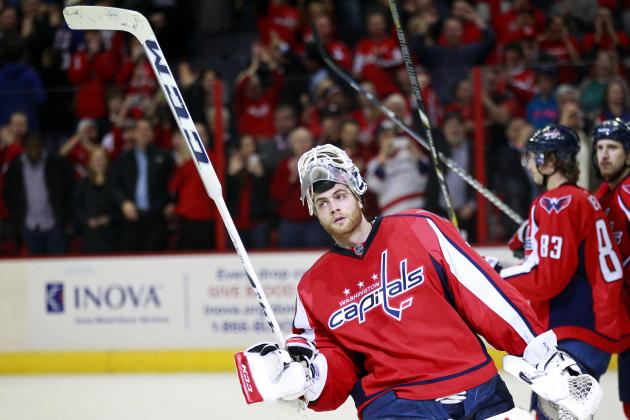 Geoff Burke-USA TODAY Sports

For the second year in a row, Braden Holtby will enter training camp as the Capitals' No. 1 man in net, but that does not mean he won't face competition from Michal Neuvirth.
After an inconsistent start to the lockout-shortened 2013 season, Holtby stabilized down the stretch to finish at 23-12-1. He continued that strong play during the postseason against the New York Rangers.
However, after Neuvirth received a two-year extension worth more than the one Holtby signed just months earlier, it remains unclear how Oates will split up the workload between the two goaltenders.
Holtby will get the majority of the starts, but don't expect him to play nearly as much as many other starting goalies around the league.
Prediction: 35-19-6, 2.25 goals-against average, .925 save percentage. Holtby will post numbers similar to the ones he's registered over the last two seasons, though this will be a considerably larger sample size. Even if his play actually improves, his stats probably won't now that the Caps are playing in a division that also includes the Pittsburgh Penguins, Philadelphia Flyers, New York Rangers and New York Islanders.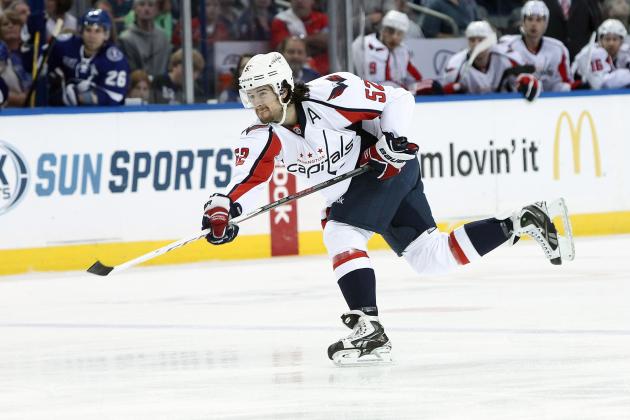 Kim Klement-USA TODAY Sports

It wasn't so long ago that Mike Green was considered one of the best defensemen in the game, but due to injuries and inconsistent play in his own end, the two-time First-Team All-Star selection entered last season with much to prove.
And that's exactly what Green did, as he reestablished himself as an elite offensive rearguard by leading all blueliners with 12 goals despite missing 13 games due to injury.
More importantly, Green finally seemed to regain the confidence that made him one of the most feared power-play weapons in the league—and without sacrificing his play in his own end.
Looking ahead, assuming Green can stay healthy, there's no reason that he and the Caps' revamped power-play unit can't put up the same sort of numbers they did during the second half of 2013.
Prediction: 18 goals, 39 assists, 57 points. Green will be good enough offensively to vault himself back into Norris contention, but won't be matching the same level of production he enjoyed under Bruce Boudreau.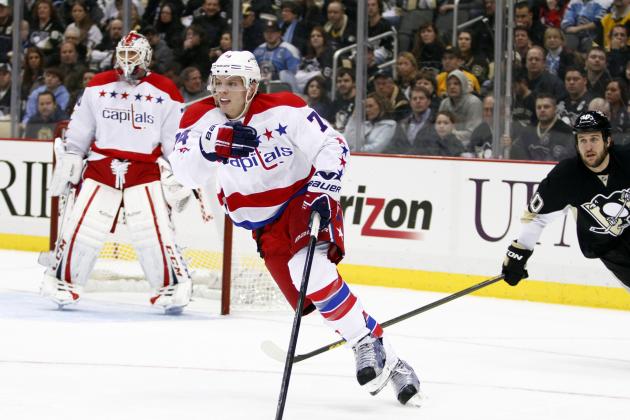 Justin K. Aller/Getty Images

Though he's not quite as dynamic offensively as Mike Green, John Carlson has quickly emerged as one of the game's most promising two-way defenders.
Now entering his fourth full season with the Caps, more will be expected of the 23-year-old in 2013-14.
As a 6'3" rearguard with a bomb for a shot, Carlson offers the Caps a second quality power-play quarterback to complement Green, but also boasts the size and mobility to play top-pairing minutes in any situation.
Last season, Carlson was on pace to match his career high of 37 points. Given that he's consistently scored at that rate during his three full seasons, that seems to be a relatively reliable benchmark.
In case Carlson needed more motivation to get off to a hot start, he'll be taking the ice with the Capitals knowing that his every move will be dissected by Team USA's Olympic staff, as he's very much in contention to be headed to the 2014 Sochi Olympics.
Prediction: 10 goals, 29 assists, 39 points. Carlson will continue to see big minutes, and with Mike Ribeiro gone, it seems logical that he'll be a permanent fixture on the top power-play unit.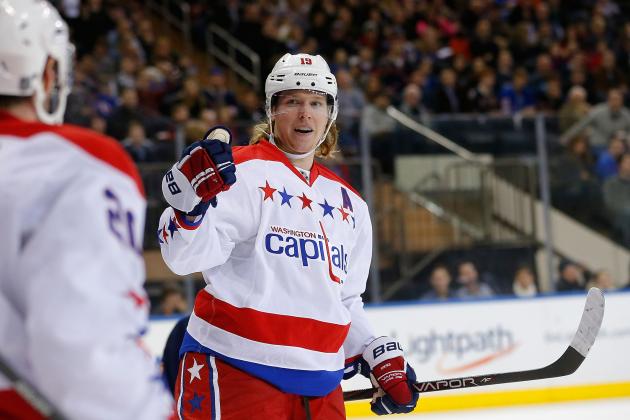 Paul Bereswill/Getty Images

Much was said about Alex Ovechkin's bounce-back performance in 2013, but one of the big reasons behind his sudden success was a healthy and productive Nicklas Backstrom.
Backstrom, a former 100-point scorer, is the Capitals' best setup man, so his ability to get into a groove with Alex Ovechkin is key to not only the success of the dynamic duo, but also the team as a whole.
Last season, the Swedish star posted his second consecutive season averaging at least a point a game, finishing the campaign ranked third in the league with 40 assists in just 48 games.
Heading into the team's first season as a member of the Metropolitan Division, Backstrom will have to be at least as good as he's been in each of the last two seasons if the Caps are to keep up offensively with the likes of the Penguins.
Considering how good he's been recently, that shouldn't be a problem.
His goal totals haven't been overly impressive, but Backstrom has an extremely underrated shot. If Oates can get him to fire the puck more often, expect him to light the lamp more frequently going forward.
Prediction: 24 goals, 59 assists, 83 points. Backstrom and Ovechkin teamed up with Marcus Johansson to form a very productive top line during the later stages of the 2013 season. If that chemistry persists, all three will keep putting up big numbers.
Geoff Burke-USA TODAY Sports

Just when the hockey world was getting ready to write Alex Ovechkin off, the Russian superstar roared back to life with one of the most compelling late-season performances in recent memory.
Coming off four straight seasons with declining point totals, the Capitals' captain reeled off a 32-goal, 56-point campaign in just 48 games.
That amounts to just nine fewer points than what he tallied in 30 more games a year earlier.
Given that he's finally back to shooting the puck more than anyone else in the game, it'd be premature to suggest that his numbers will fall back to earth in 2013-14—especially during a year in which Ovechkin will be looking to be at the height of his powers with the Olympics coming up in his home country.
No, Ovechkin will probably never hit 60 goals again, and may never crack the 110-point barrier either, but his totals from last season had him on pace to rack up 54 goals and 95 points.
If he can score consistently over a full season, 50 goals and 100 points aren't out of the question.
Prediction: 47 goals, 44 assists, 91 points. Ovechkin isn't as unpredictable as he was during his early years, but his move to the right wing certainly provided him with some looks in quality scoring areas that he hadn't been receiving in seasons past. He may not win the Rocket Richard again this season, but you'd better believe that he'll be in the running.