Remembering Donovan McNabb's Stellar NFL Career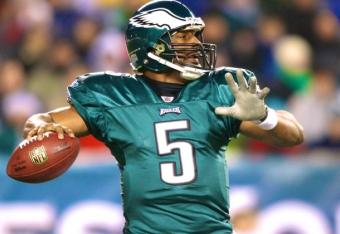 Donovan McNabb's time with the Philadelphia Eagles was a lot of things. Boring was not one of them.
Over 11 seasons with the Eagles, McNabb threw for 32,873 yards and 216 touchdown passes. In eight of those 11 seasons, he led the Eagles to the postseason. By the time he was finished, he owned most of the Eagles' passing records.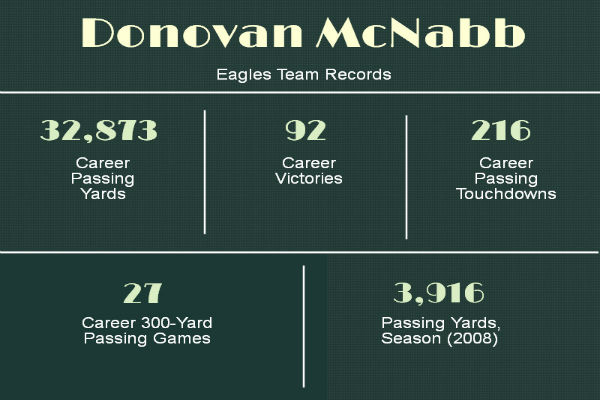 Now he is set for one last honor. As Nate Davis of USA Today reports, McNabb officially retired from the NFL on Monday, and his jersey (No. 5) will be retired by the team at a ceremony before a September game against the Kansas City Chiefs.
Team owner Jeffrey Lurie released a statement:
Donovan McNabb was a franchise-changing quarterback for the Eagles and helped raise the bar of success for this franchise during his 11-year tenure with the team. The number '5' has become synonymous with one of the greatest eras of Eagles football, and by ensuring that no one else will ever wear Donovan's number, we honor one of the greatest playmakers to ever wear an Eagles uniform.
Not bad for a player who was roundly booed when he was drafted.
That, however, is the middle of the Donovan McNabb story, and we should start at the beginning.
A Star Is Born
Donovan Jamal McNabb was born on Nov. 25, 1976, in Chicago. By the time he was a teenager, he was quite the athlete, playing football, basketball and even volleyball.
He was far from the only star on the teams at Mount Carmel High in Chicago. He played hoops with Antoine Walker, and defensive end Simeon Rice was a football teammate.
Mount Carmel won a state championship in 1991 and a Chicago Prep Bowl title the following year. Despite that high school success, Ian O'Connor of USA Today relayed back in 2004 that not many colleges were interested in McNabb as a quarterback.
In fact, only two schools offered him a scholarship to play under center.
The 'Cuse in the House
One of those schools was Syracuse University, and in 1994, Donovan McNabb headed east to join the Orange. He redshirted that first season at Syracuse, but after that he was impossible to keep off the field.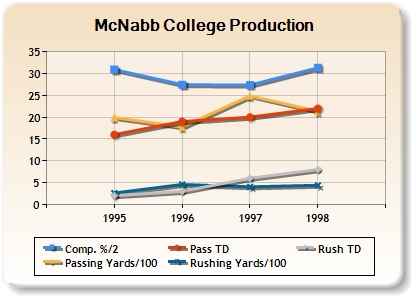 Over four years as the starting quarterback at Syracuse, McNabb never missed a start, compiling a 35-14 record. He gave notice as a freshman that he was going to be a force in the conference, accounting for over 350 yards of total offense against West Virginia (including a school-record 96-yard touchdown pass) en route to being named the Big East Rookie of the Year.
McNabb would go one better the following season.
From 1996-1998, he was named the Big East Offensive Player of the Year an unprecedented three straight times while rewriting the school's record books at quarterback. As a senior, McNabb led Syracuse to one of the most successful seasons in school history and a berth in the Orange Bowl, where the Orange fell to Florida 31-10.
However, for all of his success at Syracuse, there were still many who believed that McNabb was just another "running quarterback." Heading into the 1999 NFL draft, he was hopeful, according to Sports Illustrated, that a strong showing at the Senior Bowl had changed some people's perspective.
I believe people began to understand that we're not just guys out there running the ball all day. We have to make checks at the line of scrimmage, we're reading defenses, we're making reads on the run. Maybe I run around back there in the pocket. But there's a reason for that. I just try to make a play out there.
The Boo-Birds Come Home to Roost
If McNabb changed any minds, those folks weren't present at the draft. The Eagles fans in attendance were apoplectic when he was drafted second overall.
In retrospect, they may have overreacted just a touch. Five quarterbacks were drafted in the top 12 picks in a supposedly loaded draft at the position in 1999.
By 2006, only McNabb remained with the team that drafted him, and he had more success in the NFL than the other four put together (Tim Couch, Akili Smith, Daunte Culpepper, Cade McNown).
The Run Begins
McNabb's star truly began to shine in his second NFL season, the first in which he was the unquestioned starter for the Eagles.
In that 2000 season, he threw for 3,365 yards and ran for 629 more, showcasing the ability to extend plays with his legs that was the hallmark of his NFL career.
McNabb finished second in NFL MVP voting that year to Marshall Faulk, was named to his first Pro Bowl and led the Eagles to a playoff win over the Tampa Bay Buccaneers.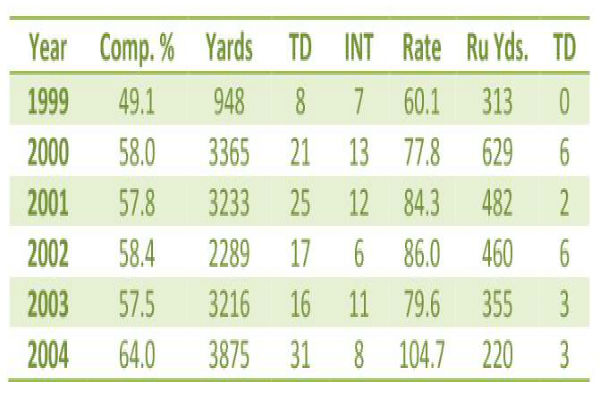 McNabb was just getting started. Despite a cast of has-beens and never-will-bes at wide receiver (James Thrash, Freddie Mitchell, Todd Pinkston, Na Brown), he threw for 3,233 yards in 2001. In 2002, he threw for 255 yards and four touchdowns against the Arizona Cardinals, playing on a broken ankle.
McNabb returned for the playoffs that year, leading the Eagles to what would be their second of three straight losses in the NFC Championship Game—a 27-10 loss to the Buccaneers.
It was at this point, despite the fact that McNabb was smack in the middle of a five-year run of double-digit wins and Pro Bowl trips, that those same boo-birds who lambasted the Eagles for drafting McNabb started a new chant.
Donovan McNabb can't win the big game, they said.
That wasn't the only cloud that gathered around him around this time. As ESPN reported, in September of 2003, McNabb was at the heart of a firestorm created when conservative talk-show host Rush Limbaugh tried to see how far into his mouth his foot would fit.
Sorry to say this, I don't think he's been that good from the get-go. I think what we've had here is a little social concern in the NFL. The media has been very desirous that a black quarterback do well. There is a little hope invested in McNabb, and he got a lot of credit for the performance of this team that he didn't deserve. The defense carried this team.
Granted, McNabb certainly can't be blamed for Limbaugh's idiotic comments, but they serve as an excellent example of just how badly he needed some good news entering the 2004 season.
The Not-So Super Bowl
That good news came, of all places, from wide receiver Terrell Owens.
The addition of Owens to the Eagles offense gave McNabb something he had never had before: a truly elite receiver. It showed in McNabb's numbers. His 3,875 passing yards and 31 touchdown strikes in 2004 were both career highs at the time, and the Eagles won 13 games.
Most importantly, the team finally won the NFC Championship, blowing out the Atlanta Falcons for the right to face the New England Patriots in Super Bowl XXXIX.
Unfortunately, the game did not go well for McNabb.
He managed to throw for 357 yards and three touchdowns, but the numbers were inflated. McNabb and the Eagles were in catch-up mode for much of the game, in large part due to his three interceptions and poor decisions with the ball.
The Eagles rallied before falling short 24-21. After the game, more controversy swirled when a teammate reportedly suggested (per ESPN) that McNabb was so ill at the end of the game that he couldn't make play calls.
The boo-birds got louder, and "he can't win the big game" was joined by potshots about McNabb's weight and conditioning.
The Downhill Slide
That loss in the Super Bowl was, in many ways, the beginning of the end.
A 2005 season that began with a very public feud with Owens ended due to a sports hernia. A torn ACL did the same to his 2006 season, and McNabb seemed to have lost a step in 2007. The Eagles made the playoffs only once during that stretch.
By now, the boo-birds were in full throat. If McNabb was ever any good, injuries had finished him off.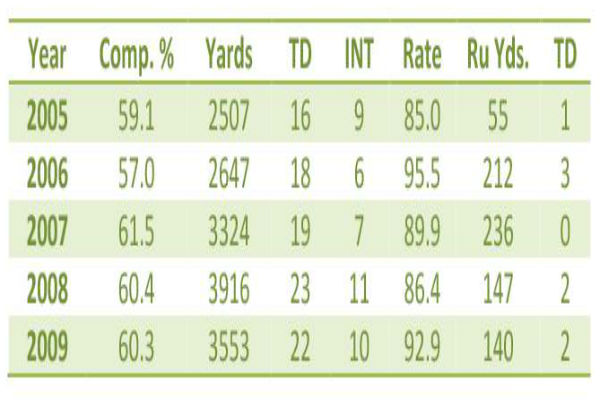 Then, in 2008, McNabb experienced a renaissance of sorts, passing for a career-best 3,916 yards. The Eagles made it back to the postseason, and only a home game with the Arizona Cardinals stood between them and another Super Bowl trip.
However, the Eagles were beaten by Arizona 32-25 in a game that wasn't as close as the score indicated. McNabb's 375 yards in the game were his most in a postseason contest, but he still drew criticism from pundits.
The Eagles made it back to the playoffs in 2009, with McNabb being named to his sixth Pro Bowl, but a misstep against the Dallas Cowboys in the regular-season finale cost Philadelphia a first-round bye. McNabb played poorly in that game, placing great pressure on the veteran to bounce back in the rematch the next week.
The game was a disaster. McNabb barely completed 50 percent of his passes in a blowout loss, the first time in his career that he lost in the the first round of the playoffs.
It was also his last game with the Eagles.
The Swan Song

In April of 2010, McNabb was traded to the Washington Redskins.
Sure, there was the occasional glimpse of the "old" Donovan McNabb, but they grew few and far between. By the end of the season, he had been benched in favor of Rex Grossman. By 2011, he had been traded again (to the Minnesota Vikings), and by the end of that season, he was out of the NFL altogether.
From there, it was on to the broadcast booth, where McNabb appears to have found his next career.
The 36-year-old hasn't been shy at all about speaking his mind in the booth, whether it's about the recent contract extension signed by Matthew Stafford of the Detroit Lions ("Is he worth top-five money? I would have to say no,") or his own Hall of Fame candidacy ("I would vote for myself").
McNabb's credentials for Canton are debatable. So is the reception he'll receive in Philadelphia for his retirement ceremony, although he told Paul Domowitch of The Philadelphia Daily News that he really doesn't mind if he gets booed.
I truly wouldn't care. To me, it's an appreciation for the people who truly respected what I did. I've always lived by the motto that you can't please everyone. So, for me, if I get booed, it wouldn't be anything new. If they cheer, that would be great. Obviously I'll be out there with my family and the teammates I played with. If there are any boos, I will smile.
Frankly, that's as it should be, as there are a couple of things that aren't debatable.
Is Donovan McNabb a Hall of Fame quarterback?
First, fans in Philly are going to boo you even if they like you. That's just how they roll.
Second, after over a decade of success in the City of Brotherly Love, Donovan McNabb has earned his moment in the sun, even if he did come up short in his quest for a Lombardi Trophy.
He played in a half-dozen Pro Bowls and five NFC title games. Give the man his due. Look at it this way: The Eagles could have drafted Akili Smith. That comparison should have them cheering McNabb in no time.
This article is
What is the duplicate article?
Why is this article offensive?
Where is this article plagiarized from?
Why is this article poorly edited?

Philadelphia Eagles: Like this team?