The 15 Best Wingers in World Football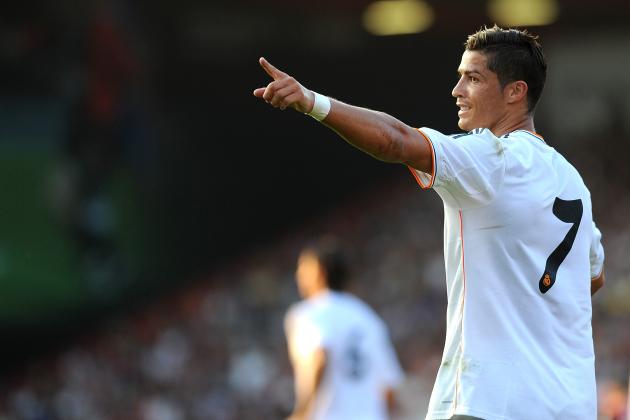 Charlie Crowhurst/Getty Images

Just after the turn of Millennium, following the brilliant tournament which was Euro 2000, football at the top level was in danger of becoming a turgid affair.
Managers were becoming increasingly concerned with the midfield battle and the need for an increasing number of physical powerhouses to occupy the central area, while premier playmakers such as Zinedine Zidane and Pavel Nedved were increasingly asked to play in wide(ish) midfield positions as a part of compact formations.
The 2002 World Cup final featured two sides playing with wing-backs, both the 2001 and 2003 Champions League finals were somewhat dour affairs featuring overcrowded playmakers and collapsed midfields, while Otto Rehhagel's Greece kept things watertight on their way to 2004 European Championship success.
Genuine wingers stationed in advanced areas appeared very much an outdated concept for all but very few—Arsene Wenger and the "Invincibles" a notable exception, as were Manchester United under Sir Alex Ferguson, who long kept genuine wingers as key tools at his disposal—with inspiration having been traded in for perspiration.
However, for all the perceived worry, those grey days were soon a thing of the past as the 4-4-2 featuring wide midfielders who occupied space a considerable distance away from their forwards (step forward David Beckham) became—at the very highest levels of the game at least—something of an outdated concept.
The ascent of Barcelona, firstly under Frank Rijkaard and then Pep Guardiola, and an explosion of coaches—Mircea Lucescu, Jose Mourinho (post-Porto), Rafa Benitez, Juergen Klopp, Luciano Spalletti, to name a few—who found favour with quick transitions in wide areas. 4-3-3 and 4-2-3-1 formations became the norm and subsequently brought wingers and wide forwards back into focus: Players who could beat a man and open up an opposing defence became indispensable once more, at the expense of more workmanlike wide midfielders.
However, the role of the winger has changed from that of days gone bye. Way back when it was perhaps enough to keep wide, isolate the full-back and hit the byline time and again. Now, a wide man must be more versatile, someone who offers both a goal threat—which has led to a greater number of players being stationed on their "wrong" side, Arjen Robben a prime example—and is capable of producing assists for colleagues. As such they have become an integral asset for top sides: Witness Real Madrid's pursuit of Gareth Bale for confirmation.
Thus, here's a celebration of the 15 best wingers in world football right now, those who have an abundance of talent and are capable, and indeed do change games on a regular basis, at the very highest level.
Begin Slideshow

»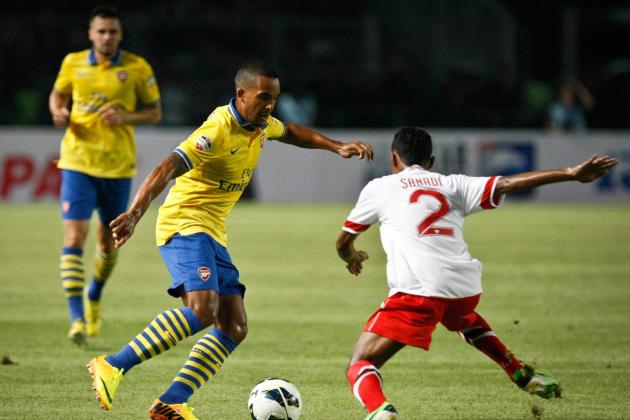 Ulet Ifansasti/Getty Images

Luis Antonio Valencia (Manchester United)
Though 2012-13 wasn't the Ecuadorian's finest campaign since his move to Old Trafford, his direct, powerful running continues to prove a useful outlet for United, while he has been consistently excellent for his country as they look to qualify for the 2014 World Cup. Club colleague Nani also fails to make the cut.
Stephan El Shaarawy (AC Milan)
Though talented, the young Italian saw both the number of goals and quality of his performances take a serious downturn during the second half of last season following an outstanding first period, when he was moved from a freer position into a genuine wide role following Mario Balotelli's signature. At present, he seems more a square peg in a round hole than a first-rate option on the flank.
Theo Walcott (Arsenal)
While the Gunners speedster is often heavily criticised, there can be no knocking his Premier League output in the past season, with 14 goals and 10 assists in his 32 league appearances. However, at the very highest level against the toughest of opponents, does he make enough of an impression?
Bernard (Atletico Mineiro)
The diminutive Brazilian youngster helped Gala to Copa Libertadores glory just weeks after playing a minor role in Brazil's Confederations Cup success. With great acceleration and a thrilling directness about his play, he's got an extremely bright future ahead but doesn't quite make it here.
Furthermore
For the sake of argument the likes of Thomas Muller, David Silva and Juan Mata— all versatile, creative forward players who although options out wide are spending an increasing amount of time in central areas—are not included. However, Marco Reus, Erik Lamela and James Rodriguez, three attacking players who are being stationed on the flanks with increasing regularity, are included.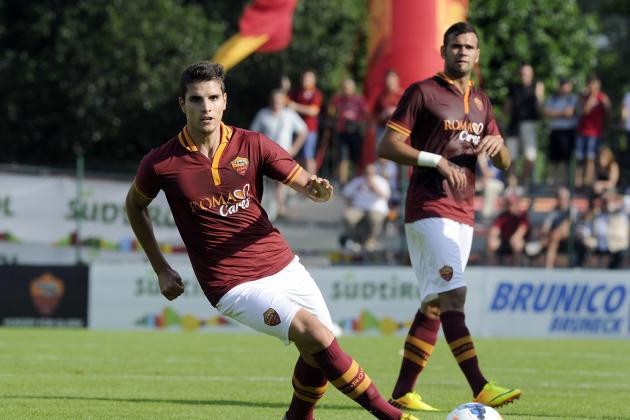 Claudio Villa/Getty Images

When Erik Lamela was emerging in his native Argentina with River Plate before trading Buenos Aires for Italy two years ago, the general consensus was that the languid starlet with the tremendous left foot was another in a long line of Argentine No. 10's.
Fast forward two years and Lamela is now coming off the back of a fantastic second season in Europe with capital club AS Roma, having been converted, initially by that great lover of attacking football, Zdenek Zeman, into an inverted right-winger.
Playing from the right, in a manner not dissimilar to Real Madrid's Cristiano Ronaldo, Lamela's dynamic combination of pace, power and individual fantasy saw him help the Giallorossi to a sixth-place finish. He also has the happy knack of arriving in the penalty area at just the right moment to complete moves which have built up on the opposite side of the pitch: 14 of his 15 goals in Serie A last season came from inside the penalty area, many arriving at the far post.
Still only 21, Lamela is a player with a wonderful grace and style about him, the ability to either bamboozle defenders through a piece of technical brilliance or to simply storm past people with impressive acceleration. In terms of transitional play, Roma's No. 8 was arguably one of the most devastating in last season's Italian top flight.
As he develops both mentally and physically, the two-cap Argentine international will only become more dangerous and a place in Alejandro Sabella's squad for next summer's World Cup may be forthcoming.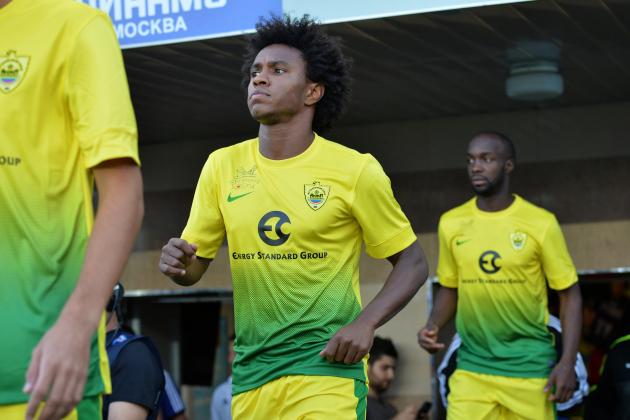 Epsilon/Getty Images

In terms of last season's Champions League group stage, there were few attacking players as devastating as Willian Borges da Silva, then with Shakhtar Donetsk. Six mesmeric performances garnered four goals and two assists as the Brazilian played a crucial part in the Ukrainian side's qualification for the knockout stages.
The 24-year-old would miss Shakhtar's defeat to Borussia Dortmund in the second round, having made a somewhat staggering €35million move to Russian club Anzhi on January 31. He would end the season with 12 appearances for the Dagestan-based side—missing two months of the season with a thigh injury—scoring just once.
Nonetheless, the Brazilian remains one of Europe's most creative and talented wide men, a glorious talent blessed with a host of flicks, tricks and touches designed to bamboozle opposing defenders.
However, that's not to say that Willian is a mere individualist. For while his greatest talent—that of dribbling—is indeed a solo pursuit, the purpose is always clear and it is often the best option for him at that particular moment. In that respect, Willian always plays with smart intelligence and a clear picture at the forefront of his mind.
Now, to continue his development, he needs to add a more ruthless streak to his play to make the next decisive leap in his career. His dribbling is fantastic, he's an intelligent passer and has a solid knack of evading strong challenges while keeping possession. But as one of Anzhi's stars, he needs to make a more telling contribution, both in terms of assists or goals.
Having never reached double figures in goals in a single season before, now would be a good time to start.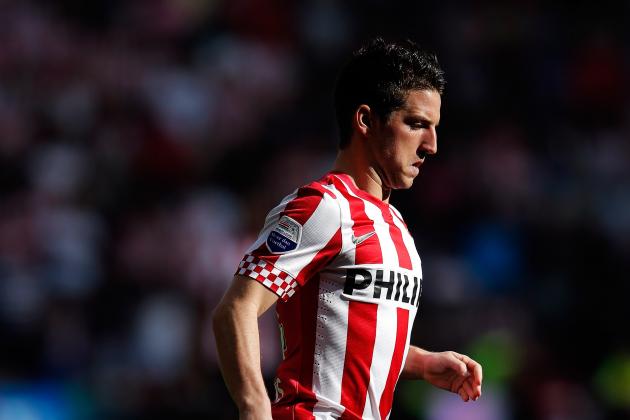 Dean Mouhtaropoulos/Getty Images

This summer saw Belgian international Dries Mertens trade in Eindhoven for Naples as he became Rafa Benitez's first signing as manager of Italian club Napoli for €9.5million.
The Belgian enjoyed two wonderful seasons with PSV Eindhoven, scoring 27 goals from 49 appearances (all competitions) in 2011-12, before firing another 18 in 44 matches the following campaign. Allied to that, he also picked up 49 assists during his stint at the Philips Stadion.
Though he tends to play from the left, the right-footed Mertens is more than at home on that particular flank, looking to drive at defenders before either coming inside onto his favoured foot to shoot at goal or play one-two's with a frontman, or to utilise his pace and dribbling ability on the outside and swing crosses into the box.
Now the 26-year-old will test his luck in Serie A, and his directness and versatility can be expected to be harnessed by his new Spanish boss.
If he can produce similar eye-catching numbers for the Partenopei as he did while in the red and white stripes of PSV, then Benitez's first signing will look particularly astute.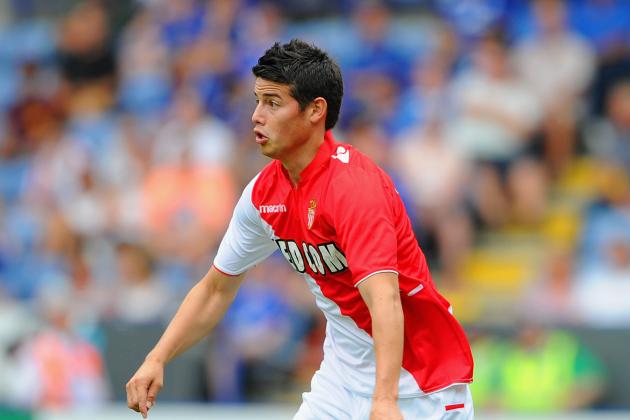 Michael Regan/Getty Images

The 22-year-old made waves this summer when he became the latest endorsement for Porto's moneyball approach, the Portuguese champions selling the Colombian international to French club Monaco for €45million following three years at the Estadio Dragao.
Having been increasingly used as an inverted winger from the right, so as to cut in on his favoured left foot, Rodriguez scored 23 goals in 50 Primeira Liga matches in the last two seasons, while also adding a further 16 assists for the Portistas. Additionally, Rodriguez was awarded the Portuguese Golden Ball by newspaper A Bola for being the best player in the league in 2012, and he has been an important part of Jose Pekerman's Colombia side who are careering towards Brazil 2014.
A wonderful technician, Rodriguez has an aptitude for finding space in the final third, both between the lines or just off the touchline, from where he can make sweeping crossfield passes, thread clever slide-rule balls to create opportunities for others, or dribble at defenders himself.
Very much a prototype for modern-day creative types, Rodriguez isn't without his physical strengths either: A decent turn of pace makes him a threat in behind opposing back lines and offers a note of unpredictability about his play, while he has upper-body strength which, allied with his technical prowess, allows him to engineer himself out of the trickiest of situations.
His debut season in Ligue 1 should be interesting to watch as he seeks to further improve his prior relationships with Joao Moutinho and Radamel Falcao, the latter of which Pekerman will be keeping a particularly close eye on ahead of next year's World Cup.
Whether Claudio Ranieri's plans involve continuing to harness the player's ability on the wing (as he did at Leicester in their recent friendly when Rodriguez arrived as a second-half substitute) or seeks to utilise him in a more central area as a more traditional No. 10 it's too soon to tell. If it's the latter, then Rodriguez will be made redundant from such lists in 12 months' time. But until then, he's No. 12 here.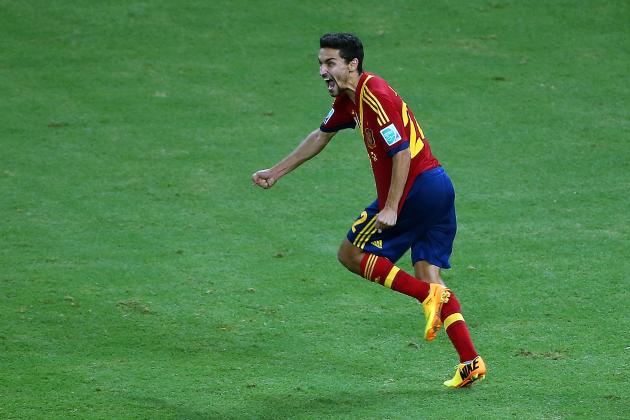 Miguel Tovar/Getty Images

The new Manchester City signing is something of a throwback to wingers of eras past, a speedster who prioritises hitting the byline and clipping over crosses for his strikers over anything else.
Having overcome chronic homesickness to become a World Cup winner in 2010, Navas must now do it again on a grander scale, having swapped the Ramon Sanchez Pizjuan for the Etihad Stadium after 10 years as part of the Sevilla first team.
Quick, direct, and someone who likes to stretch opposing defences both from a horizontal and a vertical perspective, Navas will look to bring greater width and verticality to City's attack in 2013-14. Tricky and composed in possession, Navas will have Premier League left-back's aplenty backpedaling next season.
While he is very much an orthodox right-winger, Navas has added different layers to his game in recent years, showing a greater willingness to offer an option tucking in off the flank, as well as occasionally looking to break closer to his strikers.
With regular exposure in the Champions League next season and a chance to fight for club titles for the first time since Sevilla claimed the Copa del Rey in 2010, Navas must now show greater predatory instincts, if he is to make the jump to the next level: He failed to score a single league goal last season, something that he must rectify at his new club or see it used as the proverbial stick with which to beat him.
Now 27, these are Navas' peak years, and it's the perfect time for him to make a greater impact at ever higher club levels.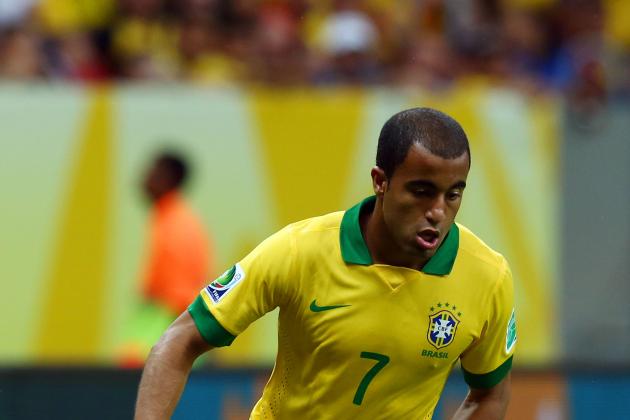 Robert Cianflone/Getty Images

The 20-year-old Paris Saint-Germain winger is seen as something of a prodigious talent, having already picked up 27 caps for the Selecao, his style harking back to greats of yesteryear, namely World Cup winning legends Garrincha and Jairzinho.
Technically, Lucas is very gifted, a player who is wonderfully fleet of foot. But at present it is his physical gifts which make him such a fearsome opponents, his mixture of searing pace and vast running power marking him as a player who can define matches. Certainly, his performances for PSG in their Champions League quarter-final tie with Barcelona hinted at the potential greatness that may lie in store, time and again his capacity to carry the ball considerable distances a great help to his side, regardless of the end result.
In 10 Ligue 1 matches last season, Lucas picked up five assists, which shows his ability to play that final killer pass, which may still be somewhat erratic but is liable to only improve as he gathers more experience. A capable, vicious crosser, he should thrive with Zlatan Ibrahimovic and Edinson Cavani to aim for in Paris next season. Thirty-three goals in 128 appearances for Sao Paulo (all competitions) in his three years with the Brazilian club also points to his goalscoring ability, something which has yet to be seen in France.
His verticality and directness mark him out as a star in the making, but Lucas' lateral movement is something which he'll need to work on in the coming months, picking the right moments when to come off the touchline and get involved between the lines. Adding further strings to his bow will only enhance his threat and will afford him greater options with the ball at his feet.
With Hulk's disappointing Confederations Cup still fresh in the mind, the next 10 months are huge for Lucas Moura: At the age of 21, he could find himself a starter for the five-time world champions as they head into their home World Cup.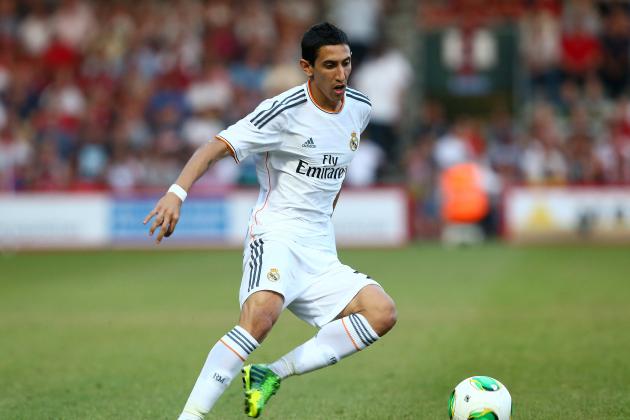 Jan Kruger/Getty Images

Since moving to the Santiago Bernabeu and Real Madrid back in 2010 from Portuguese giants Benfica, the 25-year-old has developed into one of the most devilish wingers on the planet.
Blessed with outstanding pace and the ability to transition from his defensive third into the attacking third within seconds, he has been an important player both for club and (increasingly) country, playing nominally from the right flank despite being staunchly left-footed.
In 90 La Liga matches Di Maria has picked up 38 assists, a number which pays homage, not only to his ability to pick out a defence-splitting pass or a dangerous cross when in the final third, but also his intelligence when met with a packed defence. An astute mover, Di Maria's variety of movement— tucking in narrow, sticking to the touchline, moving towards the ball or spinning in behind the full-back—is extremely nuanced and makes him an eternal nightmare for defenders while always offering his side a creative outlet.
While the Argentine international is an aggressive attacker, he doesn't shirk his defensive duties either, proving himself more than capable charging towards his own goal to curtail opposing full-backs and to help his own defensive colleagues.
His club future is somewhat in doubt considering Real's want for Gareth Bale, but if Di Maria is made surplus to requirements in the Spanish capital in the coming month, there's sure to be no shortage of takers among some of Europe's biggest clubs.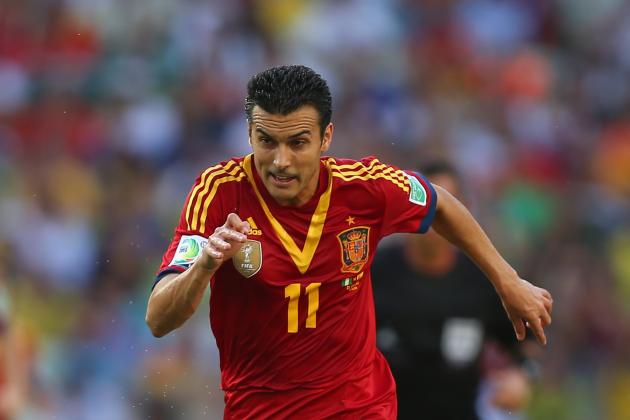 Clive Rose/Getty Images

In amongst Barcelona and Spain's pantheon of tiki-taka stars, Pedro Rodriguez is something of an under-appreciated commodity.
Perhaps not as technically clean as some of his colleagues, he is seemingly an odd fit, someone who is often pointed to as replaceable in his respective sides. But it's what he brings to his club and national team that make him so integral to both and always mark him out in matches as a threat.
Capable of playing on either wing, with two good feet and an equal propensity for both ducking inside or driving to the byline, he is a nightmare for defenders to second guess when the ball is at his feet.
But it's his off-the-ball movement—horizontal movement to create overloads or find space and vertical running which stretches and exposes teams in behind—which makes him such an important member to both.
His pace, relentless pressing and verticality offer his teammates a different option to the norm, especially at international level, and 2013 has seen him become increasingly important for La Roja at the expense of other, more feted teammates. His goal against France in Paris won the qualifier against France in March, while he was one of few who emerged from the Confederations Cup final loss to Brazil with any credit.
With a not inconsiderable eye for goal—who can forget how coolly he took Barcelona's opening goal in the 2011 Champions League final—and an appreciation for that final killer pass, he'll remain important to both Vicente Del Bosque and the new boss of Los Cules, Gerardo Martino, in 2013-14.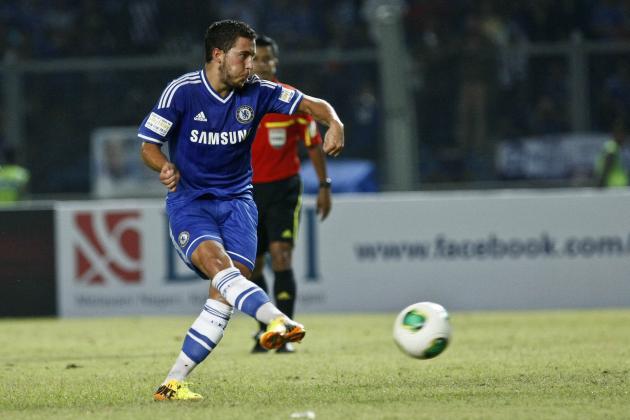 Ulet Ifansasti/Getty Images

The Belgian attacker is the kind of uber-talented versatile attacker any manager would love to have as a part of their squad, such is his ability to fill a number of attacking positions with considerable aplomb.
While there are some who would prefer to see Hazard occupy a more central position for his club, it remains on the flanks where the 22-year-old does his best work for current club Chelsea, just as he did under Rudi Garcia at Lille when, for the most part, he also occupied a wide role, then in a 4-3-3 formation.
Hazard's debut season in England saw him pitch in with 13 goals and 24 assists (all competitions) for the Blues as they won the Europa League and finished third in the league after a somewhat tumultuous campaign, throughout which Hazard was a considerable bright spark.
With wonderful touch and technique and a tremendous body swerve reminiscent of former Blue Nicolas Anelka, Hazard has the ability to tear opposing defenders to pieces. Moreover, with great pass appreciation and wonderful vision, he is also more than capable of knitting together clever team moves as the play reaches the final third.
But it remains in the wide areas, where the 37-cap Belgian international does his finest work, his technical talents working in full harness with his explosive pace and penchant for twisting and turning against isolated defenders.
His fine link-up with Chelsea's creator-in-chief, Juan Mata, was wonderful to watch at times last season, but new Blues boss Jose Mourinho will be hoping that the duo can have a greater impact on the Champions League in the coming season. It's a big 12 months where both club and country will want him at his most thrilling best.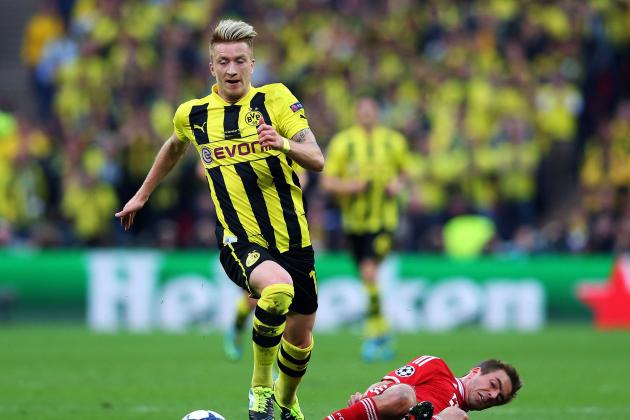 Alex Livesey/Getty Images

Regular watchers of the German Bundesliga knew that Marco Reus was a good player last summer when he traded Borussias following a standout campaign with Lucien Favre's Gladbach in 2011-12 as he led them to a fourth-place finish.
But his debut campaign in Dortmund saw the 24-year-old take to a position on the left wing in Juergen Klopp's 4-2-3-1 formation like the proverbial duck to water, and put his name firmly on the lips of European football afficionados.
19 goals and 16 assists in 49 games were strong numbers for a debut season in a new team performing in the face of greater demand, but it was Reus' overall showings which helped him to stand out.
A versatile attacker, Reus is every bit as capable of driving along the touchline as he is at making direct off-the-ball runs towards goal or linking up with fellow forwards through clever one-touch play when he gravitates away from the flank and gets closer to the penalty area. His movement is intelligent and tactful, his runs are dynamic and often well-timed and are always done with purpose—he doesn't just run for the sake of it.
Technically, he's a sumptuous striker of the ball, dangerous both from open play or dead-ball situations, while he epitomises Dortmund's tenacious approach to winning back possession. Arguably they won't miss last season's central attacking midfielder Mario Goetze because they retain Reus.
In Gotze's absence, Juergen Klopp will be looking for Reus to further improve this season and become an even more integral part of his XI, and the homegrown Borussen has started the season as his manager will no doubt hope he continues it, scoring twice and assisting another in BVB's 4-2 Super Cup win over Bayern this past weekend.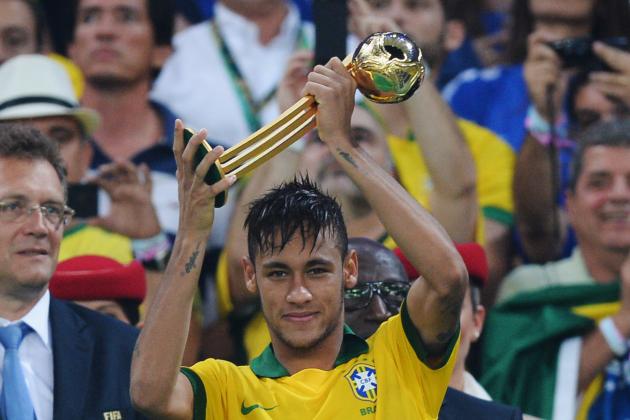 Laurence Griffiths/Getty Images

Ludicrously talented with the ability to bamboozle some of the very best defenders and goalkeepers on the planet, the career totals of Barcelona's €57 million summer signing read 225 games, 136 goals for former club Santos and 39 games, 24 goals for Brazil. Unquestionably, they are phenomenal figures for one so young who isn't a central striker.
Prior to this summer's Confederations Cup, there were many who weren't convinced by the flamboyant Brazilian star. It took three minutes of the opening game and a terrific goal against Japan to convince some, while the rest of the competition will surely have convinced the rest. From his position on the left of Brazil's attack, he was terrifyingly good.
His movement shows an intelligence beyond his 21 years, clever and intuitive, always making the most of the speed advantage which he holds over opposing defenders. As far as isolating defenders and the propensity for pulling off the outrageous to go past them, there are few who can rival Neymar for imagination, let alone match him for actually pulling it off. With his ability to go inside or out, defenders simply can't attempt to second guess what he's going to do.
Technically, his showings on home soil for the Selecao this summer showed just how good he is in that respect: A clinical striker of the ball with either foot—witness his left-foot volley against Mexico for confirmation—he is comfortable controlling the ball with any part of his anatomy and putting it under his spell. Moreover, his vision and awareness for the killer pass are also underrated qualities, while the weight of said pass is often inch perfect.
As far as the wingers on this list go, Neymar has as much God-given talent as anyone. Now the next 12 months are where he must prove just that, firstly with his new club as he tastes European club competition for the first time before he leads Brazil with the weight of a nation firmly on his shoulders at next summer's World Cup.
If he achieves even only a modicum of success, it will only further help Neymar rise on lists such as this.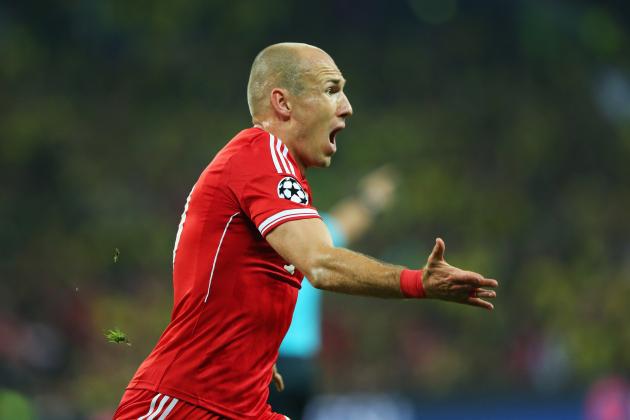 Alex Livesey/Getty Images

While the flying Dutchman spent much of the first-half of last season stuck on Bayern Munich's bench, by the end of it he had proven that he is still a genuine world-class talent, one of the finest wingers on the planet and is still capable of making the difference in the biggest of games.
While there will always be those who deride the Berum-born Robben as selfish due to his tendency to shoot no matter the difficulty of the opportunity, there can be no questioning his ability.
Dynamic and direct, Robben's deployment on the right wing at Bayern continues to make him a far greater goal threat then with any of his previous clubs. His left foot remains a tremendous weapon, capable of both arching shots with finesse into the goal or simply bludgeoning them into the back of the net.
He remains remarkably quick as well as a tricky dribbler, and while it's obvious that he favours cutting inside on his preferred left foot, he is more than capable of driving to the byline on the outside and doing damage from there also. 2012-13 also saw Robben show far greater appetite for the defensive side of a winger's game a sign that he now "gets" the acronym of team: Together, Everyone Achieves More.
Injuries may have somewhat undermined Robben across his career, but having scored the winning goal in the Champions League final, he showed once more that his frightening combination of pace and skill remains in full effect, and that when he's "at it" there are few better wingers in the game today.
Like Marco Reus, he netted twice in the German Super Cup this past weekend, albeit in vein, as he looks for more glory in 2013-14.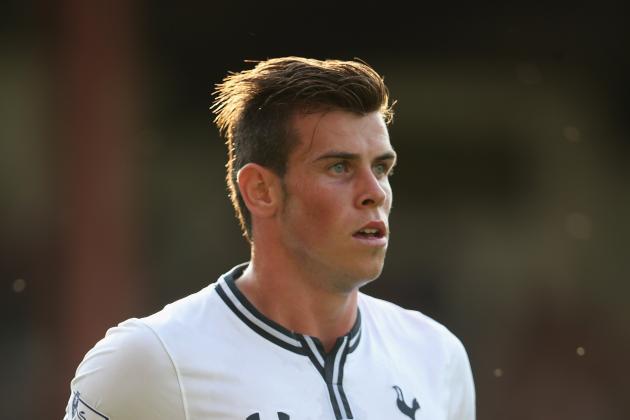 Mark Thompson/Getty Images

Awarded both the Player and Young Player of the Year awards in England for 2012-13, Tottenham Hotspur winger Gareth Bale had the finest and most consistent season of his career so far, as he made a quantum leap from a player of genuine world-class potential to a genuinely world-class player.
His searing pace and rapier-like thrusts down the left flank, as well as pinpoint crossing, have long been key parts to his game. However, last season saw him add new dimensions under the tutelage of Andre Villas-Boas, as he became a far more rounded figure capable of dominating and not merely decorating matches.
His movement off the ball showed increased intelligence, the 24-year-old being more creative and selective in his runs. Furthermore, Bale's long-range shooting became a far greater weapon than in previous campaigns, with vicious dipping howitzers with his left foot turning more than one close match into a victory as the season neared its conclusion.
Bale would end the campaign with 26 goals and 15 assists in 44 matches, with his pace, power and technical prowess at times making him appear unstoppable, the north London club's very own tour de force. In terms of creating and finishing in the final third, there are now very few flaws in Bale's game as he continues his improvement.
Now, the Welsh international has reportedly told Spurs that he is ready to make a record-breaking move to Real Madrid, according to John Percy of the Daily Telegraph, as he looks to further his career and make an impact on the Champions League.
It is at the very, very top levels of the European game where he must now prove with increasing regularity that he is a genuine superstar, and the Santiago Bernabeu would certainly offer him the opportunity to do just that.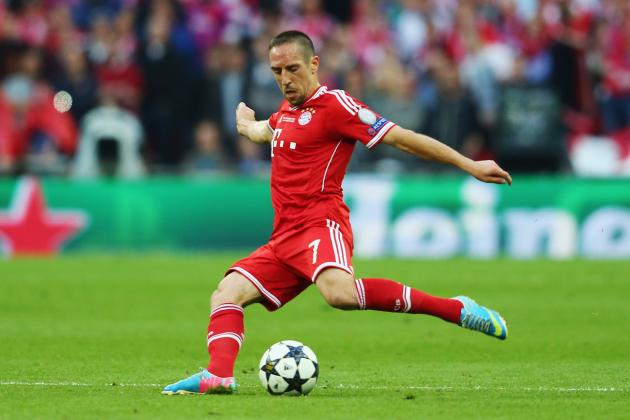 Alex Grimm/Getty Images

2012-13 was the finest in the career of the mercurial Frenchman as he played a vital part in Bayern Munich's unprecedented treble success, with the 30-year-old Die Roten's most consistently brilliant performer.
Forty-three appearances in all competitions encompassed 11 goals—including an absolute stunner with his weaker foot on the final day of the league season against Gladbach—and 23 assists as Bayern's left-winger was at his most creative and cutting best. That he ended the season with Bundesliga, DFB-Pokal and Champions League medals in his pocket was most certainly deserved, and Ribery now finds himself as a leading candidate for this year's Ballon d'Or.
An outstanding dribbler, Ribery's glorious weavings down Bayern's left had even the staunchest of defenders tied up in knots, his ability to swerve and change direction quickly causing full-backs across Europe a multitude of problems. His driving runs combined with his crossing ability and composure in the final third allowed for the creation of a multitude of chances, game after game after game.
Additionally, like Robben, Ribery's never-say-die attitude was more often than not on display, as he more than played his part in protecting his own full-back, Austrian David Alaba.
No two ways about it, Ribery was nothing short of world class throughout 2012-13 and now has the not inconsiderable tally of 80 goals and 120 assists to his name throughout his career with the Bavarian club (237 appearances), testament to his consistency and class. Were it not for another seemingly unstoppable force, he would have found himself at No. 1 on this list.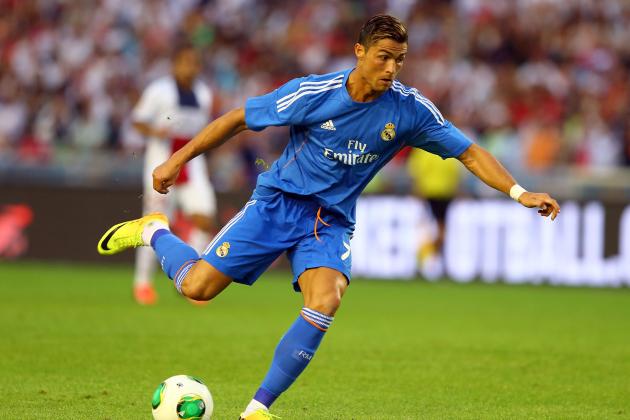 Martin Rose/Getty Images

Simply put, the 28-year-old Real Madrid star is nothing short of a phenomenon who is very much the prototype of the modern winger. In most other eras, there would be no doubt that the Portugal international skipper would be the best player in the world.
Last season saw Cristiano Ronaldo help himself to 55 goals and 14 assists in 55 matches for Real Madrid as he once again showed the kind of frightening consistency which has seen him dazzle the footballing world with increasing regularity since his world record move to Los Blancos in 2009. Statistically it is difficult to argue against Ronaldo being one of, if not the greatest attacking force in Real Madrid's history with the incomparable return of 201 goals in 199 matches since his move to the Spanish capital.
From his position wide left, Ronaldo makes the very most of both his physical and technical gifts. Standing over six feet tall and built like a light heavyweight boxer, Ronaldo is a mixture of explosive pace, strength and aerial prowess. There isn't a time when you can afford to take your eyes off him.
Technically, he has developed into one of the most fierce strikers of the ball in the game today and his station on the left-wing allows him to accelerate inside and fire shots at goal with his favoured right foot. Additionally, he has all the mesmerizing tricks of a flamboyant winger—step-overs, rabonas, Gringos, Cruyff turns et al.—at his disposal, while he is more than capable of beating a defender to the byline through sheer pace and determination, before whipping over a cross with his weaker left foot for a colleague. Like Neymar, it is simply impossible to second guess what the Portuguese is going to do and with the ball at his feet he is one of the most devastating game-breakers in the football today.
As he has become older and garnered more experience, Ronaldo's movement has become more intelligent and shows far greater refinement than in his younger days: Every dart in-field or beyond an opposing back line is done with a purpose, even the meandering strolls off the touchline when he looks disinterested as play builds up on the opposite side are to achieve the effect of creating that yard of space from where he can burst into life and get on the end of something. It's little wonder that at times he is treated to double or even triple-marking.
The early days of being called a show pony and seeing his talent questioned have been very much consigned to the past, marked away in a drawer entitled "should have known better." Now at the peak of his career, there are still things that Ronaldo must achieve in the coming years, chief amongst them leading Real Madrid to la decima, something which has eluded Ronaldo and his teammates in the past four years. The chances of Los Blancos doing just that remain far greater with Ronaldo amongst their number than they would without.
There may well be a number of pacy, powerful, flamboyant young pretenders to his crown, but at present Cristiano Ronaldo remains the absolute pinnacle when we talk about the best wingers in world football.
You can follow me on Twitter: @AA_Richards