MLB Trade Deadline Tracker: Live Analysis, Grades of Every Notable Deal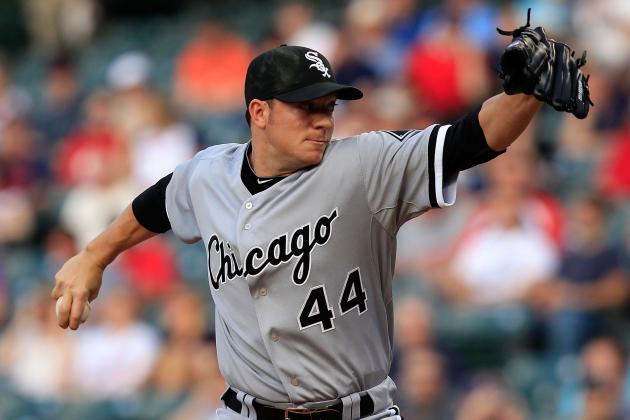 Jared Wickerham/Getty Images

This year's MLB trade market has been relatively quiet, though things did start to heat up on Monday with a trio of setup relievers on the move to join contenders.
The market was thin to begin with, particularly on the offensive side of things, and with that second wild-card spot available for the second time this season, there are more teams in position to contend once again.
That said, there is still a handful of players on the market who are capable of impacting the upcoming pennant races, and there will no doubt be at least some activity before the July 31 deadline passes.
We'll update all of that activity right here, so check back for an updated look at the latest trade news surrounding the 2013 MLB trade deadline.
Begin Slideshow

»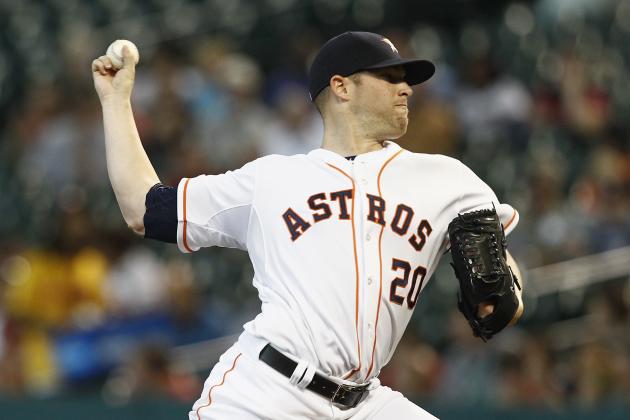 Bob Levey/Getty Images

Source: Tweet from Dan Connolly of The Baltimore Sun (link here)
Orioles Received: SP Bud Norris
Astros Received: OF L.J. Hoes, SP Josh Hader, Comp Round A pick
Overview
After trading for Scott Feldman earlier this July, the Orioles made another move to shore up their starting rotation, adding one of the top arms on the market in Bud Norris.
The right-hander has gone 6-9 with a 3.93 ERA over 21 starts this season, and has the added value of being controllable through the 2015 season. The 28-year-old is 34-46 with a 4.33 ERA in 118 career starts, despite pitching for some poor Astros teams.
In return, the Astros get a pair of top prospects in L.J. Hoes and Josh Hader, and the Orioles' competitive balance lottery pick in the upcoming draft, which will be immediately following the first round.
Hoes, 23, hit .304/.406/.403 with three home runs and 40 RBI before recently being called up to Baltimore. He entered the season as the team's No. 6 prospect, according to Baseball America's "Prospect Handbook."
Hader, 19, is currently 3-6 with a 2.65 ERA, 1.282 WHIP and 8.4 K/9 at Single-A Delmarva. The left-hander entered the season as the team's No. 19 prospect and has impressed after being taken in the 19th round of the 2012 draft.
Grades
Orioles: A
Astros: C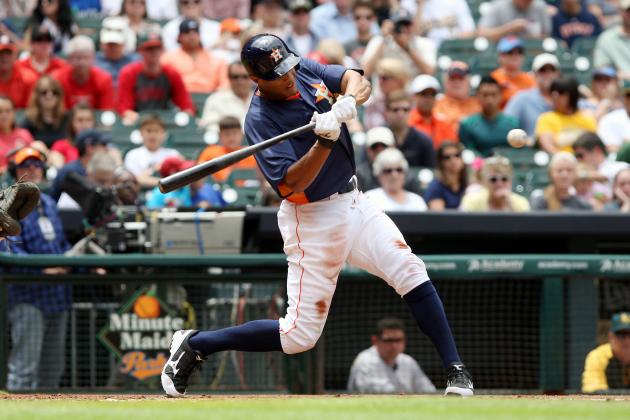 Troy Taormina-USA TODAY Sports

Source: Tweet from Bob Dutton of the Kansas City Star (link here)
Royals Received: OF Justin Maxwell
Astros Received: SP Kyle Smith
Overview
Riding a seven-game winning streak and sitting one game over .500, the Royals appear to have decided against selling and have made a minor deal to add outfielder Justin Maxwell from the Astros.
Maxwell, 29, has hit .241/.311/.387 with two home runs in 137 at-bats this season, but he did flash plus power in Houston last year, when he tallied 34 extra-base hits (18 home runs) in just 315 at-bats.
He'll likely serve as a fourth outfielder or perhaps a platoon option in right field as the Royals look to secure their first winning season since 2003.
In return, the Astros received 20-year-old right-hander Kyle Smith, who entered the season as the Royals No. 12 prospect, according to Baseball America's "Prospect Handbook."
Smith was 5-4 with a 2.85 ERA, 1.169 WHIP and 8.3 K/9 in 104.1 innings of work at High-A Wilmington this season, and is a fantastic return for a guy who wasn't even starting on the lowly Astros.
Grades
Royals: D
Astros: A+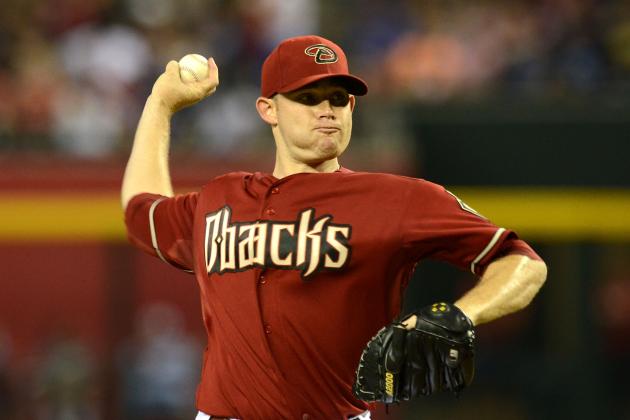 Norm Hall/Getty Images

Source: Tweet from Corey Brock of MLB.com (link here)
Padres Received: SP Ian Kennedy
Diamondbacks Received: RP Joe Thatcher, RP Matt Stites, Competitive Balance Round B Pick
Overview
Despite being out of contention this season, the Padres opted to buy low on Diamondbacks starter Ian Kennedy, acquiring him for a pair of relievers and a Compensation Round B selection in next June's draft.
Kennedy, 28, has not been great this season, going 3-8 with a 5.23 ERA and 1.419 WHIP in 21 starts. However, he has the upside to be the ace of the Padres' staff if he can return to the 2011 form that saw him go 21-4 with a 2.88 ERA. Even if he gets back to where he was at in 2012 (15-12, 4.02 ERA), this will be a solid move for a pitching-starved Padres team, and he's under team control through 2015.
In return, the Diamondbacks got some immediate bullpen help in left-hander Joe Thatcher. The 31-year-old has a 2.10 ERA and 8.7 K/9 in 30 innings of work this season and a career 3.18 ERA in 287 total appearances.
They also received reliever Matt Stites, a 23-year-old right-hander who has a 2.08 ERA and 8.8 K/9 in 52 innings at Double-A San Antonio this season. He should be able to help out in the big league soon.
The Diamondbacks also get the Padres' Round B Competitive Balance selection, which will be the first pick immediately following the second round.
Grades
Padres: A
Diamondbacks: C+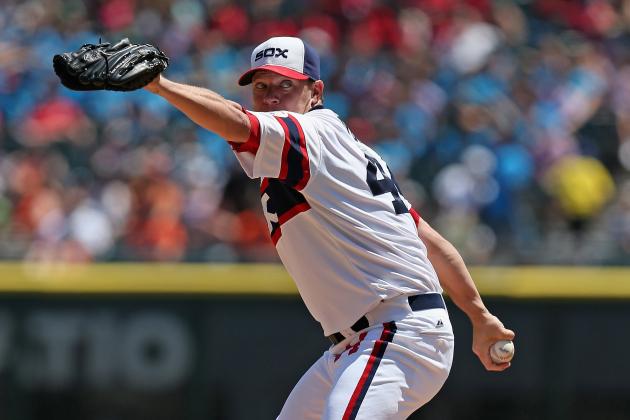 Jonathan Daniel/Getty Images

Source: Full details at MLB Trade Rumors (link here)
Red Sox Received: SP Jake Peavy, RP Brayan Villarreal
White Sox Received: OF Avisail Garcia, SS Cleuluis Rondon, RHP J.B. Wendelken, RHP Francellis Montas
Tigers Received: SS Jose Iglesias
Overview
The Jake Peavy deal we've all been anticipating finally went down, and it needed two other teams getting involved to get it done.
Peavy joins the Red Sox as they look to battle the Rays for the AL East title. He's 8-4 with a 4.28 ERA and 76 strikeouts in 80 innings of work this season. With Clay Buchholz still on the shelf, Peavy gives Boston a frontline veteran starter for their stretch run.
He's also signed for $14.5 million next season and has a $15 million player option for 2015, so he'll help the Red Sox beyond 2013.
Boston also received Tigers reliever Brayan Villarreal in the deal. The right-hander posted a 2.63 ERA in 50 appearances last year, but he struggled to a 20.77 ERA in seven games this season before being sent down. He has a 3.15 ERA with 10.7 K/9 in 34.1 Triple-A innings.
The Red Sox shipped 23-year-old shortstop/third baseman Jose Iglesias to Detroit in the deal, and they are no doubt selling high on him as he's hit .330/.377/.410 in 212 at-bats on the season. He's hit .377 on balls in play, so at least some luck has contributed to those numbers.
Iglesias entered the year as a glove-first shortstop, but he played his way into everyday at-bats after Will Middlebrooks was demoted to the minors. He's is a solid pickup for the Tigers, as they may soon lose incumbent shortstop Jhonny Peralta as part of the upcoming Biogenesis suspensions.
Boston also sent a trio of low-level prospects to the White Sox in Cleuluis Rondon, J.B. Wendelken and Francellis Montas.
Rondon (.277/.328/.353) is a 19-year-old shortstop who was playing at Low-A Lowell, while Wendelken (2-0, 2.81 ERA, 10 SV, 7.6 K/9) and Montas (18 GS, 2-9, 5.70 ERA, 10.1 K/9) are both 20 years old and were both pitching for Single-A Greenville. None of the three were among the Red Sox's top 30 prospects entering the season, according to the Baseball America Prospect Handbook.
Completing the deal, the Tigers send 22-year-old outfielder Avisail Garcia to the White Sox. Garcia made his big league debut last season, hitting .319/.373/.319 to provide a spark down the stretch.
He's hit .382/.414/.549 with five home runs in 144 Triple-A at-bats this season, and he profiles as a solid .280 BA, 20 HR, 80 RBI player down the road. He could be a replacement for Alex Rios in the immediate future if Rios winds up being dealt.
Grades
Red Sox: A
White Sox: C
Tigers: A+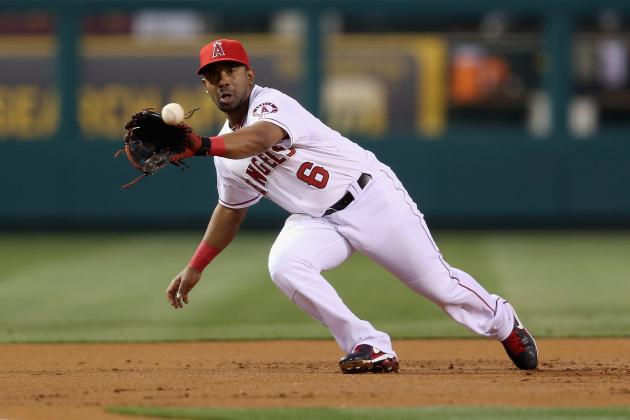 Jeff Gross/Getty Images

Source: Tweet from Danny Knobler of CBSSports (link here)
Athletics Received: 3B Alberto Callaspo
Angels Received: 2B Grant Green
Overview
The A's have acquired Angels third baseman Alberto Callaspo, likely to play second base for their stretch run, with prospect Grant Green heading to Los Angeles in the deal.
Callaspo has hit .253/.323/.348 with five home runs and 36 RBI on the season, which may not seem like much but still represents an upgrade over Eric Sogard and the handful of others who have played second in Oakland this season.
The 30-year-old Callaspo is signed through next season for $4.875 million, so he's not just a rental player. However, he has not played second base regularly since 2009 back in Kansas City, and with Josh Donaldson entrenched at the hot corner he won't be playing third.
In return, the Angels get a solid prospect in the 25-year-old Green, who has moved from shortstop to center field to second base looking for a way to get regular at-bats in Oakland.
He's hit .325/.379/.500 with 11 home runs and 50 RBI in Triple-A this season. Where he fits into the grand scheme of things in L.A. remains to be seen, but perhaps this is a precursor for a Howie Kendrick deal.
Grades
Athletics: C+

Angels: B+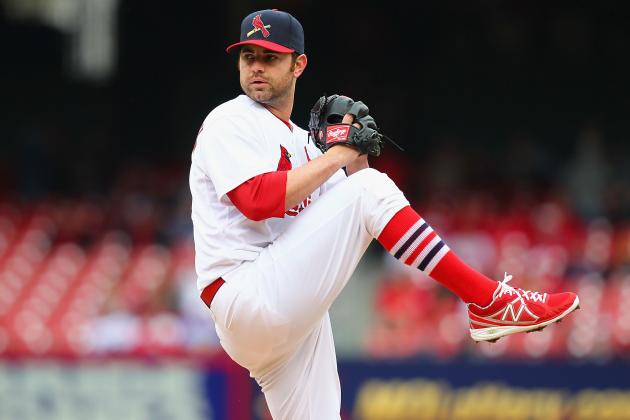 Dilip Vishwanat/Getty Images

Source: Tweet from Cleveland Indians official Twitter account (link here)
Indians Received: RP Marc Rzepczynski
Cardinals Received: IF Juan Herrera
Overview
A key member of the Cardinals bullpen last season, Marc Rzepczynski appeared in 70 games and posted a 4.24 ERA in 46.2 innings of work.
He struggled early this year, posting a 7.88 ERA in his first nine games before being sent down on April 29. In his absence, rookie Kevin Siegrist (17 G, 1.23 ERA) has given the Cardinals a solid second left-hander alongside offseason addition Randy Choate (40 G, 2.74 ERA), so Rzepczynski became expendable.
It was a nice low-cost move for the Indians, as Rich Hill, the only lefty in their 'pen, has struggled to a 6.35 ERA in 43 games.
Rzepczynski pitched well in Triple-A with a 3.07 ERA in 32 games. If he can get back to his 2012 form, he'll be a nice pickup for the Indians.
Infielder Juan Herrera goes to St. Louis in the deal. The 20-year-old Dominican native is hitting .275/.366/.369 while playing primarily shortstop for Low-A Mahoning Valley.
Grades
Indians: A
Cardinals: B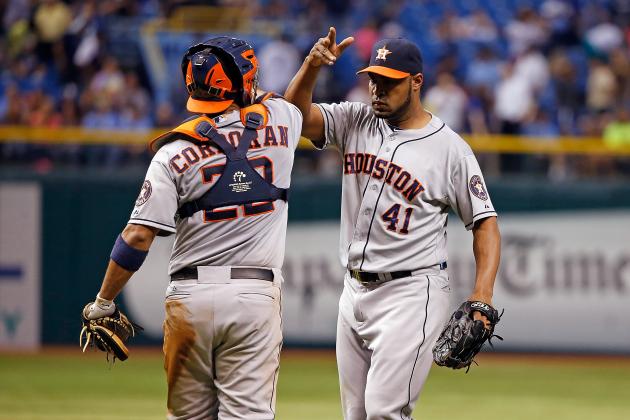 J. Meric/Getty Images

Tigers Acquire RP Jose Veras from Astros for OF Danry Vasquez and PTBNL
Details via Dayn Perry of CBSSports

Save situations in Houston have been few and far between this season, but Jose Veras has managed to convert 19-of-22 save chances after signing a one-year, $2 million deal in the offseason. He goes to a Tigers team that has a solid one-two punch at the back end of the bullpen in Drew Smyly and Joaquin Benoit but definitely needed another veteran setup arm.
In return, the Astros got a promising 19-year-old outfield prospect in Danry Vasquez. Playing at Single-A West Michigan, he's hitting .281/.333/.390 with 26 extra-base hits and nine steals. He's still incredibly raw, but there is plenty of potential there.
Grades: Detroit Tigers: B+; Houston Astros: B
Braves Acquire RP Scott Downs from Angels for RP Cory Rasmus
Details via Dayn Perry of CBSSports
In need of a second left-handed reliever alongside Luis Avilan with Jonny Venters and Eric O'Flaherty both on the disabled list, the Braves landed the 37-year-old Downs from the sliding Angels. In 43 appearances with Los Angeles, Downs had a 1.84 ERA and a 1.261 WHIP.
Heading the other way was right-handed reliever Cory Rasmus, the younger brother of Blue Jays outfielder Colby Rasmus. The 25-year-old had a 1.72 ERA and 11.8 K/9 in 37 appearances at Triple-A.
Grades: Atlanta Braves: A; Los Angeles Angels: C-
Rays Acquire RP Jesse Crain from White Sox for PTBNL or Cash
Details via Jon Heyman and Dayn Perry of CBSSports
Few relievers have pitched better than Jesse Crain this season, as he's posted a 0.74 ERA and 11.3 K/9 in 38 appearances.
However, he's been sidelined since June 30 with a strained shoulder, and as a result the return the White Sox will receive has not been determined, though, according to Scott Merkin of MLB.com, the team has a pool of players to choose from. Marc Topkin of the Tampa Bay Times reports that compensation will likely be handled once the season is over.
Grades: Incomplete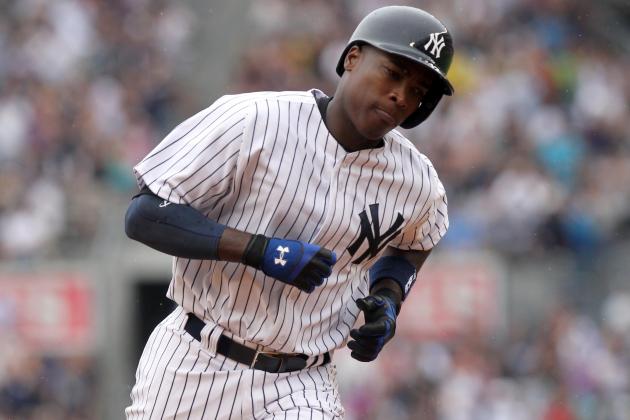 Brad Penner-USA TODAY Sports

Date: July 26
Yankees Received: LF Alfonso Soriano, $17.7 million
Cubs Received: SP Corey Black
Overview
The Cubs finally found a taker for Alfonso Soriano when they shipped him back to the Yankees, with whom he played from 1999-2003. He gives an injury-riddled Yankees lineup some much-needed pop as they look to stay in the playoff hunt.
The Cubs will pay $17.7 million of the $24.5 million remaining on Soriano's contract, and by eating that much salary, the team was able to acquire a solid pitching prospect on top of the $6.8 million in salary they were able to shed.
Corey Black was shipped to Chicago in the deal, and the 21-year-old has solid upside after being selected in the fourth round of the 2012 draft out of Faulkner University. Pitching at the High-A level this season, he's gone 3-8 with a 4.25 ERA and 88 strikeouts in 82.2 innings of work.
Grades
Yankees: C
Cubs: B+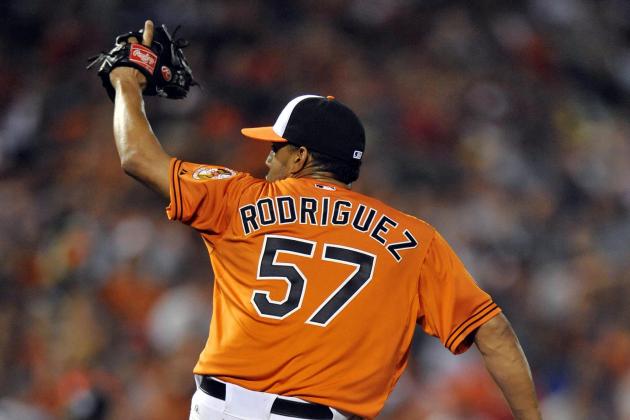 Joy R. Absalon-USA TODAY Sports

Date: July 23
Orioles Received: RP Francisco Rodriguez
Brewers Received: 3B Nick Delmonico
Overview
He didn't wind up signing anywhere until April 17, but Francisco Rodriguez moved into the closer's role in Milwaukee after John Axford and Jim Henderson faltered. He went 10-of-10 on save chances with a 1.09 ERA prior to being moved.
He's not closing in Baltimore with Jim Johnson filling that role, but he gives the Orioles a solid veteran setup man for their playoff push while costing next to nothing in salary.
In return, the Brewers received third-base prospect Nick Delmonico, a 2011 sixth-round draft pick who entered the season as the Orioles' No. 4 prospect, according to Baseball America.
The 21-year-old has hit .243/.344/.464 with 13 home runs and 32 RBI in 239 at-bats at the High-A level so far this season, and he could wind up being the team's everyday third baseman down the road.
Grades
Orioles: B
Brewers: A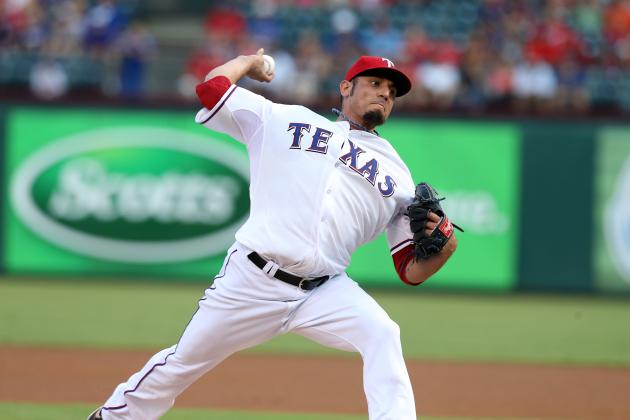 Layne Murdoch/Getty Images

Date: July 22
Rangers Received: SP Matt Garza
Cubs Received: 3B Mike Olt, SP C.J. Edwards, SP Justin Grimm, PTBNL
Overview
Viewed by most as the prize of the deadline, Matt Garza was 6-1 with a 3.17 ERA and 1.141 WHIP in 11 starts with the Cubs and had pitched particularly well leading up to the trade, with a 5-0 record and a 1.24 ERA in his last six starts.
In return, the Cubs get a talented package of players, headlined by slugging third-base prospect Mike Olt. Olt entered the year as the No. 22 prospect in baseball, according to Baseball America, after posting a .977 OPS with 28 home runs and 82 RBI in 354 Double-A at-bats last season.
Justin Grimm, 24, made 17 starts for Texas this year, going 7-7 with a 6.37 ERA. He was 5-3 with a 3.93 ERA over his first nine starts this season but was hit hard after that, with a 9.91 ERA in his last eight starts.
The Cubs also added 21-year-old right-hander C.J. Edwards, who was 8-2 with a 1.83 ERA and 122 strikeouts in 93.1 innings of work at High-A and has been one of the league's fastest-rising pitching prospects.
Grades
Cubs: B+
Rangers: C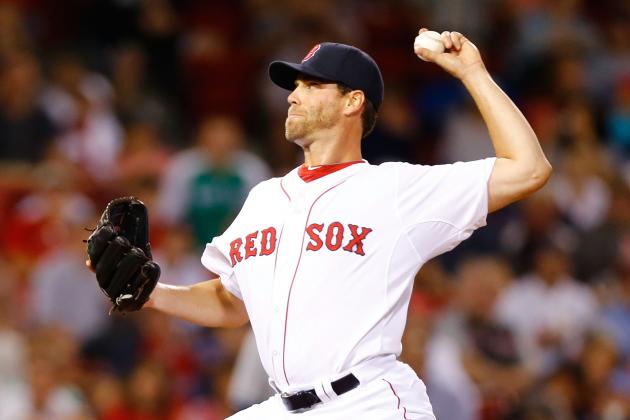 Jared Wickerham/Getty Images

Date: July 12
Red Sox Received: RP Matt Thornton, $750,000
White Sox Received: OF Brandon Jacobs
Overview
In need of a left-handed reliever after Andrew Miller was lost for the season, the Red Sox landed one of the most frequently used southpaws in the game in Matt Thornton in a deal with the White Sox.
The 36-year-old Thornton has appeared in at least 60 games each of the past seven seasons with a combined 3.25 ERA and 9.6 K/9, and he has a 3.86 ERA over 46 appearances this year.
In return, the White Sox received 22-year-old outfielder Brandon Jacobs, who entered the season as Boston's No. 13 prospect, according to Baseball America. He's hit .261/.339/.449 with 12 home runs and 10 steals between High-A and Double-A this season, and he could wind up being a solid contributor down the line.
Thornton had roughly $3.5 million left on his contract at the time of the deal, of which the White Sox paid $750,000.
Grades
Red Sox: B+
White Sox: B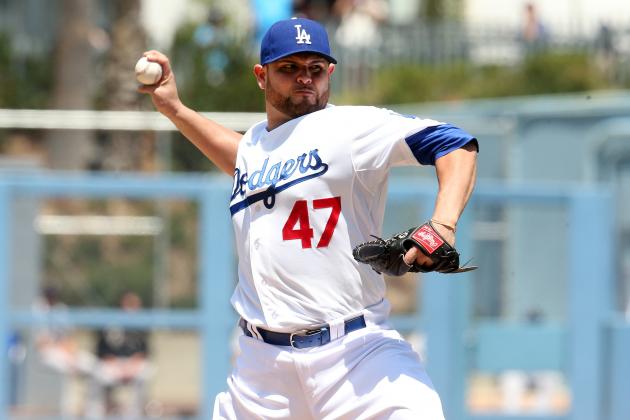 Stephen Dunn/Getty Images

Date: July 6
Dodgers Received: SP Ricky Nolasco
Marlins Received: RP Josh Wall, RP Steve Ames, RP Angel Sanchez
Overview
The highest-paid player on the Marlins and a free agent at the end of the season, Ricky Nolasco was perhaps the surest player to be dealt at the deadline of anyone in the league, and the Marlins acted quickly in trading him.
In 18 starts with an abysmal Marlins team, he went 5-8 with a 3.85 ERA, and while he's never been an ace-caliber starter, he's a solid veteran innings eater. In four starts since joining the Dodgers, he's gone 1-1 with a 3.13 ERA.
In return, the Marlins got a trio of relievers. They all have minimal upside but have chances to emerge as positive contributors for the rebuilding Marlins.
Grades
Dodgers: B+
Marlins: D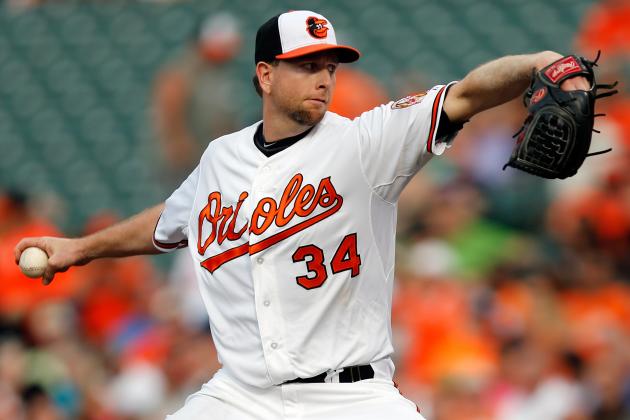 Rob Carr/Getty Images

Date: July 2
Orioles Received: SP Scott Feldman, C Steve Clevenger

Cubs Received: SP Jake Arrieta, RP Pedro Strop
Overview
Signed to a one-year, $7 million deal in the offseason, Scott Feldman had been one of the Cubs' best starters prior to being moved, going 7-6 with a 3.46 ERA and a 1.143 WHIP in 15 starts with the team.
He's 2-2 with a 5.12 ERA in five starts since coming to Baltimore, but he was a low-cost option for a team that didn't want to give up any top prospects at the time.
In return, the Cubs got a young pitcher in Jake Arrieta, who has shown flashes of being a front-line arm but has struggled with consistency. They also got a live-armed reliever in Pedro Strop, who could be a solid late-inning arm down the road. All in all, a solid package for a player who was signed with the intention of being flipped.
Grades:
Baltimore Orioles: C+
Chicago Cubs: B