Where Are Chicago Bulls' Top Draft Picks from Past 5 Years Now?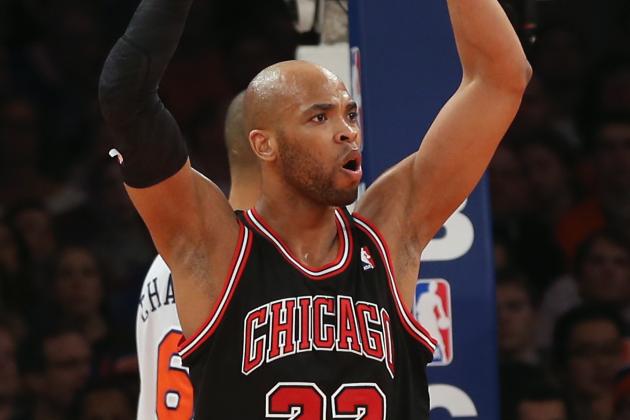 Bruce Bennett/Getty Images
Bulls management lucked out by drafting Taj Gibson.
The Chicago Bulls have drafted quality players in the past, especially during the past five years. While some of those draftees are still with the team, others reside in different cities today.
Since 2008, Chicago has drafted franchise point guard Derrick Rose as well as great role players like Taj Gibson and Jimmy Butler.
This slideshow will cover six first-round picks of the Bulls during the last five years and what each player is up to these days.
Nikola Mirotic will not be included, as he wasn't actually drafted by the team. The 6'10" power forward was selected by the Houston Rockets before ultimately winding up with the Bulls through a draft night trade.
And don't look for Tony Snell or Erik Murphy, who were taken by the Bulls in this year's NBA draft. Both rookies are still a part of the team after hearing their names called just one month ago.
Begin Slideshow

»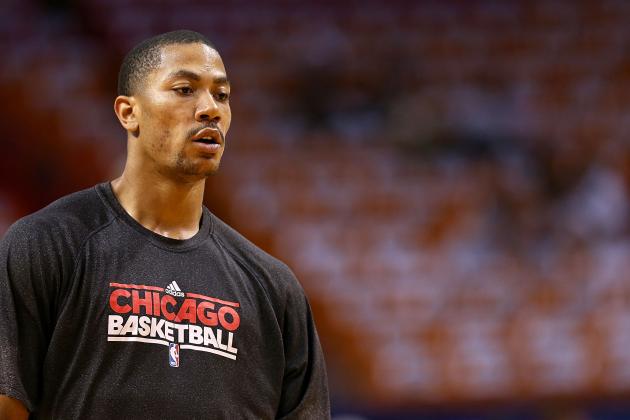 Mike Ehrmann/Getty Images

The Bulls had a tough decision to make after landing the top draft pick in 2008.
They weighed taking either Memphis guard Derrick Rose or Kansas State forward Michael Beasley. Believe it or not, that actually was a tough decision at the time.
Luckily, the Bulls made the right call by choosing Rose. The Chicago native went on to win the NBA Rookie of the Year Award in 2009 and has earned three trips to the NBA All-Star Game along with an NBA MVP award.
He quickly blossomed into one of the game's top players, giving opponents nightmares due to his unstoppable scoring ability.
Rose, of course, is still the Bulls' alpha dog. After missing over a year recovering from ACL surgery, he'll make his long-anticipated return to the hardwood next season.
Don't be surprised if he's even better than before his injury while continuing to break defenders' ankles and possessing an improved jump shot.
The Bulls will have a realistic chance at a title next year with a healthy Rose leading the way.
Throughout the 47 years of the franchise's existence, the Bulls have drafted a slew of high-impact players. Michael Jordan, Joakim Noah and Tom Boerwinkle are a few examples.
But you can't include the name James Johnson, who was taken by Chicago with its first pick in the 2009 NBA draft.
The former Wake Forest star played just 78 games for the Bulls, averaging 3.6 points per game. He was traded to the Toronto Raptors midway through his second season.
Following a season-and-a-half north of the border, Johnson was dealt to the Sacramento Kings during the summer of 2012.
Johnson is currently an unrestricted free agent after the Kings declined to extend his $3.9 million offer sheet. It's unclear where he'll wind up, but whatever team picks him up will be getting its hands on a guy who's capable of hitting a buzzer-beater.
Check the video above for his game-winner against the New York Knicks.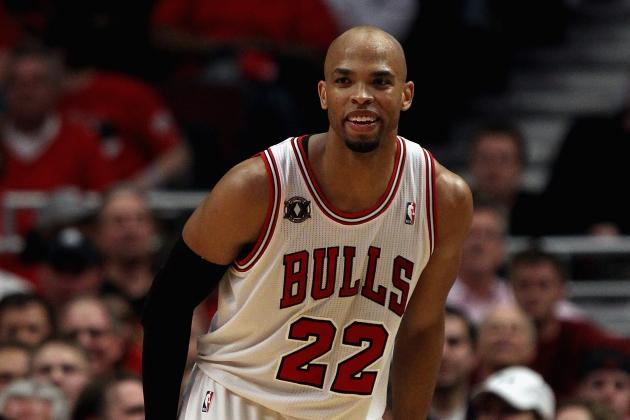 Jonathan Daniel/Getty Images

While the Bulls struck out with James Johnson, they struck gold by taking Taj Gibson 10 picks later.
Gibson served as a starter during his first year, averaging nine points and 7.5 rebounds per contest. He also earned a spot on the NBA All-Rookie First Team. Not bad for a late first-round pick.
Following the free-agent signing of Carlos Boozer in 2010, Gibson would be sent to the Bulls' bench, where he remains today. Next season will be his fifth in the Windy City.
He's undoubtedly be one of the team's top role players, bringing energy and stellar defense to the court on a nightly basis. In addition, he has the ability to dazzle the United Center crowd with his earth-shattering, posterizing dunks.
Gibson should continue to be a fan favorite as long as he's in Chicago where fans love "in your face" jams.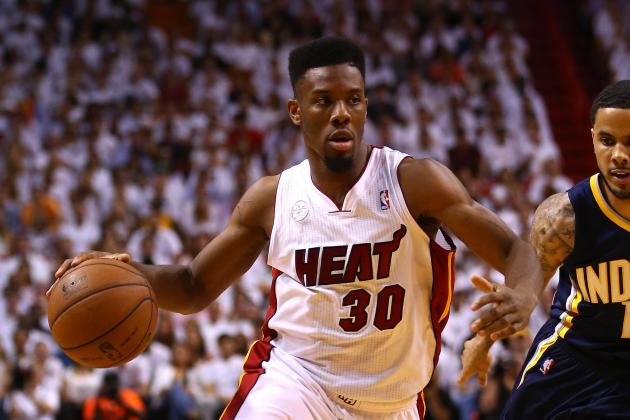 Streeter Lecka/Getty Images

What, Norris Cole was drafted by the Bulls? You mean the same Norris Cole who now plays for the Miami Heat?
Yes, that's the guy.
The Cleveland State product wasn't a Bull for very long, though. On draft night, he was immediately traded to the Minnesota Timberwolves before heading to the Heat.
If the Bulls had kept Cole, they wouldn't have drafted Marquis Teague, who we'll focus on later on.
Cole would emerge as a solid reserve down in South Beach, backing up stating point guard Mario Chalmers.
Currently, Cole is getting ready for his third season as a member of the Heat. Will he help LeBron James, Dwyane Wade and the rest of the gang capture a title next season? He does know a thing or two about championships, seeing that he has won a ring in each of his first two NBA seasons.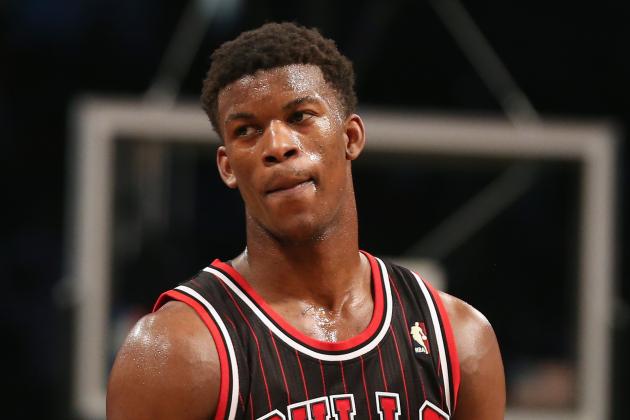 Bruce Bennett/Getty Images

When the Bulls drafted Jimmy Butler two years ago, many fans didn't know much about him. That would later change.
Butler rarely saw any action as a rookie, as Bulls coach Tom Thibodeau typically makes rookies sit and watch.
However, "Jimmy Buckets" would have a breakout sophomore campaign, as his minutes increased from 8.5 to 26 per game.
He became a major contributor, providing lockdown defense and averaging 8.6 points in the regular season as well as 13.3 during the playoffs.
Butler remains in Chicago, where he'll likely stay for many years to come. Barring an unexpected blockbuster trade, Butler will start in the backcourt next season alongside Derrick Rose.
The 6'7" swingman has the potential to be an All-Star. His defense is borderline-elite and his offense improves by the day.
Taken with the 30th overall pick in 2011, Butler is one of the biggest steals in recent memory.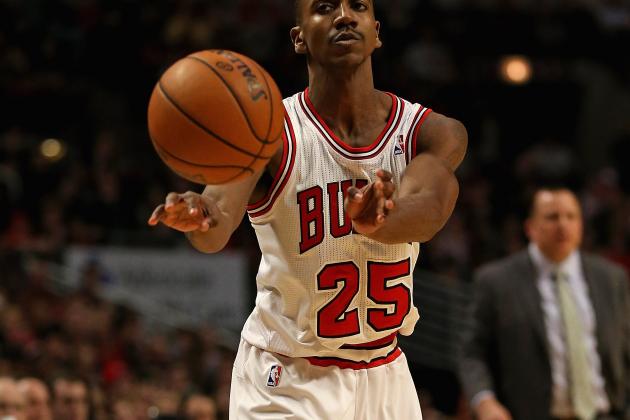 Jonathan Daniel/Getty Images

Jimmy Butler was a part of Tom Thibodeau's "rookies don't play" system in 2011 and Marquis Teague was last year's victim of Thibodeau's philosophy.
Teague averaged 2.1 points and 1.3 assists while logging just 8.2 minutes per game during his rookie year. He appeared in only 48 contests.
The Indianapolis native is set to enter his second season with the Bulls. Will he have a breakout year like Butler did last season? It's certainly possible.
With Nate Robinson departing via free agency this summer, Teague could emerge as Derrick Rose's primary backup with Kirk Hinrich sliding to shooting guard.
Teague was terrific during this year's NBA Summer League. He showcased his ability to get to the rim as well as his improved passing skills. Sure, it was only summer league ball, but it could be a sign that he has a bright future.
The Bulls know how to find diamonds in the rough and that's exactly what Teague could wind up becoming.