Paulus Ambunda vs. Tomoki Kameda: Preview and Prediction for Title Fight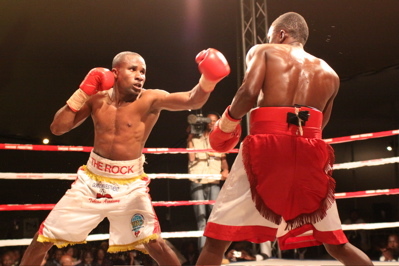 Ambunda will defend his WBO bantamweight title on Saturday night. Photo courtesy of TraslaJugada.com.
The WBO bantamweight championship will be on the line in The Philippines this Thursday as champion Paulus Ambunda defends against Tomoki Kameda.

Ambunda, of Namibia, captured his championship earlier this year with a unanimous-decision win over Pungluang Sor Singyu. It will be his first defense, and it will be taking place far from home for the champion.
Kameda is an undefeated Japanese power puncher and is the No. 5-ranked contender by the WBO. He will be making his first attempt at capturing a world championship and has promised a knockout.

Read on for our complete preview and prediction for this Saturday's big title fight!
Begin Slideshow

»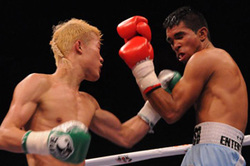 Kameda is a strong puncher and will have a huge height advantage. Photo courtesy of NotiFight.
The first thing that jumps off of the page is the height difference between the fighters. Tomoki Kameda is nearly seven inches taller than his foe, and that could provide a huge advantage in the fight.
Paulus Ambunda is known as more of a boxer, as evidenced by his 50 percent knockout ratio, but he's promised to be more aggressive on foreign soil. Kameda has shown an ability to punch, but with most of his opponents flying under the radar, it's tough to tell whether he's legitimate.
Record:

Paulus Ambunda

20-0, 10 KO

Tomoki Kameda

27-0, 18 KO

Height:

5'0 1/2"

5'7"

Reach:

Unlisted

Unlisted

Weight:

118 lbs

118 lbs

Stance:

Unlisted

Orthodox

Hometown:

Windhoek, Namibia

Osaka, Japan

Rounds:

121

157
*Profiles via BoxRec.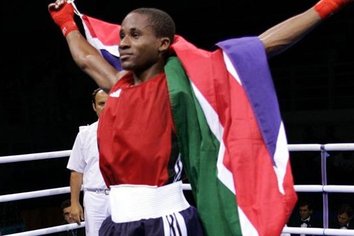 Ambunda will be making the first defense of his world title. Photo courtesy of Yahoo! Sport.
Paulus Ambunda
He was extremely impressive in lifting the WBO bantamweight championship from Pungluang Sor Singyu earlier this year. But he's about to learn that staying at the top is every bit as difficult as getting there.
He'll be making the first defense of his title, and this will be his first fight outside of his native Namibia. It's a long way from home and brings a lot of pressure for the 32-year-old.
Tomoki Kameda
Kameda is a young, hungry fighter who comes with a championship pedigree. He is the younger brother of current WBA bantamweight champion Koki Kameda, and he will be facing immense pressure to bring another belt into the family.
The biggest question for Kameda heading into this bout is whether or not he's ready for the championship stage. He's only 22 years old and hasn't yet been tested.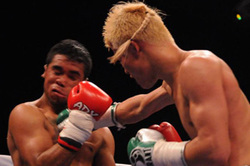 Kameda is a solid boxer-puncher. Photo courtesy of NotiFight.
Paulus Ambunda
Ambunda is a pure offensive fighter. He comes forward all night and isn't shy about eating punches in order to land his own. From the opening bell he goes on the attack, and it's extremely rare to see him take a step back.
He likes to attack and pressure his opponent on the inside. There he is able to rip his powerful uppercuts and blunt his opponent's offensive attack.
Tomoki Kameda
He is much better at the defensive aspects of the game than his opponent. He's more of a boxer-puncher who likes to keep the fight at a comfortable distance and rip hard counters.
The challenger has an excellent command of the ring, and he's good at understanding and controlling the distance of the fight. He'll need to exploit his superior footwork in order to stem some of Ambunda's pressure.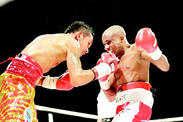 Ambunda doesn't have much power. Photo courtesy of ScoopWeb.
Paulus Ambunda
Ambunda is, simply put, a terrible defensive fighter. He makes up for that with his relentless pressure and ability to smother his foes' offensive attack. That has worked well for him up to this point in his career, but that doesn't work against all fighters.
Against a strong, physical opponent, this lack of defensive prowess could become a real liability. Add to that the fact that Ambunda isn't an overly powerful puncher, and you could have a problem.
Tomoki Kameda
Kameda is physically strong, but he isn't overly aggressive in the ring. He's more content to sit back and allow the fight to be brought to him. Against a high-activity and highly aggressive opponent, this could be an issue.
If he allows Ambunda to press the action, then this fight becomes difficult for him to win. He could very easily get outworked.
Ambunda will need to pressure Kameda. Photo courtesy of Namibian Sun
Paulus Ambunda needs to stick with what he knows and who he is as a fighter. That means he'll need to be relentless in his pressure and compensate for his lack of defense with infighting.
He has a style that seems perfectly tailored to give Tomoki Kameda fits. The challenger is the type of fighter who often gives his opponent the opportunity to lead the action. That is a recipe for disaster against a fighter who likes to come forward, throw a ton of punches and work for three minutes of every round.
If Ambunda is able to impose his will on Kameda, then he will win the fight.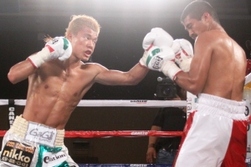 Kameda will need to disrupt his opponent's offensive flow.
Tomoki Kameda will win this fight if he's able to box effectively enough to prevent Ambunda from simply outworking him. He'll need to utilize the ring and his superior footwork in order to control distance.
His best bet is to move around a lot and pick his spots wisely. Ambunda only knows one way to fight, and that's coming forward while throwing a high volume of punches. Kameda's job is to make that very difficult and to make his opponent waste a lot of energy throwing punches at air.
If he's effective at disrupting Ambunda's offense, he can win the fight. But that's a big if.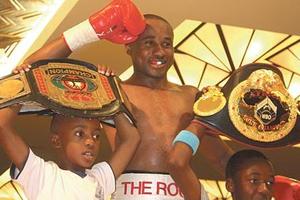 Ambunda will retain his title. Photo courtesy of The Republikein.
Paulus Ambunda will win this fight, but it won't be easy. Look for him to come out aggressive early in the fight. He'll jump on Komeda from the opening bell, and he'll try to overwhelm him with activity.
Komeda will have some moments in the fight, and he won't be outclassed. But he lacks the type of aggression necessary to keep up with Ambunda. He'll win a few rounds, but Ambunda will outwork him in the majority of them, and he'll win a unanimous decision to retain his title.
Paulus Ambunda UD 12 (116-112)