UFC 163: Predicting the Fight Night Bonuses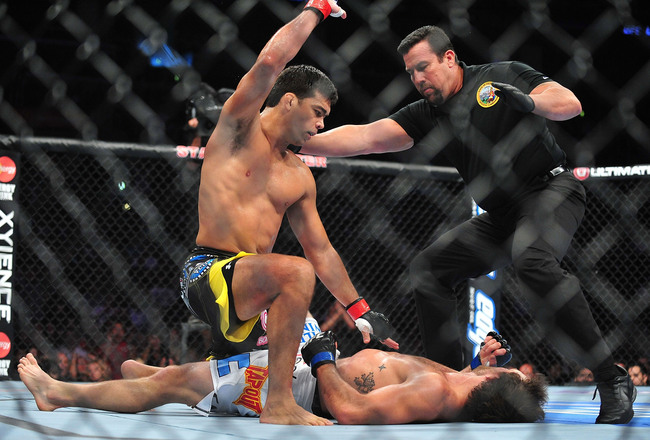 Gary A. Vasquez-USA TODAY Sports
After hosting a show on the Fox network this past Saturday, the UFC will return to the pay-per-view forum, for UFC 163: Aldo vs. Korean Zombie.
The event, set for August 3, will take place at the HSBC Arena in Rio de Janeiro, Brazil. The card shakes out like this:
Main Card
Jose Aldo vs. Chan-Sung Jung
Lyoto Machida vs. Phil Davis
Cezar Ferreira vs. Thiago Santos
Thales Leites vs. Tom Watson
John Lineker vs. Jose Maria Tome
FX Prelims
Vinny Magalhaes vs. Anthony Perosh
Amanda Nunes vs. Sheila Gaff
Sergio Moraes vs. Neil Magny
Ian McCall vs. Iliarde Santos
Facebook Prelims
Rani Yahya vs. Josh Clopton
Ednaldo Oliveira vs. Francimar Barroso
Viscardi Andrade vs. Bristol Marunde
Here we take a look at which fights and fighters carry the strongest chance to pocket some bonus cash. We'll examine the top candidates for each fight night award, and I'll provide a prediction for each.
Read on to see the picks.
Knockout of the Night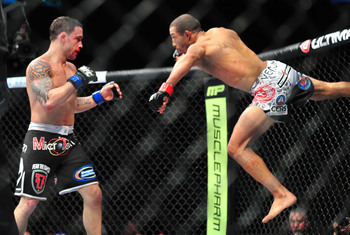 Gary A. Vasquez-USA TODAY Sports
Top Candidates:
Jose Aldo: It's difficult but possible to KO the Korean Zombie. If George Roop can do it, Aldo can too.
Cezar Ferreira: He did more submitting than knocking out on TUF, but he can end fights with his hands.
Lyoto Machida: If Phil Davis is unable to put Machida on his back, a knockout is very possible.
Prediction: Jose Aldo
Chan-Sung Jung is a tremendous fighter, but Aldo is one of those special ones that only comes along every so often. And when one like him is around, even tremendous fighters are severely at risk of suffering brutal losses.
Jung has reformed a great deal from the Korean Zombie that once ignored incoming strikes rather than block them, but that doesn't make him impervious to the knockout. Especially not against an opponent so capable of turning out someone's lights.
I rate the chance of Jung winning as fairly low. I rate the chance of him making it to the final bell quite possible. But, I rate the bout ending with an Aldo knockout most likely of all.
Submission of the Night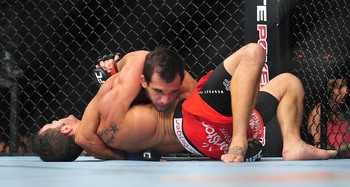 Gary A. Vasquez-USA TODAY Sports
Top Candidates:
Thales Leites: Looking to return to the Octagon in style after a four-year absence.
Vinny Magalhaes: Anytime he fights he's a candidate, even against a superb grappler like Anthony Perosh.
Sergio Moraes: Seven of his eight career wins have come via submission.
Rani Yahya: Goes hard for the submission every time. Usually gets it.
Prediction: Rani Yahya
Usually there is only one or two clear cut favorites for Submission of the Night on any given card, but there is a handful of potential winners here. Any of the names listed above could pull it off, but I'm leaning toward Yahya.
Yahya's opponent, Josh Clopton, isn't known for his stand-up prowess, nor his knockout power, so I envision the pair fighting it out on the canvas. Once there, Yahya will demonstrate a marked superiority and has a very good chance of ending the action.
Again, this award could end up in a number of hands, but when handicapping the odds, it starts with Yahya.
Fight of the Night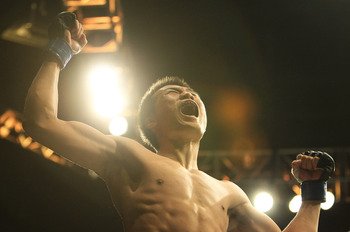 Tom Szczerbowski-USA TODAY Sports
Top Candidates:
Jose Aldo vs. Chan-Sung Jung: Neither of these guys know how to fight boring.
John Lineker vs. Jose Maria Tome: It will be a barn-burner and could end up quite competitive.
Vinny Magalhaes vs. Anthony Perosh: Should feature sloppy-but-exciting striking and high-level grappling.
Prediction: Jose Aldo vs. Chan-Sung Jung
Though I view Aldo as the No. 1 candidate to take home Knockout of the Night honors, I do foresee Jung surviving long enough to make things entertaining. Very entertaining, in fact.
While it isn't common for one fight to earn two awards it's not unheard of, and Aldo vs. Jung is the kind of special pairing that has the potential of double bonuses.
Both guys are active strikers and have proven they can take damage and keep on coming. I think so long as this one lasts 10 minutes, it will make a very convincing case to win Fight of the Night.
Keep Reading