Only Three Teams Have a Chance of Winning the NBA Finals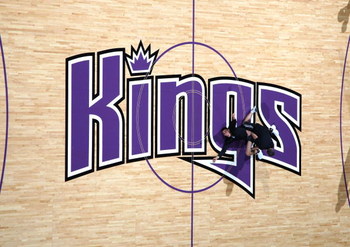 I don't like the idea of putting an opening picture for slideshows. I feel like they make me reveal what's in the slideshow.
But I always feel obligated to put one in each slideshow I make.
Here you have the Sacramento Kings logo, a team completely irrelevant to the content of this article, but still relevant because they are a team that I think has no chance of winning the NBA Finals, as bold as that may sound.
This slideshow only goes into eight teams still in the postseason. There are only three at this point who I think can win it.
Throughout NBA history, most championship teams have had a player who is capable of being the first guy on a championship team and a championship-caliber supporting cast.
That last sentence sounds sort of Tim McCarver-ish, but it's the truth and most people forget that when trying to reasonably pick a championship team.
Now that this mostly irrelevant intro is over, here are the three teams with a chance to win the finals and why the other five don't have a chance.
Hawks: No Chance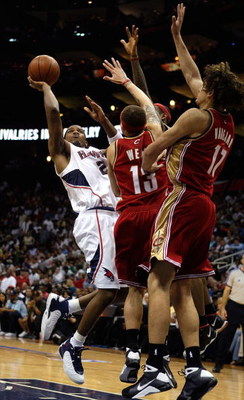 The Hawks, trailing 3-0, have no possible way of winning the championship. Even as a Red Sox fan who has fond memories of 2004, I can tell you that the Hawks won't come back.
Not to say that there will never be a team in NBA history who will overcome a 3-0 deficit, but thinking realistically, the Hawks are overmatched.
Not only are the Hawks losing, but they're getting blown out. In three games, the Cavs have outscored them by 62.
Mavericks: No Chance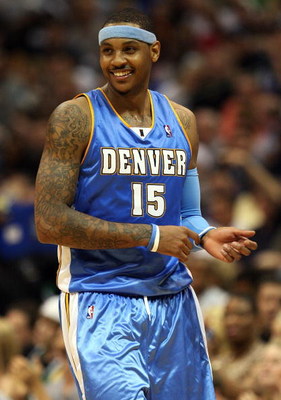 As shown in the picture, Carmelo Anthony is very happy, as he should be. After five years not getting past the first round, it looks like his Nuggets are going to eliminate the Mavs and make the Conference Finals.
This is another case of a team up 3-0 in a series. It's not realistic for the Mavs to come back. It just hasn't happened.
The Mavs have been a terrible defensive team in this series, giving up at least 105 in every game.
It's surprising that they got past the Spurs, but it's looking like we can take the glass slipper off this team.
Rockets: No Chance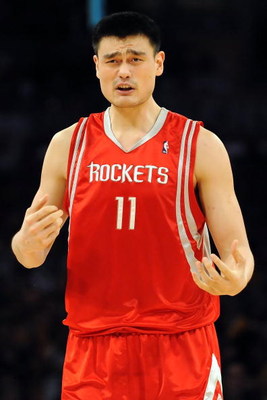 Losing Yao Ming for the rest of the playoffs killed the Rockets' chances.
The Rockets were looked like favorites to at least make the Finals at the beginning of the season, built around a trio of Yao, Tracy McGrady, and Ron Artest.
Now only Artest remains. Although Artest and Shane Battier are two of the best defenders in basketball, they lack the offensive firepower of a championship team.
Celtics: Improbable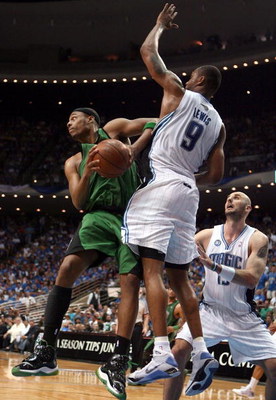 Most championship teams have a great big man. Not all of course, but it's hard for me to think that a frontcourt of Kendrick Perkins and Glen Davis can win a championship.
Paul Pierce also may not be capable of taking the role of the best player on a championship team. He doesn't make those around him better in the same way as Kevin Garnett.
The Celtics just don't look like they can make up for their injuries.
Magic: Improbable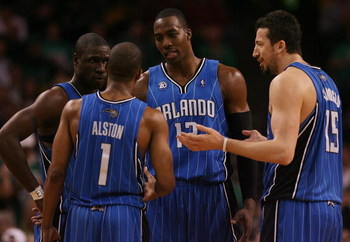 When Jameer Nelson was healthy, the Magic may have had the best starting five in the league. Their weakness was a lack of depth.
Although they've compensated with Dwight Howard, Rafer Alston, and Courtney Lee missing playoff games, the Magic sometimes struggle without their starters in the game.
Taking Howard out makes them a bad defensive team. Taking Lewis out makes it hard to run the offense through the perimeter.
It's hard for me to picture a team with a bench that gets most of its contributions from Mickael Pietrus and JJ Redick.
Nuggets: They Have a Chance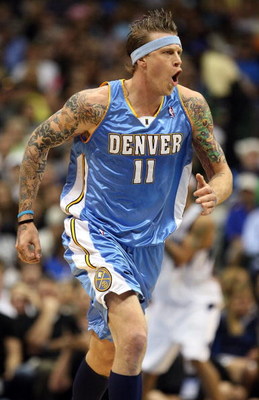 The Nuggets, second in the West, are all but guaranteed for the conference finals as they lead their series 3-0.
The definition of a superstar for me is a player who you can build a championship team around. Right now, the Nuggets may be the only team with two.
Carried by Chauncey Billups and Carmelo Anthony, the Nuggets haven't been given much attention this postseason. That's because everyone has expected them to win their games.
There's plenty of other talent besides those two. JR Smith is one of the league's elite sixth men. Nene Hilario finished second in field goal percentage.
Chris Anderson averaged 2.5 blocks per game. Not to mention a great athlete in Kenyon Martin.
The talent is there, and the Nuggets are playing at their best right now.
Lakers: Why Not?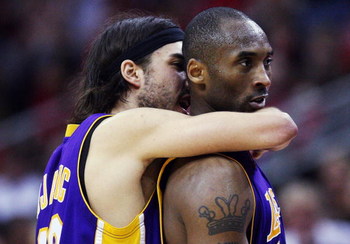 The defending Western Conference champions come in with a similar team as last year.
Kobe Bryant has gotten his team to four finals and as you can tell from the picture, he and Sasha Vujacic have very good chemistry.
Pau Gasol is a reliable second option. If Andrew Bynum ever completely recovers, they have a nice trio, but the Lakers have proven that they can win without him.
The Lakers also have a deep bench led by Trevor Ariza and a solid role player in Lamar Odom, both of whom will be fighting for contracts in the offseason.
Los Angeles won two games in last year's finals. There's no reason to think they can't do it again.
Cavaliers: This Could Be Their Year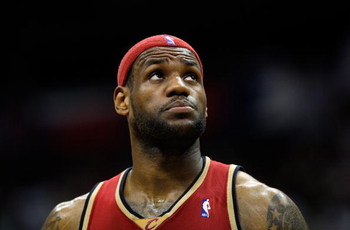 Do I even have to explain this? When does the team with the best record, the best scoring defense, and the MVP not have a chance to win the finals?
Throughout the season, everyone questioned who would be the second-best team in the Eastern Conference because everyone figured out that the Cavs were the best.
Now 7-0 in the playoffs, the Cavs are a lock for the conference finals and will face an inferior team in that round.
LeBron James took a worse team to the finals two years ago, but now it looks like just about all the right pieces are there for a championship run.
Keep Reading