American Mark Wiebe stunned Bernhard Langer in the fifth hole of a playoff at Royal Birkdale on Sunday night to win the 2013 Senior British Open.
Play was suspended twice at Royal Birkdale on Sunday, as noted by Sky Sports Golf:
Play suspended at #SeniorOpenChampionship due to impending bad weather in the area

— Sky Sports Golf (@SkySportsGolf) July 28, 2013
Play suspended once again at The #SeniorOpenChampionship

— Sky Sports Golf (@SkySportsGolf) July 28, 2013
After both players made par on the first playoff hole, the tournament was halted due to darkness and reconvened on Monday morning for the first time in tournament history, as noted by Jason Sobel of the Golf Channel, who quipped about Langer's shirt:
It's so dark at the Senior British Open playoff, the only thing you can see is the neon orange collar on Bernhard Langer's shirt.

— Jason Sobel (@JasonSobelGC) July 28, 2013
It took five playoff holes before Langer made a bogey and Wiebe was able to sink his par putt, ending the tournament on Monday with a huge victory for the American.
Here's a look at the final leaderboard, followed by a closer look at the biggest stories from Day 4 at Royal Birkdale.
Final Leaderboard at the 2013 Senior Open Championship
POS

PLAYER
TO PAR
1
x-Mark

Wiebe

-9
2
Bernhard

Langer

-9
3
Corey

Pavin

-6
3
Peter Senior
-6
3
David Frost
-6
6
Peter Fowler
-4
7
Sandy Lyle
-3
8
Tom

Pernice

Jr
-2
8
Jeff Hart
-2
10
Gene

Sauers

-1
*Table via PGATour.com.
Wiebe Takes Advantage of Langer's Mistakes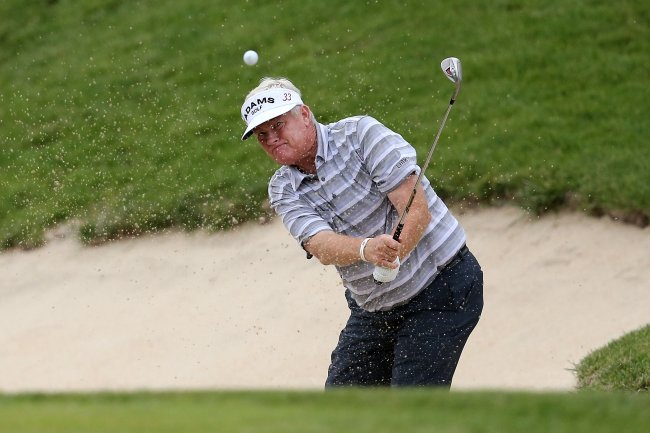 Christian Petersen/Getty Images
Weibe was able to capitalize on Langer's mistake on the 72nd hole in regulation to force the playoff (double bogey), and the American continued to bide his time until the German star made another mistake on the fifth playoff hole.
After the wildest ending in his career, Wiebe spoke with PGATour.com to discuss the monumental win:
I'm a little tired, I'll tell you that. I try to play the playoffs like I was playing the tournament. I just got a few extra holes in. .... I have never been in a playoff in a major championship either so I was a first-timer. I just tried to play the golf course as good as I could.
The 55-year-old Wiebe has never been one of the best players in the world, but he has always been a consistent performer. The veteran has found his stride on the senior tour, and the Senior British Open win marks his first since winning the Greater Hickory Classic at Rock Barn in June of 2012.
Bernhard Langer Blows His Chance of Winning Second Senior Open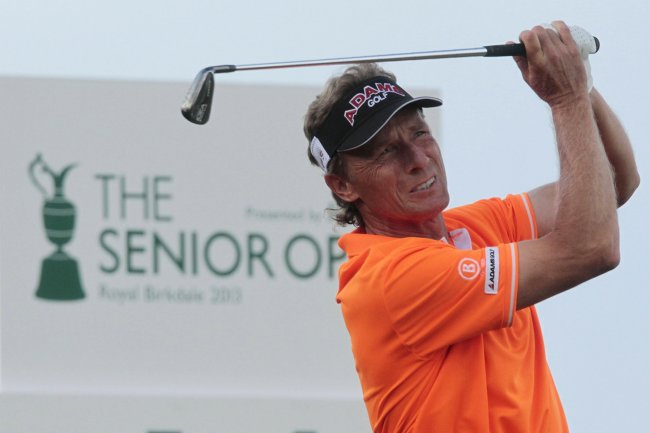 Phil Inglis/Getty Images
Despite being one of the most dominant players on the Champions Tour, Langer's loss on Sunday after leading through most of the tournament is devastating to the veteran's psyche.
Starting the day three strokes ahead of the field, Langer's steady demeanor served him well, as Wiebe and others put on a hard charge in the final round.
Having only logged two bogeys and one double bogey in the first three days, Langer kept up his steady play on Sunday, posting three birdies and one bogey through the first 17 holes.
Then, to everyone's surprise, Langer shot a double bogey on No. 18, posting four strokes from the greenside bunker, as noted by Luther Blacklock:
@SkySportsGolf Unbelievably Bernhard Langer takes 4 from green side bunker at last to let Mark Wiebe into playoff for European Senior Open.

— Luther Blacklock (@LutherBlacklock) July 28, 2013
This, of course, forced a sudden-death playoff with Wiebe. The American forced five playoff holes and was finally able to pull off the win. Look for Langer to bounce back from his heartbreaking loss like he has many times in the past.
Corey Pavin Scores Low Round of the Day
Ross Kinnaird/Getty Images
Having started out the day at one under par and nowhere near the top of the leaderboard, Pavin appeared to be out of the tournament, for all intents and purposes.
But a bogey-free round of 65 was the low round of the day on Sunday and matched the low round for the week, as noted by the European Senior Tour:
Corey Pavin taps in at 18 for a bogey-free 65, matching the low rd of the week. T4 currently at -6 #SeniorOpen

— European Senior Tour (@EuroSeniorTour) July 28, 2013
After toiling away for the first three rounds, posting six bogeys and one double bogey, Pavin's five-birdie, zero-bogey showing on Sunday earned him a nice chunk of change too.
Pavin's brilliant final-round performance vaulted him up the leaderboard, and he finished the tournament in a tie for third place.
*Featured columnist Jesse Reed contributed to this article.