Fantasy Football 2013: Subs for Jeremy Maclin, Percy Harvin, and Dennis Pitta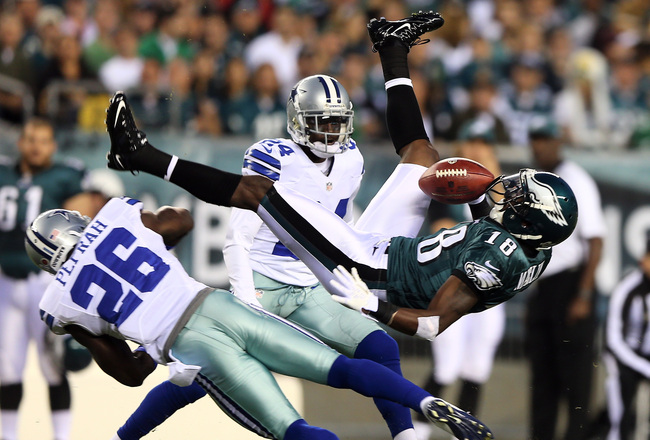 Elsa/Getty Images
Fantasy football, just like real football, is always going to be impacted a great deal by injuries.
This past weekend saw several major injuries to players who had figured to be factors in every fantasy football 2013 draft.
Philadelphia Eagles receiver Jeremy Maclin suffered a torn ACL, Baltimore Ravens tight end Dennis Pitta dislocated his hip and Seattle Seahawks receiver Percy Harvin may or may not have suffered a hip tear as well.
It's always sad to see players injured, especially before they even get to play a game.
That being said, their NFL teams will need to carry on without them, and so will fantasy football owners who were planning to target these guys on draft day.
If you liked any of those players' chances, you thought there was something ideal in their playing situation, their style of play or a combination of both that was going to help them have a big year. It stands to reason that players who share those qualities with them should intrigue you on draft day in their absence.
There won't be any exact replacement for any of these three for your team, but the next three guys are potential replacements who can fill the same mold.
All stats are from ESPN.com and assume standard fantasy scoring.
Brandon Pettigrew, Lions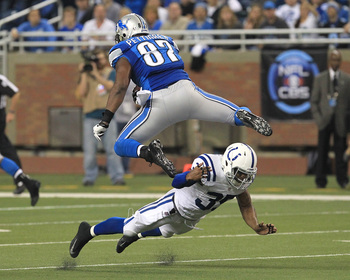 Dave Reginek/Getty Images
What Dennis Pitta offered fantasy football owners was a big tight end who was primed to be the second best receiver on his team.
The Ravens traded Anquan Boldin, freeing up a lot of targets over the middle of the field, targets that a speedy wide receiver like Baltimore Torrey Smith wasn't going to get.
No one was expecting Pitta to be a dominant tight end, but getting a guy who has his quarterback's trust and will get a lot of targets is always a good bet. That's where Brandon Pettigrew comes in.
Pettigrew is 6'5" and has seen at least 100 targets every year for the past three years. Last year, much like everyone on the Detroit Lions' offense not named Calvin Johnson, Pettigrew had a bit of a down year.
He only grabbed 59 receptions for 567 yards and three touchdowns. But Pettigrew also missed two games, and the Lions, as a whole, took a step backwards last year.
If Pettigrew plays all 16 games, and the Lions' passing attack returns to form, there's no reason that Pettigrew cannot have significantly better numbers.
There is reason for concern, however, as we're four seasons into Pettigrew's career and he hasn't taken advantage of his size to get into the end zone yet.
Still, the upside is there and he's worth the risk, given that he'll only require a late-round pick.
Michael Floyd, Cardinals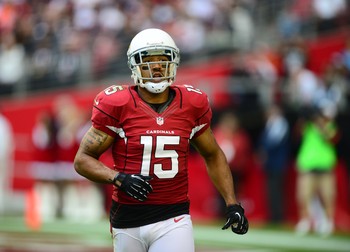 Mark J. Rebilas-USA TODAY Sports
Entering his contract year with the Philadelphia Eagles, Jeremy Maclin looked like a perfect breakout candidate.
He entered the season as part of a once-dynamic receiving duo opposite DeSean Jackson, with both players hoping that new head coach Chip Kelly would find a way to best utilize their talents.
Maclin has the speed to be a deep threat and the hands to be a guy who sees a lot of targets. With another talented receiver on his team, he rarely sees double teams and has shown some flashes of greatness, including a 10-touchdown season last year.
Michael Floyd of the Arizona Cardinals doesn't have quite the NFL resume that Maclin has, but he does have all the same physical tools as Maclin. Floyd also boasts a bigger frame that should let him develop into a dangerous red zone threat.
Floyd, entering his second year, has everything set up for him to break out. He won't need to be the No. 1 guy with Larry Fitzgerald around, but he should still get plenty of targets to keep defenses honest.
He has a new quarterback in Carson Palmer, and while I'm not a huge Palmer fan, he'll be miles better than any quarterback Floyd ever had last season. Floyd will also have a new head coach in Bruce Arians who loves to call passing plays.
Floyd is riskier than Maclin would have been, but he has all kinds of upside. If he develops at the same rate as Maclin in his second year—with 70 receptions, 964 yards and 10 TDs—fantasy football owners will be very happy with the value.
DeSean Jackson, Eagles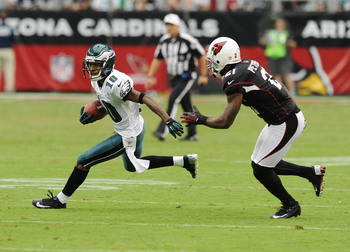 Norm Hall/Getty Images
Percy Harvin is a unique offensive weapon that contributes all over the field.
He's a dangerous receiver who has 60 receptions in each of his four NFL seasons and is good for both a kick return and rushing touchdown every season.
He's also had some injury and attitude problems to go with a fair share of inconsistency.
DeSean Jackson is similar to Harvin in that he's a threat to take every touch to the end zone and that his team will use him all over the field. Jackson has elite speed, agility and figures to have a resurgent year in Chip Kelly's new offense.
But Jackson has had even more injury and attitude problems than Harvin, which makes him a bigger risk. He also has been much less utilized in the running game to date. That's not a huge deal, but Harvin's extra production from the running game was always a plus.
Jackson also doesn't typically have as many receptions as Harvin puts up, but on the other hand, Jackson has averaged more yards per season over his career than Harvin.
Jackson shouldn't be drafted to replace Harvin's projected role as a mid-level No. 1 receiver, but he has that upside and at the very least, he'll be good for one or two big plays every game.
Keep Reading