South Carolina Football: 3 Biggest Position Battles Headed into Fall Practice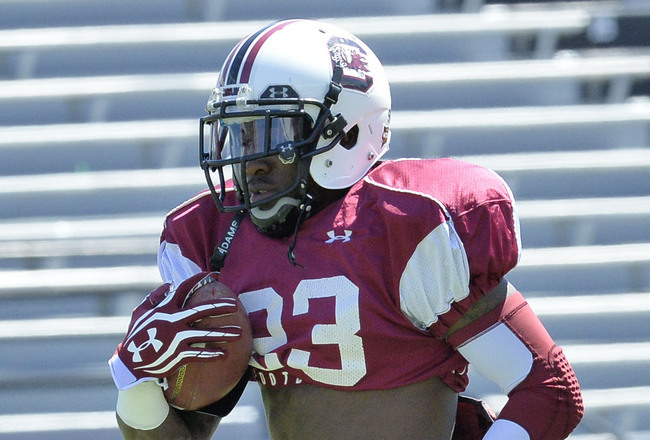 Curtis Wilson-USA TODAY Sports
Fall practice is around the corner for South Carolina's football team, and you know what that means.
It's time to take a look at the Gamecocks' biggest position battles that still remain as the team heads into fall practice.
The spring practice season cleared up some positions such as sophomore Mike Davis at running back and Sharrod Golightly at the "Spur" linebacker position. Though, a handful of positions still have open spots for who will win the starting job.
Coach Steve Spurrier and his staff will pay close attention to players in fall practices as the team moves toward finalizing the roster for the season opener against North Carolina.
Here are the three biggest position battles to watch as South Carolina moves closer to fall practices.
Wide Receiver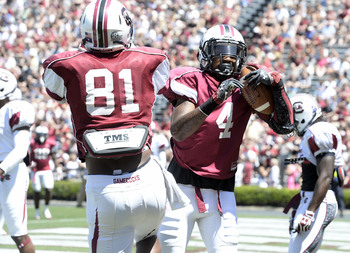 Curtis Wilson-USA TODAY Sports
The Gamecocks are deep at wide receiver. They have talent, speed, smarts and hands.
Now they just need to determine the starting "X" wide receiver.
Right now, the battle is between junior Damiere Byrd and sophomore Shaq Roland.
Bruce Ellington, a leader on the team, is already slotted as the other starting wideout.
Byrd is the speed demon of the receiving corps as he is one of the fastest players on the team. He can absolutely take the top of the defense with his blazing speed. Byrd will make his living as a deep threat wide receiver who can also take off to the races if the ball lands in his hands in the open field.
Roland is the all-around option. He has good speed, hands and route running. Add in some decent size at 6'1" and Roland is a total package of a wide receiver.
Roland's balanced style of play and big potential give him the slight early edge in this position battle, though both players have the ability to become a standout starting wide receiver.
Free Safety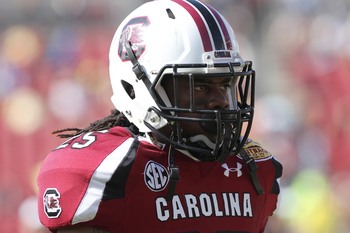 Kim Klement-USA TODAY Sports
South Carolina is full of options at free safety, but two players have stood out as having the best chances of winning the starting job.
Junior Kadetrix Marcus and sophomore T.J. Gurley may be younger players, but they are extremely skilled, gifted athletes.
Marcus is "considered the Most Improved defensive back during the spring," according to GamecocksOnline.com. Most of his experience in prior years comes from playing on special teams units, yet Marcus is a true athlete who is ready to battle for the starting free safety job.
Gurley is still recovering from a knee injury that ended his impressive freshman year early. He received SEC all-freshman honors in 2012, despite only playing in eight games.
If healthy in time for a real position battle to heat up, Gurley is a huge threat to Marcus's slot as the starter.
In fact, Gurley has the advantage, but only if he is in proper form to win the starting job. His talent is far too impressive to not be the starter, not to discredit Marcus who is ready to be a starting safety.
Cornerback
Al Messerschmidt/Getty Images
Throughout the spring, it appeared that redshirt Jimmy Legree would be the starting cornerback opposite of Victor Hampton. While Legree is still likely slated to be the starter, there could be a position battle brewing.
Redshirt sophomore Ahmad Christian did not play in the spring due to his time spent with the South Carolina baseball team. Now that he is back for the fall, he is ready to compete for Legree's job.
Christian is a quickly improving cornerback who stands at 5'10". His quick improvements despite not playing in the spring shows what he is capable of pending a full set of fall practices.
Legree will not give up the starting job easily as he is currently the front-runner and still likely starter. He is one of only a handful of senior scholarship players on the team, so his experience and leadership could prove to be vital to the success of the secondary.
Legree is more than likely going to be the second cornerback starter on the Gamecocks, though Christian will make the fall practice sessions interesting by creating some healthy competition at the position.
Keep Reading

South Carolina Football: Like this team?