The Biggest Emerging NFL Star at Every Position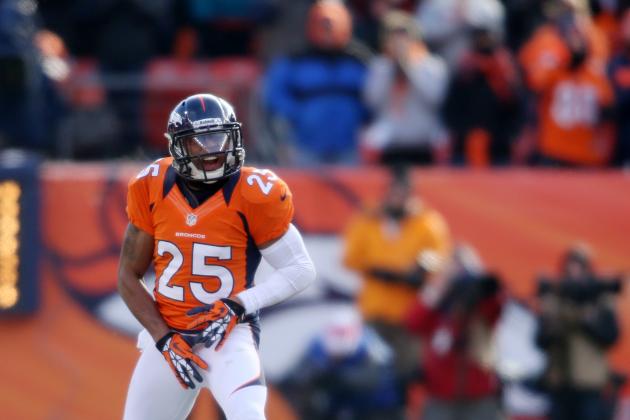 Chris Humphreys-USA TODAY Sports

As players like Tom Brady and Peyton Manning enter the final stretch of their careers, there is room for young talent to emerge and define a new era of football stars for the next decade.
Several youngsters, such as J.J. Watt and A.J. Green, have already come into their own. This list includes athletes who are still in the midst of emerging into complete players or have not yet garnered the national attention they deserve.
Here are the biggest emerging NFL stars at every position.
Advanced stats provided by ProFootballFocus.com (subscription required).
Begin Slideshow

»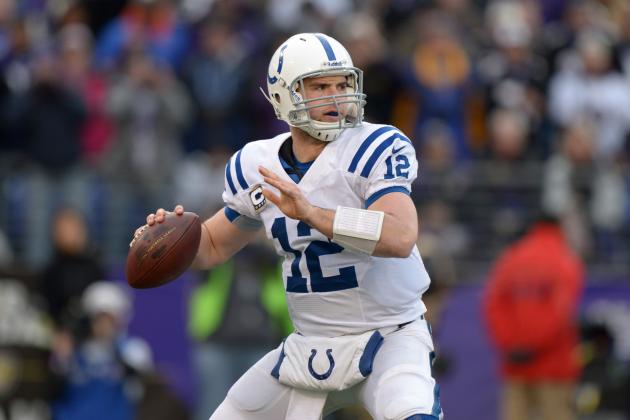 USA TODAY Sports

RGIII and Russell Wilson may make more spectacular plays with their legs and rack up better fantasy numbers, but there is no more valuable commodity in the NFL right now than Andrew Luck.
On the surface, Luck's stats are underwhelming when compared to some of the best in the league (54.1 completion percentage, 18 interceptions), but everything he did last year needs to be taken with the context of his situation. Luck played in Bruce Arian's scheme, taking a lot of deep shots down the field—which explains the high passing totals (4,374) as well as the low completion percentage.
Watching Luck take a roster that mustered just two wins in 2011 to the brink of a playoff win is exceptional in itself—the fact that he did it with a handful of late-game drives demonstrates that Luck's mental toughness is off the charts.
However, what really separates Luck from the other ascending quarterbacks is his durability. Because of his thicker build than RGIII or even Russell Wilson, Luck can sustain more hits both inside and outside the pocket.
He may not be as fun to play with in Madden, but Luck is more equipped to sustain excellence at the quarterback position than any of the young quarterbacks.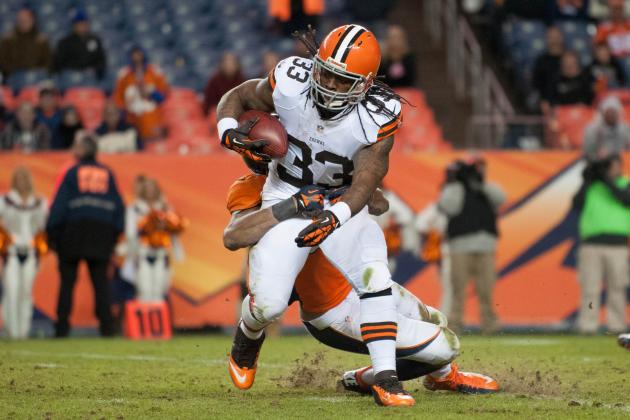 Dustin Bradford/Getty Images

On the surface, Trent Richardson's stats are a bit underwhelming for a third-overall selection. After averaging just 3.6 yards per carry on 267 attempts, it is difficult to justify the use of such a high draft pick on a position that is growing more disposable every year.
Richardson's stats, however, don't tell the entire story. As a rookie, he faced a heavy dose of eight-man fronts while dealing with a serious rib injury.
Besides being healthy for the first time in over a year, the biggest reason to choose Richardson over any other young running back is how much pure talent he has.
At the size of a small linebacker, Richardson has incredible burst and balance that make him a terror to bring down at the second level. Able to catch the ball and hold up against defensive linemen in pass protection, there are simply not many reasons to take Richardson off the field.
The biggest task for Richardson will be to stay healthy so he can operate at his full potential.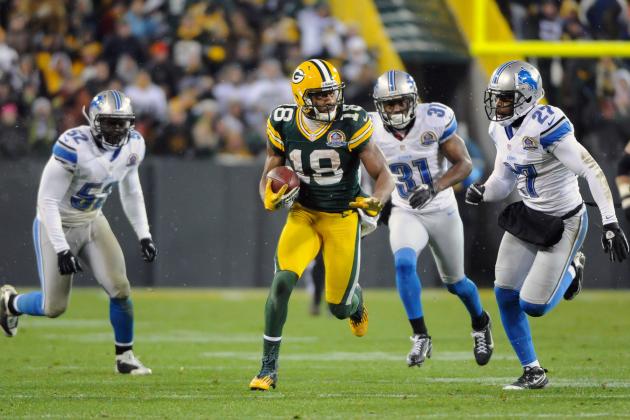 Benny Sieu-USA TODAY Sports

The Green Bay Packers certainly were not happy to see Greg Jennings sign with the rival Vikings this offseason, but there is a reason why they were content to sit on the sidelines and watch their star receiver leave in free agency.
Because of the unusual depth on the Packers roster, Randall Cobb has only been able to flirt with greatness, seeing most of his action in rotating into the slot or performing return duties. Now that he has a full-time role in place of Greg Jennings, the time is now for the former Kentucky speedster to become a household name.
Because of his size (5'10"), Cobb may still be limited to the slot on most passing downs, but his snap count will undoubtedly increase. His tremendous speed combined with his underrated balance and strength make him difficult to cover and even harder to bring down after the catch—reminiscent of Percy Harvin.
Cobb will never be the classic No. 1 receiver Greg Jennings was on the perimeter. However, he can be just as, if not more dangerous for the Packers in 2013 than an older Greg Jennings would have been with Aaron Rodgers throwing him the ball.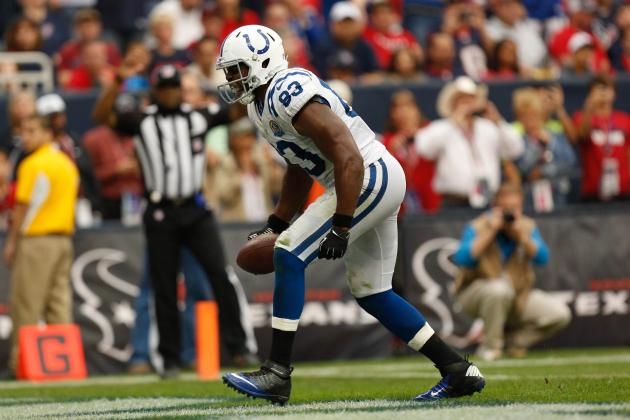 Thomas Campbell-USA TODAY Sports

Dwayne Allen was actually the second tight end the Colts drafted in the 2012 draft, but he has turned out to be a much better all-around player than his Stanford counterpart, Coby Fleener.
In fact, Allen was even better than his basic stats (45 catches, 521 yards, three touchdowns) would indicate.
According to Pro Football Focus, Allen was the second-best tight end in football behind Rob Gronkowski.
Allen is an above-average receiver, but where he really shines is in his run-blocking. At 6'3", 255 pounds, Allen has the size and strength to move around defensive linemen. He ranks third overall in run-blocking by PFF's metrics.
The all-around tight end is a dying breed in the NFL, but Allen will be a multidimensional asset for the Colts for a long time.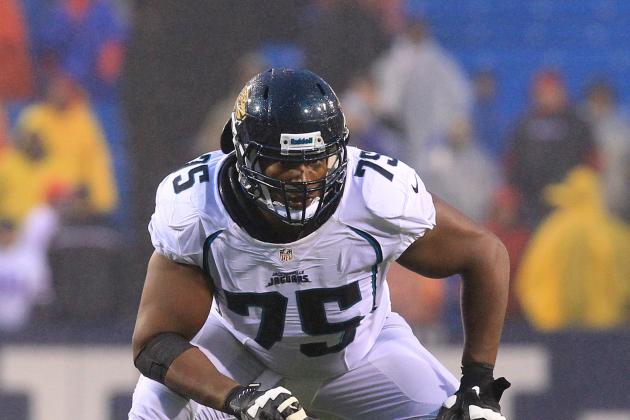 Kevin Hoffman-USA TODAY Sports

Playing left tackle for the Jaguars is not exactly a shortcut to getting on the cover of Madden, but quietly, Eugene Monroe has developed into the stud left tackle the Jaguars hoped he would become when they drafted him eighth overall in 2009.
According to Pro Football Focus, Monroe was the 15th-best tackle in 2013—quite a far leap from when he was benched in the middle of his rookie season for his inconsistent play.
Monroe has a great chance to further develop into an excellent all-around tackle because of the physical tools he has to work with. With great size and athleticism, Monroe will only continue to improve as he picks up the technical aspects of the game.
Having just turned 26, Monroe is set to continue to develop into one of the best tackles in the game.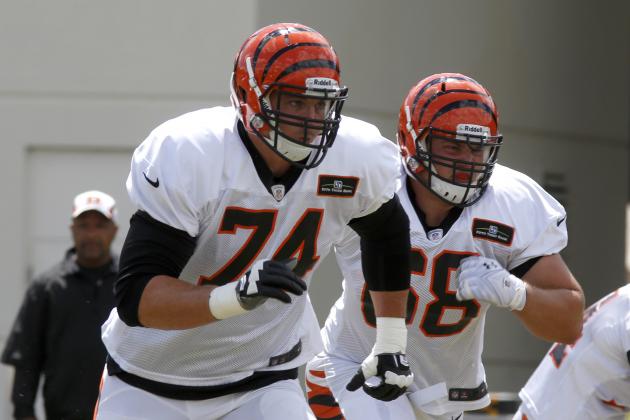 David Kohl-USA TODAY Sports

Headed into the 2012 draft, Stanford's David DeCastro was considered to be the top guard in the country over Kevin Zeitler by most scouts—except for NFL Films guru Greg Cosell:
I don't know how the Bengals felt about the Zeitler/David DeCastro comparison, and we'll likely never know because DeCastro had already been selected by the Steelers, but I felt that Zeitler was the more athletic and more complete guard prospect. Zeitler was very efficient in the zone-run game with his quick feet and sustained movement. He's an excellent fit for the Bengals.
So far, Zeitler has proven Cosell to be correct. Pro Football Focus ranked Zeitler as the 12th-best guard in 2012, while injuries have left DeCastro on the bench for all but three games of his rookie year.
While perhaps a bit less technically sound than DeCastro, as Cosell notes, Zeitler is more scheme-diverse and is able to play in zone schemes more efficiently.
As the league continues to adopt more zone schemes, athletic linemen who can also show off some power—like Zeitler—will become the ideal mold for guards in the NFL.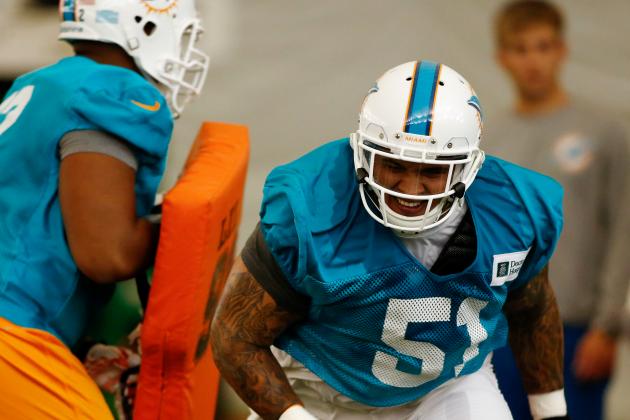 Robert Mayer-USA TODAY Sports

Mike Pouncey is often a bit overshadowed by his brother in Pittsburgh, but he actually outplayed his brother in 2012.
According to Pro Football Focus, Pouncey was the eighth-best center in the league in last year (his brother, Maurkice Pouncey, ranked 12th).
There are few weaknesses to Pouncey's game. He is a terrific athlete who can quickly move across the line while maintaining his center of gravity to anchor. In 1,053 snaps, he gave up just three quarterback hurries.
From Nick Mangold to Chris Myers, there are a handful of excellent centers in the NFL—but Pouncey is the only one at his position who is performing at an All-Pro level at such a young age.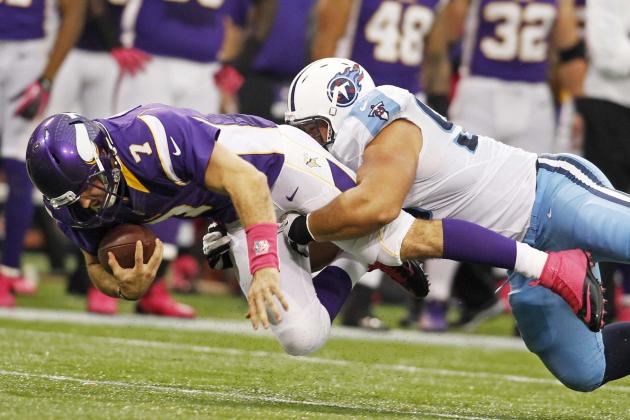 Bruce Kluckhohn-USA TODAY Sports

The Titans defense may be void of elite talent, but they have found a young player to build around in Mike Martin.
Coming out of Michigan, Martin was labeled as a run-stopping, hardworking team captain whose NFL potential would always be limited. However, Martin has displayed much better athletic ability than his college scouting reports would suggest.
While his sack total (three) may not stand out, he did record 15 hurries from an interior defensive tackle position. Pro Football Focus ranks him as the 10th-best pass-rushing defensive tackle in the league.
With Martin playing next to Jurrell Casey, the Titans have themselves a pair of interior defensive linemen they can build around for the future.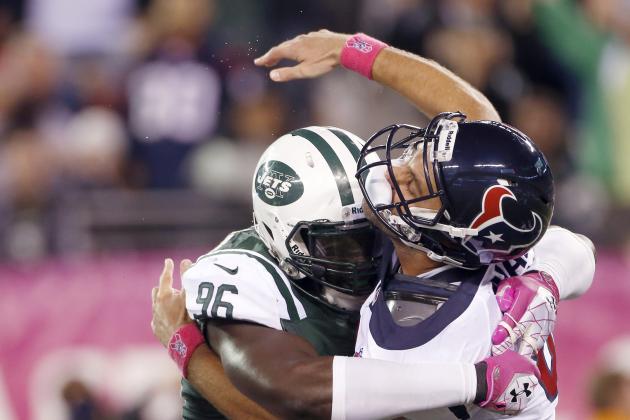 The Star-Ledger-USA TODAY Sports

Muhammad Wilkerson's rise to greatness in 2012 went largely unnoticed because of the turmoil his team was engulfed in, but it will be hard to ignore this Temple product if he continues to dominate opponents on a weekly basis.
Only one 3-4 defensive end (J.J. Watt) graded out better than Wilkerson last year in Pro Football Focus' rankings.
Because of his elite combination of power and length, Wilkerson is nearly impossible for most tackles to handle at the line of scrimmage. While he is known for his ability to blow up run plays, Wilkerson is developing as a pass-rusher as well, notching five sacks and 22 quarterback hurries last year.
Wilkerson was an extremely raw talent coming out of Temple in 2011. The fact that he has developed into a dominant player at such a young age is certainly promising to a Jets organization that is in search of elite players to build around.
In addition to Sheldon Richardson and Quinton Coples, the Jets have themselves one of the youngest and most athletic defensive lines in the sport, which should only improve as each player continues their development.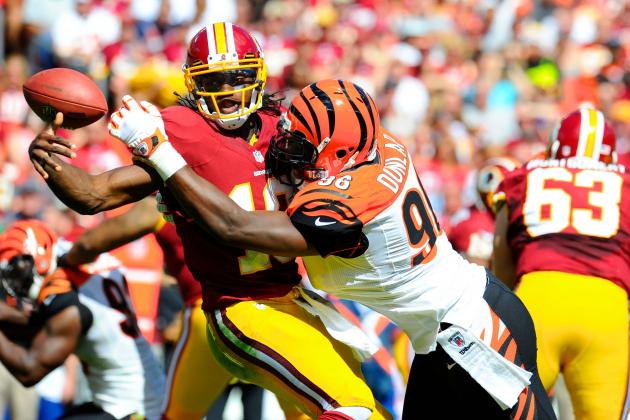 Dale Zanine-USA TODAY Sports

How on earth does a player with two career starts get a $40 million extension?
One word: efficiency.
Carlos Dunlap was rarely on the field to start a game, but there was no denying his production when he was on the field on a rotational basis. Last year, he registered a pedestrian six sacks on just 601 snaps—but most starters play anywhere from 900 to 1,050 snaps in a season.
Based on the contract they gave him, the Bengals are clearly counting on Dunlap's production to spike as his sees more time in the base defense.
Talent has never been the question with Dunlap. Rather, character issues, including a DUI before the 2009 SEC Championship, plagued his college career. To his credit, he has managed to stay out of trouble in the professional ranks and land the huge contract he was always capable of getting.
It remains to be seen whether Dunlap will continue to be productive in an increased role, but the stage is set for Dunlap to become the sack artist he is capable of being.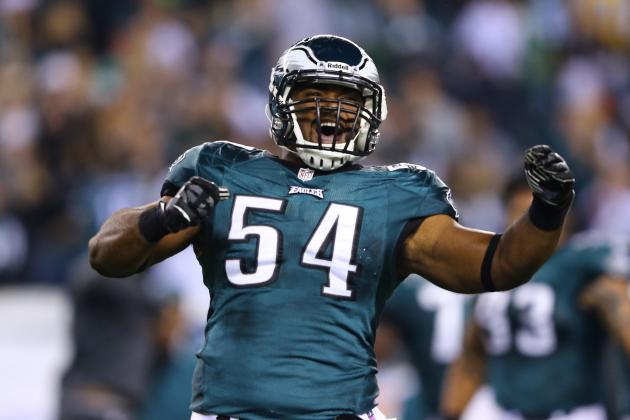 Al Bello/Getty Images

Halfway into his third professional season, Brandon Graham had all of the ingredients of a "bust." An undersized defensive end coming out of Michigan, Graham struggled to stay healthy (played just 16 games in his first two seasons) and crack the starting lineup.
However, after the Eagles shook up their defensive line room when they released Jason Babin midseason, Graham seized the opportunity for more playing time and played his best football as an Eagle.
As the Eagles make the conversion to a base 3-4 defense, Graham will have the opportunity to play a position he should have been playing since college—outside linebacker.
Graham played outside linebacker in high school, via Brad Wilson of The Express-Times, and his 250-pound frame (he lost 14 pounds in the offseason) makes him an ideal candidate to make the switch back to his old position in the pros.
Usually, making a player switch positions and schemes every few years is a recipe for disaster. But in Graham's case, the switch will allow him to play even faster and build on last year's late-season surge to emerge as one of the best at his position.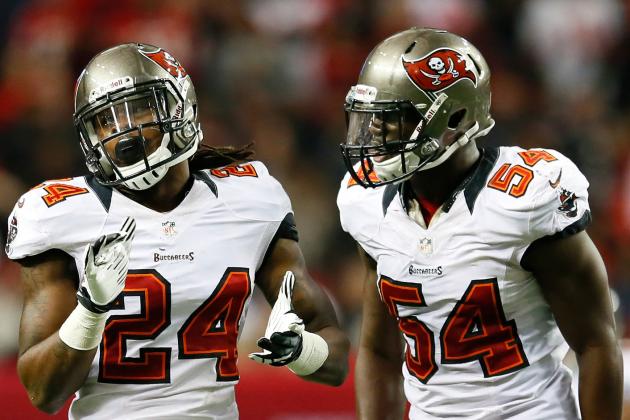 Kevin C. Cox/Getty Images

The art of imposing fear in an offense from a 4-3 outside linebacker position is a dying one, but Lavonte David is doing everything he can to bring it back.
Known for his aggressive, punishing style of football at Nebraska, David has made a near-seamless transition to the NFL. He racked up 139 tackles as a rookie, declaring himself as the primary headhunter in the Buccaneers defense.
While he brings little as a pass-rusher, David is no slouch in coverage either. He defended five passes and grabbed an interception.
In a league that continues to get away from its physical roots, David's style of play is a refreshing reminder that it is still possible to be physical and effective in the modern age of NFL football. Soon enough, David will establish himself as one of the hardest-hitting defenders in a league that is starved for a new face of physicality at the linebacker position.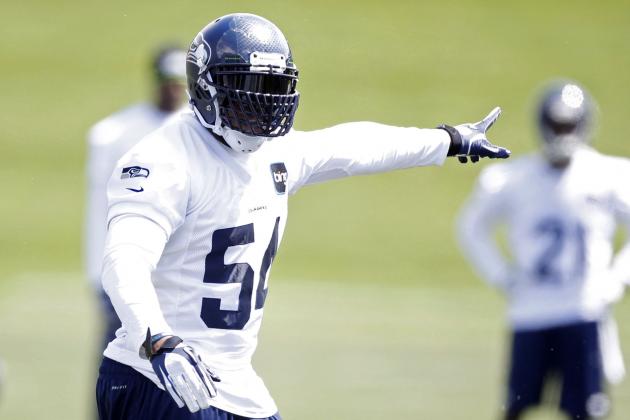 Joe Nicholson-USA TODAY Sports

The Seahawks were obviously hoping that Bobby Wagner would fill their need at middle linebacker when they drafted him in the second round of the 2012 draft, but there is no way they expected him to become one of the best at his position so quickly.
Just a few months removed from playing at Utah State, Wagner recorded more tackles than all but one inside linebacker (Paul Posluszny). Pro Football Focus ranked him as the second-best inside linebacker of 2012 behind the immortal Patrick Willis.
Wagner is a bit undersized at 6'0", 241 pounds, but he makes up for it with his physicality and play-recognition skills. While smaller, he can also hold up in coverage much better than the average, slow-footed middle linebacker.
Armed with a year of invaluable experience and a handful of new, talented defensive linemen acquired in free agency and the draft, Wagner is set up for even greater things in his sophomore season.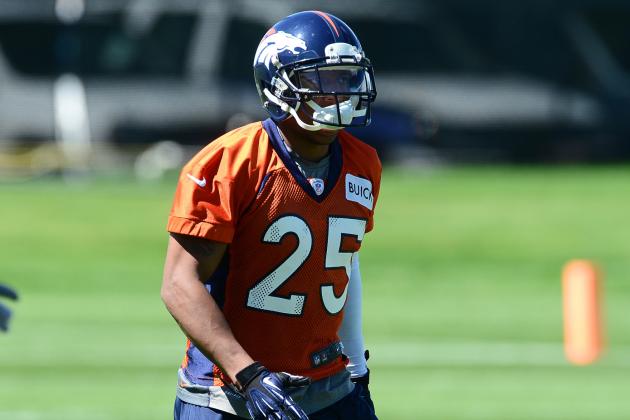 Ron Chenoy-USA TODAY Sports

Champ Bailey is and has been the face of the Broncos secondary, but Chris Harris Jr. is the future of a unit that is already a few years ahead of its time.
As the NFL continues to utilize more three- and four-receiver sets, the slot cornerback position has evolved from being an afterthought to a vital starting position on most defenses.
The face of this new "slot cornerbacks are considered starters" movement is Chris Harris of the Denver Broncos.
Harris was used on the perimeter at times last year, but after bringing in Dominique Rodgers-Cromartie this offseason, it is clear the Broncos value Harris' play much more in the slot than traditional football idioms would suggest they should.
Denver is putting a lot of faith in Harris to be its full-time nickel cornerback, as it should. Opposing NFL quarterbacks had just a 68.2 passer rating against him, and his 58 tackles prove that he is not afraid to get involved in the run game.
In time, the slot cornerback position is going to be more widely accepted as the full-time position it has evolved into, and Harris will be one of the faces of the new trend.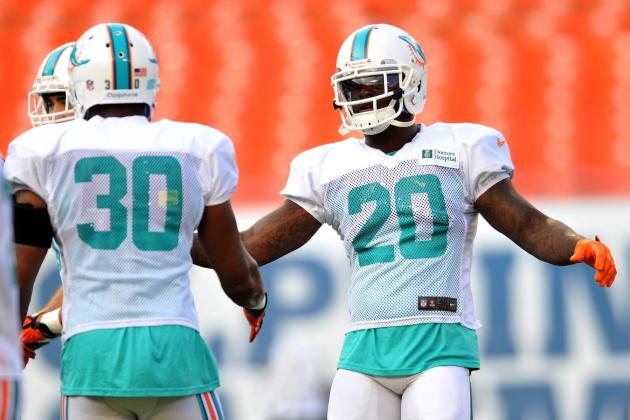 Steve Mitchell-USA TODAY Sports

One of the lost storylines from the 2012 season was how much the safeties for the Miami Dolphins improved over just one season, which was largely thanks to the play of Reshad Jones.
The former fifth-round pick from the 2010 draft, Jones enjoyed a breakout season last fall. He notched 94 tackles, nine pass deflections, two forced fumbles and four interceptions.
Jones is a true modern safety who has the ability to cover as well as make plays in the run game, as he was ranked as the third-best cover safety in the NFL by Pro Football Focus.
As a result, a unit that was supposed to be one of the biggest weaknesses on the team turned out to be one of the strongest units on the roster. The Dolphins now have a star in their secondary once again who they can build around.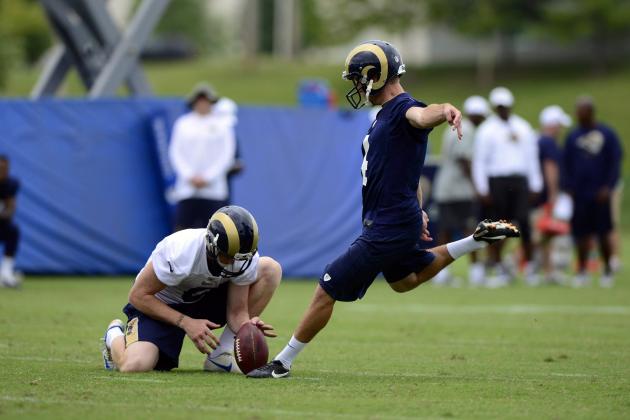 Jeff Curry-USA TODAY Sports

There are plenty of question marks on the Rams roster as they prepare for the upcoming season, but kicker is not one of them.
Greg Zuerlein, better known as "Legatron," took the kicking realm by storm as a rookie last season. After making seven field goals from behind the 50-yard line (his longest coming from 60 yards), he earned his nickname and his reputation for having one of the strongest legs in the league.
However, Zuerlein is more than just a power kicker in the mold of David Buehler. He is also very accurate closer to the uprights, making every kick he attempted in front of the 50-yard mark.
As Sebastian Janikowski enters the twilight of his career, Zuerlein looks like the prime candidate to take the reins as the next power leg in the NFL.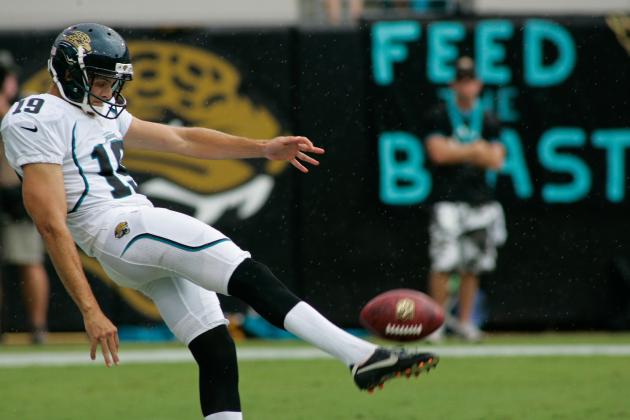 Phil Sears-USA TODAY Sports

Bryan Anger will always carry the unwanted label as "the punter the Jaguars took instead of Russell Wilson," but Jaguars fans can at least take solace in the fact that the pick was not a complete waste of draft resources.
While he was taken far too high for any punter not named Ray Guy (third round), Anger has the potential to be one of the best punters in the league very soon. According to Pro Football Focus, Anger hit 32 punts inside the 20-yard line with a long of 73 yards. He also forced 29 fair catches—second most in the NFL.
Judging by the state of the Jaguars' quarterback situation, Anger should continue to get plenty of work in 2013 as he continues to build on his strong rookie season.