San Francisco Giants: Stock Up, Stock Down for Top 10 Prospects for Week 17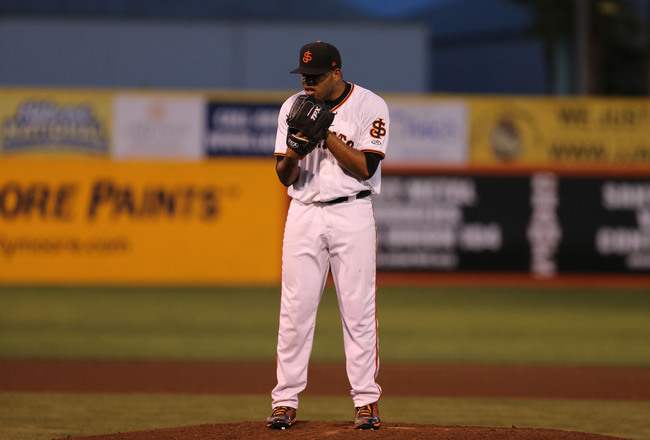 Edwin Escobar is the most advanced of the Giants' top pitching prospects.
USA TODAY Sports
It's time to focus on the future in San Francisco. The defending champions now have the sixth-worst record in baseball after getting swept at home by the Chicago Cubs over the weekend.
General manager Brian Sabean told KNBR before the weekend series, "As we speak, the math is horrific against us. And we're almost ready to turn the page on this season" (h/t Alex Pavlovic, San Jose Mercury News). After his club was held to three runs over the weekend, it's almost certainly time to turn the page on 2013 and look ahead.
Instead of selling their top prospects to fortify the big league squad, the Giants will likely be adding to their farm system or standing pat at Wednesday's trading deadline. Let's take a look to the future by checking in on the top 10 prospects currently in the Giants system.
All statistics are courtesy of MiLB.com and Baseball-Reference.com.
1. Kyle Crick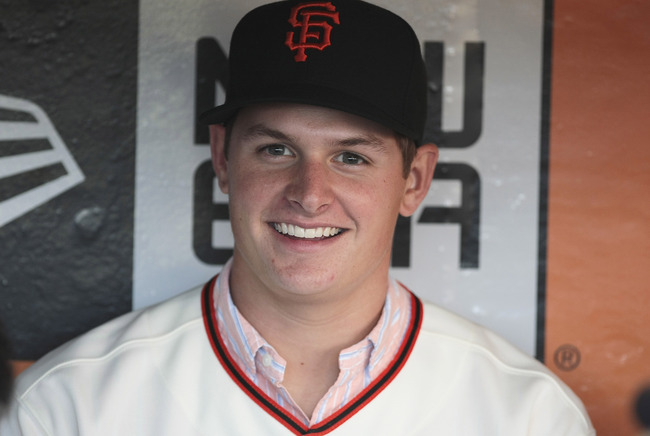 Kyle Crick has ace potential.
Kelley L Cox-USA TODAY Sports
2013 Stats at High-A San Jose: 8 GS, 1-1 W-L, 1.33 ERA, 25 BB, 53 K, 40.2 IP
Overview
Kyle Crick, who was recently ranked as the game's 20th-best prospect by Marc Hulet of FanGraphs, had his worst outing last week since returning from an oblique injury. Crick allowed nine hits and four runs over six innings of work while striking out only three.
The good news from Crick's latest start is he only walked one hitter. Crick had walked 10 over 10 innings of work in his two previous starts. Additionally, only two of the four runs Crick allowed were earned.
Crick is far and away the top prospect in this system. He'll need to spend the rest of the season continuing to improve his control. He'll also have to continue to build stamina, as he missed two months of the season due to injury.
Last Week: 1 GS, 6 IP, 9 H, 4 R, 2 ER, 1 BB, 3 K
Stock: Even
2. Clayton Blackburn

Clayton Blackburn is getting better as the season goes along.

2013 Stats at High-A San Jose: 18 GS, 6-4, 4.02 ERA, 26 BB, 113 K, 103 IP
Overview
Clayton Blackburn had perhaps his best outing of the season last week. He threw eight innings of one-run ball while allowing three hits and no walks and striking out eight.
Blackburn has put together five straight solid starts since getting knocked around for eight hits and eight runs on June 23. His ability to bounce back from a rough start as a 20-year-old pitching in the California League is impressive.
Blackburn has struck out 113 hitters against only 26 walks in 103 innings this year. Opponents are hitting only .223 against him. Those are exceptional numbers, particularly for a pitcher as young as Blackburn.
He's arguably the most polished arm the Giants have in the minor leagues. If he continues to throw as well as he did last week, he'll be worthy of a promotion to Double-A.
Last Week: 1 GS, 8 IP, 3 H, 1 ER, 0 BB, 6 K
Stock: Up
3. Chris Stratton
2013 Stats at Low-A Augusta: 16 GS, 7-3, 3.59 ERA, 37 BB, 100 K, 95.1 IP
Overview
Chris Stratton battled through 4.1 innings last week. He walked five and put nine men on base but only allowed one run. He also struck out eight.
It's been an up-and-down year for the Giants' 2012 first-round pick. He's had some terrific starts mixed in with some ugly ones. He allowed 11 hits and six runs on June 2 and again on June 30, but he pitched well between and after those clunkers.
Stratton hasn't been as dominant at Low-A as Crick and Blackburn were last season. Hopefully, he'll continue to improve as the season goes along and as he moves up the minor league ladder.
Last Week: 1 GS, 4.1 IP, 4 H, 1 ER, 5 BB, 8 K
Stock: Even
4. Andrew Susac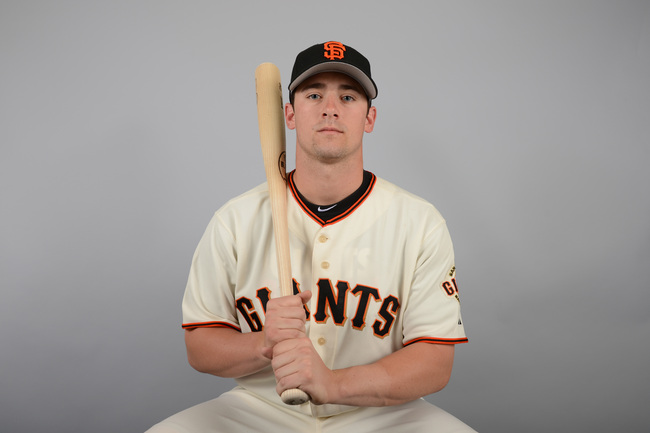 Andrew Susac has had a breakout year.
Kyle Terada-USA TODAY Sports
2013 Stats at Double-A Richmond: .263/.369/.471, .839 OPS, 17 2B, 12 HR
Overview
Andrew Susac blasted his 12th home run of the season last week. The catcher has 29 extra-base hits and 41 walks in 302 plate appearances this season.
Susac's combination of power and patience has made him the top hitter in the farm system for the Giants. If the Giants were in contention at the trading deadline, he'd likely be one of the team's most coveted assets. Thus, holding onto Susac is likely to be one of the only positives in this lost season for the Giants.
Last Week: 7-for-23, 2 BB, HR
Stock: Even
5. Edwin Escobar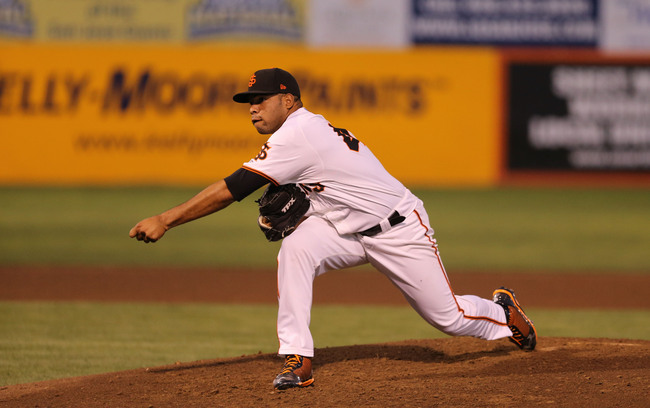 Edwin Escobar is pitching well at Double-A.
USA TODAY Sports
2013 Stats at High-A San Jose: 16 GP, 3-4, 2.89 ERA, 17 BB, 92 K, 74.2 IP
2013 Stats with Double-A Richmond: 4 GS, 2-2, 3.00 ERA, 5 BB, 26 K, 24 IP
Overview
Edwin Escobar is likely to be the first of the Giants' top pitching prospects to reach the show.
He put up a 2.89 ERA at San Jose to earn a promotion to Double-A. In four starts since being promoted, he's posted a 3.00 ERA with 26 strikeouts against only five walks in 24 innings of work.
Escobar has an excellent combination of stuff and control. In 98.2 combined innings this season, he's struck out 118 against only 22 walks.
Given his success at Double-A thus far, the 21-year-old Escobar has the best chance among the top pitching prospects in the system to reach the big leagues next season. If he continues to dominate at Double-A, he could put himself in line for a look by the Giants next spring.
Last Week: 2 GP, 13.1 IP, 8 H, 3 ER, 4 BB, 13 K
Stock: Up
6. Martin Agosta

Martin Agosta getting warmed up.

2013 Stats at Low-A Augusta: 15 GS, 8-3, 2.03 ERA, 34 BB, 97 K, 79.2 IP
Overview
Martin Agosta didn't pitch last week, likely because the Augusta GreenJackets had a scheduled day off and a rainout last week.
Agosta has had an outstanding season around two trips to the disabled list. He's missed time with a dead arm and a blister issue.
He's struck out 97 in 79.2 innings of work for a ratio of 11.0 per innings pitched (K/9). He's posted a 2.03 ERA, and opponents are hitting only .178 against him.
Last Week: Did not pitch.
Stock: Even
7. Joe Panik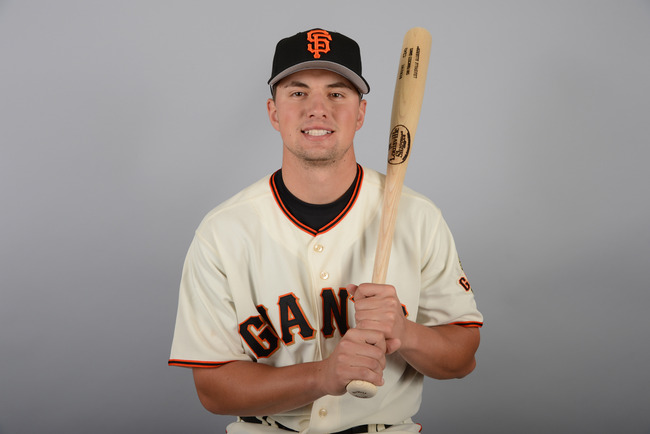 Joe Panik has been hitting better of late.
Kyle Terada-USA TODAY Sports
2013 Stats at Double-A Richmond: .261/.338/.355, .693 OPS, 23 2B, 3 3B, 3 HR
Overview
Joe Panik is hitting .351 with a .395 on-base percentage over his last 10 games. Unfortunately, all 13 of Panik's hits during his hot stretch have been singles. He's currently slugging only .355 over 403 at-bats this season.
The shortstop has more walks (46) than strikeouts (45) on the year. His bat control and ability to get on base will get him to the big leagues. The question is whether he can hit the ball with enough authority to be an everyday player once he gets there.
Last Week: 11-for-28, BB
Stock: Up
8. Heath Hembree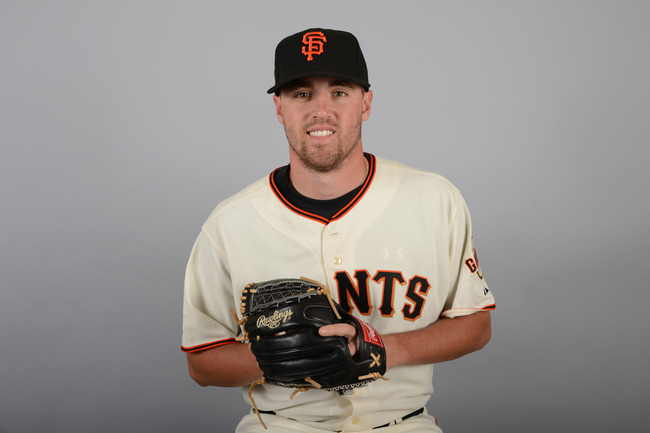 Kyle Terada-USA TODAY Sports
2013 Stats at Triple-A Fresno (through Saturday): 42 GP, 1-3, 4.57 ERA, 15 BB, 53 K, 43.1 IP, 22 Saves
Overview
Heath Hembree has improved his strikeout and walk totals from last season at Triple-A Fresno. In 2012, he posted a 2.05 strikeout-to-walk ratio. Thus far in 2013, he's posted a strikeout-to-walk ratio of 3.53.
However, his ERA has stayed in the mid-4.00s because the long ball has become a problem. Hembree allowed only two home runs over 38 innings last season. This year, he's allowed seven in 43.1 innings of work.
Hembree will have to do a better job of keeping the ball in the yard to earn a promotion to San Francisco later this year. Over his last 10 appearances, he's posted a 2.79 ERA while striking out 14 against four walks in 9.2 innings. Thus, he's well on his way to getting his first cup of coffee with the Giants.
Last Week: 3 GP, 2.2 IP, 4 H, 2 ER, 1 BB, 3 K
Stock: Even
9. Gary Brown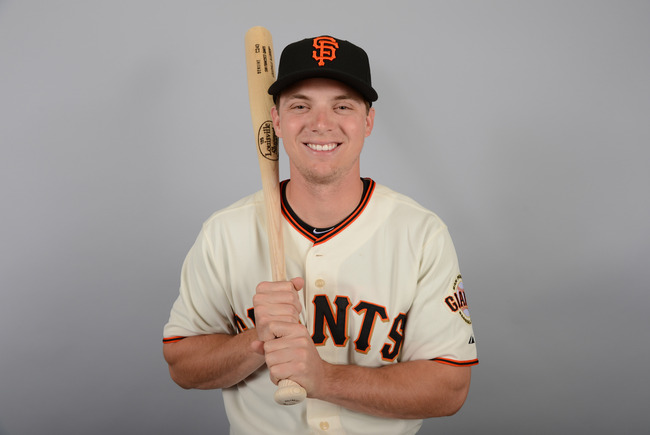 Gary Brown's development has stalled in the upper minors.
Kyle Terada-USA TODAY Sports
2013 Stats at Triple-A Fresno (through Saturday): .242/.303/.416, .719 OPS, 25 2B, 6 3B, 12 HR
Overview
Gary Brown has had some hot streaks over the past two seasons in the upper minors. However, he hasn't fully delivered on the promise he showed when he hit .336/.407/.519 at San Jose two years ago.
His slash line dropped to .279/.347/.385 at Double-A last season. He's hitting .242/.303/.416 at Triple-A thus far in 2013.
When Angel Pagan went out with a hamstring injury, the Giants desperately needed outfield help. Unfortunately, the organization deemed Brown wasn't ready.
The Giants have been forced to give too much playing time to the likes of Andres Torres (.658 OPS), Kensuke Tanaka (.620), Juan Perez (.545) and Jeff Francoeur (.451) in the absence of Pagan.
Had Brown continued to develop in the upper minors, he might have helped the Giants stave off the collapse that has ensued since Pagan went down. Alas, the 24-year-old remains at Triple-A, trying to put his career back together.
He's hitting .243/.307/.405 over his last 10 games, which is right in line with his seasonal slash numbers.
Last Week: 4-for-20, 3B, 2 BB
Stock: Down
10. Mac Williamson

Mac Williamson has had an excellent year at San Jose.

2013 Stats at High-A San Jose (through Saturday): .285/.370/.491, .861 OPS, 21 2B, 2 3B, 19 HR
Overview
Mac Williamson continued to dominate California League pitching last week. Through Saturday, he had gone 8-for-22 with four walks, two home runs and a double.
Williamson is hitting .400/.488/.629 with four extra-base hits over his last 10 games. The outfielder has 42 extra-base hits in 397 at-bats this season. According to Joe Ritzo, the play-by-play broadcaster for the San Jose Giants, Williamson is batting .335 with 13 home runs and a .593 slugging percentage since the beginning of June.
As good as Williamson has been at San Jose, Panik and Brown were arguably better at that level, and both have struggled in the upper minors. Brown posted a .925 OPS at the age of 22 in the California League. Panik posted a .770 OPS, but he was only 21. Williamson is already 23 years old.
Thus, it will be hard to rank Williamson ahead of Panik or Brown until he proves his success is sustainable against tougher competition. He's having an outstanding year, but it's difficult to determine what that means in the hitter-friendly California League.
Last Week: 8-for-22, 2 HR, 4 BB, 2B
Stock: Up
Honorable Mention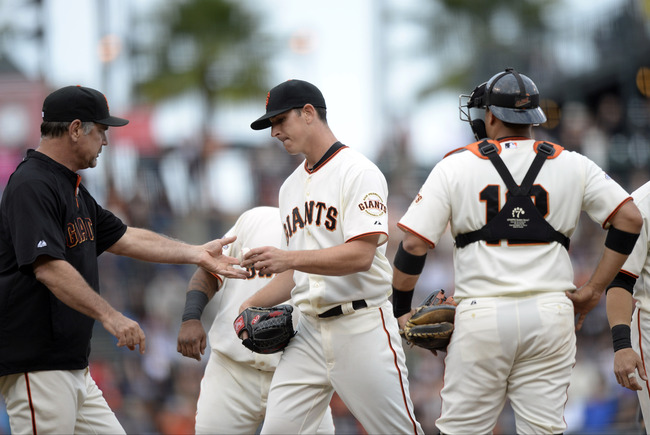 Eric Surkamp was hit hard in his return to the big leagues.
Bob Stanton-USA TODAY Sports
Here are some other notable prospects to keep an eye on:
After throwing seven no-hit innings two weeks ago, Joan Gregorio was blasted for 11 hits and nine runs over two innings of work.
Ty Blach is 10-3 with a 2.64 ERA for San Jose. He allowed two runs over five innings in his most recent start.
Kendry Flores threw six shutout innings in his last start to improve to 7-6 with a 2.97 ERA at Augusta.
The Giants' 2013 first-round pick, Christian Arroyo, is hitting .292/.350/.461 through his first 22 games.
Second-round pick Ryder Jones is batting .375 over 18 games.
Brian Ragira, the Giants' fourth-round pick out of Stanford, is hitting .308/.400/.418 through his first 24 minor league games.
Eric Surkamp was roughed up for nine hits and seven runs in his return to the big leagues last week.
Michael Kickham was knocked out in the first inning during his latest start at Triple-A. He now has a 5.29 ERA for Fresno to go with his 10.61 ERA with the Giants.
Keep Reading

San Francisco Giants: Like this team?