Jake Peavy Trade Rumors: Latest Buzz on Red Sox and More Interested in SP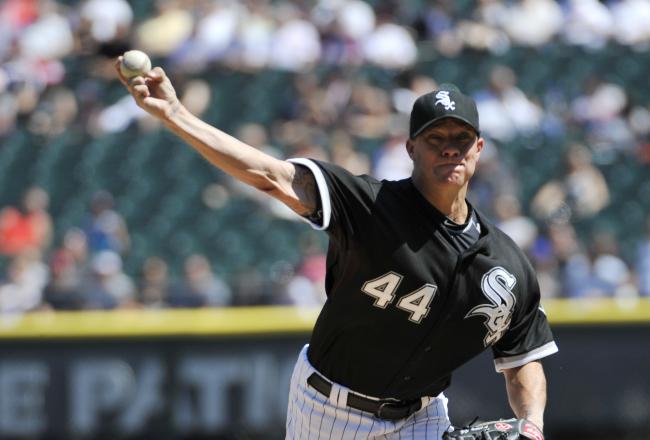 David Banks/Getty Images
By all indications, Chicago White Sox starting pitcher Jake Peavy is going to be dealt before Wednesday's trade deadline.
As to the team he'll be dealt to, well, that's a little less clear.
UPDATE: Tuesday, July 30, by Ian Hanford
Despite reports saying otherwise, ESPN's Buster Olney claims the White Sox aren't budging on Peavy:
White Sox are said to be sticking to high asking price for Peavy. Teams are wondering if they'll get more flexible as deadline nears.

— Buster Olney (@Buster_ESPN) July 30, 2013
UPDATE: Tuesday, July 30, by Ian Hanford
CSNNE.com's Sean McAdam provides an update on Peavy:
Despite interest from 4 teams - Red Sox, A's, D'backs, Cards - sense is White Sox are coming down on Peavy asking price. #RedSoxTalk

— Sean McAdam (@Sean_McAdam) July 30, 2013
UPDATE: Tuesday, July 30, by Ian Hanford
ESPN's Gordon Edes reports the latest on Peavy's potential destination:
Source: Arizona emerges as front runner for Peavy

— Gordon Edes (@GordonEdes) July 30, 2013
ESPN's Buster Olney adds to that:
The Diamondbacks have been considering Peavy for weeks, and if they get cash adjustment,they could make a deal. Towers/Peavy history strong.

— Buster Olney (@Buster_ESPN) July 30, 2013
UPDATE: Tuesday, July 30, by Tom Kinslow
Jeff Passan of Yahoo! Sports has the latest on Jake Peavy and the market for his services.
Price is "insanely high" on Jake Peavy given $ and durability. It will come down in the next 26 hours. Has to. Trade makes too much sense.

— Jeff Passan (@JeffPassan) July 30, 2013
With Jake Peavy's injury history and White Sox needing to blow up, makes absolutely zero sense to hold on to him. Cash in that chip now.

— Jeff Passan (@JeffPassan) July 30, 2013
UPDATE: Tuesday, July 30, by Brandon Galvin
CBS Sports' Dayn Perry has the latest on Jake Peavy:
CBSSports.com's Scott Miller has confirmed that veteran White Sox right-hander Jake Peavy will not make his scheduled Tuesday start. Mark Gonzales of the Chicago Tribune originally reported that the Sox might bump Peavy. That decision, of course, means that Peavy, who's recently been the subject of many a rumor, may be traded before Wednesday's non-waiver deadline.
UPDATE: Monday, July 29, by Tom Kinslow

Buster Olney of ESPN has the latest on the market for Jake Peavy.
The White Sox are telling other teams they're going to keep Peavy and build around him.

— Buster Olney (@Buster_ESPN) July 29, 2013
UPDATE: Monday, July 29, by Tom Kinslow
Jon Morosi of Fox Sports has an update on Boston's pursuit of Jake Peavy.
Sources: Red Sox remain engaged in talks for multiple pitchers, including Cliff Lee and Jake Peavy.

— Jon Morosi (@jonmorosi) July 29, 2013
UPDATE: Monday, July 29, by Brandon Galvin
Yahoo! Sports' Jeff Passan has the latest on Jake Peavy:
Red Sox very much in Jake Peavy sweepstakes. Wouldn't exactly say they're favorites but between motivation and prospects in strong position.

— Jeff Passan (@JeffPassan) July 29, 2013
ESPN's Bruce Levine revealed on Sunday afternoon that even Peavy himself knows he is as good as gone in the next couple of days:
A clubhouse attendant walked into the Chicago White Sox's locker room with five packed suitcases and Jake Peavy in tow. The veteran pitcher is preparing for what seems to be inevitable, a trade that would end his four-year tenure with the team.

"It is sad to think that this is probably my last day in here," Peavy said on Sunday morning. "We all realize the reality of the situation and I am prepared with that to happen soon."
Alright. So, the former National League Cy Young winner is on his way out of Chicago, where he has been playing since being dealt from the San Diego Padres at the last minute of the 2009 trade deadline.
That much we know.
We also know there are a lot of teams interested in his services—FOX Sports' Ken Rosenthal has the list:
Sources: #Braves not in mix for Peavy. #STLCards, #Orioles, #RedSox and #Athletics talking to #WhiteSox.

— Ken Rosenthal (@Ken_Rosenthal) July 28, 2013
ESPN radio's Jim Bowden added this update:
If Jake Peavy has been traded it is NOT to the Braves,Cards,O's or Red Sox according to team sources

— JIM BOWDEN (@JimBowdenESPNxm) July 28, 2013
According CSN Chicago's Dan Hayes, the Oakland Athletics are the current "leader":
#WhiteSox source has Oakland #Athletics in front of Jake Peavy sweepstakes. Peavy brought extra bags on trip in case, per @JJStankevitz.

— Dan Hayes (@DanHayesCSN) July 28, 2013
The A's are currently six games ahead of the Texas Rangers in the west at 62-43, and unless something catastrophic happens, the postseason looks inevitable.
Adding Peavy to a rotation that already includes Bartolo Colon, A.J. Griffin and Jarrod Parker would only further entrench Billy Beane's squad as a legitimate World Series contender.
Still, Beane is obviously known for his frugality, and Peavy's remaining contract is a major detractor for teams, according to ESPN's Jayson Stark:
White Sox haven't shown interest in eating any of Peavy's $ (close to $24M left). That & health were big issues for Atl, Bal, StL & even LA

— Jayson Stark (@jaysonst) July 28, 2013
Peavy, who has made two starts since returning from a broken rib injury, is 8-4 this year for the struggling White Sox with a 4.28 ERA, 1.14 WHIP and 76 strikeouts in 80.0 innings. Moreover, his xFIP of 3.69 (per Fangraphs) suggests he has been better than his ERA suggests.
Although there are understandable concerns, Peavy is a solid veteran starter who would make any team better and serve as more than just a half-season rental.
It's easy to see why there is so much interest, but for now, we just have to play the waiting game, as his future destination continues to remain a fairly large mystery.
This article is
What is the duplicate article?
Why is this article offensive?
Where is this article plagiarized from?
Why is this article poorly edited?