Jake Peavy is one of the hottest names on the trade rumor front these days, but the Los Angeles Dodgers would be smart to forget about attempting to land him.
This team has bigger issues than landing another starting pitcher. While it's true the team's starting rotation could use an upgrade, the bullpen is a hot mess by comparison.
Thankfully, it appears team general manager Ned Colletti is steering clear of Peavy, his huge salary and health concerns, as noted by ESPN's Jayson Stark:
White Sox haven't shown interest in eating any of Peavy's $ (close to $24M left). That & health were big issues for Atl, Bal, StL & even LA

— Jayson Stark (@jaysonst) July 28, 2013
While landing Peavy might seem to be a brilliant way to keep the team's red-hot momentum going for the next few months into the playoffs, Los Angeles must address its bullpen needs first and foremost.
Before Francisco Rodriguez was traded from the Milwaukee Brewers to the Baltimore Orioles, the Dodgers were reportedly interested in his services, as noted by Mark Saxon of ESPNLosAngeles.com. Saxon also noted that although the bullpen has improved of late, the team may still be looking for a veteran reliever.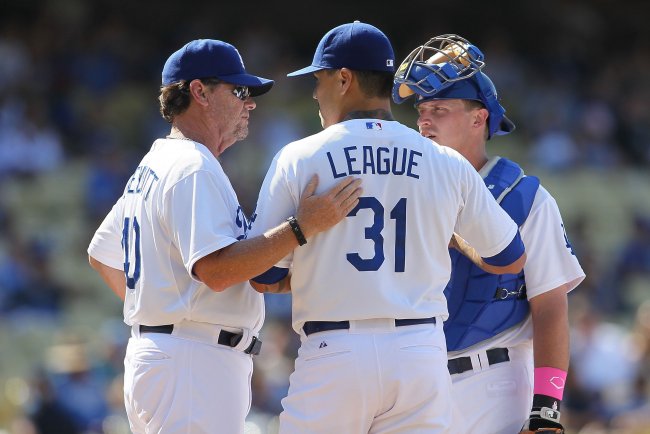 Victor Decolongon/Getty Images
Even with the recent improvements from relievers, we're still talking about one of the worst bullpens in the majors. Ranking No. 20 in ERA, the Dodgers have also allowed 16 blown saves this season, ranking as the fifth-worst team in MLB in that category.
For a team with championship aspirations, it's not prudent to enter the postseason with such poor backup. Some might argue bringing in another starter would negate the need for better relievers, but Peavy isn't a player who will make up for a lack of support on the back end.
The Dodgers need ______ to contend for a title.
Peavy would give Los Angeles a solid fourth starter to throw into the rotation with all-world Clayton Kershaw, Hyun-Jin Ryu and Zack Greinke. These three starters have a combined record of 27-12, and adding the 8-4 Peavy would seem to significantly bolster the team's rotation.
That said, the more prudent move for the Dodgers would be to bring in one or two veteran relievers who could be counted on to produce when the starters don't have their best stuff.
The best way to ensure the team will compete for a title this year is by bolstering its poor bullpen. With an offense that can put up points in bunches and a solid starting rotation, this is the only area of resounding need.
Follow me on Twitter @JesseReed78