Houston Astros Prospect Watch: Keeping an Eye on Houston's Farm Hands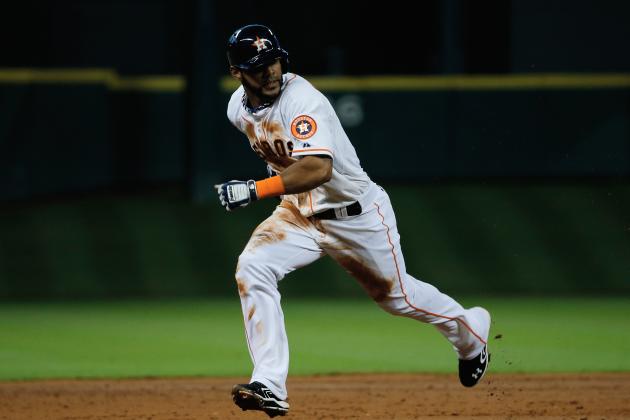 Scott Halleran/Getty Images
Jonathan Villar got off to a good start in his first week with the Astros .
As the Houston Astros remain at the bottom of the standings, more and more prospects will make their way onto the major league roster as the season progresses. A couple of youngsters have already cracked their way into the Astros' lineup.
Jonathan Villar was called up last week and is now the Astros' everyday shortstop. Jarred Cosart has proved himself to be a consistent starter in the Astros' rotation.
Other guys such as George Springer and Brad Peacock are playing well in the minors and could be called up very soon.
The Astros have brighter days ahead of them as the prospects continue to develop and start to make their way into the big leagues. Here's an update on how some of the top prospects in the organization are performing.
Begin Slideshow

»
Tom Szczerbowski/Getty Images
Villar is getting accustomed to the majors, playing every day at shortstop for the Astros.
Position: SS
Age: 22
Team: Houston Astros (MLB)
Prospect List: No. 11
Jonathan Villar made his debut Monday, July 22 against Oakland. In his first seven games with the Astros, Villar is hitting .269 with an on-base percentage of .345.
Villar has not been terrific from the plate, but his fielding and baserunning have been very helpful for the Astros. The Astros are among the worst in the MLB when it comes to errors, and Villar gives them a much-needed glove in the middle infield.
In just seven games, Villar already has three doubles and five runs scored, as well as four stolen bases.
Villar has struggled to make contact at times, going down on strikes 13 times so far. He will have to work on that if he wants to stay at the top of the Astros' batting order.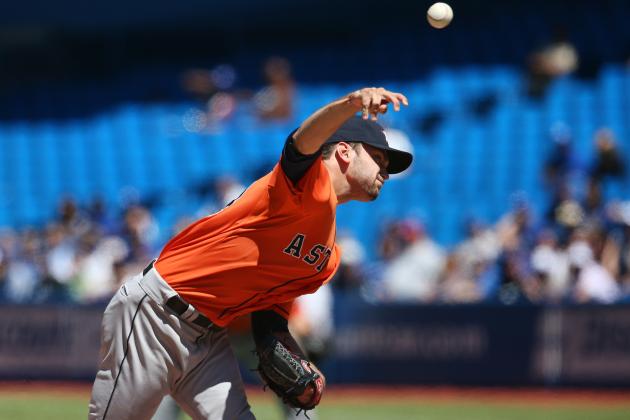 Tom Szczerbowski/Getty Images
Cosart has had three starts with the Astros, and all of them have been terrific.
Position: RHP
Age: 23
Team: Houston Astros (MLB)
Prospect List: No. 7
Jarred Cosart made his stunning debut just before the All-Star break. He carried a no-hitter into the seventh inning against the Tampa Bay Rays, and his eight scoreless innings were good enough to earn him the win.
Cosart has now made three starts. He is still 1-0 with a 0.86 ERA. He has only given up two earned runs in his three starts, but he has not gotten a lot of run support.
Cosart does not strike a lot of people out, but he throws a 95 mph fastball with a great changeup to keep hitters off balance. He keeps the ball in the park, not relinquishing a single home run yet. He has an excellent WHIP of 1.14.
Cosart has shined for three starts in a row. The Astros are hoping he can keep up the good work.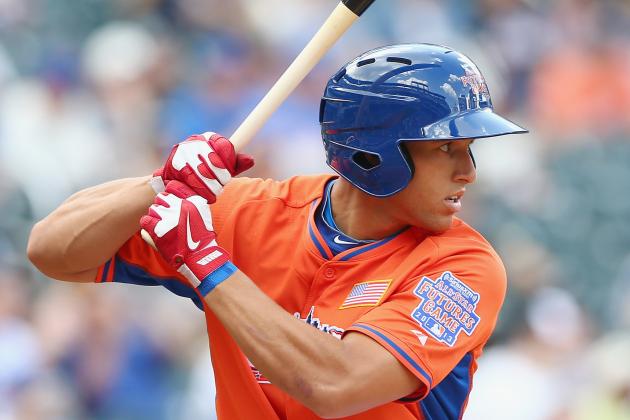 Elsa/Getty Images
Springer has been on a roll during his stint at Triple-A Oklahoma City.
Position: OF
Age: 23
Team: Oklahoma City Redhawks (Triple-A)
Prospect List: No. 3
George Springer has a lot of potential. He can be a big part of the Astros' lineup in the very near future. He is a speedy outfielder with a lot of power and a dependable glove.
Springer took part in the Futures Game over the All-Star break, where he went 1-for-3.
Springer started the year in Double-A with the Corpus Christi Hooks, where he hit .297 with 19 homers. He was promoted to Triple-A OKC, where he is currently batting .347 with an on-base percentage of .440.
This past week, Springer hit .292, including yet another home run. He has been hitting the cover off the ball lately and has shown no signs of slowing down. Springer could be called up in no time.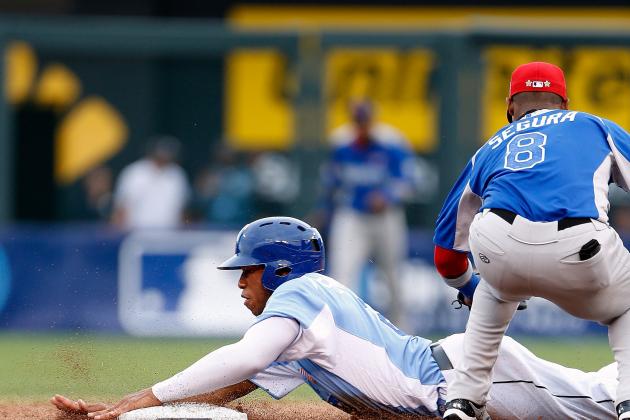 Jamie Squire/Getty Images
Singleton played well in Double-A, but he has struggled so far in Triple-A.
Position: 1B
Age: 21
Team: Oklahoma City Redhawks (Triple-A)
Prospect List: No. 2
The Astros have high hopes for Jonathan Singleton. He played in the Futures Game at last year's event in Kansas City. He could play in the majors soon, but he has been struggling in Triple-A recently.
At OKC, Singleton is hitting just .193 with only three long balls. His batting average has gone down each time he has been promoted. In Single-A Quad Cities, Singleton hit .286. In Double-A Corpus Christi, he hit .263.
Singleton needs to get his numbers up before he can get called up to the big leagues. He has a lot of power, but his average is dreadful.
Singleton missed the first 50 games of the season serving a suspension for violating the league's drug policy. The Astros are hoping this talented kid can get his act together and his average up, and then he can be an integral part of the Astros' lineup.
David Kohl-USA TODAY Sports
Correa has been performing well so far in Single-A Quad Cities.
Position: SS
Age: 18
Team: Quad Cities River Bandits (A Full)
Prospect List: No. 1
The No. 1 overall pick last year, Carlos Correa is now atop the Astros' prospect list. He has been doing a fine job at shortstop for the Quad Cities River Bandits.
Correa was voted on to make the Futures Game roster over the All-Star break. He has a good glove and can fly around the bases. He also has great power for a shortstop.
This season at Quad Cities, Correa is hitting .319 with an on-base percentage of .403. He has seven homers and 59 RBI.
This past week, Correa went 9-for-30, which is a .300 batting average. Of those nine hits, three of them are doubles and one is a home run.
Correa still has a long way to go before appearing in the majors, but he has great potential. He is only 18 years old, and has all the time in the world to continue to develop as he climbs the ladder toward the major leagues.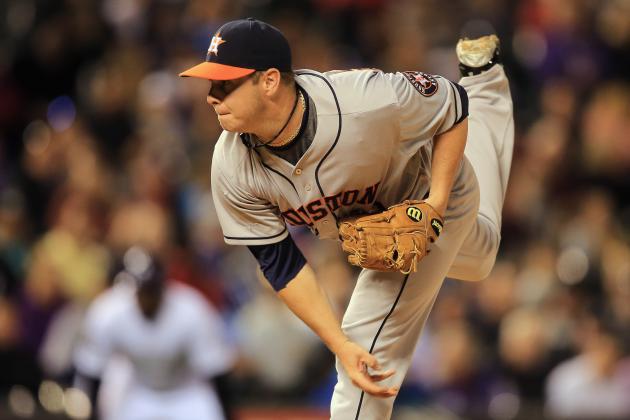 Doug Pensinger/Getty Images
Peacock has already made some appearances with the Astros, and he could be back up in the majors fairly soon.
Position: RHP
Age: 25
Team: Oklahoma City Redhaws (AAA)
Prospect List: No. 18
The Astros acquired Brad Peacock before the beginning of this season. He has been up and down this year between the majors and the minors, but is currently with Triple-A OKC.
For the Redhawks, Peacock is 6-2 with a 2.88 ERA. He has gotten the job done at the mound in OKC, and could be pitching for the Astros again fairly soon.
In his last two starts, Peacock has surrendered 5 runs in 12.2 innings, picking up a win. If he continues to do well, he will see the mound for the Astros plenty by the end of the season.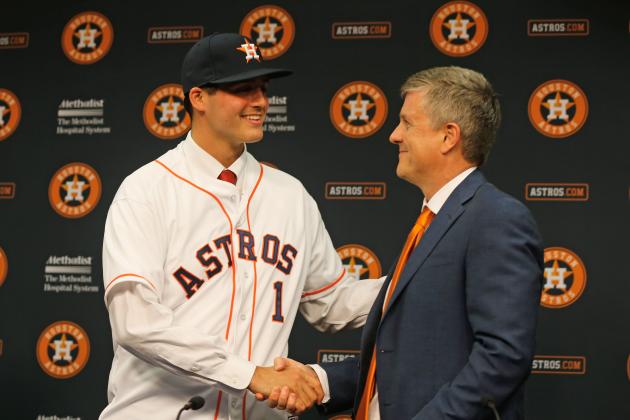 Scott Halleran/Getty Images
Appel was the No. 1 pick for Astros this year, and the team has high hopes for him.
Position: RHP
Age: 22
Team: Quad Cities River Bandits (A Full)
Prospect List: No. 4
This year's first overall pick, Mark Appel can be a game changer for the Astros in the near future. The ace dominated during his college days at Stanford and has the tools to be a big-time pitcher in the major leagues.
Appel has done a solid job so far in the Astros' organization.
At Quad Cities, Appel has a 3.60 ERA in three starts. In his most recent start, he gave up one run in two innings of work. He also struck out two batters in that appearance.
Appel is just getting used to playing professional baseball at this point in time. He won't be wearing an Astros uniform anytime soon, but eventually he will be a key part of their rotation.