The United States capped off an incredible run at the 2013 CONCACAF Gold Cup with a 1-0 victory over Panama in the tournament finale.
In six matches at the event, the team outscored its opponents 20-4 and had few struggles leading into the final. The win also gives the squad 11 wins in a row as it continues to prepare for the 2014 World Cup.
Panama was also playing well heading into the championship match, winning four of five, including two over Mexico. Additionally, the Americans had to compete without head coach Jurgen Klinsmann, who was suspended for the match after being sent off in the semifinal against Honduras, per U.S. Soccer:
The CONCACAF Disciplinary Committee has suspended U.S. head coach Jurgen Klinsmann for the final of the 2013 CONCACAF Gold Cup.

— U.S. Soccer (@ussoccer) July 27, 2013
However, the United States did enough to secure the country's first Gold Cup title since 2007.
In the first half, Team USA had the clear advantage while controlling the majority of the possession. Unfortunately, the strong opposing defense prevented any legitimate scoring opportunities.
As Paul Carr of ESPN illustrated, the U.S. side had a tough time getting close to the net on offense:
#USMNT touches in the first half. Panama defense has a wall around the box: pic.twitter.com/YbhECXkC4Y

— Paul Carr (@PCarrESPN) July 28, 2013
Franco Panizo of MLSSoccer.com also credits the Panama defense with a strong first half:
HT. #USMNT 0, Panama 0. Americans dominate in terms of possession but struggle to create much of anything v organize Panama D. #GoldCup

— Franco Panizo (@FrancoPanizo) July 28, 2013
The most notable occurrence in the first half was the injury to Stuart Holden. After missing out on almost three years of playing due to knee issues, he was removed from the match after this collision:
Major League Soccer later reported that the injury was a sprain, although his history gives reason to be concerned:
Looks like it's a sprained right knee for @stuholden, send him some love. #USMNT

— Major League Soccer (@MLS) July 28, 2013
Holden was replaced by Mikkel Diskerud in the 23rd minute. The young player was not able to provide any more of a spark on offense, though, and the teams entered halftime 0-0.
There was a lot more excitement following intermission. The United States thought it had an opportunity to score with this apparent handball in the penalty box:
Much to the dismay of Klinsmann, who was watching from a luxury box, there was no call and the action continued.
Finally, in the 69th minute, Team USA got on the scoreboard. Alejandro Bedoya crossed the ball from the right side, which Landon Donovan missed as the ball continued toward the net. With no one in front of him, Brek Shea tapped the ball in—less than a minute after coming on as a substitution for Joe Corona:
Donovan was originally credited for the assist, but Ives Galarcep reports that it was later changed:
The assist on today's Gold Cup-winning goal is now being credited to Alejandro Bedoya. Landon Donovan did not get a touch on the Bedoya pass

— Ives Galarcep (@SoccerByIves) July 28, 2013
For the remaining minutes of the match, the United States continued to play strong enough defense to keep Panama off the scoreboard. In fact, the losing team did not have a single shot on goal.
After some scuffles late, the U.S. held on to win the trophy:
That's it! The #USMNT are 2013 CONCACAF Gold Cup Champions!

— U.S. Soccer (@ussoccer) July 28, 2013
Thanks to his outstanding play over the course of the event, Donovan was named the best player:
#USMNT Landon Donovan has been awarded the #GoldenBall as the best player of the 2013 CONCACAF Gold Cup. Congrats, Landon!

— U.S. Soccer (@ussoccer) July 28, 2013
Although some squads held out their strongest players in the tournament (including the U.S.), this is still a big victory to give the team confidence going forward.
Grades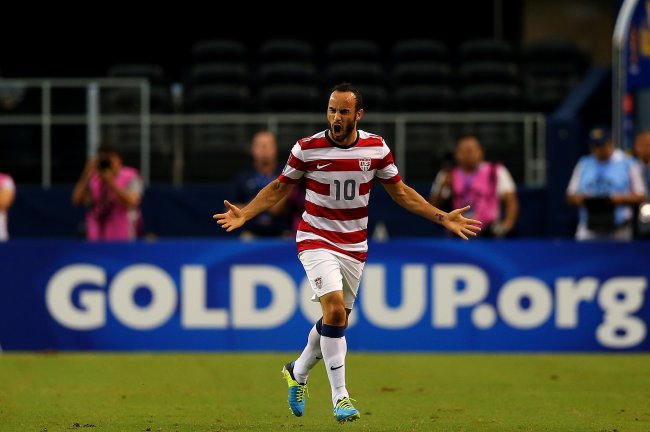 Ronald Martinez/Getty Images
Landon Donovan, United States: B+
Compared to the rest of his tournament, Donovan might not deserve any more than a C. He simply has given himself a higher standard, contributing to 12 goals.
Despite his lackluster performance, the veteran still deserves a solid score. He was always around the ball when something needed to be done and consistently made the right passes.
Although this was probably his worst performance of the tournament, Donovan still made an impact.
Brek Shea, United States: A-
There are some very different opinions concerning Brek Shea and his ability to contribute at the international level. In this match, he did enough to show that he is at least worthy of consideration for the team going forward.
His goal looked easy, but he made a great run to help make it happen. He was also solid throughout the rest of the match to keep the pressure on and maintain the lead. As Carr notes, this is an improvement over how he started:
Two goals for Brek Shea in six games this tournament, after none in his first 17 #USMNT appearances.

— Paul Carr (@PCarrESPN) July 28, 2013
The good news is that the 23-year-old winger still has plenty of time to improve.
Gabriel Torres, Panama: C-
Throughout the tournament, Gabriel Torres was the person Panama would look toward when it needed a goal. He had five scores in the tournament, including three from penalty shots.
Against the United States, though, he was virtually invisible, with few touches and almost no opportunities.
Panama needed someone to make plays, and Torres was nowhere to be found.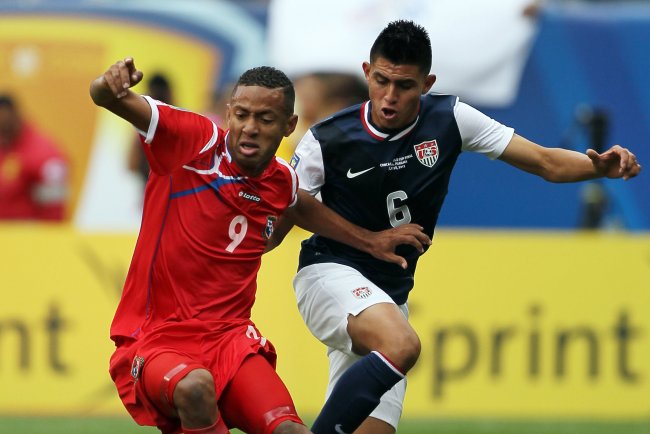 Tasos Katopodis/Getty Images
Blas Pérez, Panama: D
Blas Perez did not hear his name called for anything good during the match. He was called for eight fouls on the day, and it usually prevented Panama from sustaining any looks at the net.
The forward is one of the most important offensive players for his country, and the Panamanians will need a lot of production going forward. Unfortunately, he did nothing but hurt his team in this final.
United States Grades

| | | |
| --- | --- | --- |
| Position | Player | Grade |
| G | Nick Rimando | B |
| D | DaMarcus Beasley | C+ |
| D | Michael Parkhurst | A |
| D | Clarence Goodson | B+ |
| D | Matt Besler | A- |
| M | Joe Corona (Off 68') | B- |
| M | Stuart Holden (Off 23') | B |
| M | Kyle Beckerman | A- |
| M | Alejandro Bedoya (Off 89') | B |
| F | Landon Donovan | B+ |
| F | Eddie Johnson | A |
| | Subs | |
| M | Mikkel Diskerud (On 23') | B |
| M | Brek Shea (On 68') | A- |
| D | Omar Gonzalez (On 89') | B |
Roster info courtesy of ESPN
Panama Grades

| | | |
| --- | --- | --- |
| Position | Player | Grade |
| G | Jaime Penedo | B+ |
| D | Leonel Parrish | B- |
| D | Carlos Rodríguez | B |
| D | Roman Torres | A- |
| D | Roberto Chen | A- |
| M | Gabriel Enrique Gómez (Off 74') | C+ |
| M | Marcos Anibal Sanchez Mullins | B |
| M | Alberto Quintero | B- |
| M | Anibal Godoy | B |
| F | Blas Pérez | D |
| F | Gabriel Torres (Off 64') | C- |
| | Subs | |
| F | Jairo Jimenez (On 64') | C |
| M | Rolando Blackburn (On 74') | B |
Roster info courtesy of ESPN
What's Next?
Although the Gold Cup is now over, there is plenty of international football remaining in the summer. The United States has a friendly scheduled against Bosnia-Herzegovina on Aug. 14. The Americans will then continue World Cup qualifying on Sept. 6 with a road match against Costa Rica.
Panama will hope to regain its momentum on Sept. 6 as well, with a home match against Jamaica.
Follow Rob Goldberg on Twitter for the latest breaking news and analysis.