Can Arsenal Win an English Premier League Title Without Adding Luis Suarez?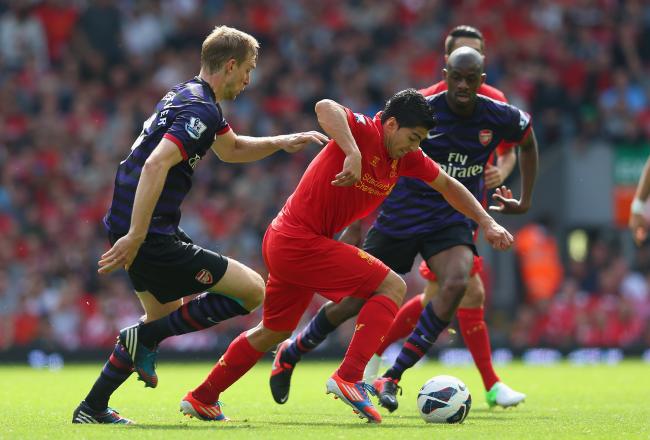 Alex Livesey/Getty Images
Arsenal will struggle mightily to win an English Premier League title, unless they sign Liverpool striker Luis Suarez. That is not the same as saying adding Suarez guarantees the Gunners the title, but their chances of credibly competing for the crown will look bleak without the Uruguayan ace.
Why would Suarez make such a difference between two teams only three places apart last season? The first reason is something that should be made abundantly clear: Arsenal are a better team than Liverpool.
That is evidenced by the 12 points that separated those three places. The Gunners are stronger defensively than the Merseyside club and have greater options in midfield.
Arsenal are also blessed with a superior coach. Arsene Wenger continues to perform minor miracles every season.
Considering what Arsenal are able, or some would argue prepared to spend, they should not be alongside Chelsea, Manchester City and Manchester United every season.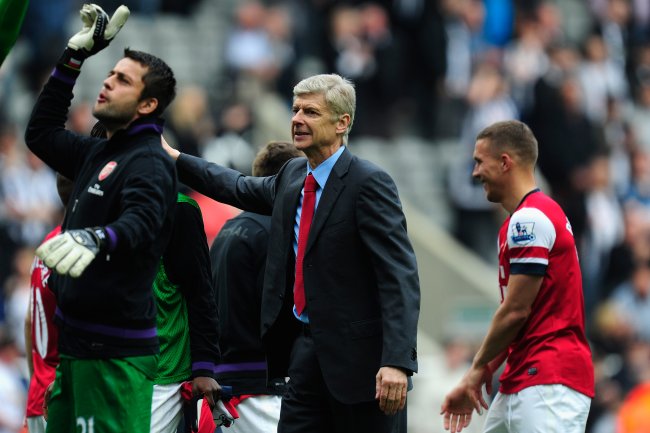 Stu Forster/Getty Images
That they are is a testament to Wenger's resilience and continued ability to mold players into productive, top-level performers. No other manager would have kept Arsenal in the top four the last two seasons.
So given the rosy view of things at Arsenal described so far, why would they need Suarez to win the league? Again, the answer is two-fold.
Firstly, while Wenger has kept his club punching above its weight, simply remaining a fixture in the top four is not enough. Wenger himself has referred to this as a "minimum requirement."
Even his most ardent supporters cannot wholeheartedly apply a positive spin to eight seasons with no silverware. To arrest this slide, Wenger has two options.
He can either carefully retool his team, over a period of time, with a number of new faces. It could be argued that he has already done that.
Wenger has adapted to the sales of key figures like Cesc Fabregas, Samir Nasri and Robin van Persie. He has attempted to cultivate a new-look squad with a different foundation and personality.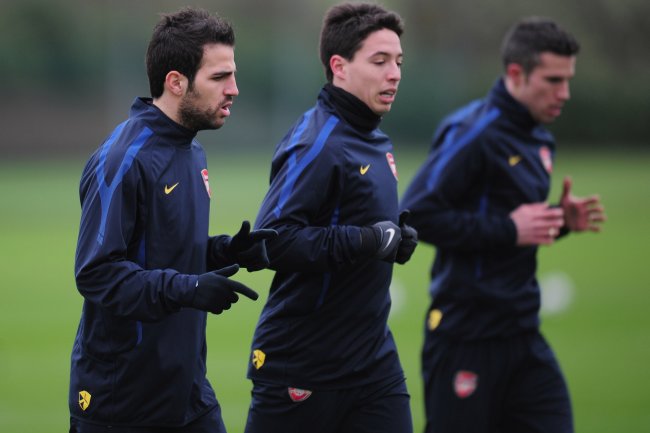 Shaun Botterill/Getty Images
The late trolley dash in the summer of 2011 yielded Mikel Arteta and Per Mertesacker. The two have become essential leaders in Wenger's current squad.
Bigger roles have also been given to the likes of Kieran Gibbs and Aaron Ramsey. Meanwhile, Theo Walcott has slowly been granted greater freedom to lead the attack.
As smart and necessary as these changes were, they yielded only modest success. While this Arsenal team is a little more secure and resilient, they lack a true spark.
It is not unfair to say that the 2012/13 version of Arsenal was probably the most workmanlike team in Wenger's tenure. They scrapped for results, instead of overpowering teams with a flourish.
Wenger now needs a catalyst to add to his determined bunch. He needs a mercurial talent to produce some real flair in the biggest games.
Suarez is the obvious choice, because the attack is where Arsenal are most lacking. The problem up front is a simple one.
In Olivier Giroud, Arsenal have a hard-working, bustling target man who regularly puts himself into positions to score, but lacks quality as a finisher.
Contrast that with Lukas Podolski, who is a classy and assured finisher, but rarely works to create the space to use that gift.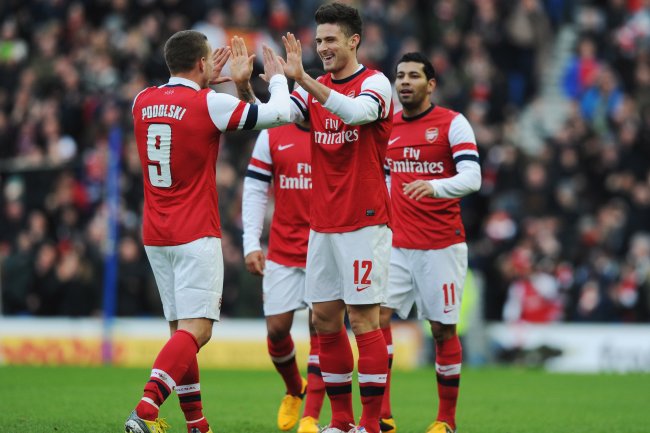 Steve Bardens/Getty Images
Fortunately, Suarez combines the best attributes of Giroud and Podolski and then some. His scurrying persistence and precise technique in front of goal put Suarez in select company among football's biggest talents.
The ex-Ajax man defies traditional position roles and can produce moments of true genius at any time. That flair for attacking inspiration is what wins the biggest games in a title race.
That just happens to be what Arsenal need the most. The Gunners could not beat a single member of the top three during the 2012/13 season. Podolski and Giroud's failure to find the net in any of those six games was a major reason why.
If Arsenal are to claim the EPL title, they will need a finisher they can rely on. A superb article by Adam Bate for Sky Sports helps show why Suarez is that man.
Bate analyzes the performances of EPL strikers when presented with what he calls "big chances." His comparison of Giroud and Suarez is hugely revealing:
When it comes to the big ones, Giroud was a disappointment. Only Van Persie was presented with more clear opportunities to score than the Frenchman last season. The difference is that the Manchester United striker also netted 17 of his clear-cut openings. Giroud successfully converted just four.

Indeed, of those players who enjoyed the most big chances to score in the Premier League last term, Giroud had by the far worst conversion rate - finishing just 17 per cent of those opportunities. The identity of the man who was the most reliable at converting from those situations is intriguing - it was that man Suarez.
The key point is that Arsenal still create so many chances, despite not quite producing football of the quality seen in Wenger's glory years.
That is why it is reasonable to suggest Suarez can be even better at Arsenal than he has been for Liverpool. His status as the most efficient striker on Bate's list also demonstrates the level of difference he would make to Arsenal's title chances.
Think of some of Giroud's costly misses from last season. The season opener against Sunderland and the late-April draw with Everton are two prime examples.
They cost Arsenal four points. Those four points would have put the Gunners third in the final standings. Think of how many points Suarez could make up.
Of course, there is another way to argue the statistics presented by Bate. Teach Giroud to refine his finishing technique and Arsenal will boast a very dangerous striker without having to spend £50 million.
That kind of patience and trust in player development is the essence of Wenger's team-building philosophy. But that does not make it any less risky than a bold, big-money swoop for Suarez.
If Arsenal hope to win the EPL title, Wenger has to choose between gambles. Either he banks on players like Giroud coming good and confounding their critics.
Or he makes the major investment in Suarez and bets he can live up to his price tag and avoid trouble long enough to fire the goals Arsenal need to win the biggest games.
When it comes to determining which represents the greater risk, Arsenal fans can only hope "Arsene knows."
This article is
What is the duplicate article?
Why is this article offensive?
Where is this article plagiarized from?
Why is this article poorly edited?

Arsenal: Like this team?