Fantasy Baseball: Week 18 Start 'Em or Sit 'Em Breakdown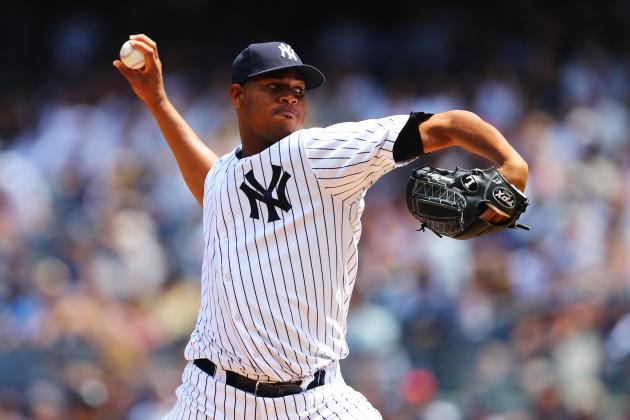 Al Bello/Getty Images
Ivan Nova is developing into a nice fantasy option.
Decisions stink, so let's try to solve a few pesky fantasy baseball lineup dilemmas for you.
At this point, you're either singing on clouds as your team fortifies its stronghold atop of the standings or crying yourself to sleep as you stay trapped in the cellar, with any move you make backfiring in excruciating fashion.
Or maybe you just carry on with your life regardless. Not everyone takes it so seriously, I suppose. That's cool, and probably healthier.
I went in hiding last week after promoting Jeremy Hefner after the All-Star break in what turned into a disastrous outing, but here I am to pick up the pieces and see what more harm I can cause. But hey, hopefully you took my advice and sat Chris Archer. That guy's a bum, am I right?
Let's dissect a new batch of pitchers this week. There's a star making his much-anticipated return, a post-hype sleeper who returned in style last week, overachievers, underachievers and one prestigious ace who I never thought would sniff the same area code as this column.
Now let's get this party started.
Note: All statistics, unless otherwise noted, are courtesy of FanGraphs.
Begin Slideshow

»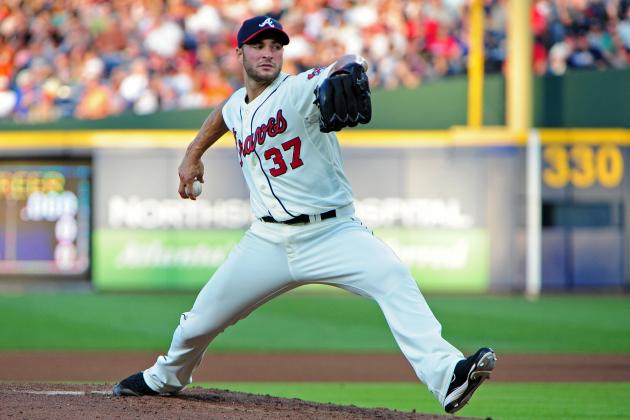 Scott Cunningham/Getty Images
Brandon Beachy will make his season debut on Monday.
Scheduled Starts: Monday vs. Colorado Rockies, Saturday at Philadelphia Phillies
Just as Tim Hudson suffered a season-ending injury, Brandon Beachy is ready to reclaim a spot in the Atlanta Braves rotation.
Beachy was making his case for Cy Young candidacy last year, recording a 2.00 ERA through 81 innings before undergoing Tommy John surgery. He hoisted a 10.74 K/9 ratio the previous year, so he was on his way to achieving ace status before his injury interfered.
In 222.2 major league innings in 2011 and '12, Beachy has netted a 3.07 ERA, 1.12 WHIP and 237 strikeouts. Sound like a guy you want on your fantasy squad? It shouldn't, because that would be weird if you can hear written words. Nevertheless, add Beachy now before it's too late.
As for inserting him into the lineup, that's another story.
It's always risky to immediately toss someone into the ring, especially after missing a full calendar year of action. Two intriguing matchups make the conundrum worth exploring.
While he faces a tough offense on Monday, the Colorado Rockies are neutralized away from Coors Field. They are posting a .248/.305/.390 slash line on the road while ranking 28th in runs scored.
While he travels to a hitter's park over the weekend, the rough terrain is neutralized by hosting a mediocre offense that scores 3.79 runs per game.
But Beachy still must prove he is ready after a shaky Triple-A rehab stint, when he issued 18 walks during 30 innings. Keep him stashed on the bench in hopes of later unleashing him for a late-season title push.
Verdict: Sit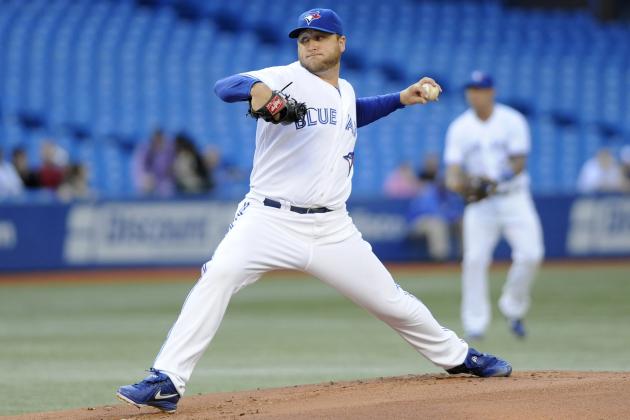 Brad White/Getty Images
Mark Buehrle is coming off tossing a gem against the Houston Astros.
Scheduled Starts: Tuesday at Oakland Athletics, Sunday at Los Angeles Angels
Let's get this over with; I'm sure you all have Tim McGraw concerts to get to.
Mark Buehrle shockingly shredded the Houston Astros with a two-hit shutout on Thursday. In the process the 34-year-old lefty struck out nine batters, his highest total since 2005.
Some owners took notice, as the veteran is rostered in 38 percent of CBS leagues and 14 percent of Yahoo! formats. With a two-start week coming up, managers are looking to capitalize on the hot hand.
His recent strikeout barrage upped his total to 91 through 132 innings. That's hardly anything special, but the 6.20 K/9 rate would actually set a career best if sustained. Is Buehrle now usable, or is this just the case of casual fans buying a name-brand player?
In a standard league, it's definitely the latter choice. He might have served as an interesting streamer pick had the two starts come at the Rogers Centre instead of the road. While he sports a 2.95 ERA at home, his away mark swells to 6.44.
Buehrle has earned a sterling reputation for his ability to suck up innings, but he has not deserved such admiration among fantasy players. Don't get fooled into using him in mixed leagues.
Verdict: Sit (Start in AL-only leagues)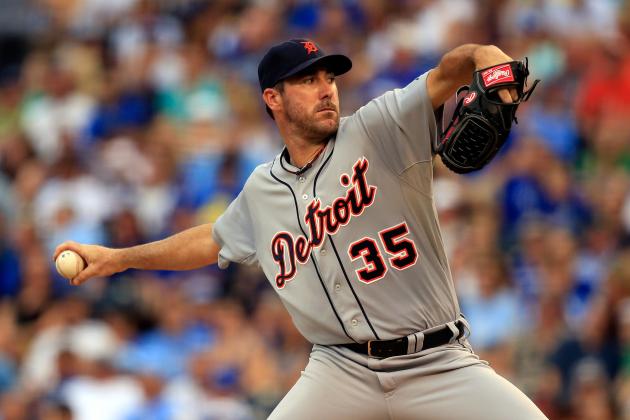 Jamie Squire/Getty Images
Is it time to send a slumping Justin Verlander to the bench?
Scheduled Start: Wednesday vs. Washington Nationals
Yes, we're seriously doing this.
Things have gone that sour for Justin Verlander, who has surrendered 17 runs through his last three starts, sending his ERA and WHIP to 3.99 and 1.41, respectively. If Buehrle can throw a gem to expedite his arrival to a McGraw show, maybe Verlander is purposefully laboring on the mound to avoid a Pitbull concert.
It's usually heresy to include a Cy Young winner (who should have won the award last year, too) on this list, but how much longer can his owners stand helplessly by as Verlander gets shelled by the opposition?
No longer firing away 100-mph heaters late into games, Verlander's velocity, swinging strike percentage and strikeouts have all taken a tumble for the worse. He's also in line to walk more than three batters per nine innings for the first time since 2008.
If you need more of a reason not to blame his troubles solely on his .330 BABIP, the ace has not accumulated more than five strikeouts in a game since June 12. In those eight starts he has recorded 31 strikeouts and 23 walks through 50.2 innings.
Is this unforeseen trouble a bump in the road, or should Verlander's name-holders freak out worse than Jackie Moon at the end of Semi-Pro? No bears exist in this doomsday scenario, but that won't stop the ensuing panic, or at least the thought of benching Verlander for a start or two.
You're not crazy at all for considering sidelining the stud. Were he facing an imposing offense, this section may have been stamped with a disheartening sit.
Since he squares off against the Washington Nationals, who needed a 14-run stampeding on Sunday to climb to 24th in runs scored, Verlander gets one more chance.
Verdict: Start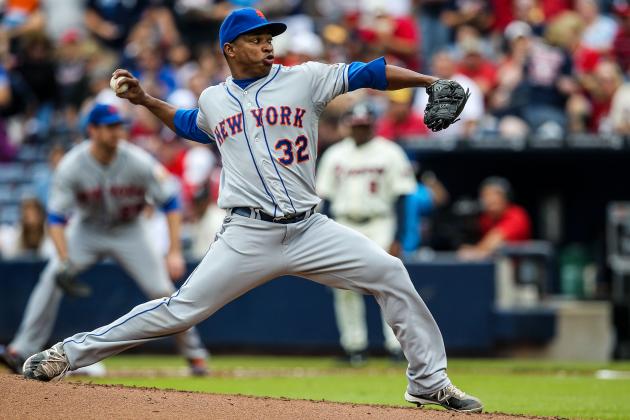 Daniel Shirey/Getty Images
Jenrry Mejia is worth watching after dominating the Washington Nationals last week.
Scheduled Start: Wednesday vs. Miami Marlins
For those (including myself) who spent the last two years wondering why everyone still loves Jenrry Mejia so much, there you go.
His prior 55 innings of major league work dispersed between 2010 and 2012 hardly painted the portrait of a top-line hurler. It's never a good sign to allow as many earned runs (30) and walks (29) as strikeouts pitched (30).
After years of switching the prospect back and forth from the rotation to bullpen, Tommy John surgery was the last thing Mejia's stock needed. With Matt Harvey, Zach Wheeler, Noah Syndergaard and Rafael Montero climbing up the ranks, the 23-year-old righty looked poised to get lost in the shuffle of young arms.
Then, in a spot start afforded to him due to a doubleheader, Mejia showed what all the fuss was about.
He struck out seven batters through seven scoreless innings, walking no Nationals while flustering them with a sharp slider.
Usually this would be the proper time to unleash a buffet of skepticism. It's only one start from a guy who notched a 5.34 K/9 rate in the minors last year. It was also the first time he lasted beyond five innings. Maybe the Nationals set their sights to facing Harvey later that night, or maybe they're just awful.
All valid points, but that's ignoring one vital detail: He gets to face the Miami Marlins this week.
The same Marlins that have scored 51 runs fewer than the Chicago White Sox, the second-worst offense in baseball. The same Marlins who went 37 innings without scoring a run.
Since Mejia will attempt his encore against the Marlins, he's worth a flier.
Verdict: Start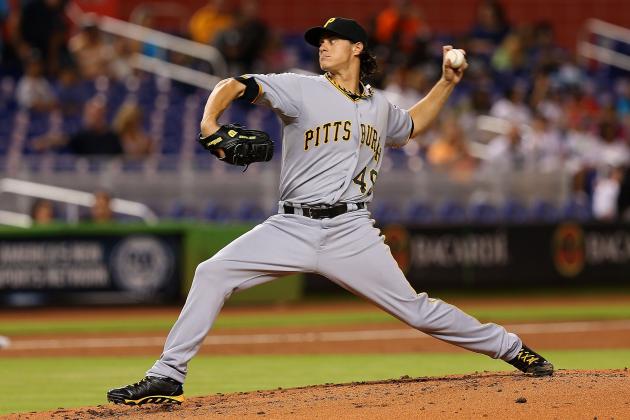 Mike Ehrmann/Getty Images
Jeff Locke is going to give up seven runs any day now.
Scheduled Start: Wednesday vs. St. Louis Cardinals
Jeff Locke is going to be the death of me.
If you walk 57 batters through 121.2 innings while striking out 88, you're gonna have a bad time. You shouldn't need the skiing instructor from South Park to teach you that.
You don't post a 2.17 ERA with a 1.54 K/BB ratio. That's just now how it works.
Unless, of course, you're Jeff Locke, defier of sabermetrics and questioner of my sanity.
Despite those peripherals, the first-year starter trails only Clayton Kershaw and Matt Harvey in ERA. What black magic is behind the 25-year-old's success?
Pittsburgh's defense and pure fortune have offered a helping hand, as Locke sports a .233 BABIP and 84.3 percent strand rate. Locke's FIP registers at 3.82, so Andrew McCutchen and Starling Marte better receive some lavish gifts during the holidays.
I marveled at his success a while ago, predicting an inevitable return to normalcy. He walked seven batters his next time on the mound yet somehow only surrendered one run to the Chicao Cubs.
Another similar outing last week drew my ire again. He yielded two runs last Friday while walking six Marlins. Maybe he can escape danger against the Marlins and Cubs, but he better not walk that tightrope against the St. Louis Cardinals, who boast the National League's premier offense.
Locke, who has not reliqunished more than three runs in any of his past 13 starts, is due for a regression, and the Cardinals are just the squad to oversee it.
Verdict: Sit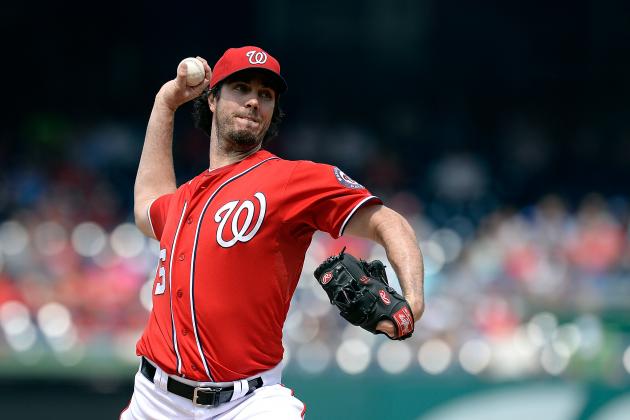 Patrick McDermott/Getty Images
Dan Haren has looked a lot better on the mound lately.
Scheduled Start: Saturday at Milwaukee Brewers
Locke's polar opposite, Dan Haren can't keep the ball in the park despite tremendous strikeout and walk tallies.
Pitchers with a 4.89 K/BB ratio usually don't remain on the waiver wire. That impressive measure grades higher than figures earned by Chris Sale, Kershaw, Stephen Strasburg and many more aces. It's vintage Dan Haren, minus a few strikeouts, but it hasn't saved him from getting blasted for a 5.49 ERA and 1.35 WHIP.
That's what happens when you allow 21 home runs. Every time he looks to turn the corner, a five-run stomping is waiting on the sidewalk. So when he hit the disabled list with a shoulder injury, most of his owners dropped him and swore they'd never touch him again.
Here he comes to reel you back in yet again.
Since returning from the disabled list, Haren has posted a 3.13 ERA and 1.04 WHIP. In 23 innings, he's punched out 26 batters while walking six. There was a five-run outing squished in between his triumphs just to keep owners on the edge, but the overall results are encouraging.
Then again, he's frequently followed impressive performances with horrid beatings, and it's hard to play the matchups on a guy who has been bested by the Marlins, Pirates and San Diego Padres (at Petco Park) this season.
Let Haren prove his worth before rewarding him with a second chance.
Verdict: Sit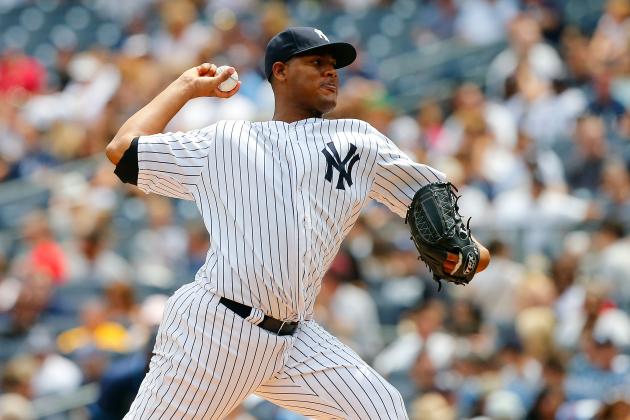 Jim McIsaac/Getty Images
We now live in an age where a New York Yankees starter can get overlooked.
Scheduled Start: Saturday at San Diego Padres
So Ivan Nova is good now.
He wasn't that good when he won 16 games in 2011, but a healthy New York Yankees lineup and a 3.70 ERA lower than his 4.01 FIP helped the rookie out.
His strikeout rate soared to 8.08 K/9 in 2012, but his ERA also ballooned to 5.02. Some traditionalists might use him as a poster child to argue that strikeouts don't matter that much, but a .331 BABIP did the sophomore no favors.
This year, Nova is looking to put the whole package together. While his record sits at 4-4 behind a rag-tag group of Robinson Cano and replacements, Nova holds a 3.41 ERA and 66 strikeouts through 66 innings.
He has especially astounded in July, enduring the ferocious Baltimore Orioles, the unforgiving Ballpark in Arlington and the red-hot Tampa Bay Rays with a 2.03 ERA and 0.97 WHIP. Just imagine what the 26-year-old could accomplish with some friendlier matchups.
Let's try a lovely night at Petco Park on for size.
Not only does Nova get to face a manageable offense, but he'll also attempt to conquer them in a notoriously pitcher-friendly park with the luxury of facing the pitcher for some extra strikeout opportunities.
Not a bad deal for a pitcher quietly morphing into the Yankees' best starter behind Hiroki Kuroda.
Verdict: Start