Predicting the Biggest Losers of NFL Training Camp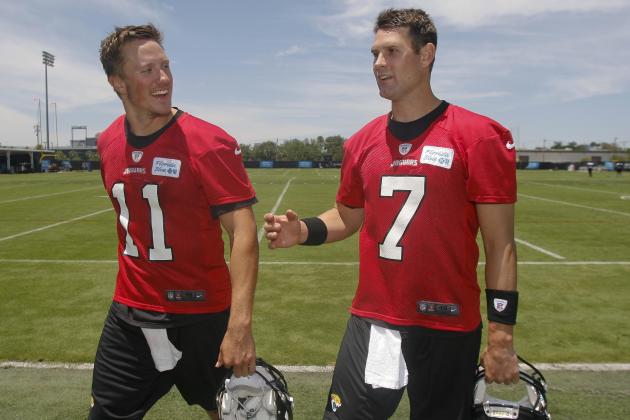 Phil Sears-USA TODAY Sports

Each year, it seems increasingly difficult to predict the winners and losers of NFL training camps around the league.
Players seem to emerge from nowhere to claim starting jobs, veterans surprisingly slip and coaches consistently find that they have more or less to work with than they had initially thought.
However, no offseason would be complete without a bit of prognostication. Trying to predict who comes out on top (or in this case, on the bottom) is part of the fun of covering training camp as we await the start of the regular season.
Today we will try to look forward at some of those who may emerge as losers of this year's round of training camps.
Begin Slideshow

»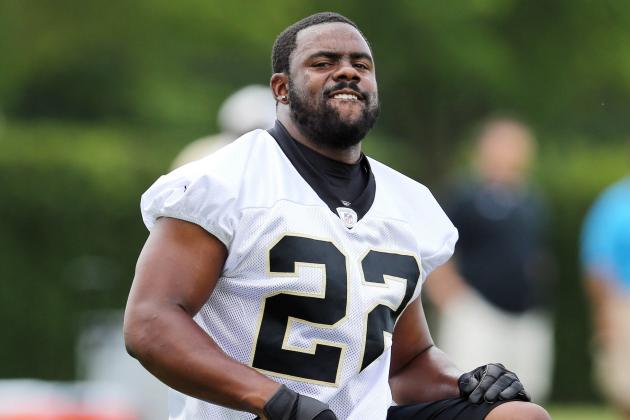 Chuck Cook-USA TODAY Sports
This season may be Ingram's last chance to become the Saints' franchise running back.
As the 28th overall pick in the 2011 draft, New Orleans Saints running back Mark Ingram entered the league amid high expectations.
Through two seasons, however, he has yet to live up to them.
Ingram has made just nine career starts while rushing for 1,076 yards and 10 touchdowns. He has a career yards-per-carry average of 3.9 and has looked little like the franchise running back the Saints had hoped they were drafting two years ago.
Ingram did lead the New Orleans running back committee with 602 yards rushing last season, but he is in danger of being pushed into a significantly reduced role in 2013.
According to NFL.com's Gregg Rosenthal, Ingram is currently practicing as the Saints' No. 3 back, behind Pierre Thomas and Darren Sproles.
With Sproles likely entrenched as the Saints' change-of-pace back, it seems that Ingram's only chance of moving up the depth chart is to bump off Thomas and take over the starting job.
Considering that Thomas has proved to be a more consistent runner both last season (4.5 yards-per-carry average) and over the course of his career (4.8), it seems more likely that Ingram will exit training camp as a role player.
This would not only bring disappointment for the former first-round pick this season, but it could make for a cloudy future as the Saints continue to evaluate the running back position.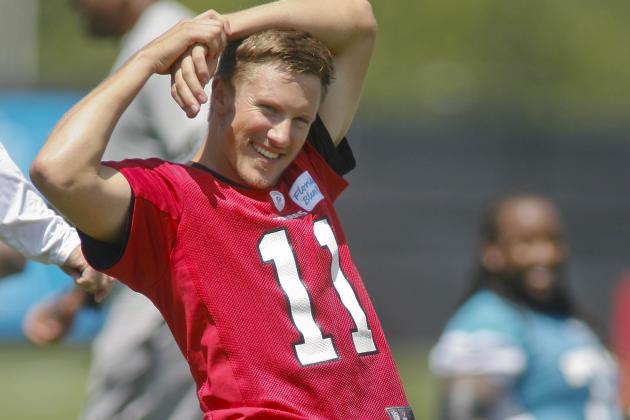 Phil Sears-USA TODAY Sports
Will Gabbert ever emerge as Jacksonville's franchise quarterback?
Former first-round pick Blaine Gabbert will spend training camp battling Chad Henne for the Jacksonville Jaguars' starting quarterback job.
While Gabbert is considered the favorite to take hold of the position, it is important to remember that neither quarterback played exceptionally well last season. In fact, it was Henne who passed for 422 more yards in 2012, despite starting four fewer games.
It is also important to recognize that new head coach Gus Bradley has no ties to Gabbert, who was selected with the 10th overall pick in the 2011 draft. Bradley and general manager David Caldwell are likely to pick the quarterback who performs best throughout training camp and preseason, regardless of their past draft position.
This means that Gabbert will have to strongly outplay Henne in order to earn, and keep, the starting job.
Even if Gabbert successfully wins the competition, he will be on a short leash to start the season unless he makes it remarkably clear that Henne is a far inferior alternative.
It is difficult to envision Gabbert putting enough space between himself and Henne to stay off the hot seat in 2013 and even more difficult to see him playing well enough to prevent the Jaguars from considering a new quarterback in next year's draft.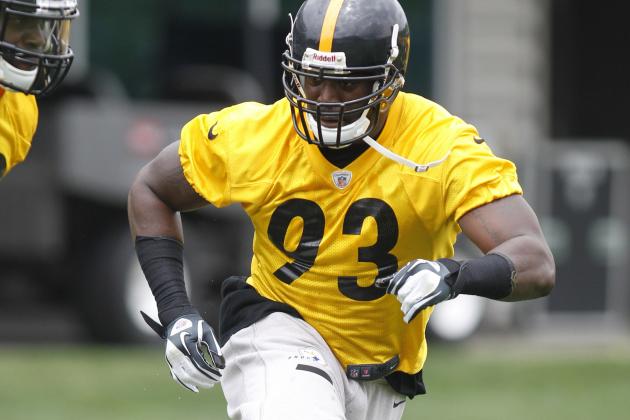 Charles LeClaire-USA TODAY Sport
Worilds could find himself pushed out of Pittsburgh's future plans.
Pittsburgh drafted outside linebacker Jason Worilds in the second round of the 2010 draft with the hopes he could be the next in a long line of great Steelers defenders.
The 6'2", 262-pound former Virginia Tech star has the size, build and physical ability NFL teams are looking for at the position, but he has yet to combine his talents to become the playmaker the Steelers desire.
Worilds has started just 10 games in his three-year career, totaling a mere 82 tackles and 10 sacks. These are respectable numbers for a role player, but certainly not the type of production the Steelers covet in a potential future starter.
With Worilds looking more and more like a disappointment—and with longtime starter James Harrison no longer with the team—Pittsburgh decided to turn its sights on the 2013 draft's crop of pass-rushers.
In April, the Steelers selected former Georgia star Jarvis Jones with the 17th overall pick, and the rookie is expected to immediately compete for significant playing time at the outside linebacker position.
In just two seasons with the Bulldogs, Jones managed to rack up 91 solo tackles and an impressive 28 sacks.
Jones appears to be the perfect candidate to replace Harrison as the Steelers' outside pass-rushing presence, and he has a very good chance of knocking off Worilds for the starting job.
If Worilds cannot claim a starting spot during his fourth NFL training camp, he may very quickly find himself out of Pittsburgh's future plans.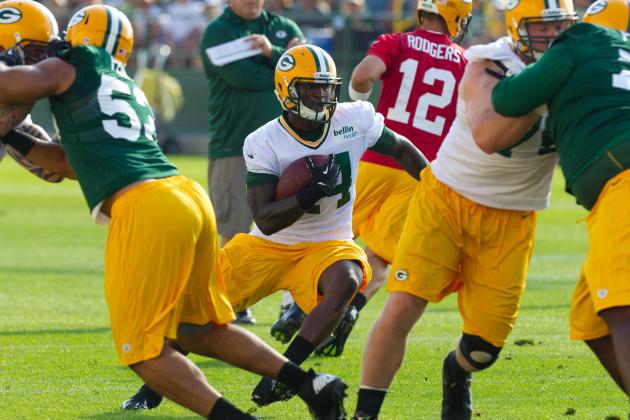 Jeff Hanisch-USA TODAY Sports
Starks could be the odd man out in Green Bay's running back committee.
As a rookie in 2010, Green Bay running back James Starks played a huge role in the Packers' postseason run and eventual Super Bowl victory over the Pittsburgh Steelers.
During the playoffs that season, Starks rushed for 315 yards and helped solidify a running game that has had its share of inconsistencies over the years.
Starks followed that performance with a solid, if unspectacular, season in 2011, rushing for 578 yards and a score on 133 attempts. However, the former University of Buffalo standout started just two games last season, amassing 255 yards and a disappointing 3.6 yards-per-carry average.
Now, Starks could be battling just to make the team, especially after the Packers selected a pair of talented runners in April's draft.
Former Alabama Star Eddie Lacy, taken 61st overall, commanded much of the spotlight during the Packers' draft weekend. However, Green Bay also added UCLA's Johnathan Franklin in the fourth round.
Lacy and Franklin combined for 3,056 yards and 30 touchdowns rushing in 2012 and could form a dangerous one-two punch in the Packers backfield.
Starks will also have to compete with third-year runner Alex Green, who showed promise last season, rushing for 464 yards in 12 appearances with four starts.
Depending on how many backs the Packers decide to carry into the regular season, Starks could easily find himself on the outside looking in and going from Super Bowl hero to unemployed rusher in a matter of a couple years.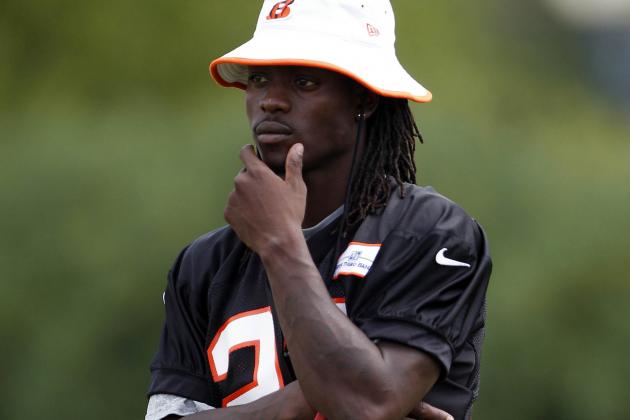 Frank Victores-USA TODAY Sports
Kirkpatrick may again find it difficult to climb a stacked Bengals depth chart.
When the Cincinnati Bengals selected cornerback Dre Kirkpatrick with the 17th overall pick in the 2012 draft, many felt that the former Alabama star would immediately compete for a starting job across from Leon Hall.
However, injuries limited Kirkpatrick to just five appearances last season with zero starts and a mere four tackles on his resume.
2013 training camp will provide Kirkpatrick with a fresh opportunity to earn a significant role in Cincinnati's secondary. In order to do so, however, Kirkpatrick will have to unseat at least one of a trio of veterans who rank among the league's best.
During the offseason, the Bengals re-signed veteran cornerbacks Adam Jones and Terence Newman. These two, along with Hall, are likely to again be the top three corners on Cincinnati's depth chart. That is, unless Kirkpatrick can manage to truly impress during training camp.
Considering Kirkpatrick missed the majority of his rookie season and has little real experience, the 23-year-old could have a tough time becoming more than a depth player by the start of the regular season.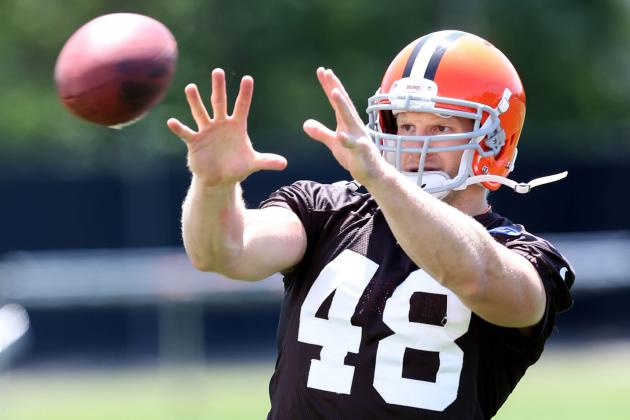 Ron Schwane-USA TODAY Sports
Will Marecic have a home on Cleveland's roster this season?
In today's NFL, starting fullback jobs are rapidly decreasing, and Owen Marecic may have a difficult time holding onto his job with the Cleveland Browns through training camp.
Originally a fourth-round selection in the 2011 draft, Marecic has yet to live up to expectations. He saw his role with the offense significantly reduced last season.
Tight end Alex Smith took over at the position partway through the season, and former Alabama fullback Brad Smelley was upgraded from the practice squad in early December.
According to Tom Reed of The Plain Dealer, running back Chris Ogbonnaya and tight end Gary Barnidge have spent a lot of time as the second back in two-back sets this offseason, which could point to just how much coordinator Norv Turner plans to utilize a traditional fullback in 2013.
When the Browns do use a true fullback, it could be Smelley, not Marecic, who sees playing time. Considering Smelley's previous relationship with starting running back Trent Richardson at Alabama, it could be difficult for Marecic to make the final 53-man roster at all.
There are more than a few veteran fullbacks still available on the market, including one-time Brown Lawrence Vickers. If Marecic finds himself released from the Browns before the start of the regular season, he just may be out of an NFL job altogether.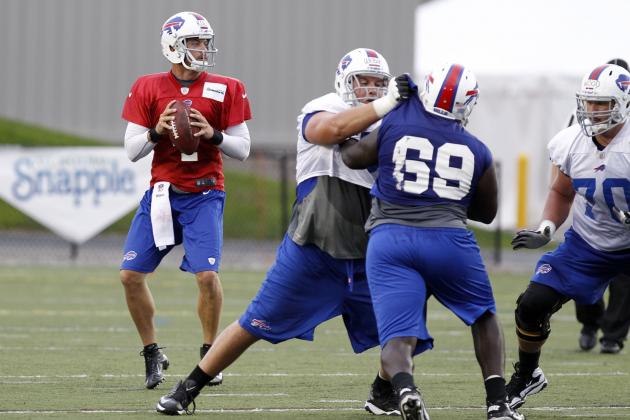 Kevin Hoffman-USA TODAY Sports
Has Kolb reached his final opportunity to start in the NFL?
There was a time when current Buffalo Bills quarterback Kevin Kolb was seen as the future of the Arizona Cardinals.
Before the Cardinals gave up cornerback Dominique Rodgers-Cromartie and a second-round draft pick to acquire him from Philadelphia, many thought he could be the future quarterback of the Eagles.
After six years in the league, however, Kolb has failed to become the franchise signal-caller for either team and has landed with the Buffalo Bills, where he may or may not emerge as a starter.
To win the starting job, Kolb will have to fend off rookie EJ Manuel, who was drafted 16th overall out of Florida State and was the only quarterback taken in the first round of April's draft.
Kolb does have experience on his side, but his experience in the NFL hasn't exactly been a shining example of what one would want in a franchise quarterback.
While Kolb has completed a respectable 59.5 percent of his passes, he has struggled to remain healthy and has passed for just 5,206 and 28 touchdowns in 21 starts. He has also been responsible for 35 turnovers and has taken an incredible 77 sacks in his career.
Manuel represents a much more dynamic and physically gifted quarterback with a larger upside than Kolb.
The rookie has a solid chance of winning the starting job in training camp, which would force Kolb into a backup role—potentially for the rest of his career.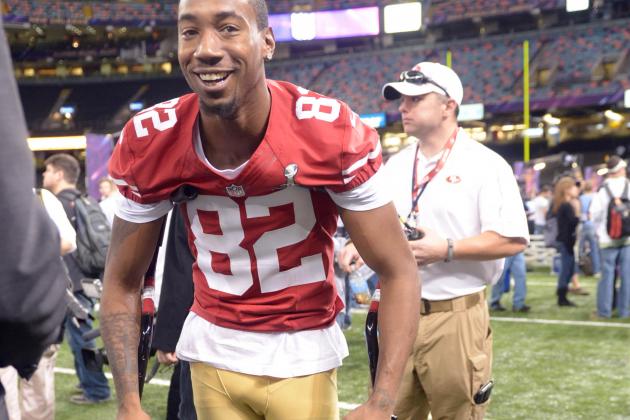 Kirby Lee-USA TODAY Sports
Manningham's injury is likely to keep him out of training camp altogether.
The last time we saw San Francisco 49ers receiver Mario Manningham was against the division rival Seattle Seahawks in late December.
During that game, the former Michigan Wolverines and New York Giants standout tore his ACL and PCL and has been out of action ever since.
According to Chris Wesseling of NFL.com, Manningham may not be ready for the start of the 2013 regular season and is almost certain to miss the entirety of training camp.
Manningham's injury—along with that of fellow receiver Michael Crabtree—will open the door for a number of other receivers to step up and make a name for themselves during camp.
Anquan Boldin, acquired from the Baltimore Ravens during the offseason, is likely to enter the season as the 49ers' No. 1 receiver. The candidates to fill in as the No. 2 include 2012 first-round selection A.J. Jenkins and 2013 fourth-round pick Quinton Patton.
Jenkins essentially redshirted his rookie season but has been extremely impressive through offseason workouts. "A.J., I thought, the last two days of last week had the best two days he's had since I've been here," 49ers offensive coordinator Greg Roman said last month, via Comcast SportsNet.
Patton, meanwhile, looks to be a polished and capable wideout who could make an impact as a rookie this season.
Unfortunately, Manningham is unlikely to have an opportunity to show what he can do during training camp, which could put him in a dangerous position once the season starts.
If Jenkins and Patton can impress early and Crabtree is able to recover from his torn Achilles at some point, Manningham could quickly find himself out of a job in the Bay Area.