We're less than 24 hours removed from the completion of UFC on Fox 8, and while the fight card is still fresh in everyone's mind, it's time to take a look back on the event.
Annoying Members of the Crowd
I'm not trying to paint the entire Seattle KeyArena crowd with this brush, so if you were there and behaved in a somewhat civilized manner, I apologize. But, c'mon, enough with the asinine "Woooh!" sounds.
You're not Ric Flair. You're just drunk…and annoying.
Overweight Fighters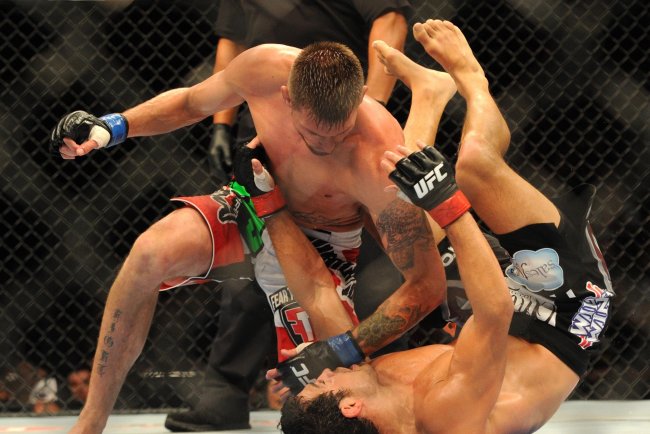 Jayne Kamin-Oncea-USA TODAY Spor
A fighter who comes in overweight is usually fined 20 percent of his pay. That's a good chunk of change, and the fighter will feel it—but is it enough? If the offender loses the fight, yes, I would say that the 20 percent deduction is sufficient, but if they win, then no, it does not cut it.
The victorious, overweight fighter will still receive his win bonus, which seems unfair to me. That win bonus should not be in the picture. Once a fighter checks in over the weight limit, that win bonus should be out of the picture.
There's no reason to reward a fighter for failing to do what is a huge part of his job—making weight.
Tim Means came in a full four pounds over the lightweight limit in his fight with Danny Castillo, while Jorge Masvidal and John Albert hit the mark on their second tries.
Another consideration is the fighter's contract. An overweight fighter who won should not move to a higher rate of pay for his next fight. Rewarding a fighter who failed to accomplish one very important, professional part of his job sends the wrong message.
Women's Bantamweight Depth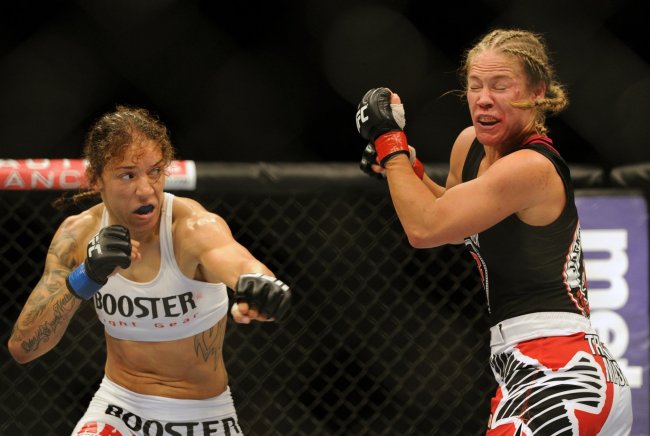 Jayne Kamin-Oncea-USA TODAY Spor
If you want to know how deep the UFC's women's bantamweight division is right now, know that the two fighters who fought on the preliminary card, Germaine de Randamie and Julie Kedzie, are both ranked in the Top 10 in the division.
Kedzie has been around the game for a long time, and it was nice to see her finally get her chance, but the results were just not there for her Saturday. She was dominated on the feet by the much taller kickboxer, De Randamie, and when she was able to get takedowns, she was unable to do anything with them.
De Randamie showed a decent striking game, and the folks over at AKA will surely be able to help her develop into a more well-rounded fighter. But right now she is still a work in progress—a work in progress that needs a lot of help with her ground game.
The women's division is still developing, and it revolves around Ronda Rousey. That's not a bad thing for now, but the long-term health of the division depends on more fighters rising to elite status.
Shit. Sorry. I'm better than that. Thank you @danawhite & @seanshelby for giving me the opportunity. I'm a better fighter than you saw.

— Julie Kedzie (@julesk_fighter) July 27, 2013
There Are Good Fights and Then There Are Fun Fights
Going to the ER ouch I'm hurting all over @ufc #UFConFox8 pic.twitter.com/FodstMMZqS

— Ed Herman (@EdHermanufc) July 27, 2013
The Ed Herman-Trevor Smith fight was fun, but I don't know how good it was. From a technical perspective, the fight was lacking in one very important aspect: defense. There was no defense throughout the bout, and the striking numbers reflect that. According to FightMetric, Herman landed 127 of 187 strikes and Smith landed 112 of 136.
What a SICK fight much respect to Herman and Smith!!!!!! Tough one to judge.

— Dana White (@danawhite) July 27, 2013
The fight earned Herman and Smith Fight of the Night honors and Herman a trip to the hospital.
These bouts are undoubtedly fun to watch, and they may get the fighters' names out there to UFC brass, but in 20 years, is that going to be worth the abuse they took in the name of a fun and entertaining night for fans?
Wow... Hell of a fight. Those guys took a few quality years off their lives.

— Carlos Condit (@CarlosCondit) July 27, 2013
Judging
How the fuck is it a 30-27 split wow. Judges are dumb as fuck that proves it. Atleast call a split 29-28. #mmajudgesaresus

— Scott jorgensen (@Scottjorgensen) July 27, 2013
The scorecards were all over the place in the early going of the card. The split decisions had wildly divergent scoring, with the 30-27, 27-30, 30-27 score for the Daron Cruickshank-Yves Edwards bout being the kicker.
That type of scoring makes the sport look bad. It also reveals that there is a huge discrepancy in how judges score a fight. How two judges can give all three rounds to one fighter and the other judge can turn around and reward all three to his opponent is mind-boggling.
The judging is holding MMA back. Something needs to be done about it, and it needs to be done soon.
Melvin Guillard's Patience Pays Off with Big Knockout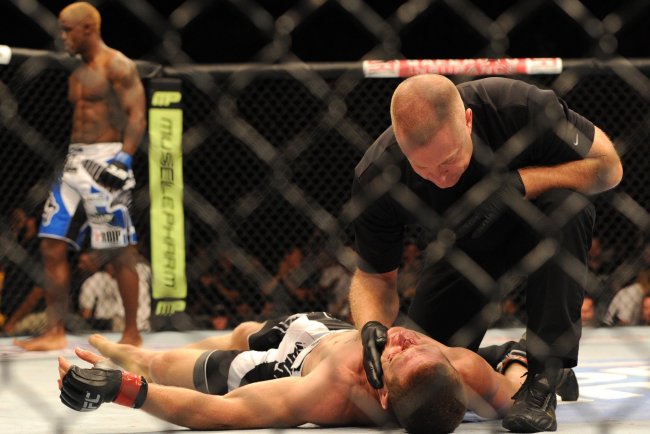 Jayne Kamin-Oncea-USA TODAY Spor
One of the big questions heading into UFC on Fox 8 was: Which Melvin Guillard was going to show up? What was his aggression level going to be? Where was his focus going to be? Did the change in training camps help him?
The answer to those questions was: The right Melvin Guillard showed up in Seattle. Guillard showed great focus and remained patient throughout his fight with Mac Danzig. He threw strikes with bad intentions and waited for his opportunity, never letting his mind wander or having the brain fart that has plagued him in the past.
When Guillard's opening did come he made sure that Danzig was down and out, delivering violent hammer fists that knocked Danzig out cold.
Speaking of that knockout, the aftermath was pretty disturbing. The referee's microphone picked up some pretty horrifying sounds while Danzig writhed on the canvas as UFC matchmaker Joe Silva looked on. Also disturbing was the observation from cageside from MMA Junkie's John Morgan:
Danzig was writhing in pain, and the commission let him get up, and he staggered and nearly fell to the floor. Come on, guys.

— John Morgan (@MMAjunkieJohn) July 27, 2013
Michael Chiesa Walking Out of the Cage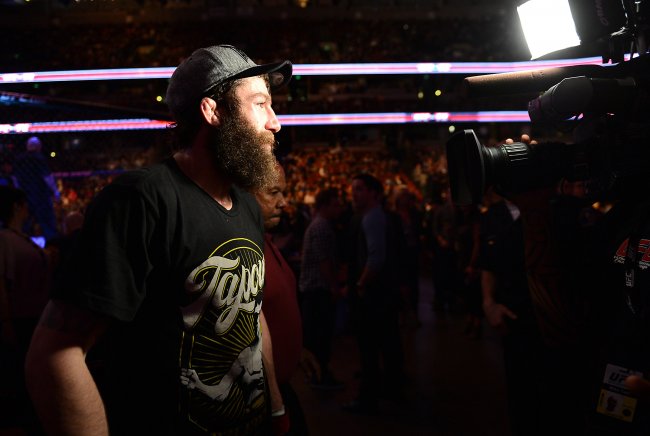 Jayne Kamin-Oncea-USA TODAY Sports
Michael Chiesa was 9-0 heading into his bout against Jorge Masvidal. With one second left in the second round, Chiesa's record got its first blemish when he tapped to a D'arce choke.
An upset Chiesa left the cage immediately after his submission defeat and headed toward the locker room. I understand that Chiesa was not happy. I get that he was probably frustrated as hell when he realized that he only had to hold one for one more second. But that's no excuse—he should have stayed in the cage until the offical result was announced.
In a sport where the participants often talk of honor and respect, Chiesa showed neither.
Jessica Andrade's Composure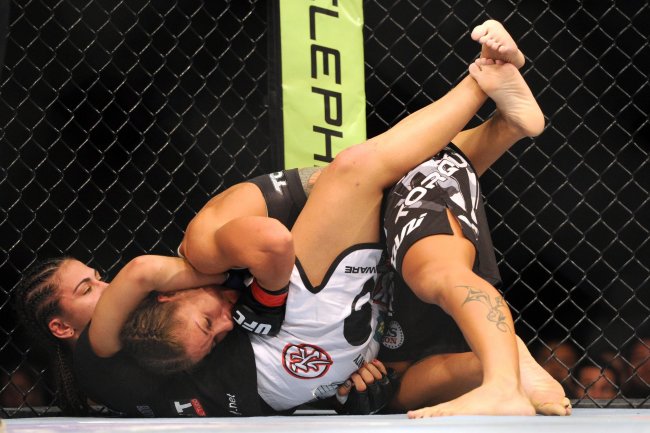 Jayne Kamin-Oncea-USA TODAY Spor
Jessica Andrade made her UFC debut on Saturday, and she could have been forgiven if she had suffered from Octagon jitters. She had a handful of factors working against her. It was her first fight in the UFC, it was her first fight outside of her native Brazil, she had turned pro less than two years ago, and she was fighting a woman who was one fight removed from a UFC title shot.
Despite all those strikes against her, the 21-year-old Andrade showed great composure to go along with a solid no-quit attitude. Andrade took everything Carmouche had to offer in the first round and even threatened with what has become her trademark hold—the guillotine choke.
The second round didn't go so well for Andrade. She absorbed a huge amount of ground-and-pound from Carmouche but was clearly not going to break under her opponent's assault, forcing Herb Dean to stop the fight.
Robbie Lawler's Confidence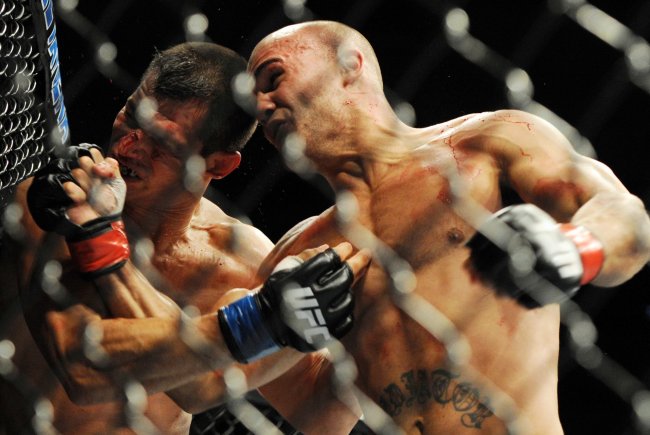 Jayne Kamin-Oncea-USA TODAY Spor
I'm not going to pretend that Robbie Lawler's victory over Bobby Voelker was a career-defining win; Voelker came in as a late replacement for Lawler's originally scheduled opponent, Tarec Saffiedine, and at best had designs on playing the spoiler in the fight.
Instead, Lawler delivered a devastating knockout early in Round 2. The knockout was Lawler's second consecutive KO since rejoining the UFC after a prolonged absence. His return fight was an upset knockout victory over Josh Koscheck in February, which launched him into the Top 10 in the welterweight division.
Lawler's win over Voelker probably won't move him up the rankings, but it will give him a big boost of confidence. And when you couple that with his knockout power, well, that's a very dangerous mixture for whomever Lawler faces next.
Good Game Plan from Rory MacDonald, but at What Cost?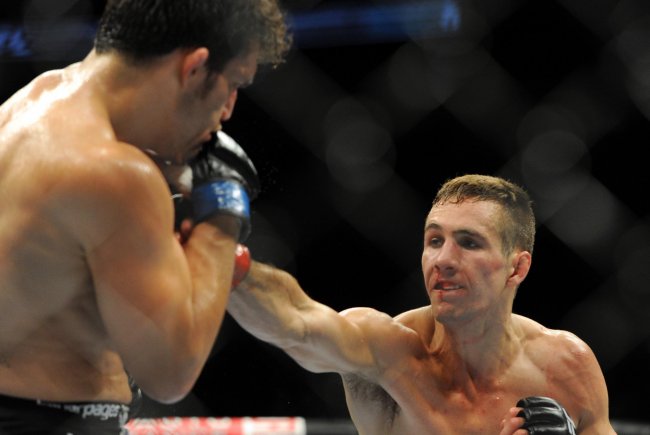 Jayne Kamin-Oncea-USA TODAY Spor
I may be in the minority here, but I think Rory MacDonald had a brilliant game plan against Jake Ellenberger. He didn't let the trash talk of Ellenberger draw him into a brawl with a fighter with known knockout power. MacDonald used his jab to keep Ellenberger at distance, scoring points repeatedly without taking much damage.
Was the fight entertaining? Most would say no. I would ask: Who cares? MacDonald is in the fight business, not the entertainment business. He did what he had to do, negated the advantage of Ellenberger, and took the win.
The problem is that his performance will be considered boring by so many that it actually may cost him some momentum in the UFC. Had MacDonald gone out there and thrown caution to the wind and engaged Ellenberger in a slobberknocker, everyone would have commented how great the fight was, and how MacDonald would be oh so deserving of a title shot.
Instead, we get cries that he was boring, playing it safe, or even scared. MacDonald won the fight and made Ellenberger look bad, and for that he's criticized? I don't get it.
Lol I love how all the jackasses start talking about what a horrible match this was to make! EVERYONE was pumped for it, even me.#suckedtho

— Dana White (@danawhite) July 28, 2013
The only positive in that fight was that the judges finally got the 30-27 right!

— Dana White (@danawhite) July 28, 2013
Mighty Mouse gets the Finish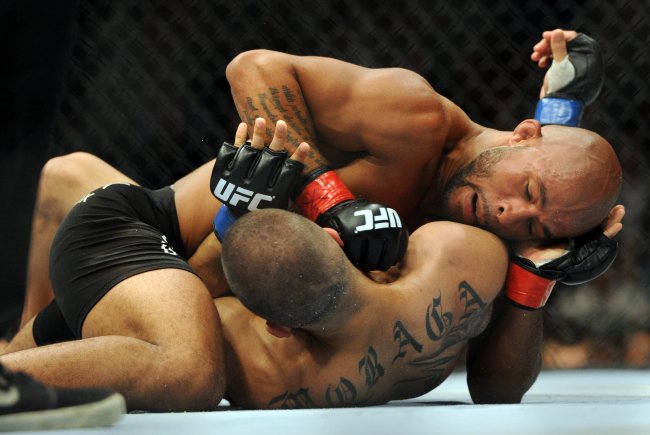 Jayne Kamin-Oncea-USA TODAY Spor
One of the biggest complaints about the lower weight divisions in MMA is the lack of finishes. Well, we saw one on Saturday night, and it came from one of the fighters who is often the subject of those complaints—Demetrious Johnson.
Sure, the UFC flyweight champion's submission was the latest submission win in the history of the UFC, coming with just 1:17 left in the fifth and final round. But it was a stoppage, and it came after a fast-paced and dominant fight. A fight that in a just world would have fans talking about just how dynamic an athlete Johnson is.
Instead, Johnson's spoken about as an afterthought—as a cute little oddity. Don't let UFC president Dana White's talk fool you—he may be a fan of Johnson's style, but it would be nice to see him and the promotion do more than pay lip service to Johnson and the flyweights.
Dana White, you want to make me believe that you feel that Johnson is one of the most exciting fighters out there and that you really believe in the flyweight division? Then put them in a pay-per-view main event. Until that happens, those words ring hollow.
To borrow an overused phrase, the UFC has to put its money where its mouth is regarding the 125-pound division. Until then, it's all just lip service.