The United States will look to win its fifth Gold Cup on Sunday, and how a few players perform is going to make the difference between winning and losing.
The Americans have been fantastic to this point in the international competition. The team has yet to be defeated, and it's rarely been tested. The United States outscored its opponents 11-2 in three Group C matches and then took down El Salvador and Honduras to reach the championship match against Panama.
The Gold Cup has been a chance for many players to prove themselves worthy of a spot on the World Cup squad. U.S. coach Jurgen Klinsmann, who is suspended for the final, made that point clear when speaking to Kevin Baxter of the Los Angeles Times. Here's what the coach had to say:
The players that are representing us in this Gold Cup, they clearly know this is a huge opportunity to prove their value and their case to the coaching staff. So, two big things: One is to win the competition and two, allow the players to build their case for the World Cup. The door is always open; you never shut the door in soccer to players.
While the United States' success at the Gold Cup has been a collective effort, there are those who have really shined and are vital to the team's chances of defeating Panama in the title match. Here's a look at three players who are bound to make a big impact on Sunday's championship game.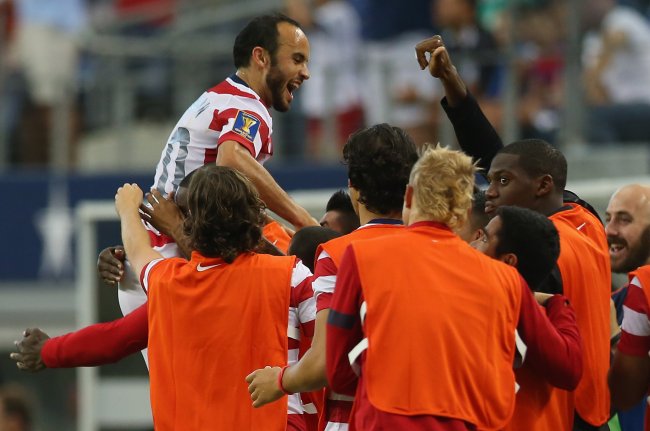 Ronald Martinez/Getty Images
Donovan has been outstanding through his team's first five games at the Gold Cup. He scored a pair of goals in group play—both penalty kicks—and really stepped up his game in the knockout stage. He scored a goal against El Salvador and put two in the back of the net against Honduras.
The 31-year-old has also been a part of several other goals and has done a good job at giving his teammates scoring opportunities. ESPN Stats & Info shows how dominant Donovan has been in comparison to the other players in the tournament in the assists category:
Landon Donovan scored twice & assisted on a goal Wednesday vs Honduras. He leads Gold Cup in assists & chances created & is T-1st in goals

— ESPN Stats & Info (@ESPNStatsInfo) July 25, 2013
Donovan's performance against Panama could tell the story of the game. He doesn't necessarily have to score in the title match for the United States to come away with a victory, but if he plays poorly, the Americans could get upset. Panama has seen what he's capable of and will do whatever it takes to stop him on Sunday.
Nick Rimando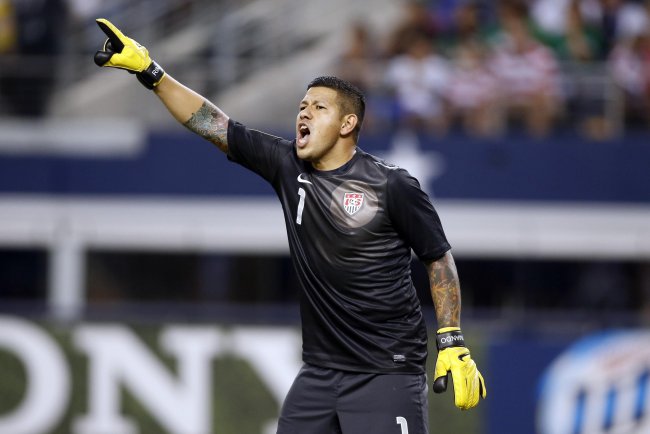 Tim Heitman-USA TODAY Sports
The United States has seen solid performances from its goalkeepers through the team's first five matches at the Gold Cup. The Americans have only allowed four goals thus far, and most of the credit goes to Nick Rimando, who has made some outstanding plays.
Rimando made a few quality saves against El Salvador in the quarterfinals. El Salvador had a great scoring opportunity and Rimando was nearly out of position, but he made a quick kick save to his left. He wasn't done yet, though, as he got back up and made another diving stop. Here's what he said about the plays, per U.S. Soccer:
Remember that sick double save by @NickRimando against El Salvador? Watch as he describes how he did it. http://t.co/aODSELadLI #USMNT

— U.S. Soccer (@ussoccer) July 24, 2013
Panama has 60 shots on goal at the Gold Cup, which is tied for the third most. Most of the team's shots have been taken by Manuel Gabriel Torres, who has 17. He is also tied for the tournament lead in goals with five. Rimando will have to be extra careful when he has the ball in his possession.
Chris Wondolowski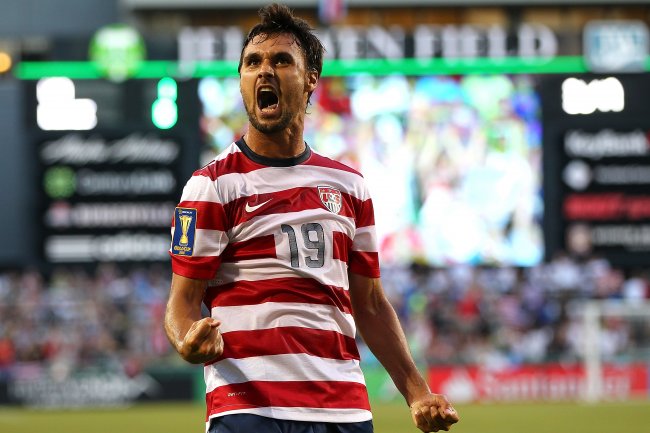 Jonathan Ferrey/Getty Images
The 30-year-old forward has been great for his team at the Gold Cup, and his performances have been overshadowed. He's played just as well as Donovan, if not better at times. Wondolowski has scored five goals through five matches, which is tied for the tournament lead with his teammate and Torres.
Wondolowski had a hat trick against Belize in the United States' opener and then scored two more a few days later against Cuba. While all of his goals came in the first two matches, he's still been solid for the Americans in the team's most recent matches. The forward was even named B/R World Football Lead Writer Will Tidey's Hero of the Week, as shown in the video below.
Panama will have its hands full with Donovan on the pitch, but it needs to be wary of Wondolowski as well. He's scored five goals on just 11 shots on net. If he kicks it where he wants, there's a strong chance that it's going in.
Don't be surprised if he has the championship-winning goal on Sunday.