Georgia Football: Previewing the 5 Best Position Battles Headed into Fall Camp
Jeff Blake-USA TODAY Sports

The Georgia Bulldogs are only days away from the official beginning of their 2013 season. Fall camp starts next week and there will be plenty of competition going on between the players when it comes to fighting for playing time.
A good amount of positions are already decided upon, such as the starting and backup quarterbacks, the starting and backup running backs, and a few spots on defense.
But there are still a handful of positions that are not set in stone yet, and it will be interesting to see who will come out on top before camp is all said and done.
Here are the five biggest position battles heading into fall practice.
Begin Slideshow

»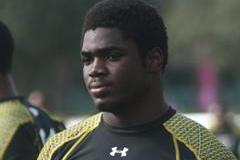 Photo credit: 247 Sports
In most cases, the No. 3 running back position is not a prominent spot .
But because the way the Bulldogs use Todd Gurley and Keith Marshall, they need another back to plug in just in case something happens to one of them.
The most likely choice is true freshman A.J. Turman, who was considered as the seventh-best "big back" out of high school, according to Max Preps (via Georgia's official website). However, another true freshman, J.J. Green, already got a jump-start on the competition in the spring. Green got a lot of reps during spring practice and the G-Day game, because of injuries to different running backs, and proved to the coaches that he can handle his own.
Brandon Harton is the only senior running back on the roster, and he is looking to do some big things in his final season in Athens.
This is a position where the coaches won't go wrong no matter which direction they take.
Merritt Hall was the starter last season until he went down with an ankle injury in the Florida game.
Hall is 100 percent healthy this time around, but sophomore Quayvon Hicks made plenty of strides during spring practice. Both Hicks and Hall are physical, can run the ball and can pass protect, which is essential in Georgia's pro-style offense.
The end-of-spring depth chart shows Hall ahead of Hicks. But with a full month for the Bulldogs to prepare for their opening game, Hicks is not going to go away anytime soon.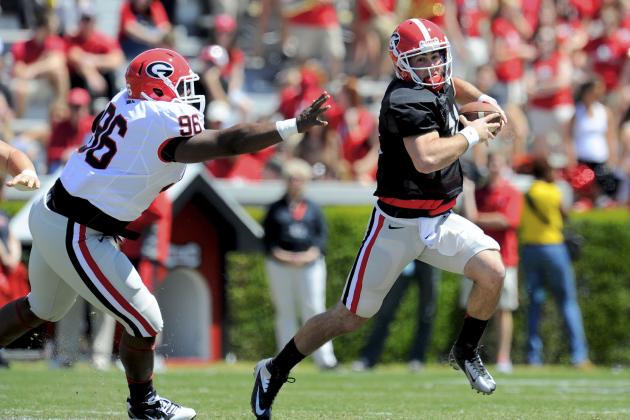 Dale Zanine-USA TODAY Sports

One of the bigger questions on defense is: How are the Bulldogs going to replace nose tackles John Jenkins and Kwame Geathers?
Mike Thornton is the leading candidate for the job. Defensive coordinator Todd Grantham likes his quickness and agility, but Grantham would also like to see Jonathan Taylor see some action at the nose.
Junior college transfer Toby Johnson is a guy the coaches like as well, and he is expected to contribute right away.
It may be a situation where Thornton would be the starter and he would then rotate with either Taylor or Johnson. Because Thornton can also play defensive end, all three players should see action at nose tackle this season.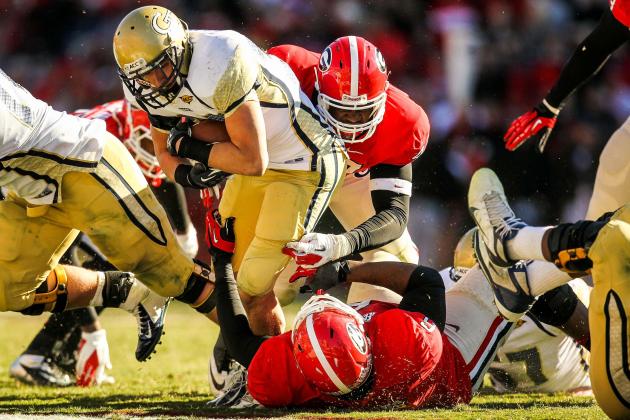 Daniel Shirey-USA TODAY Sports

Speaking of defensive end, that is another position up for grabs.
Garrison Smith has one defensive spot locked down. But Sterling Bailey and Ray Drew are fighting for the other.
Both Bailey and Drew made positive impressions on Coach Wilson, but Bailey is the projected starter.
As members of the 2011 Dream Team recruiting class, Bailey and Drew are expected to do big things in Athens. With this being the year where both players have an opportunity for that to happen, it should make this one of the more intriguing position battles.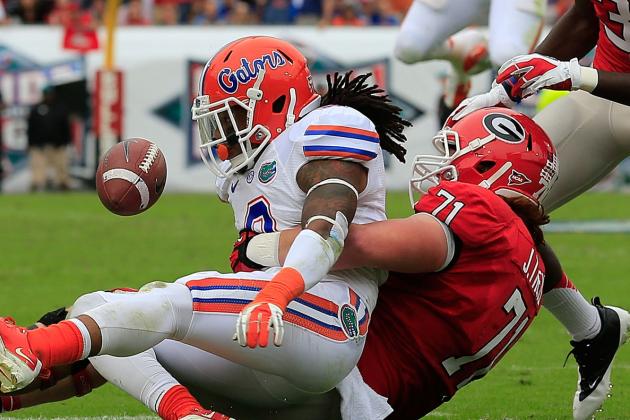 Sam Greenwood/Getty Images

The biggest (in more ways than one) and most interesting position battles are both offensive tackle spots.
Last year, Kenarious Gates and John Theus were the starting left and right tackles, respectively.
This year, Theus could start at left tackle and Xzavier Ward could start at right. Or Gates could start at left tackle and Ward could start at right. Or it could be same lineup as last year and Ward would just be part of the rotation.
And with Kolton Houston recently being reinstated by the NCAA, the tackle position could go in so many different directions.
It will be interesting to see what offensive line coach Will Friend decides to do. Theus has the most upside, while Houston could be the best lineman the Bulldogs have.
Whatever happens, both tackle positions are deep, and that will benefit the Bulldogs down the road.