UFC on Fox 8: Post-Fight Stock Report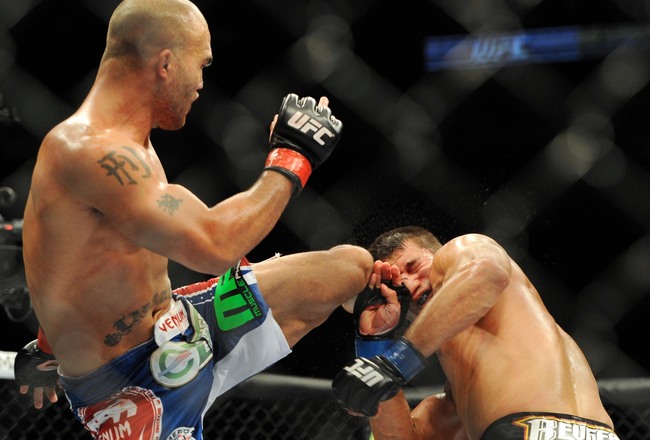 Jayne Kamin-Oncea-USA TODAY Spor
UFC on Fox 8 delivered numerous exciting bouts and featured Demetrious Johnson defending the UFC Flyweight Championship against John Moraga.
The co-main event of the evening saw Rory MacDonald jab his way to victory over Jake Ellenberger. The fight didn't live up to the billing, but MacDonald picked up the W anyhow.
Ten other bouts filled out the card. The majority of favorites won, and there was not a big shock on the card. Regardless, some fighters improved their stock on Saturday with their performances, while others hurt it. UFC on Fox 8 helped sort out the divisional riffraff.
Here is the stock report following UFC on Fox 8.
Stock Up: Justin Salas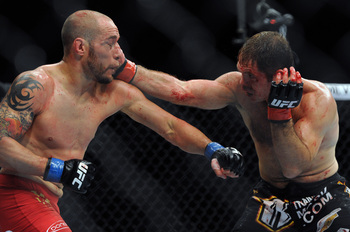 Jayne Kamin-Oncea-USA TODAY Spor
Justin Salas is a good lightweight prospect. He faced a tough grizzled veteran in Aaron Riley at UFC on Fox 8, and he picked up the decision win.
The decision ended up being a split decision, but he ultimately controlled the fight.
The win for Salas proved he could weather the storm in a brawl. It will only help his development as a fighter overall. Salas is 7-1 over his last eight fights, with his lone loss coming at the hands of Tim Means. He rebounded well for this fight, and we will see him continue to grow inside the Octagon.
After the event ended, Riley announced his retirement.
Stock Up: Germaine de Randamie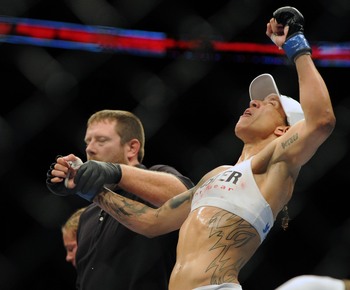 Jayne Kamin-Oncea-USA TODAY Spor
Germaine de Randamie entered as a slight favorite but still untested.
She is a very good kickboxer, but she has shown a lack of takedown defense in recent fights.
Julie Kedzie was able to take de Randamie down multiple times, but she wasn't able to do much offensively. There are still holes in the grappling game of de Randamie, but she showed improved defense overall. That is a big plus for the AKA bantamweight.
The striker can be a threat in the division if she continues to develop her grappling. She can be a scary fighter to face with her stand-up attack. A win over Kedzie was a step in the right direction.
Stock Up: Trevor Smith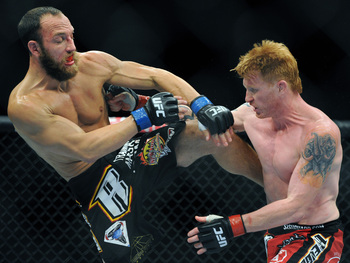 Jayne Kamin-Oncea-USA TODAY Spor
According to Ariel Helwani, Dana White loved Trevor Smith's fight with Ed Herman. White said he didn't know Smith's name yesterday but added, "I know him today."
That pretty much sums up Smith's night.
He didn't get the win, but getting remembered by the boss is definitely a positive sign. He entered as an unknown to many of the newer fans, but the brawl with Ed Herman won over a lot of fans. It also pocketed him $50,000 in bonus money for Fight of the Night.
Smith will need to start picking up wins, but even in the loss he managed to make a good impression. It was an OK night for Smith.
Stock Down: Mac Danzig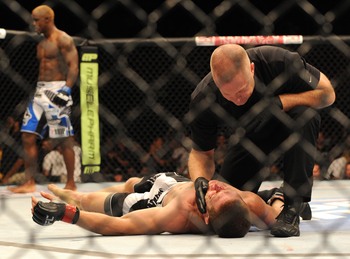 Jayne Kamin-Oncea-USA TODAY Spor
Mac Danzig has been a quality lightweight for a long time, and he still has skills to make it a difficult night for most. But at UFC on Fox 8 he got put to bed.
Melvin Guillard dropped him, and then Guillard finished on the ground with strong hammerfists.
It was Danzig's second straight loss. That will put him significantly back in the division and could potentially see him cut from the roster. However, nothing trumps getting blasted on the ground. It was a brutal finish.
Both lightweights needed the win to get another relevant fight, and it was Guillard who came out on top.
Stock Down: Tim Means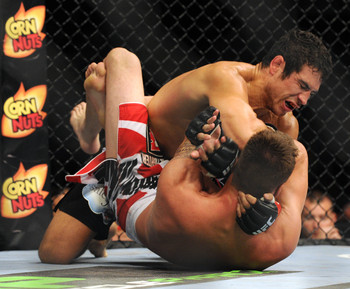 Jayne Kamin-Oncea-USA TODAY Spor
Tim Means' stock started to fall at the weigh-ins. He came in significantly overweight.
Danny Castillo capped off the bad weekend for Means by winning their fight.
Means did end up winning a round, but he was clearly on the losing end of the fight. It wasn't a particularly close bout. In coming in overweight and losing the fight, Means took a big step backward in the division.
No one knows what's next for Means, but Saturday was not a good night.
Stock Up: Liz Carmouche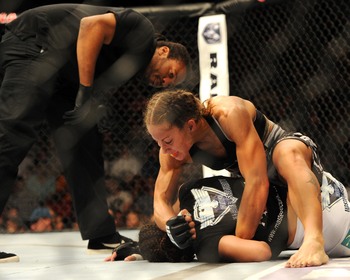 Jayne Kamin-Oncea-USA TODAY Spor
Liz Carmouche is one of the best in the bantamweight division, and she came the closest of anyone to defeating Ronda Rousey. Her win-loss record, on the other hand, was not the most impressive.
Defeating rising prospect Jessica Andrade was a big victory for the former Marine.
The win showed that Carmouche was not just someone who would beat the bottom of the division. She moved to 1-1 in the UFC, and with such a thin division, she moves right back to being a contender.
Carmouche showed a good range of skills, finishing with her strong ground-and-pound. She was dominant from top position, and it earned her the TKO stoppage. Carmouche will have a big fight coming up for sure.
Stock Up: Robbie Lawler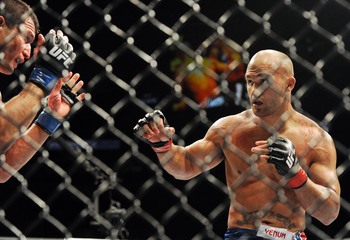 Jayne Kamin-Oncea-USA TODAY Spor
Robbie Lawler was ranked in the top 10 and heavily favored against the late replacement, Bobby Voelker. He still managed to raise his stock on Saturday.
Lawler's striking was on point. He looked very crisp on his feet. He was more mobile than Voelker, and his shots had more on them. He busted Voelker's face in the first and finished the job in the second.
A head kick early in the second blasted Voelker, and one shot on the ground put him out.
The dominant win made Lawler look very dangerous, and it will surely earn him a top-10 opponent his next time out. Lawler has gone from a solid veteran to a potential contender in the UFC's most logjammed division.
Stock Down: Rory MacDonald and Jake Ellenberger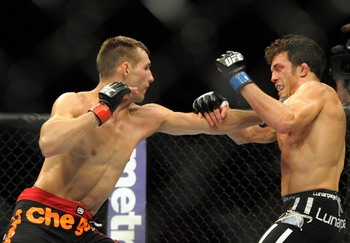 Jayne Kamin-Oncea-USA TODAY Spor
The No. 3- and No. 4-ranked welterweights were supposed to steal the show. They received just as much press as the main event, if not more.
They faltered.
Rory MacDonald won the fight by utilizing his jab and establishing the distance. And that was about all that was done during the fight. Jake Ellenberger got a late takedown, but he was unable to do anything with it.
With a potential title shot on the line, the two contenders failed to leave a lasting impression on anyone.
After such a disappointing contest, both fighters will have a lot to prove in their next fights.
Stock Up: Demetrious Johnson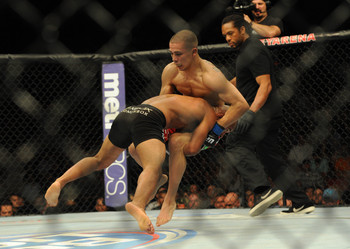 Jayne Kamin-Oncea-USA TODAY Spor
It was going to be hard for the UFC Flyweight Champion to improve on his stock as the top flyweight in the world, but he managed to do just that with a dominant and complete performance.
Demetrious Johnson showcased his incredible speed, footwork and ability to switch levels in the blink of an eye. He took down the more decorated wrestler at will.
The one criticism Johnson suffered was his inability to finish top competition. He proved the doubters wrong with the latest finish in UFC history.
Johnson worked for a submission in every single round, but he switched to an armbar to get the finish. The submission win marks his first finish inside the Octagon and establishes Johnson as one of the pound-for-pound best in the world.
Keep Reading