UFC on Fox 8 Full Fight Video Highlights: Johnson Submits Moraga
Use your ← → (arrow) keys to browse more stories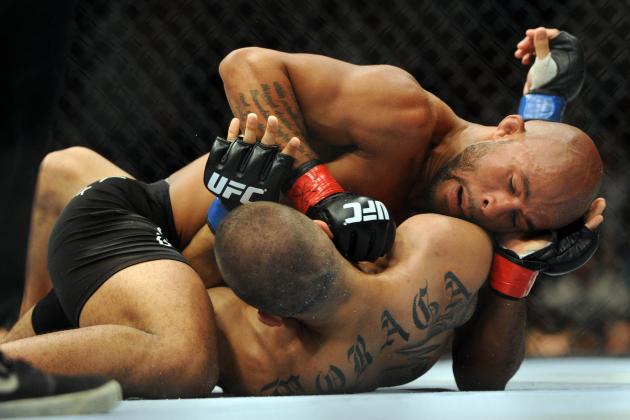 Jayne Kamin-Oncea-USA TODAY Spor

Heading into UFC on Fox 8's main event from Seattle on Saturday night, we heard about the punching power and wrestling of John Moraga. By the time the fight came to its conclusion we hadn't seen much of either of those things, but we did get to witness a dominating performance by UFC flyweight champion Demetrious Johnson.
Moraga started off fast, but Johnson, who showed that he has a gear that not many fighters possess, quickly surpassed that speed. Once the flyweight champion took control of the fight, there was no looking back.
According to the FightMetric numbers, Johnson went 67 of 95 in his significant strikes for a success rate of 71 percent. As impressive as that number is, it is dwarfed by his takedown percentage, which was a perfect 100 percent. Johnson attempted 12 takedowns, landing them all.
When the fight went to the ground, Johnson was just as active—passing the guard of Moraga 13 times and attempting three submissions.
Johnson's third submission attempt was the one that counted, as he clamped on an armbar that brought the fight to an end at the 3:43 mark of the final round.
The win gave Johnson "Submission of the Night" honors, as well as a place in the UFC record book. Johnson's submission is the latest submission stoppage in the history of the UFC.
It will be interesting to see if the victory changes Johnson's standing in the UFC pound-for-pound rankings. The flyweight champion is currently ranked No. 7, directly behind heavyweight champion Cain Velasquez.