On June 11, the Baltimore Ravens released fullback Vonta Leach, and the fullback position as we have known it officially died.
While there are a handful of traditional fullbacks still around the league, it appears that the position is beginning to change and quite possibly fading out of existence.
The change has been made over the past few seasons, but it now appears that teams no longer value traditional fullbacks. Leach has been without a job since being released, and according to Pro Football Talk, the Ravens are now reportedly considering bringing him back. But he will likely be offered the veteran minimum.
Leach was easily the best fullback in the league, but the fact that he still hasn't signed with a team well over a month after being released means that fullbacks aren't valued like they once were.
The Old Fullback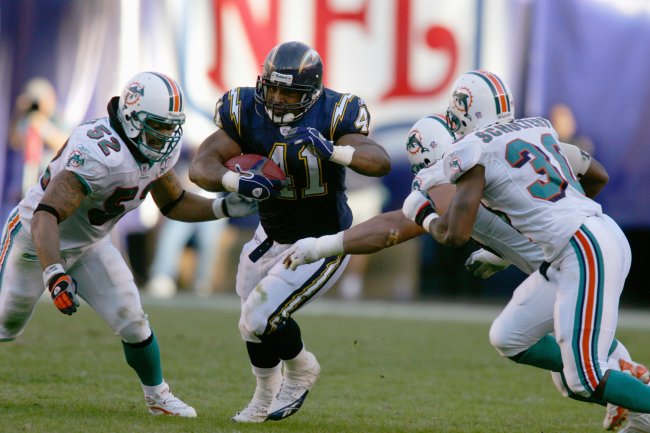 Donald Miralle/Getty Images
Less than a decade ago, fullbacks were well known for being bruisers to be used as lead blockers in the run game and being absolute tanks with the ball in their hand—particularly in short-yardage situations.
Some recent traditional fullbacks like William Henderson and Lorenzo Neal were excellent examples of what teams dreamed of. They were able to pave the way for their halfbacks, especially Neal in particular. Neal paved the way for names like Eddie George, Corey Dillon and LaDainian Tomlinson, blocking for a 1,000-yard rusher in 11 straight seasons at one point.
Looking back, there was a sense of change in the league when some of these big bruisers were getting more and more carries. There's not a better example of this than Mike Alstott, the powerful fullback for the Tampa Bay Buccaneers.
Alstott came into the NFL after being the all-time leading rusher at Purdue University. He finished with 3,635 yards in his career, including 1,436 yards during his senior season.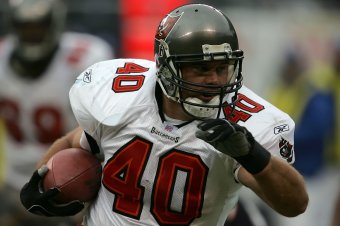 Jonathan Daniel/Getty Images
The Buccaneers decided to utilize Alstott as a running fullback more than a lead blocker. He finished with over 100 carries for six straight seasons from 1997 to 2002. While he may have only averaged 3.7 yards per carry over his career, he still finished with 5,088 yards and 58 touchdowns.
The "old" fullback is rare now. In 2012, you could point to a few of these guys, most noticeably Leach for the Ravens, Bruce Miller with the San Francisco 49ers and maybe even Henry Hynoski with the New York Giants.
Now, fullbacks are trying to adapt in order to survive.
The New Fullback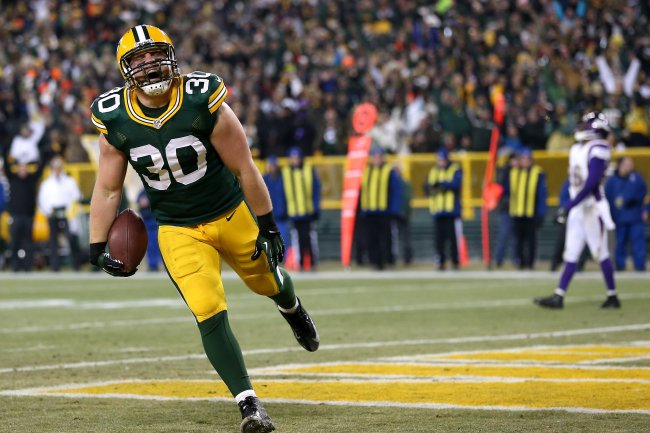 Jonathan Daniel/Getty Images
It seems that I-formations are being replaced more and more by empty backfields and quarterbacks playing frequently out of the shotgun. Fullbacks are being replaced more and more by athletic tight ends and tougher running backs.
The role of the fullback has seemed to change, and that is most prevalent on teams that tend to be more pass-heavy. These players are now being asked to be more athletic and to be much more versatile than they used to be.
Fullbacks now tend to be guys who can run the ball when needed but are used more in pass protection and as receivers out of the backfield. Perhaps the ultimate example of that would be John Kuhn of the Green Bay Packers.
Kuhn has become a widely popular player with Packers fans, with his name being yelled every time he gets the ball. However, he isn't a true fullback like Leach.
Kuhn has been asked to protect Aaron Rodgers over the past few seasons, coming in on third down and trying to give Rodgers more time. He has been known to go out and catch the ball as well—not being the fastest guy on the field but someone defenses tend to ignore.
These new fullbacks aren't the big guys the NFL has been used to. They've become athletic and versatile players. Marcel Reece, Darrel Young and James Casey have paved the way now as some of the best fullbacks in the league, but they look nothing like the fullbacks of old.
Where is the Fullback Going?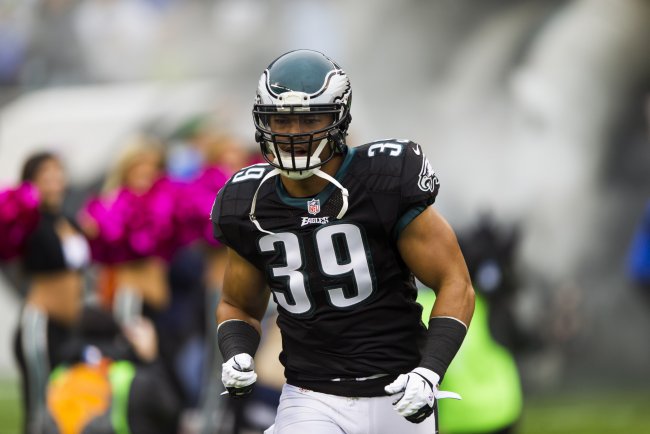 Howard Smith-USA TODAY Sports
The fullback position is beginning to fade off into the sunset. Leach has drawn very little interest since becoming a free agent, and now he's on the verge of signing for very little. Tom Pelissero of USA Today recently pointed out that there are few fullbacks who are getting paid the big bucks anymore:
Vickers' release leaves only eight fullbacks in the NFL who are due more than $1 million next season. Offensive evolution continues.

— Tom Pelissero (@TomPelissero) July 12, 2013
It's clear that the traditional fullback has almost completely faded away, and guys like Kuhn are fighting to hold onto a position that's trying to adapt. The future of the position will likely be showcased in Indianapolis, with the Colts implementing a "No Coast Offense" under Pep Hamilton, the new offensive coordinator.
The Colts recently brought in Stanley Havili in a trade with the Philadelphia Eagles. Back in college, Havili was a popular target out of the backfield in the passing game, and the Colts could very well use him the same way.
Kevin Bowen from the Colts' official team website recently tweeted an interesting quote by Andrew Luck heading into training camp:
Luck on new offense: "It will be a detailed, exact offense. We have a fullback now…that will be the biggest difference people will notice."

— Kevin Bowen (@KBowenColts) July 27, 2013
The Colts have almost never used a fullback over the years. The most popular "fullback" with the Colts was Dan Klecko, who was best known for scoring a touchdown in the 2006 AFC Championship Game against the New England Patriots.
Now, the Colts plan on using fullbacks, and with this new offense they plan on using, it will be able to reveal what the future of the fullback will hold.
Leach was one of the last "pure" fullbacks, and now that he's struggling to find a job, it could mean that the position is on its way out. However, players will continue to adapt, and the coming years will be a good indication of how much longer the position can survive.