UFC on Fox 8 Results: Grades for Every Main Card Fighter on Johnson vs. Moraga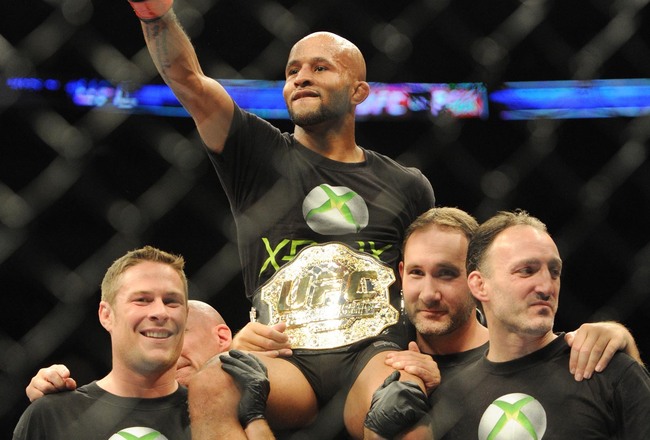 Flyweight champion Demetrious Johnson (l) faced John Moraga in Seattle Saturday night. (Photo by Jeff Bottari/Zuffa LLC/Zuffa LLC via Getty Images)
Jayne Kamin-Oncea-USA TODAY Spor
When the early story of the night is a near-record number of split decisions, well, you probably need a good main card.
And that's what we got at UFC on Fox 8 Saturday night, broadcast live from KeyArena in Seattle. It wasn't scintillating action from gavel to gavel, but it was just that: good.
The event culminated with home-state flyweight and belt holder Demetrious Johnson making his second defense against dangerous, if unheralded, challenger John Moraga. And doing so just days after his wife gave birth, no less.
Would the champ's head be in the game? And what about the rest of the main card? Here are my grades for every fighter who laced up the fingerless gloves on national TV.
Liz Carmouche: A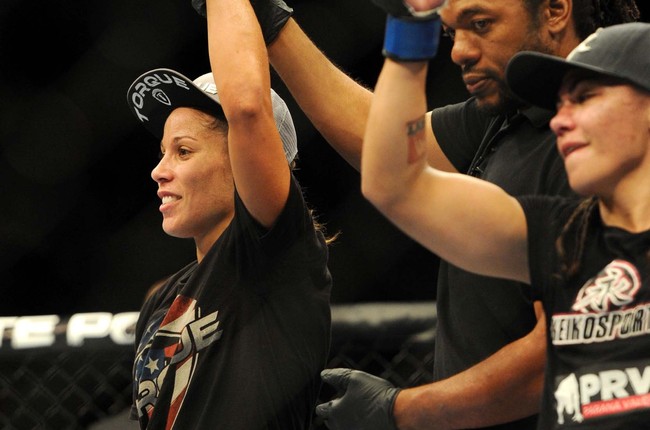 Liz Carmouche
Jayne Kamin-Oncea-USA TODAY Spor
Division: Women's bantamweight
Result: Liz Carmouche def. Jessica Andrade by TKO, 3:57 of Round 2
After a dirge of an undercard, you could tell these ladies wanted to spark a fire. Both came out swinging and went back and forth on the feet and the ground.
Andrade might have stolen the first round with some sort of pro wrestling-style standing crucifix slam late in the action, but the second frame was all Carmouche. She is not exactly Amazonian, but she was bigger than Andrade, who would probably be fighting at flyweight if the UFC had such a division.
Basically, Carmouche is strong. Very strong. If you'll pardon my technical parlance, she's a brick smokehouse. And she used that strength to bury Andrade with a takedown early in the round and lock on a mount from which Andrade could not escape. About three minutes of pounding later, Herb Dean had seen enough.
Good for Carmouche, the first woman to fight twice in the UFC Octagon.
Jessica Andrade: C+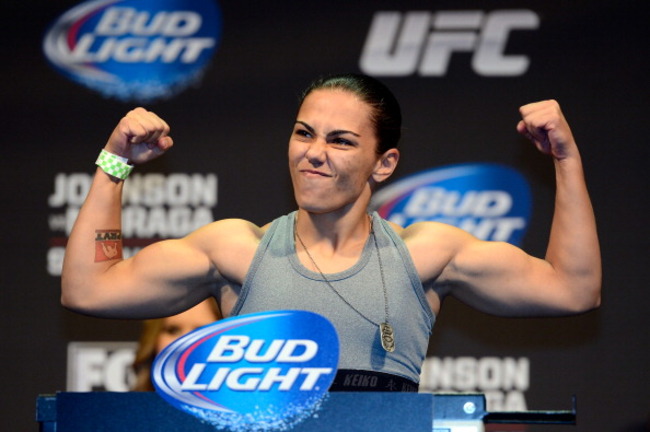 Jessica Andrade (Photo by Jeff Bottari/Zuffa LLC/Zuffa LLC via Getty Images)

Jessica Andrade didn't look bad, exactly. But she did make a key mistake in the second when she charged forward and was powerless as Carmouche, like a slugger turning on a 95 mph fastball, used Andrade's momentum against her to dump her to the ground. Then Andrade was in Carmouche's world, and it was, as they say, all over.
But her first round was solid, and she's only 21 years old. Methinks she will return.
Robbie Lawler: A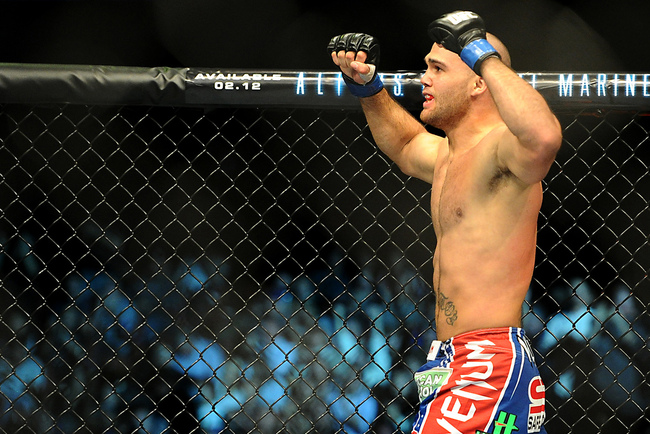 Robbie Lawler
Jayne Kamin-Oncea-USA TODAY Sports
Division: Welterweight
Result: Robbie Lawler def. Bobby Voelker by KO, 0:24, Round 2
Well, that was impressive. From the opening horn, Lawler was the better fighter, and both men knew it. He didn't disrespect Voelker in the cage, exactly, but he toyed with him a bit, and Voelker could not respond.
Lawler put his opponent out of his misery early in the second with a fantastic head kick. The win puts Lawler at 6-3 in the UFC and 2-0 in his second tour with the promotion.
Though the win was spectacular, I'm going to stand back from this tidal wave of opinion crowning Lawler as the newest contender at 170 pounds. He has shown throughout his career that he can wreck inferior competition but will shrink against true contenders.
How about Mike Pierce next in an underrated vs. overrated matchup? If Lawler wins that, maybe he deserves one of the big names in the division. But Voelker doesn't get him here.
Bobby Voelker: D-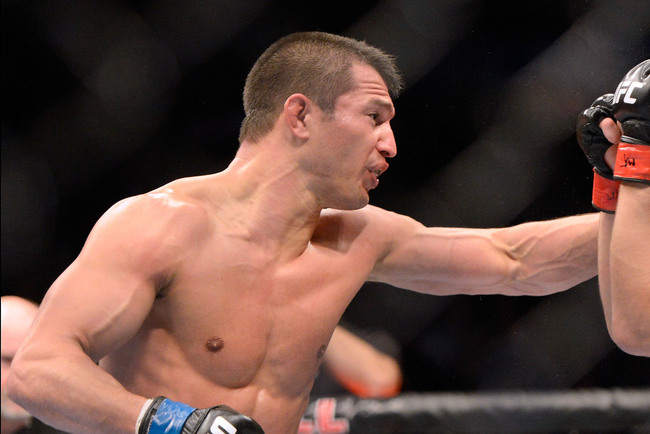 Bobby Voelker
Eric Bolte-USA TODAY Sports
Bobby Voelker appeared confident coming into the fight. No one would confuse him with Georges St-Pierre, but the Kansas City native hits hard and is tough as nails. You could almost hear people on the Internet talking themselves into it: Maybe, just maybe, Voelker could blue-collar his way to a victory.
Nothing doing. He had no answer for Lawler's diverse punches, crisp movement and big kicks and knees. A solid chin can only take you so far. On Saturday night, it took Voelker 24 seconds into the second round.
Rory MacDonald: A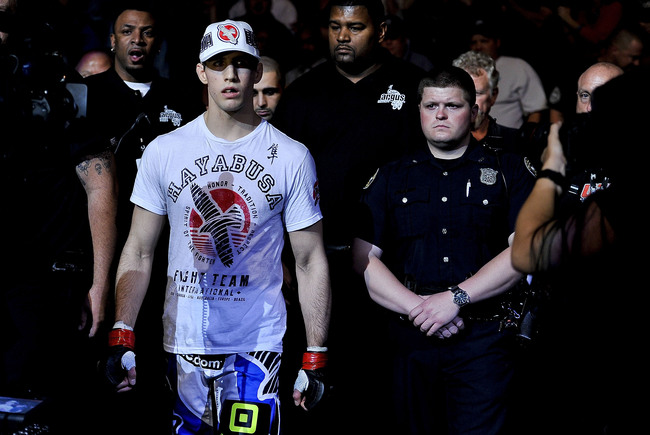 Rory MacDonald
Paul Abell-USA TODAY Sports
Division: Welterweight
Result: Rory MacDonald def. Jake Ellenberger by unanimous decision
A boringly bloodless victory for a scarily bloodless fighter.
Maybe he didn't fight to finish. But he sure did fight to win, and that's what he did. If he had been in danger of being released by the promotion, maybe then it would be more of a head-scratcher why he didn't go for more violence. But he isn't, and it isn't.
As for the actual fight, MacDonald carried a 3.5-inch reach advantage into the Octagon, but it looked like a hell of a lot more than that.
There was a heated media buildup to this fight, but thanks to "The Canadian Psycho," it cooled off quickly. MacDonald sent his message not with heated stares or flying knees but rather in the side pocket of the neighborhood postman, right down Main Street. Neither a jab powered by industrial pistons or a whip-crack of a front kick did a ton of damage, but both piled up points even as they kept a frustrated Ellenberger far, far away.
So maybe his tactics weren't so exciting, but they won MacDonald a fight and kept him completely out of danger.
Jake Ellenberger: C-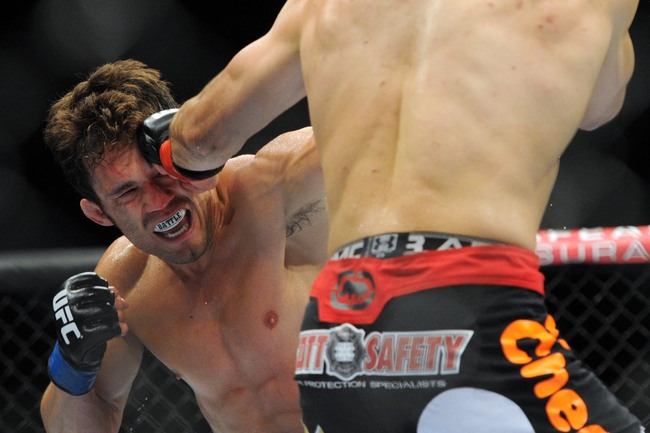 Jake Ellenberger
Jayne Kamin-Oncea-USA TODAY Spor
Give Jake Ellenberger an E for effort. He did his best to stir up public interest and the ire of Rory MacDonald. He seemed loaded up and ready to release that big punching power in the cage.
But he couldn't get it done. He couldn't break through the deflector shield that was the MacDonald jab and couldn't get close enough to finish a takedown, initiate a clinch or get his fists off.
It was one of those nights for Ellenberger. He lost to a more gifted fighter at UFC on Fox 8. He'll have other nights when that's not the case, and he'll have a good chance to win those.
Demetrious Johnson: A+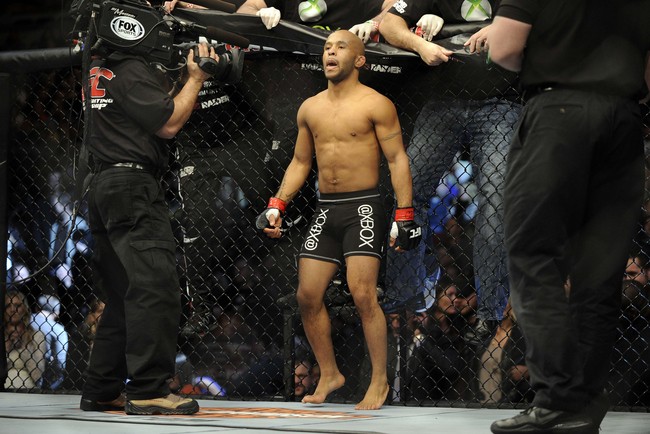 Flyweight champion Demetrious Johnson
David Banks-USA TODAY Sports
Division: Flyweight
Result: Demetrious Johnson def. John Moraga by submission (armbar), 3:43 of Round 5
I don't care what anybody says. I love Demetrious Johnson.
And he won his third straight title fight Saturday night with what was—at least according to broadcaster Joe Rogan in the cage after the fight—the latest stoppage ever in a UFC fight.
Not terribly surprising, given that it came after 23 minutes and 47 seconds of action. Equally unsurprising was the way "Mighty Mouse" fought and dominated the main event.
In particular, it was a festival of takedowns (11 in all by my count) and ground control. But he also went for submissions. He nearly cinched on a kimura at the end of the third and went for it again toward the end. Moraga, a gamer, fought it off one more time but in so doing exposed his arm. Johnson, seeming as fresh and strong as he had at the opening horn, grabbed it, found the armbar and forced the tap.
He had no reason to go for it. He was going to win an easy decision. But he's a champ and went for the submission. It was a great win for the flyweight king, who is possibly the most underrated MMA fighter in the world today.
John Moraga: C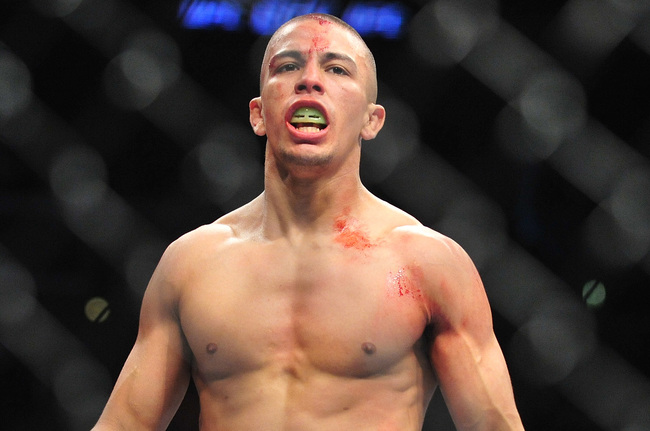 John Moraga
Gary A. Vasquez-USA TODAY Sports
John Moraga displayed good toughness. I wish I had a stat for the number of minutes he spent clinging to the thread of some half guard or barely keeping another submission attempt at bay.
His takedown defense was nonexistent. He didn't have much for DJ on the ground, but he did inflict a bit of damage with a hard right at the end of the fourth, so he had that going for him at least.
But in the end, the young man was worn down and simply beaten by a better fighter. At least he can take solace in the fact that he has plenty of company in the back of a steadily lengthening line.
Keep Reading