UFC on Fox 8 Johnson vs. Moraga Round-by-Round Recap and Analysis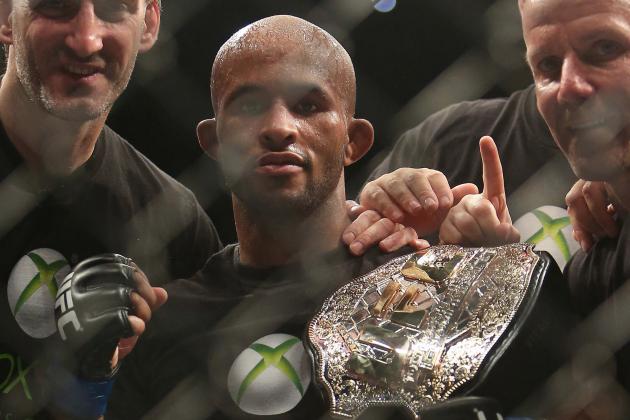 Tom Szczerbowski-USA TODAY Sports
UFC flyweight champion Demetrious Johnson
UFC on Fox 8 culminates on Saturday night when flyweight champion Demetrious Johnson defends his title against John Moraga. Johnson (17-2-1) may be the fastest fighter in the UFC and has a knack for picking apart opposing game plans. If emotion plays any role in his motivation level, Johnson's motivation will be high, as he's fighting at his home base of Seattle and just days after his wife gave birth to their first child.
But the finish-minded Moraga (13-1) brings plenty of danger to the proceedings. Will he pull the upset? Will Johnson be the hometown hero? Check back with these very slides as the action unfolds.
Begin Slideshow

»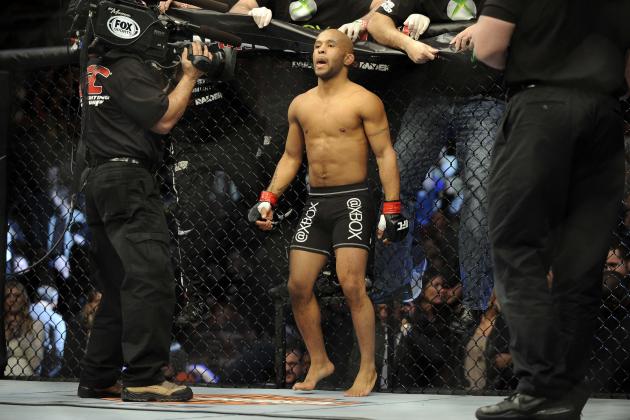 David Banks-USA TODAY Sports
Flyweight Demetrious Johnson
The intros see the Seattle crowd give their loudest cheer of a fairly quiet evening for native Demetrious Johnson.
They touch gloves and we're underway. Moraga comes out swinging but only catches air. Johnson darting away from everything, then darting back in. Ninety seconds in and nothing significant landed yet despite Moraga's best efforts.
Moraga lands a right hook on Johnson as he comes in. Moraga lands a leg kick. At the 2:30 mark Moraga wraps up a clinch and pushes Johnson against the fence. Johnson turns it around and is now landing knees. He hits a takedown without much trouble and they're down along the fence. Moraga trying for a guillotine but nothing serious. Johnson in side control and burying his left elbow in Moraga's forehead.
Moraga tries to get up in the final minute but Demetrious gets a hold of the neck, rides him down and that's how the round ends.
My score: 10-9 Johnson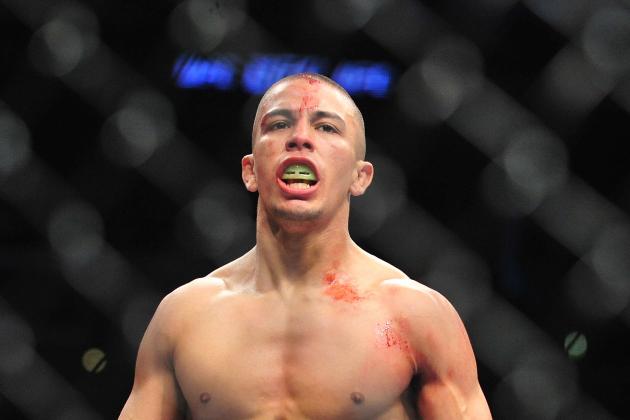 Gary A. Vasquez-USA TODAY Sports
Flyweight title challenger John Moraga
Moraga starts the round with some aggression. He had some success with the leg kick and he lands a couple early.
Johnson then uses great power to land a power double. A few seconds later and Johnson is side control and then nearly a crucifix. Moraga clinging to a thread of a guard to ward it off.
Full side control now for Mighty Mouse at 3:15 mark. Moraga throws up a triangle but nothing doing. Mouse spins and gets his back. Now they're up and Johnson lands a knee. Back down now and Johnson on Moraga's back. He's fending off submission attempts but they're coming fast from Johnson now. How long can Moraga keep it going?
On the feet now and in the center. Leg kick from Johnson. Explosive, driving double-leg takedown from Johnson that bulls Moraga to the other end of the cage.
Moraga has half guard. Johnson going for armbar in waning seconds, then some ground and pound from the champ.
My score: 10-9 Johnson (20-18 overall)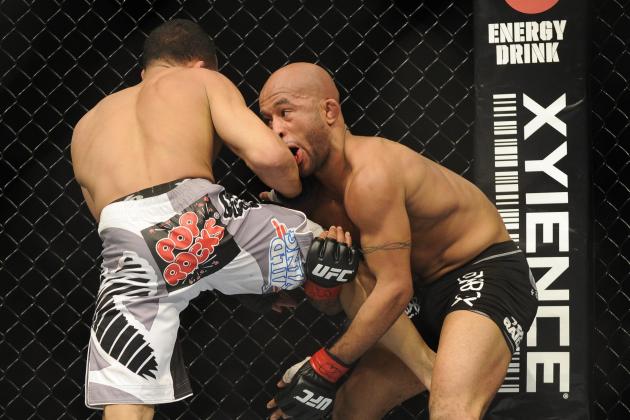 David Banks-USA TODAY Sports
Demetrious Johnson (right) is the UFC flyweight champion.
The round starts and Johnson, predictably, is still fresh as a daisy. Moraga charging forward but doesn't hit anything. Johnson not doing much early, looking to be finding range. Then a takedown. Johnson's in full guard but he's been very busy throughout and now is no exception.
Into side control for the champ. He has Moraga's back and it seems he's looking to get full back mount. He wants to finish but can't get anything despite having full control of the fight.
Now they're up and against the fence, with Moraga initiating the clinch. A brilliant takedown from Johnson now, into side control and he's looking for an arm. He wants a kimura. Moraga is holding on but Johnson is torquing. Doesn't have it all the way. Moraga again fends it off and works out.
Now up and in the clinch. They trade knees. Moraga with his first successful takedown of the night. It comes with about 30 seconds left.
My score: 10-9 Johnson (30-27 Moraga)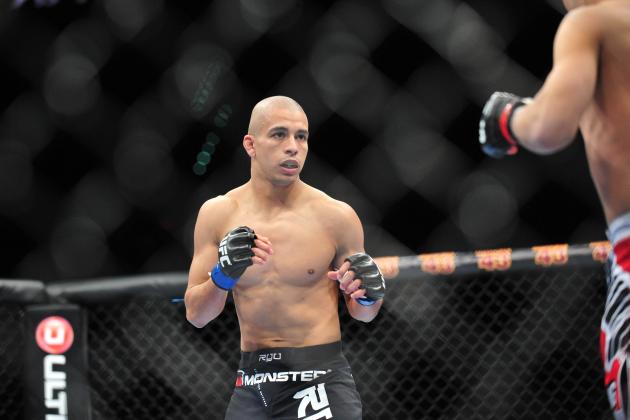 Gary A. Vasquez-USA TODAY Sports
Flyweight title challenger John Moraga.
Johnson is fresh still and another takedown starts the round. That's seven by my count to Moraga's one.
Side control again, kimura attempt again. Then they scramble a bit and it looks like Johnson wants a choke. Kick to the midsection from DJ as Moraga gets up and out.
They move around for a while, not doing much, then another takedown from Mighty Mouse. They get back up and they are clinched. Johnson seemingly biding his time for another takedown, but he's not in any rush. Now he gets it, now they're back up.
Moraga lands a big right hook as Johnson came in, and it was easily the hardest shot either man has landed. Johnson counters with an immediate takedown, but Johnson seems to be cut.
My score: 10-9 Johnson (40-36 Johnson)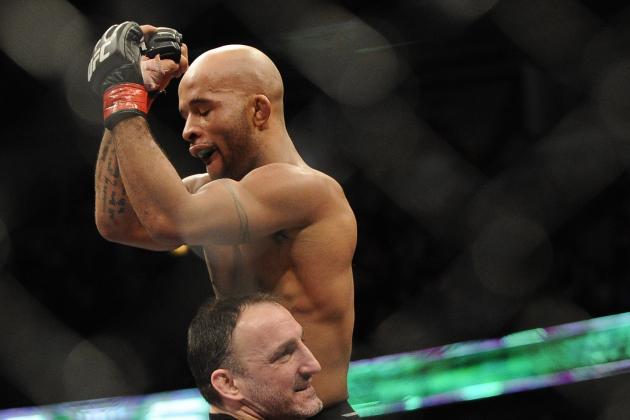 David Banks-USA TODAY Sports
Flyweight champion Demetrious Johnson following his last title defense.
Final round here. Moraga hurt Johnson at the end of the last round.
Big takedown from Johnson and it looks like he'll probably look to hold him here. Johnson into side control. His nose is still leaking blood.
Moraga tries to get up but Johnson takes it right back down. They get back up. They clinch up and Moraga's looking for a home-run uppercut. But nothing doing, and Mouse gets it back to the ground.
Almost side control now for the champ. A knee to the midsection of Moraga. Now a couple of short elbows to the face. He's going for a kimura again. There are 90 seconds left. Now a move to an armbar and there's the tap.
Demetrious Johnson def. John Moraga by Submission