The Top 10 Fantasy RBs for 2013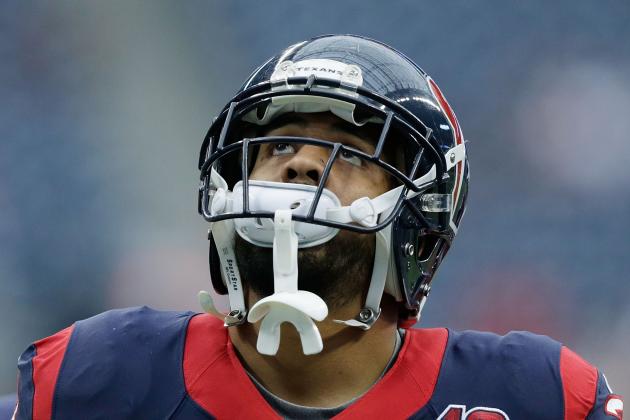 Scott Halleran/Getty Images

Few positions make or break a fantasy season quite like running back. While wide receivers can be wildly unpredictable from week to week and more and more quarterbacks are putting up big numbers, a good running back can provide an owner with the most valuable commodity in fantasy sports:
Consistency.
Nothing is more stabilizing in an unpredictable endeavor like fantasy football than a running back who consistently hovers around 100 yards and a touchdown per week. Those players are hard to come by, of course, which is why they are so valuable. Failing to nail your early-round running back selections is fantasy suicide.
But don't fret, folks. I'm here to help with my top 10 running backs for this season. Let's break them down.
(Note: All fantasy rankings from last season are from ESPN standard-scoring leagues.)
Begin Slideshow

»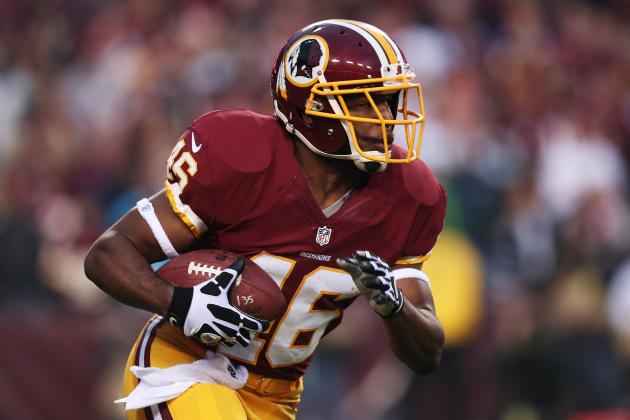 Win McNamee/Getty Images

Alfred Morris, Washington Redskins
Two things keep Morris out of the top 10: Mike Shanahan's history of rotating backs, a nasty habit he could utilize again this season, and my belief that the Redskins will open up the passing game for Robert Griffin III. Don't overpay for Morris.
Stevan Ridley, New England Patriots
Expect the New England Patriots to run more than in seasons past with weapons like Wes Welker and Aaron Hernandez no longer on the team. Ridley is a grinder who should be good for double-digit rushing touchdowns again.
Matt Forte, Chicago Bears
If he can stay healthy, he's a top-10 back. Unfortunately, he's missed five games the past two seasons and Michael Bush will get the goal-line touches, so you should probably wait on Forte. He could be an excellent second- or third-round value, however.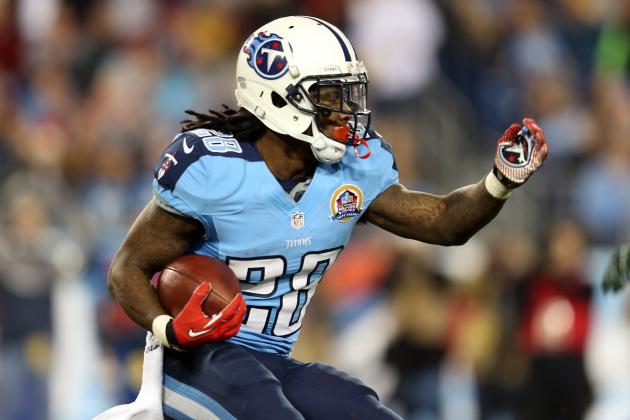 Andy Lyons/Getty Images

Chris Johnson totaled 108 yards from scrimmage without a single touchdown in the first three games of last season, basically killing any chances of victory for his fantasy owners in those weeks. And for that reason alone, a lot of you are probably screaming in anger that I actually included him in the top 10.
But here's the thing—Johnson recovered, totaling 1,475 yards from scrimmage and six touchdowns. It wasn't a great fantasy season, but it was certainly serviceable.
Plus, a major reason why Johnson struggled—a poor offensive line—has been remedied, as the Tennessee Titans signed guard Andy Levitre in the offseason and drafted Chance Warmack.
The truth about Johnson is, while he hasn't been an elite running back the past two seasons, he's still never failed to reach the 1,000-yard plateau in his career. Shonn Greene is going to vulture his goal-line touches, sure, but with a good offensive line in front of him, Johnson should return to the home run-hitting form he displayed in seasons prior.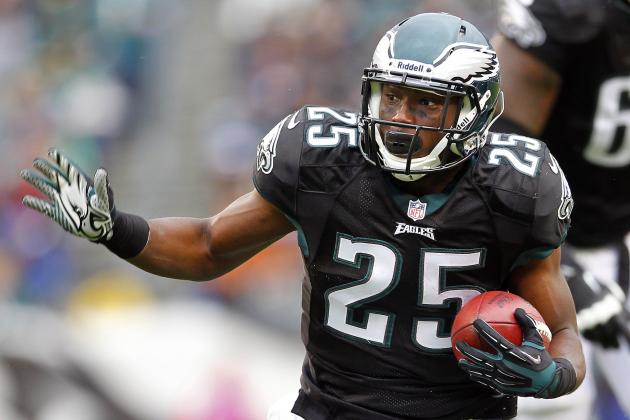 Rich Schultz/Getty Images

LeSean McCoy lost four games to injury last year and Bryce Brown emerged as a dangerous runner for the Philadelphia Eagles, so it's no surprise McCoy isn't as highly valued as he was a summer ago.
But don't be fooled—McCoy is still one of the top fantasy backs around.
Chip Kelly's offensive system perfectly fits McCoy's shifty running style and ability in the passing game, while Brown's nasty habit of coughing up the rock should keep him firmly entrenched as the backup.
Remember, in the two seasons before last year, McCoy finished with at least 1,600 yards from scrimmage and 10 touchdowns and scored a whopping 20 in 2011. He's not the safest pick and should only be taken late in the first round or early in the second, but there is still major upside here.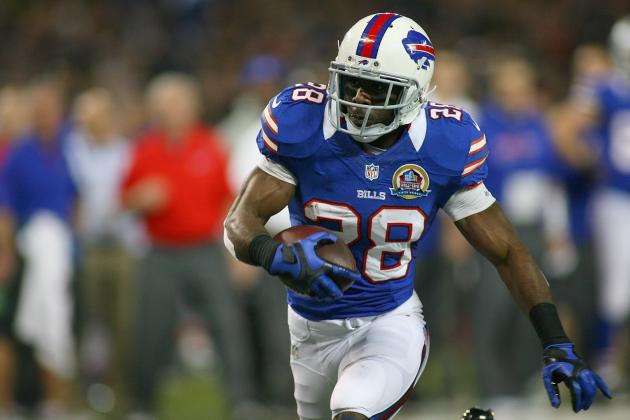 Rick Stewart/Getty Images

I absolutely love C.J. Spiller. He was one of my sleeper picks last year that struck gold.
The problem is, I still don't know exactly what his usage will be for the Buffalo Bills, even if he proved last year he should be the No. 1 option ahead of Fred Jackson.
If he's the primary back and gets 30 touches a game, as the Bills' official site suggests is possible, Spiller will be a top-three running back this season, assuming he stays healthy.
Remember, despite receiving just 250 total touches last season, he managed 1,703 yards from scrimmage and eight touchdowns. His 6.0 yards per carry was a pretty absurd figure. Durability is an issue—and Jackson will likely get the goal-line work—but if his touches dramatically increase, he could be one of the best players in fantasy this season at any position.
He's medium risk, huge reward. Draft him accordingly.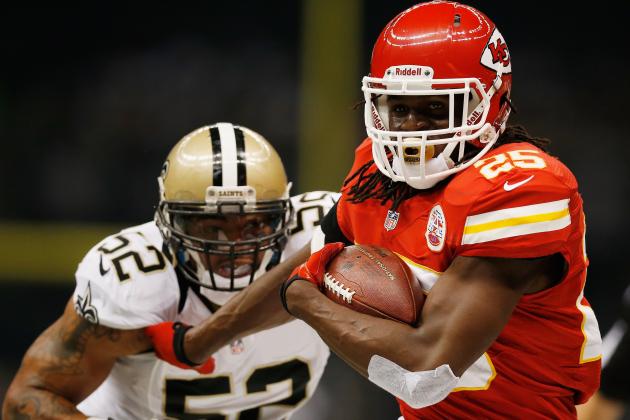 Chris Graythen/Getty Images

Like Adrian Peterson, folks were worried about how Jamaal Charles would recover from an ACL tear the season before. And like Peterson—though not to the same degree, obviously—Charles answered any and all concerns.
Charles rushed for 1,509 yards and five touchdowns a season ago despite being part of a dreadful Kansas City Chiefs offense that often underutilized his talents and gave him 16 or fewer touches in seven games.
With Andy Reid in town, Charles should at least duplicate his production from a year ago and probably will see it increase. While Reid has always been a pass-first coach, he changed his ways a bit in later years and made LeSean McCoy a primary weapon in the Philadelphia Eagles offense.
Without a doubt, Charles is a first-round pick this season.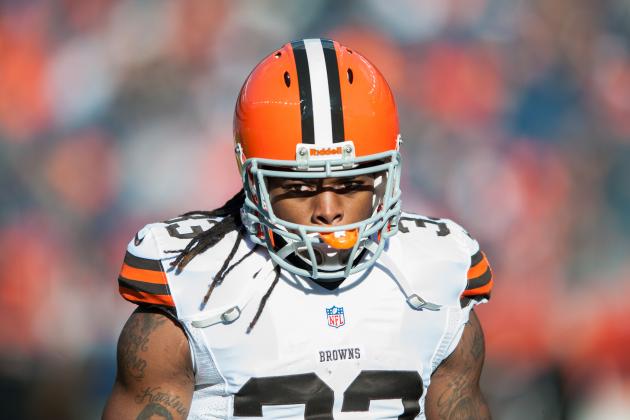 Dustin Bradford/Getty Images

Richardson is the Cleveland Browns offense.
He is one of few running backs in fantasy that pretty much fulfills every role. He's a three-down back who can catch the ball out of the backfield or bash through the defense inside of the 5-yard line.
That makes Richardson's upside huge. The fact that he struggled with injuries a year ago, however, keeps him out of the top five.
With all of the bangs and bruises, he still compiled 1,317 yards from scrimmage and 12 total touchdowns. With Norv Turner now running the offense, Richardson should be even more effective this year if he can stay healthy.
It's not as though the Browns have a better weapon to turn to, after all.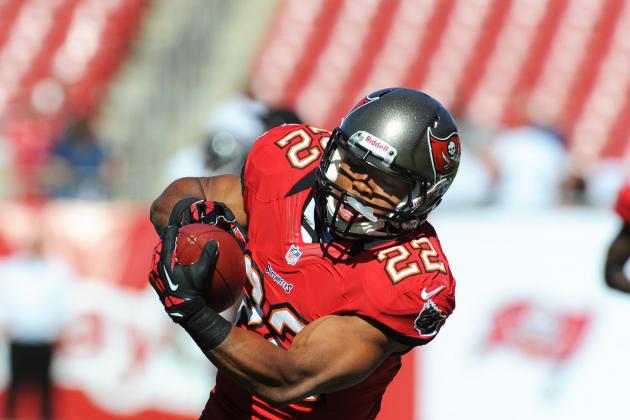 Al Messerschmidt/Getty Images

There's a lot to like about Doug Martin. He's a threat in the receiving game, having caught 49 passes for 472 yards and a touchdown last season. He's a big-play threat, as he proved against the Oakland Raiders in Week 9, rushing for 251 yards and four touchdowns.
He has a solid offensive line in front of him and won't really be threatened for carries in Tampa Bay. In fact, it's a good bet he'll once again be the center of the team's offense.
It's always risky using such a high pick on a player who has only proven himself over one season, but Martin is the real deal.
After finishing third in fantasy points among running backs last season, Martin made his presence known. He's a top-five option this year. Owners shouldn't hesitate to snag him in the first round.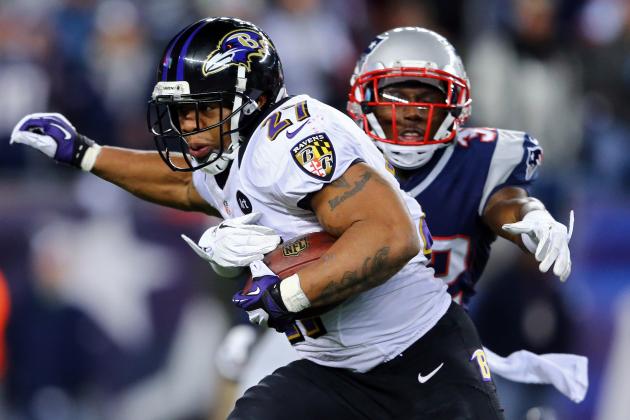 Al Bello/Getty Images

I'm worried about Ray Rice. He's the only player in my top five who had fewer than 300 carries. Bernard Pierce likely earned himself a bigger role in the Baltimore Ravens offense, and the team made no secret it was limiting Rice's touches a year ago to keep him fresh.
Plus, he saw his rushing attempts, rushing yards, rushing touchdowns, yards per rush, receptions, receiving yards, yards per reception and receiving touchdowns all decrease last year.
So why do I have him at No. 4?
Despite all of the above, Rice still produces. He was sixth among fantasy backs in points last year, totaling 1,621 yards from scrimmage and 10 touchdowns. He remains a major threat in the passing game, with 61 receptions and 83 targets. Only Darren Sproles had more receptions and targets last season among running backs.
Chances are, Rice will still be the focal point in Baltimore's offense. Because of that, there is absolutely no reason he shouldn't be a top-five pick.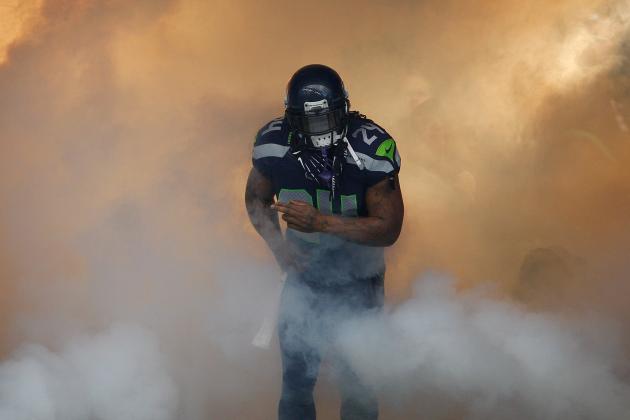 Kevin Casey/Getty Images

Outside of the last slot in the top 10, no position was harder to determine than No. 3. Rice is the most versatile player, while Martin looks to have the most upside.
So why pick Lynch?
For one, he's a guaranteed source of touchdowns, having scored 25 in the past two seasons, and he won't ever be taken out of the game near the end zone. For another, there isn't a real threat to him in Seattle's backfield. And it's hard to imagine the Seahawks going away from a run-first attack, even with the emergence of Russell Wilson and addition of Percy Harvin.
His rushing attempts, yards and yards per carry all increased last year, so you know the Seahawks aren't afraid to lean on their physical back. Martin isn't going to sneak up on anyone this year and Rice could see his production decreased by Pierce, but you pretty much know the Seahawks will keep feeding Lynch.
Hence his No. 3 ranking.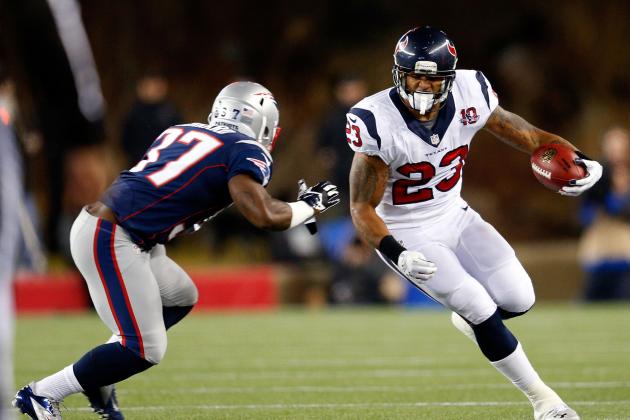 Jim Rogash/Getty Images

Outside of Adrian Peterson, Aaron Rodgers and Drew Brees, there isn't a safer pick these days than Arian Foster.
He's totaled at least 1,600 yards from scrimmage and 12 touchdowns in the past three seasons. He's a threat as both a runner and receiver. He won't be taken out of the game near the goal line. He's missed just three games the past three seasons.
Yes, his workload is somewhat worrying—he has 1,115 touches since 2010, and at some point the wear and tear will affect him—but he'll be 27 once the season begins and is in his prime. He's about as good as consolation prizes get.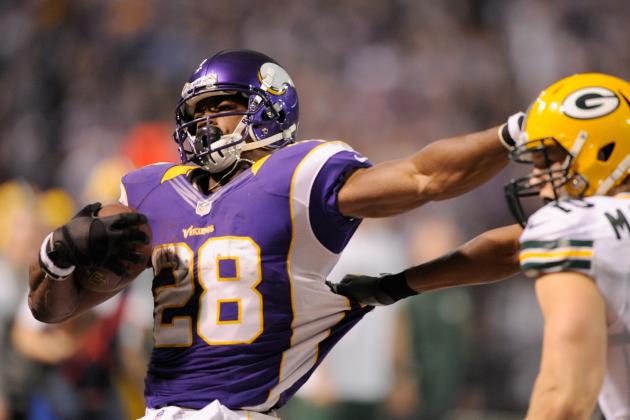 Hannah Foslien/Getty Images

So much for that knee injury, huh?
All Adrian Peterson did last year was run for 2,097 yards and score 13 total touchdowns, placing him tops among all running backs in fantasy points and seventh overall. While it's unlikely he'll reach those numbers again, even a slight regression should leave him as the top fantasy running back next season.
Yes, his heavy workload over the course of his career is slightly worrying. But c'mon, folks—this is Adrian Peterson we're talking about. He's never finished with less than double-digit rushing touchdowns in six seasons. He finished under 1,000 rushing yards just once. He's as safe a pick as they come.
If you have the top pick and you don't select him, the chances of you living to regret it are pretty darn high.