Ranking the 10 Fastest Rising Names in Golf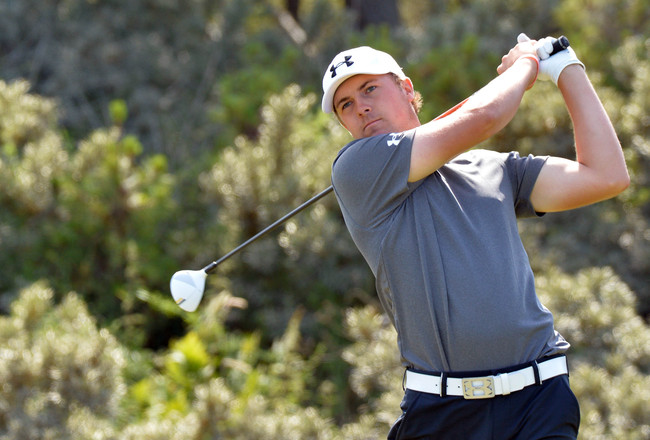 Jordan Spieth
Leo Mason-USA TODAY Sports
Phil Mickelson authored one of the top stories of the year when he came through with a brilliant 66 in the final round of the British Open to earn the championship in one of golf's most prestigious events.
While the majority of the attention is on the sport's superstars in all the biggest events, there's a generation of new players climbing the golf ladder, seemingly on their way to becoming stars in their own right. These players deserve attention, even if they are not considered favorites for the big events.
Here's a look at the 10 fastest rising names in golf.
10. Patrick Rodgers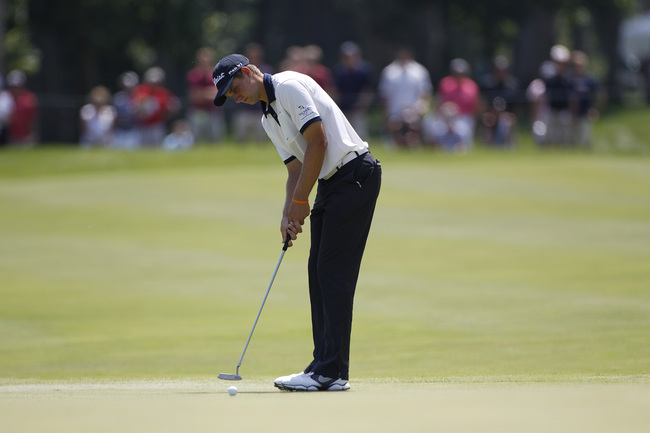 Michael Cohen/Getty Images
Patrick Rodgers is still playing golf at Stanford University, but he is almost certain to be a star on the PGA Tour within a year or two.
He played brilliantly in the PGA Tour's John Deere Classic. After three rounds, he had fired a 201 and was in contention for the victory. While he shot a 69 in the final round and finished five strokes behind the leaders, Rodgers has the tools to become a consistent player.
All four of his rounds were under par.
9. Danny Lee
Danny Lee, 23, is learning the ropes on the Web.com Tour and he has shown legitimate talent. He finished second in the Rex Hospital Open and he has also been in the top 10 in two other events.
The South Korean native moved to Australia at the age of 8 and he said that his biggest thrill thus far was his victory in the Johnnie Walker Classic in Perth, Australia.
Lee is a big hitter and he is also quite accurate. As soon as he gains a bit more consistency, he will have a chance to develop into a solid and consistent contender.
8. Patrick Cantlay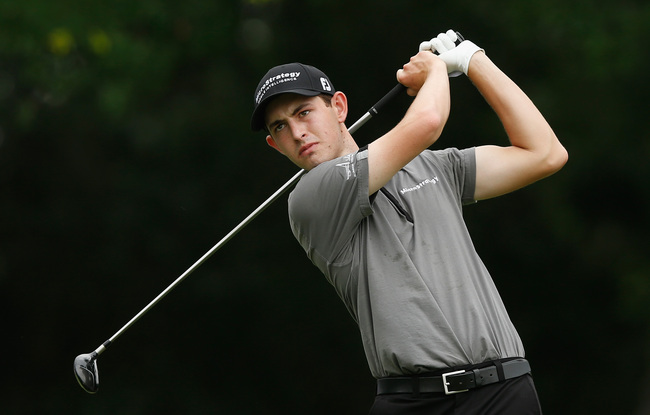 Scott Halleran/Getty Images
Patrick Cantlay is splitting his time between the Web.com and the PGA tours this year. The 21-year-old golfer came into the picture while playing at UCLA, and it was clear that he had star potential from the moment he competed in the 2011 U.S. Open and shot an even-par 284. That allowed him to tie for 21st in a field that included the best golfers in the world.
Cantlay won the Colombia Championship, a Web.com Tour event, earlier this year. He also tied for ninth at the AT&T Pebble Beach Pro-Am on the PGA Tour.
Cantlay has been slowed by a back problem this summer, but the injury is not expected to have long-term consequences.
7. Guan Tianlang
Guan Tianlang made a huge splash in April when he not only qualified for the Masters, but the 14-year-old golfer made the cut and finished in 58th place with a 12-over-par total of 300 in the classic tournament.
If he can make it to the Masters at that age and play well enough to survive the cut, where might the limits be for this eighth-grade student (at the time)?
Tianlang is still learning the game but he is quite accomplished. As he gets older and stronger, he should be able to add distance to his repertoire. There's little doubt that he has the tools to become one of the best golfers of the next generation.
6. Luke Guthrie
Andrew Redington/Getty Images
Luke Guthrie set the tone as soon as he joined the Web.com Tour in 2012 when he finished in the Top 10 in four of the 10 events he entered.
Guthrie graduated to the PGA tour this year and he has won more than $973,000. His best performance was a third-place finish in the Honda Classic that earned him $408,000.
While Guthrie is not a big hitter—he is averaging 284.7 yards per drive—he has an excellent short game. Guthrie is hitting the green on 93.39 percent of his wedge shots from 75 yards or less, a figure that ranks 15th on the tour. Guthrie also ranks 15th in total birdies on the tour.
5. Branden Grace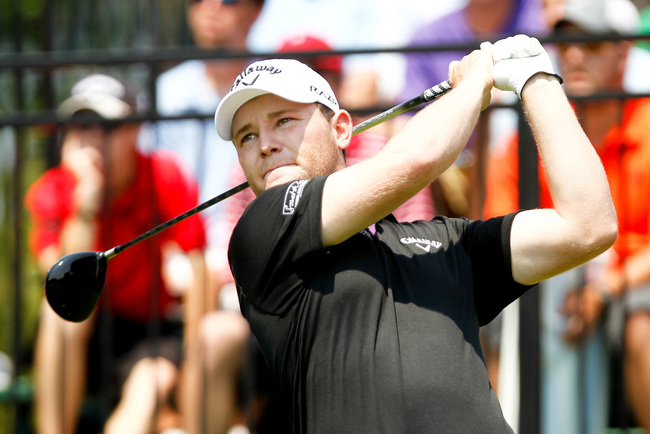 Debby Wong-USA TODAY Sports
Branden Grace has a chance to become one of the young lions in the golf world in the next few years.
The South African native announced his presence when he shot an even-par 288 at the Masters, and that allowed him to tie for 18th in the first major championship of the year. It also earned him $116,000.
Grace needs to work on his accuracy off the tee. If he can make an improvement in that area, he has a chance to compete consistently on the PGA Tour and in Europe.
4. Harris English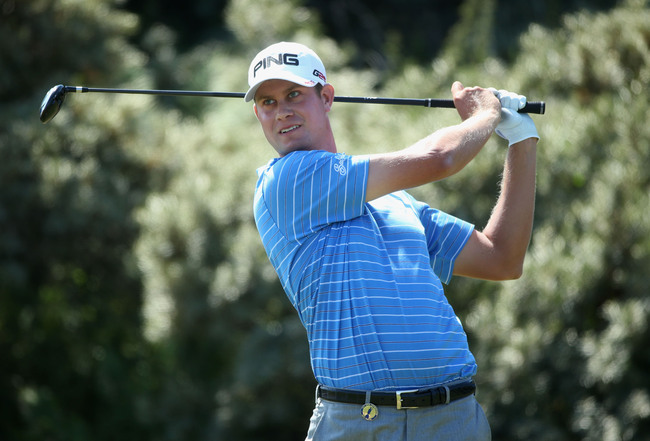 Andrew Redington/Getty Images
Harris English, 24, has started to hit his stride on the PGA Tour.
The Valdosta, Ga. native won his first PGA title when he finished first in the FedEx St. Jude Classic with a 12-under par 269. He broke 70 in all four of his rounds and showed a consistency that should give him a strong foundation for the foreseeable future.
English has earned more than $2 million this year and has four top-10 finishes. English is averaging 3.88 birdies per round, a figure that ranks 12th on the tour.
3. Russell Henley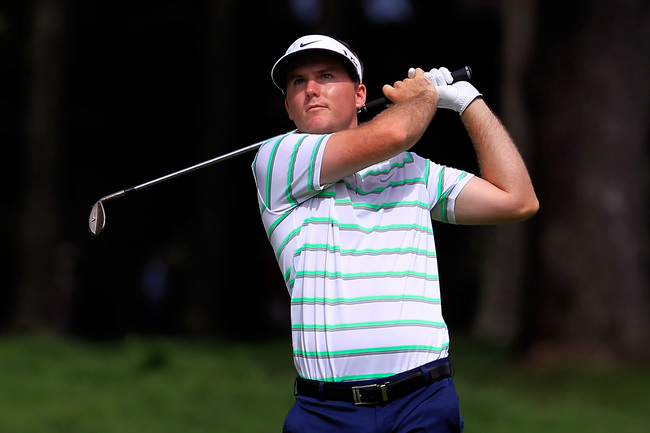 Chris Trotman/Getty Images
Russell Henley came into the 2013 season determined to distinguish himself on the PGA Tour. It didn't take long for Henley, 24, to make that happen.
He won the Sony Open in January, firing a remarkable 24-under par 256, a victory that earned him $1,008,000. Henley has three other top-10 finishes and he has has also been in the top 25 five times. Henley has earned more than $1.9 million this season.
Henley has a chance to be special. He hits the ball for distance and accuracy, but it is his putting that makes the difference. He ranks 10th in strokes gained putting on the PGA Tour this year.
2. Matteo Manassero
Leo Mason-USA TODAY Sports
Matteo Manassero has all the tools to become a star on both sides of the Atlantic. Manassero won his first title at the age of 17 when he took home the 2010 Castellon Masters in Spain.
He also won the BMW PGA Championship in England earlier this year, becoming the youngest champion of that event as a 20-year-old titlist.
Manassero has aspirations beyond winning individual tournaments.
"I now have to be obviously looking at the next Ryder Cup and I really want to be there, and that's all I can say," Manassero told PGA.com.
He has only won $50,000 on the PGA Tour this year, but it is clear he has the ability to compete consistently.
1. Jordan Spieth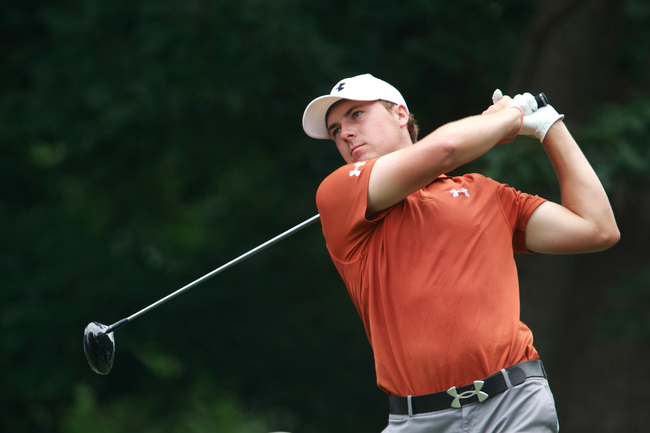 Allan Henry-USA TODAY Sports
While there are no guarantees of superstardom for any young golfer, it seems like Jordan Spieth has all the tools needed to become a dominant golfer for years to come.
Spieth became the first teenager to win on the tour in 82 years when he was victorious in the John Deere Classic. When he defeated two other golfers in a playoff to secure the triumph, he earned a trip to the British Open. Spieth finished tied for 44th in that event.
Spieth, a former Texas Longhorn, has enjoyed a remarkable season. He has five other top-10 finishes in addition to his victory and he is 12th in FedEx Cup points.
Look for Spieth to become a consistent top-10 player in the years to come.
Keep Reading