When Damien Sandow won the Money in the Bank match for a shot at the WWE World Heavyweight Championship, his career instantly moved from the midcard to the main event.
Squashing his partnership with former best friend, Cody Rhodes, Damien Sandow chose going for championship gold over friendship. The feud between Rhodes and Sandow should be entertaining and provide both with much deserved career boosts.
Even though Cody Rhodes threw the physical briefcase into the Gulf of Mexico on the most recent edition of SmackDown, it does not take away the fact that Damien Sandow still is the Money in the Bank winner.
Hopefully, Damien Sandow's betrayal of Cody Rhodes at Money in the Bank 2013 will be at the forefront of their feud. Rhodes was on the way to sure victory in the match before Sandow turned on him.
It would be quite a surprise for Damien Sandow to cash in his Money in the Bank contract right now. If he holds onto the contract for an extended period of time, WWE must slowly build Sandow into a believable main event star. This is the only way to make sure that Sandow is not lost in the WWE midcard before he cashes in his contract.
Damien Sandow really needs to win some matches against those higher up the card than he his. Even if his victories come by dubious means, he needs them in order to be taken seriously by the WWE Universe.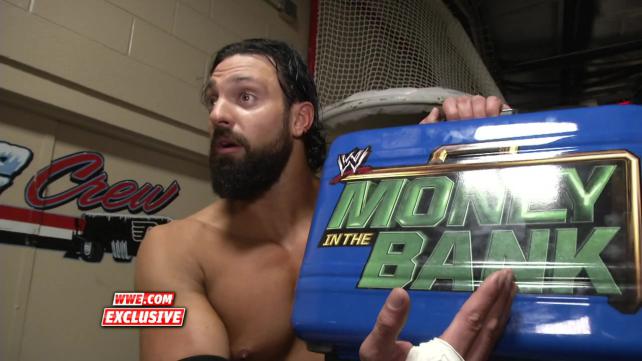 The Money in the Bank contract win does not always need to be at the forefront of Damien Sandow's persona, as it usually seems to be for the winner of it. In an effort to minimize his victory and create an element of surprise, Sandow could leave the briefcase behind during his appearances on television if he gets another one. Even if Sandow does not get another briefcase, it could work to his advantage.
When he finally cashes in the contract, Damien Sandow can talk about how he duped the WWE Universe with his surprise cash-in.
Damien Sandow does not need to continually flaunt his win. Overtime, he can slowly stop discussing it and focus on outsmarting his opponents. It is not the fact he won the match that is important now; it is how WWE builds him into a main event contender.
There will be WWE Superstars who will serve as stepping stones toward making Damien Sandow a legitimate main event superstar worthy of cashing in the Money in the Bank contract. This will definitely have to happen if Sandow does not quickly use the contract.
Who will these superstars be?
Read more from Sean McCallon on the Double Axe Handle Blog

Follow Sean McCallon on Twitter @TheBlueMask246