Manchester City Players to Watch vs. AC Milan in Friendly at Allianz Arena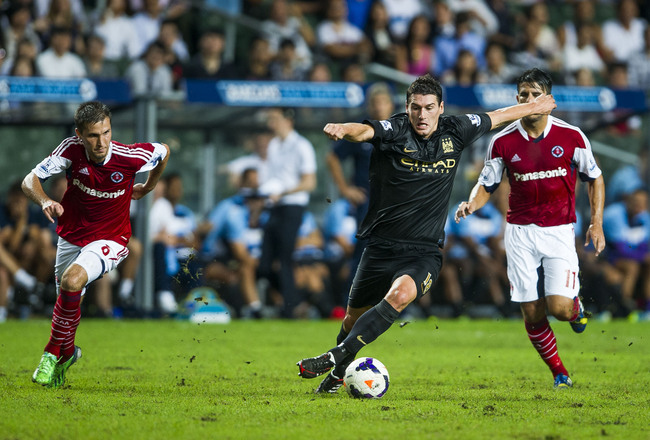 The global cash chase seemingly never ends for Manchester City.
Victor Fraile/Getty Images
Naturally, the story line that will be beaten to within an inch of its life in advance of Manchester City's upcoming friendly against AC Milan will be the renewal of acquaintances with Mario Balotelli.
The possibilities are more or less infinite.
Will Balotelli score a hat trick and reveal a unique t-shirt message from under his team shirt each time?
Will Balotelli be awarded a penalty, thus setting up a mind game with Joe Hart that fairly impersonates the old "immovable force vs. irresistible object" dilemma?
Will Balotelli get a red card in the opening minutes of the match just to show City how much he still loves them?
With apologies, I will pass on that whole line of inquiry. Mario Balotelli has as much relevance to Manchester City these days as Craig Bellamy does.
To me, the real story is the insanity of playing in Hong Kong on Saturday and in Germany on Wednesday. My body clock gets thrown out of whack if "The Mentalist" is shown an hour late.
So, which Sky Blues will shine brightest against former incendiary Citizen Balotelli in the Audi Cup?
Jesus Navas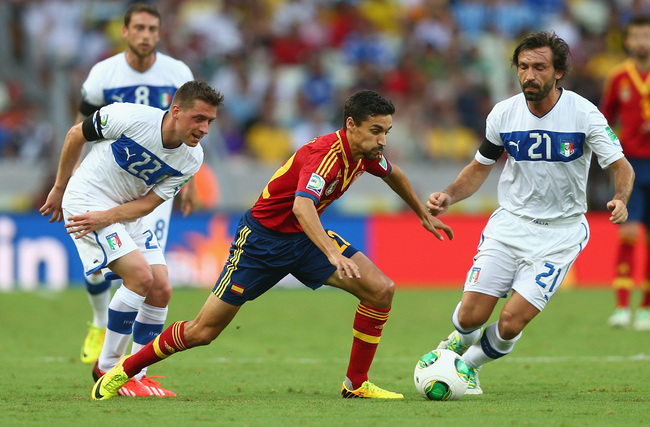 Navas was brought to Manchester for just this sort of test.
Clive Mason/Getty Images
Jesus Navas' arrival at Manchester City was due in no small part to his accrued experience playing in Europe.
New City manager Manuel Pellegrini knew that he could not hope to run his preferred attacking offense with last season's plodding lineup.
Further, Pellegrini looked at his roster and saw a side that had experience winning in the Premier League and losing spectacularly in the Champions League.
Well, this friendly against AC Milan is obviously not a Champions League tie, but it comes as close as City will get to the real thing before that tournament begins this fall.
AC Milan had a poor showing in Serie A last season, but the storied Italian side is of the sort that City will see in Champions League play this year.
Pellegrini should give Navas a lengthy run, to acclimate Navas to his teammates (and vice versa) in a setting and against an opponent that approximates the highest level of play that City has struggled with.
Vincent Kompany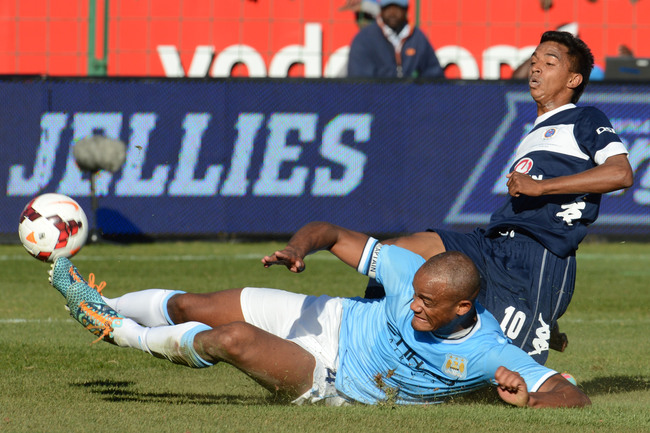 Kompany will need to look lively against Balotelli and his colleagues.
Gallo Images/Getty Images
Mario Balotelli will no doubt fight for many headlines before (and probably after) AC Milan's friendly with Manchester City.
But during the match itself, Balotelli will be grappling in the main with City stopper Vincent Kompany.
Whether Manuel Pellegrini deploys his back line zonally or man marks, in the big moments the Sky Blues will need Kompany to account for and neutralize Balotelli.
You will be able to gauge the quality of Kompany's effort by the noise, or lack of it, generated by Balotelli against his former club.
Sergio Aguero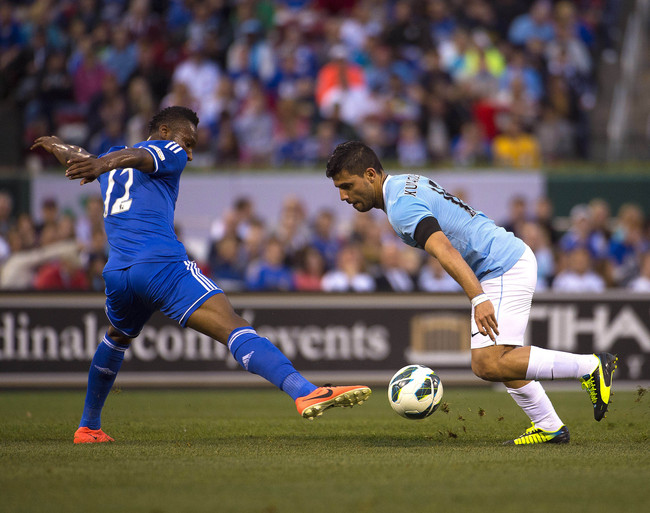 Aguero has seen limited action this preseason.
Scott Rovak-USA TODAY Sports
Manchester City's roster is so packed with big-name talent that occasional absences of star players can go unnoticed.
Sergio Aguero has been basically missing in action for City since May's friendlies with Chelsea in the United States.
Edin Dzeko has benefited the most from Aguero's hiatus; that, and the departure of Carlos Tevez left Dzeko nearly alone to play striker until Stevan Jovetic and Alvaro Negredo showed up.
Regardless, the calendar is quickly turning to August. City needs to get all of their best players up to match speed in time for the opener against Newcastle United.
This friendly with AC Milan would be an excellent place to work Aguero back into form.
Samir Nasri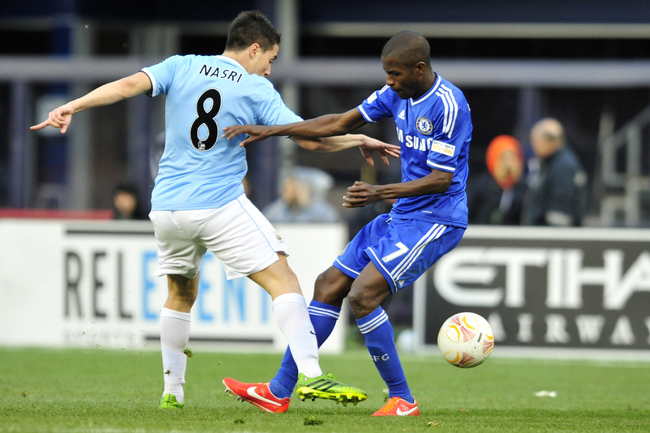 Can Nasri's resurgence continue against AC Milan?
Joe Camporeale-USA TODAY Sports
Many lines of text have been spilled on Manchester City's profligate spending during this summer transfer window.
That is understandable. City brought in four players (Jesus Navas, Fernandinho, Stevan Jovetic and Alvaro Negredo) for upwards of £90 million. Signing two or even one of these players would be huge news for many clubs. City scooped them all.
But City's most pleasant summer surprise may be a player who the club and their fans had seemingly long given up for dead.
Samir Nasri, yes, that Samir Nasri, is back scampering around the pitch, creating havoc and scoring chances. For his own side no less!
Nasri seems to view Manuel Pellegrini's new reign as his opportunity to rewrite his own City story.
If City had known Nasri would try this hard for a new manager, they might have fired Roberto Mancini in January instead of May.
Stevan Jovetic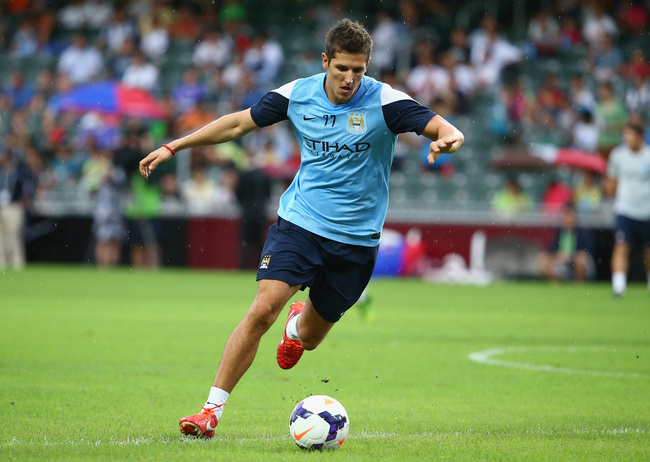 Ex-Fiorentina man Jovetic will view this friendly against AC Milan as old news.
Robert Cianflone/Getty Images
For many of Manchester City's players, this friendly against AC Milan might be viewed as a chance to gain a new sort of match experience against an unfamiliar opponent from another league.
For Stevan Jovetic, though, it will probably feel like just another Wednesday.
Jovetic spent the past few seasons tussling with AC Milan as a member of Fiorentina. As such, Jovetic should not be surprised or concerned with much that this opponent might present.
And while it is true that AC Milan knows Jovetic, too, they only know Jovetic playing for an underwhelming Fiorentina side where he had a disproportionate share of the scoring responsibility.
They certainly never faced Jovetic playing alongside the likes of Sergio Aguero, with the ball being distributed by players the caliber of Jesus Navas, David Silva and Yaya Toure.
For both Jovetic and AC Milan, then, this just-like-old-times friendly is actually going to be a whole new ball game.
Keep Reading

Manchester City: Like this team?