Phoenix Suns and Indiana Pacers Reportedly in Trade Talks Involving Luis Scola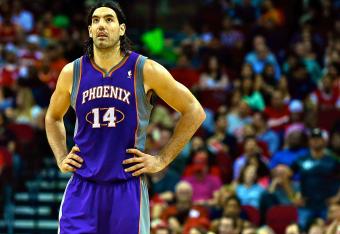 The Indiana Pacers pushed the Miami Heat to seven games in the Eastern Conference Finals by using their massive size advantage, bullying them on the low block and outworking the defending champions' smaller defenders.
Now Indiana is trying to get even bigger.
According to Yahoo! Sports' Adrian Wojnarowski, the Pacers and Phoenix Suns are on the precipice of a deal that will send Luis Scola to Indianapolis:
Phoenix and Indiana are engaged in serious talks about a trade that would send Luis Scola to the Pacers, league sources tell Y! Sports.

— Adrian

Wojnarowski

(@WojYahooNBA) July 27, 2013
UPDATE: Saturday, July 27, by Sam Westmoreland
The deal is officially done, according to the Pacers website.
The Indiana Pacers announced Saturday they have acquired veteran forward/center Luis Scola from the Phoenix Suns in exchange for forward Gerald Green, center Miles Plumlee and a future No. 1 draft pick.

"I'm very, very excited to play for the Pacers," said Scola. "They are one of the top three teams in the NBA with a good shot to win a championship. I think it's a great team and this is a great opportunity. I can't wait."

"Luis will be a very important asset to our team and to our bench," said Pacers President of Basketball Operations Larry Bird. "He has NBA experience, international experience and is the type of player that will fit in nicely on our roster. I want to thank Gerald and Miles for their contributions. They had tough years last season, but worked hard, never complained and contributed to the great chemistry our team had. I think Gerald and Miles will be solid additions in Phoenix and we wish them well."
UPDATE: Saturday, July 27 by Kyle Vassalo
Yahoo!'s Adrian Wojnarowski provides compensation details on the reported trade:
Pacers will trade Miles Plumlee, Gerald Green and 2014 protected 1st round pick to Suns for Luis Scola, sources tell Y! Sports.

— Adrian Wojnarowski (@WojYahooNBA) July 27, 2013
UPDATE: Saturday, July 27, by Sam Westmoreland
According to a report from ESPN's Marc Stein:
Juan Sebastia, who runs Scola's website, tweeted Friday night that a trade to send the Argentine big man to the Pacers would be officially announced Saturday.

Neither team commented in the immediate aftermath of the tweet.
UPDATE: Saturday, July 27, by Kyle Vassalo
ESPN's Marc Stein provides the latest details on trade discussions between the Suns and Pacers:
Early word on this Pacers-Suns deal is that Phoenix will receive Gerald Green and draft considerations in exchange for Indy-bound @LScola4

— Marc Stein (@ESPNSteinLine) July 27, 2013
Specifics on draft compensation still being discussed but initial report on @LScola4 to Indy from @juansebastia had deal being finalized SAT

— Marc Stein (@ESPNSteinLine) July 27, 2013
Original Text
There is no word on the compensation Indiana would send back to Phoenix. Reports out of Argentina, Scola's home country, had pegged Pacers forward Danny Granger as the principal in the deal. However, sources close to the situation have confirmed to ESPN's Marc Stein that Granger will not be a part of any Scola package:
Reports from Argentina that Scola is headed to Pacers have been circulating for last hour, but latest word is Danny Granger is NOT in deal

— Marc Stein (@ESPNSteinLine) July 27, 2013
If the deal is a player-for-player swap, there are only two candidates on the Pacers roster—Ian Mahinmi and Gerald Green. Both players make a similar salary to Scola, and straight-up deals for Mahinmi and Green work under the NBA's collective bargaining agreement.
ESPN's Kevin Pelton noted that Green is the likeliest possibility, as Indiana is unlikely to part with a defensive-minded big like Mahinmi.
Scola came over to Phoenix via an amnesty waiver claim last summer. The 33-year-old Argentinian played in all 82 games (67 starts), and finished with averages of 12.8 points and 6.6 rebounds per game. He spent his first five NBA seasons with the Houston Rockets, and he was a two-time Spanish League MVP before coming over to the United States in 2007.
An offensively versatile big with the ability to stretch out and shoot mid-range jumpers, Scola would give the Pacers offense some much-needed spacing help. The Suns were over four points per 100 possessions better with Scola on the floor than off last season. He also shot 45.7 percent on shots classified as being in the mid-range, according to NBA.com.
Wojnarowski says the Pacers have been enamored with landing Scola for weeks: "Indiana has been pursuing Scola for several weeks, and close to landing him, sources tell Y! Sports."
Scola would likely fit in as the team's first big off the bench, likely as David West's primary backup. West re-signed with the Pacers this summer, but at age 32, he could probably use a decrease in minutes over the life of his contract. Though not as physically imposing as West in the post or on the defensive side, Scola's ability to stretch the defense makes him a natural offensive fit.
Scola would represent the latest upgrade to a vastly improved Indiana bench. The Pacers, whose bench finished second worst in scoring last season, have already added sharpshooter Chris Copeland and point guard C.J. Watson to the fold this summer.
Scola is under contract for the next two seasons, making $4.5 million in 2013-14 and $4.8 million the following season. The final year of that deal is unguaranteed, meaning Indiana or another team can waive him without penalty after this season.
Neither the Pacers nor the Suns have released a statement on the potential deal at this time.
Follow Tyler Conway on Twitter:
This article is
What is the duplicate article?
Why is this article offensive?
Where is this article plagiarized from?
Why is this article poorly edited?