Charlotte Bobcats: Previewing the 2013-14 Starting Lineup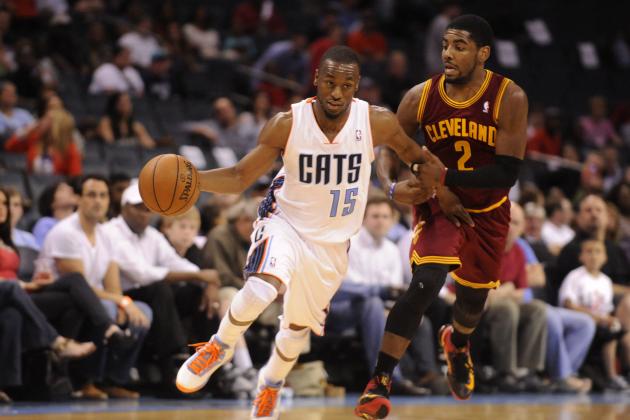 Sam Sharpe-USA TODAY Sports

The last pieces are falling into place for the final season of the Charlotte Bobcats, before the Hornets name returns in 2014.
After what seemed to be fairly contentious contract talks with the Bobcats, Gerald Henderson has agreed to a three-year, $18 million contract extension, with the third year being a player option.
This marks what will almost certainly be the final Bobcats signing that will have an impact on the starting lineup.
The Bobcats have been exceptionally busy this offseason, completely revamping their frontcourt by signing Al Jefferson to play center and drafting Cody Zeller to play power forward. They also decided to withhold their qualifying offer on Byron Mullens, making him a free agent and now a Clipper, and they amnestied the long-time thorn in the foot, Tyrus Thomas.
Keeping Gerald Henderson was a major priority for this team this offseason. They extended him his qualifying offer of just over $4 million, and after long talks and significant speculation, the two sides agreed to an extension. The news that both the team and Hendo decided to extend his time in Charlotte is good news for the team and for the fans.
With the starting lineup now set, let's take a look at what we should expect from the starting five of Charlotte's final season as the Bobcats.
Begin Slideshow

»
Kemba Walker is entering his third year of professional basketball with the Charlotte Bobcats, and he looks to continue improving as much as he did between his rookie and sophomore seasons with the 'Cats.
Kemba entered the league as the ninth overall pick in 2011 after leading UConn to a NCAA National Championship. Ever since breaking onto the scene with that championship run, Kemba has been viewed as one of the most electric point guards in basketball, known for his excellent footwork, ball handling skills and speed, all of which he combines to blow past competition while streaking into the lane.
A "score-first" point guard, Kemba played his first season more like a shooting guard than a PG, but showed potential as a playmaker for others. He proved that he's capable of playing the point last season when he became one of the most improved players in the NBA, both in terms of efficiency whilst scoring, creating plays for others and even on defense, where Kemba broke the Bobcats' single season record for most steals.
It's a good thing Kemba proved he's capable of being a true PG, too. Generously listed at 6'1" with shoes (and likely on tippy-toes), Kemba is far too undersized to play as a long-term shooting guard.
With a shiny new frontcourt between Cody Zeller and Al Jefferson, Kemba will be able to open up a whole new playbook as a passer. Never before has he had consistent, legitimate pick-and-roll/pick-and-pop big men to pass to. His style of dribble penetration basketball will also lead to more inside buckets and more open long-distance shots both for himself and the others on the team who will take advantage of having more scorers on the court.
Kemba might see a small dip in scoring next season due to the talent around him and the fact that he's likely going to look to pass the ball more. As a result, expect for his scoring efficiency to continue to climb along with his assist numbers.
Projected Stats: 16.4 PPG, 7.6 APG, 3.0 RPG, 1.9 SPG, .458 FG%, .333 3P%
The fact that the Charlotte Bobcats decided to retain Henderson for at least two years, and as many as three is good news, and it should be met with a sigh of relief by Charlotte fans.
Many believed that Jeffery Taylor, who averaged over 20 points per game during his time in the Las Vegas Summer League this year could take over for Henderson as the starting shooting guard, but it's hard for me to believe that Taylor would put up the numbers Henderson will.
Taylor's going to be great coming off the bench as a back-up shooting guard/small forward, but Henderson should be considered this team's best option at the 2 for the foreseeable future.
Henderson is only 25, and entering his fifth year with the Bobcats. He is the longest tenured player on this team, and has improved steadily every single year, becoming better in certain facets of his game every season. Henderson managed to raise his three-point shooting all the way from 23.4 percent in 2011-12 to a very respectable 33 percent in 2012-13, a solid 10 point jump.
He's also improved as a playmaker for others, making acrobatic passes on the wing and in dribble penetration. He has also improved his ball-handling skills, and remains as athletic as always.
He also plays great team defense and is capable of playing up to a small forward, even though he's only 6'5". With the lack of offensive talent in last season's frontcourt, Henderson was even the best post player on the team.
Henderson might not see a huge bump statistically this season due primarily to the fact that there are going to be several other players on the floor at any given time who can score effectively, something Henderson has never really had as a starter with Charlotte. That being said, he'll have way more open looks, should be able to score even more efficiently than he has up to this point in his career and continue to improve his game, proving his three-year, $18 million dollar contract might have ended up being a bargain.
Projected Stats: 16.2 PPG, 4.4 RPG, 2.6 APG, 1.1 SPG, .469 FG%, .348 3P%
The youngest player in the NBA last season is now entering his second season as an NBA player after spending an entire summer working to improve his game—especially his jump shot.
Michael Kidd-Gilchrist proved to be the super-athletic, highly efficient finisher and big-time defender that everyone projected him to be in the NBA last year. Unfortunately, that didn't lead to many points—9.0 to be exact.
This wasn't all MKG's fault, especially considering, yes, the power forward and center positions. At 6'7" and with a 7'1" wingspan, MKG was often viewed as the big man on the court for the Bobcats, and was asked to play up to the PF. The majority of his points came in transition and by cutting to the basket and/or finishing up close.
His jumper was a mess. The now-infamous right arm hitch that makes his jumper incredibly slow to release and inaccurate made MKG a very predictable offensive player. In the big games that he had, he showed that when he was hitting his jumper he's capable of letting his athleticism do the rest of the work and can be a capable scorer and a very good rebounder.
During the Summer League, MKG didn't blow anyone away with stats. He only averaged just over 10 points per game, which most would view as a massive disappointment. But if you watched closely, you would see an entirely different story.
MKG has clearly worked on—and improved—the accuracy of his jumper. It's still ugly looking, but he gets it off slightly quicker and he was hitting it in the Summer League very efficiently. He shot over 54 percent from the court during the Summer League, and almost all of that shooting came from jump shots, as opposed to the athletic cuts and finishes that he's known for.
MKG doesn't look like he'll ever be an elite scorer, but with his length, athleticism, improved jumper and the ever-important fact that more offensive players will be on the floor, he will certainly look to improve. He'll also be a nightmare to match up against defensively.
Projected Stats: 12.8 PPG, 7.7 RPG, 2.3 APG, 1.3 SPG, 1.2 BPG, .502 FG%
Depending on who you asked on draft night, Cody Zeller was either the most hated pick, or an incredibly smart pick by GM Rich Cho and company. He polarized the fanbase, leading many to boo his pick at the infamous draft party hosted by the Bobcats.
Now the only questions being asked are whether or not he was the first or second best rookie in the Summer League, and whether or not his high-level production in Las Vegas will transfer to the regular season.
My bet? Well, I'm a little biased. I loved the Zeller pick from the beginning, and was annoyed by the perception that many fans had of him. A tall white guy, has to be a poor athlete who can't jump, right?
Well, if that's the case, he sure proves to be an exception to the rule that white men can't jump. After blowing away combine records in Chicago this year, Zeller's athleticism translated unbelievably well into the Summer League, where he averaged 16.3 points and 9.2 rebounds per game on 52 percent shooting from the floor. He showed off his vast array of offensive skills, scoring in the post in a variety of ways with his back to and away from the basket, scoring in transition and showcasing the jumper that he never got to show off in Indiana.
Zeller looked like the real deal in Las Vegas, and the 7-foot power forward showed everyone that he does have the strength to play in the NBA.
There are always the arguments that it was "just the Summer League," but that can even be turned around. Sure, he didn't go up against the best players in the NBA, but he went up against the best young men and guys who were scrapping harder than ever to get a job, making the physicality a very real obstacle in Vegas—which Zeller hopped over easily.
A true stretch-four, he provides the offense with great skill at the post and in the mid-range, while being able to play above the rim and bring down rebounds. He's also an excellent team defender, an elite athlete and he can run the floor as hard as any guard in the NBA. He's going to be very exciting to watch this season, and should be considered a top Rookie of the Year candidate.
The LaMarcus Aldridge comparisons are looking like a real possibility for The Big Handsome.
Projected Stats: 16.1 PPG, 8.0 RPG, 2.6 APG, 1.3 BPG, 1.4 SPG, .499 FG%
Big Al Jefferson is the most talented, biggest name that the Bobcats have ever added in free agency. Signed to a three-year, $41 million contract (with a player option on the third year), Jefferson represents both the most talented and most expensive free agent in franchise history,
He also represents hope for the future. At 28 years old, Jefferson still has several years of prime basketball in him. He's the guy you think of when you hear "post offense." His moves back to the basket and facing up in the post are second to none.
Not since the days of Emeka Okafor have the Bobcats had a low post scorer capable of averaging a double-double in points and rebounds per game, and even Okafor lacked the ability to be a major impact offensively. Big Al is the type of big who is able to take over a game on offense and drop 30 or more points, while hauling in more than his fair share of rebounds.
There's a sense around the basketball world that the Bobcats overpaid for Jefferson, but I really don't understand that. At under $14 million per year, Jefferson represents a high scoring double-double machine who comes at a bargain compared to other bigs like a particular Houston Rockets center who has caused drama for every team he's been with.
Jefferson may not have the defensive prowess of Dwight Howard, but he'll be able to match him and even one-up him on offense. Howard lacks the ability to play away from the basket, while Jefferson has proven to be valuable in pick-and-rolls and pick-and-pop plays. Oh, and he also hits his free throws.
Further, Jefferson wanted to be in Charlotte, which is surprising for most. Most free agents are chasing a ring, and while the market for Big Al would have heated up after D12's signing, he decided to sign before Howard to a team that will be lucky to hit 30 wins this season.
He's a powerhouse on offense, and a great complement to the rest of this team. He's going to be able to help the young bigs on this roster learn a few new tricks on the court, and he's a shining example of what a player should act like off of the court. This was a phenomenal signing for Charlotte.
Projected Stats: 18.2 PPG, 10.1 RPG, 2.0 APG, 1.6 BPG, .510 FG%