5 Jerseys Every New York Rangers Fan Wishes They Owned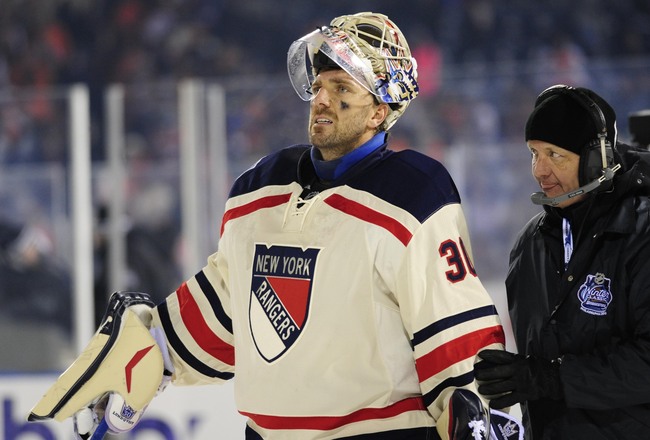 Dale Zanine-USA TODAY Sports
Every real New York Rangers fan needs a sick jersey to complement their wardrobe.
Because of the franchise's rich history, there are plenty of options to choose from.
A fan could choose a current player, or perhaps a player from the past.
Either way, there are five jerseys that every Rangers fan wishes they could own.
Does your wardrobe stack up? Read on to find out.
Henrik Lundqvist Winter Classic Jersey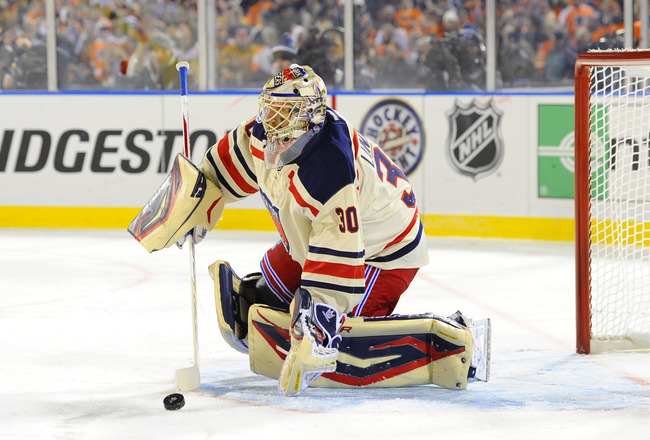 Dale Zanine-USA TODAY Sports
Henrik Lundqvist is one of the best goaltenders in Rangers history.
He trails only Mike Richter in career wins and needs just five more shutouts to become the Rangers' all-time leader. His 2.25 career goals-against average is better than both Richter and Eddie Giacomin.
Quite simply, Lundqvist will one day see his jersey retired to the rafters.
That means that any self-respecting Rangers fan needs a Lundqvist sweater. While you're at it, you might as well get the Winter Classic version.
Besides looking awesome, Lundqvist was spectacular in that game against the Philadelphia Flyers. He had 34 saves, including stopping Danny Briere on a penalty shot with just 19.6 seconds left in the game. Had Briere scored, the game would have gone into overtime.
So grab the Lundqvist Winter Classic jersey. It looks great, and it represents one of the better performances of Lundqvist's career.
Mark Messier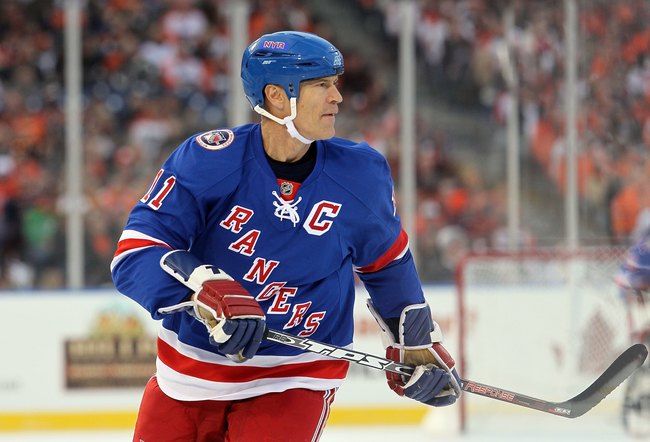 Jim McIsaac/Getty Images
Mark Messier is the ultimate Ranger. He led the Rangers to a Stanley Cup victory in 1994, and is still considered as the best captain in team history.
Messier scored 250 goals with the team, including some of the biggest goals in Rangers history. His fearless play and captivating leadership makes him one of the most beloved Rangers ever.
If you're going to buy a jersey of a former player, you cannot go wrong with Messier.
While he's no longer with the organization, perhaps leaving because he was not hired as the new head coach, it does not tarnish his legacy as one of the greats.
The Cup victory in 1994 is probably the best moment in Rangers history. They broke a 40-year drought and did it on home ice.
That win does not happen without Messier. He guaranteed victory in the Eastern Conference Finals with the Rangers facing elimination and scored a hat trick to back it up. He scored the Cup-clinching goal as well.
Messier is one of those rare players whose words match his deeds. If you buy a Messier jersey, no one will bat an eye. Instead, they'll nod their head in respect, realizing just how important Messier was to the franchise.
Rod Gilbert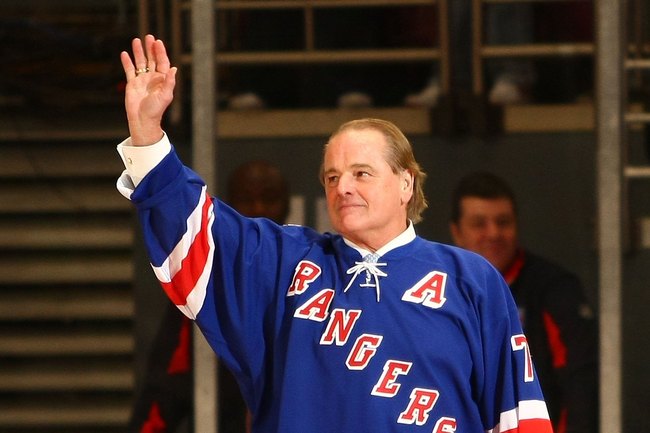 Chris McGrath/Getty Images
Many younger fans might not know Rod Gilbert, but he is one of the best Rangers of all time.
A member of the Hockey Hall of Fame, Gilbert scored 406 goals and had 1,021 points with the Rangers, both of which lead their respective categories in Rangers history.
He was a part of the famed "GAG" line, or Goal-a-Game line, which also featured Vic Hadfield and Jean Ratelle. This was, without a doubt, the best line in Rangers history.
Wearing his jersey honors that history. Gilbert's number is retired in the rafters.
Going old-school with Gilbert's jersey is a must for every serious Rangers fan.
Brian Leetch Statue of Liberty Jersey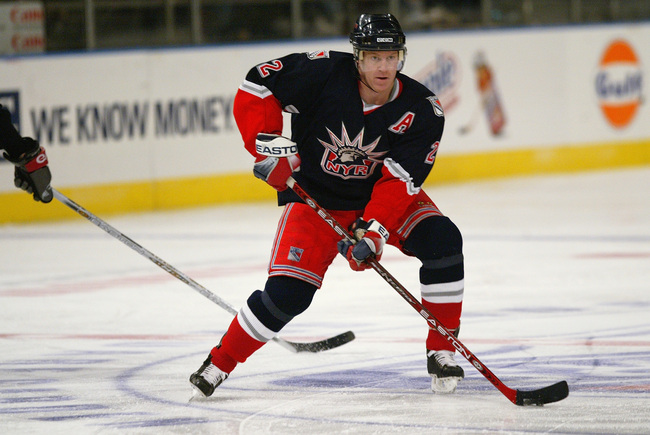 Ezra Shaw/Getty Images
Brian Leetch is the best defenseman in Rangers history, winning the Calder Trophy in 1989 and the Conn Smythe trophy in 1994.
He scored 240 goals with the Rangers, and has the second-most points of all time. He's played 1,129 games with the Rangers, the second-most of all time.
Leetch is a Rangers legend, and any serious fan needs his sweater. If you're going to get it, you might as well purchase the "Statue of Liberty" version. While no longer in use, this famous third jersey is a fan favorite.
It looks cool, too. Not only does it honor Rangers history, but it honors New York history as well. It's a necessity for every fan's collection.
Ryan Callahan Heritage Jersey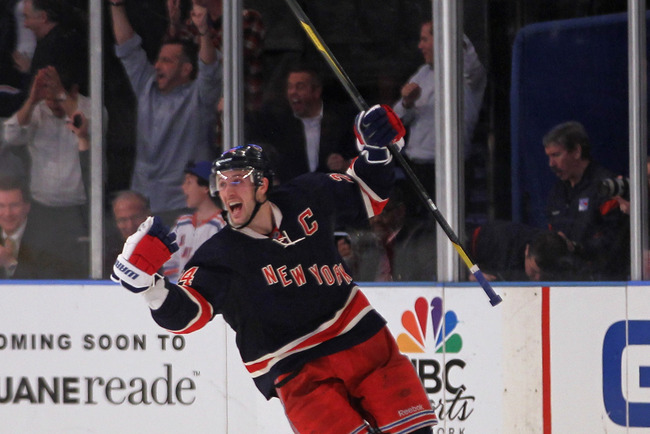 Bruce Bennett/Getty Images
Ryan Callahan is the heart and soul of the current Rangers roster. The captain has scored 121 goals with the team and is the embodiment of grit. He is unafraid to put his body in danger to block a shot, and his effort and hustle makes him a fan favorite.
Other than Lundqvist, Callahan is the most important player on this team. He is an impeccable leader and a candidate to be the captain of the U.S. Olympic team.
The "Heritage" jersey, which debuted in 2010, is meant to honor the history of the team. Rolled out in the 85th-anniversary season, the sweater is meant to meld the past with the present, which is exactly what Callahan represents. His style of play is in the mold of Mark Messier and he can already be considered one of the best captains in Rangers history. In addition, he is the player that will help lead the team to the next Stanley Cup victory.
A Callahan "Heritage" jersey is the perfect option for a smart Rangers fan. It not only honors the past, but looks into the future too.
Keep Reading

New York Rangers: Like this team?