The vast majority of major free-agent action may be behind us as the NHL offseason action slows to a crawl, but for players such as Ilya Bryzgalov and Mikhail Grabovski, uncertainty still remains about where they'll be playing hockey next season.
Bryzgalov struggled in Philadelphia last season, registering his highest goals-against average since 2008-09 with a 2.79 mark. However, his experience and level of play would still make him a good choice for a team looking to add a veteran netminder for depth.
Grabovski is another free agent looking to sign somewhere after a disappointing season last year. The former 29-goal scorer put up just 16 points for the Maple Leafs last season in the lockout-shortened season.
Here's the latest on where they could be headed, along with some other tidbits from around the league.
Bryzgalov KHL Bound?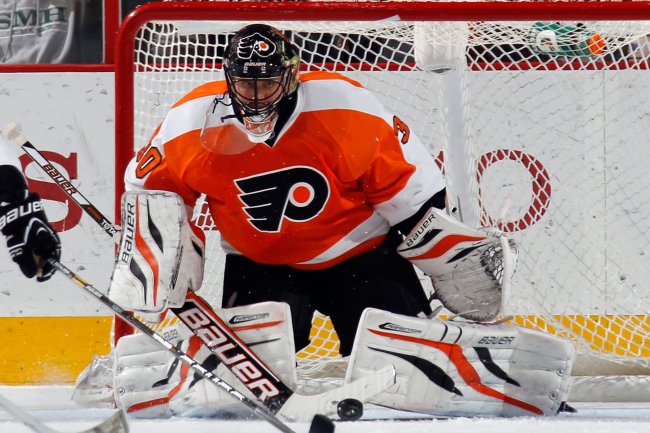 Bruce Bennett/Getty Images
Free agency hasn't been as kind to Ilya Bryzgalov as he had originally planned. According to Frank Seravalli of Philly.com, Bryzgalov has yet to receive an NHL offer despite his agent bragging that there were "half a dozen" teams that would welcome him with open arms.
Now it appears that he might be KHL bound as the league's expansion team, the Vladivostok Admirals, may have offered him a contract.
According to Seravalli's report, Russian sports site Sports-Express confirmed that an offer was made for the 33-year-old Russian goaltender.
However, Dmitry Chesnokov of Yahoo! Sports insists that report has been mistranslated and no offer was made:
Bryzgalov did NOT receive offers from Mogilny and Admiral Vladivostok in the #KHL.

— Dmitry Chesnokov (@dchesnokov) July 26, 2013
The situation is obviously a complicated one with the language barrier presenting some unique challenges. However, the fact that Bryzgalov's free agency has come to whether an expansion franchise in the KHL has made him an offer is a sign of how poorly things are going for the goalie.
Grabovski Down to Three Teams—Winnipeg Jets Not One of Them
As noted in the opening paragraphs, Grabovski didn't fare well in his last season with the Toronto Maple Leafs, but he's still one of the better offensive players available.
Unfortunately, the scoring-needy Jets won't be one of the teams in the running for his services.
According to Craig Custance of ESPN, there are three teams interested in acquiring the center, although a decision isn't expected to be reached until August:
Spoke w/Gary Greenstin, agent for Mikhail Grabovski. Said three teams "very interested" in UFA center. Not expecting decision until August.

— Craig Custance (@CraigCustance) July 22, 2013
However, TSN has reported that the Jets aren't one of the teams in the running despite early reports that they would be interested.
So the three teams that actually are interested in the 29-year-old remain a mystery, but we know Grabovski won't be donning a Jets uniform next season.
Cody Franson Might be Next to Go in Toronto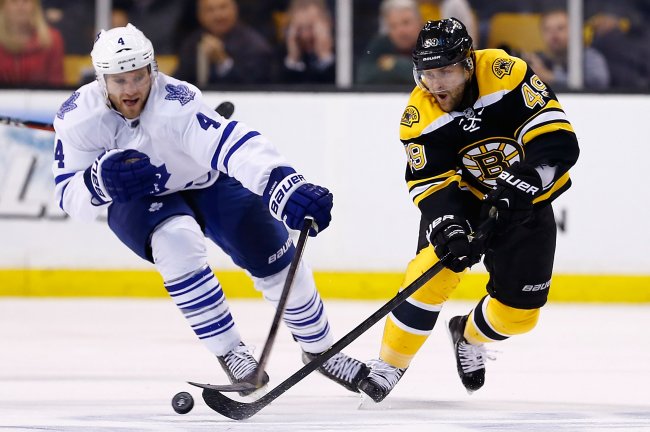 Jared Wickerham/Getty Images
Speaking of exiled Maple Leafs, Cody Franson may be the latest to leave Toronto this offseason.
According to Darren Dreger of TSN, the Leafs would love to keep the 25-year-old defenseman, but they will likely look to deal him in the face of salary cap restraints:

Franson trade speculation will heat up. Leafs would like to keep him, but $$ is too much. Prospect and draft pick fair return?

— Darren Dreger (@DarrenDreger) July 26, 2013
As Brian Stubits of CBS Sports points out, the Maple Leafs have just $6 million to sign restricted free agents Franson, Nazem Kadri and Mark Fraser.
Should the Maple Leafs put Franson on the market, there shouldn't be a shortage of buyers. He's young (he'll be 26 when the season starts), experienced (in his fifth NHL season now) and skilled with the puck (25 assists last season).
A Franson deal would certainly add some surprise in what has become a dull period for the NHL offseason.