UFC on Fox 8 Results: Questions Heading into UFC 163 Jose Aldo vs. Korean Zombie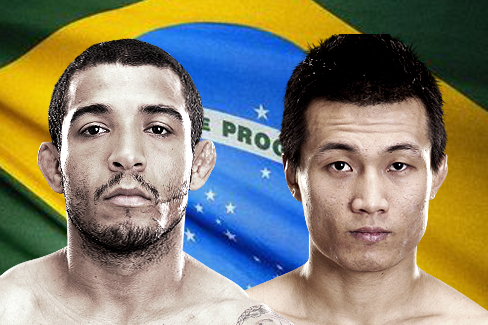 UFC on Fox 8 is in the books and the full results are below:
UFC on Fox 8 Results:
Demetrious Johnson defeats John Moraga via submission at 3:43 of Round 5
Rory MacDonald defeats Jake Ellenberger via unanimous decision (30-27, 29-28, 30-27)
Robbie Lawler defeats Bobby Voelker via knockout at 0:24 of Round 2
Liz Carmouche defeats Jessica Andrade via TKO at 3:57 of Round 2
Jorge Masvidal defeats Michael Chiesa via submission at 4:59 of Round 2
Danny Castillo defeats Tim Means via decision via unanimous decision (29-28 x 3)
Melvin Guillard defeats Mac Danzig via knockout at 2:47 of Round 2
Daron Cruickshank defeats Yves Edwards via split decision (30-27, 27-30, 30-27)
Ed Herman defeats Trevor Smith via split decision (30-27, 27-30, 29-28)
Germaine de Randamie defeats Julie Kedzie via split decision (30-27, 28-29, 29-28)
Justin Salas defeats Aaron Riley via split decision (29-28, 28-29, 29-28)
Yaotzin Meza defeats John Albert via submission at 2:49 of Round 2
Now that the Seattle card has wrapped up, the UFC will be off to Brazil's for next week's UFC 163 pay-per-view card. That event will be headlined by a featherweight title bout between champion Jose Aldo and challenger Chan Sung Jung. What follows are questions we have heading into the August 3 event.
Begin Slideshow

»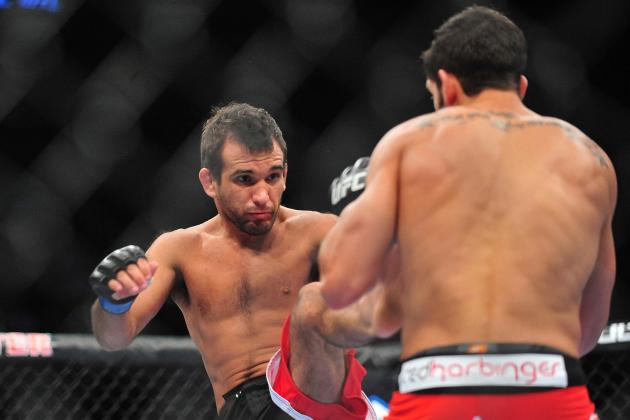 Gary A. Vasquez-USA TODAY Sports

Rani Yahya has been with the WEC/UFC since June 2007, putting together a record of 7-4 during that time. When the UFC heads to Brazil for UFC 163, Yahya will fight on the Facebook preliminary card, a clear sign that the UFC doesn't quite know what to do with the featherweight fighter at this point in his career.
You would think that a fighter with as much tenure as Yahya has would, at the very least, fight in a televised bout, but nope, there he is, buried on the Facebook card next to fighters making their UFC debuts or coming off losses.
Yahya has two consecutive wins in the featherweight division, and of his four fights at 145 pounds, his only loss was an August 2011 unanimous decision defeat to No. 1-ranked featherweight contender Chad Mendes.
The low placement on the card doesn't indicate that Yahya's job is in jeopardy with the promotion, but I would suspect that they want to see a little more from the veteran fighter. A return to the form that won Yahya three consecutive "Submission of the Night" awards with the WEC between 2008 and 2009 would be a nice start.
Gary A. Vasquez-USA TODAY Sports

Ian McCall's UFC career began in an odd manner.
The former Tachi Palace flyweight champion was one of the four fighters hand picked to participate in the tournament that would crown the UFC's inaugural flyweight champion. At the culmination of his first bout in the UFC, McCall came out on the losing end of a majority decision to Demetrious Johnson. However, at the post-fight press conference it was revealed that a tabulation error had occurred, and the correct result of the fight was actually a majority draw.
That result earned McCall a rematch with Johnson, a rematch that resulted in a unanimous decision win for Johnson. In his next outing, McCall was defeated by Joseph Benavidez.
In less than one year, McCall has gone from 4-0 champion to 0-2-1 fighter opening the FX portion of a UFC pay-per-view fight card.
McCall may be the No. 3-ranked flyweight in the UFC, but a third consecutive loss will most assuredly see him take a tumble in the post UFC on Fox 8 rankings.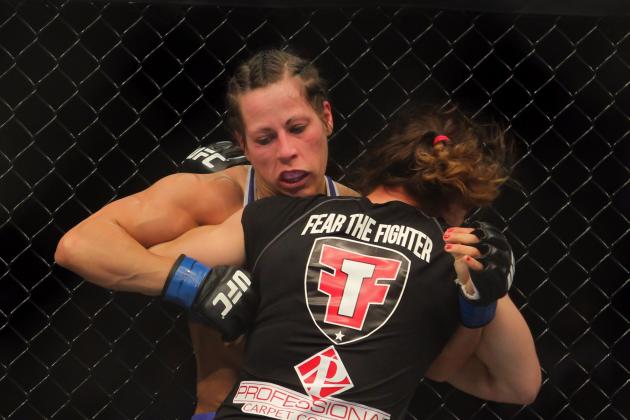 Brad Penner-USA TODAY Sports

Sheila Gaff's UFC debut did not last long. Sara McMann stopped the German fighter via TKO at the 4:06 mark of the first round during their April meeting. There's little doubt that Octagon jitters played a role in Gaff's performance in that bout. At UFC 163 the tables will be turned, as Gaff welcomes Amanda Nunes to the UFC.
Nunes is ranked higher than Gaff in the women's bantamweight division, coming in at No. 7 to Gaff's No. 9, but as we have seen in the past, fighting in the biggest stage in the sport can sometimes cause fighters to fight below their ability.
When Gaff steps into the Octagon in Brazil, the pressure will be on her to show that the fighter we saw at UFC 159 was not the real Sheila Gaff.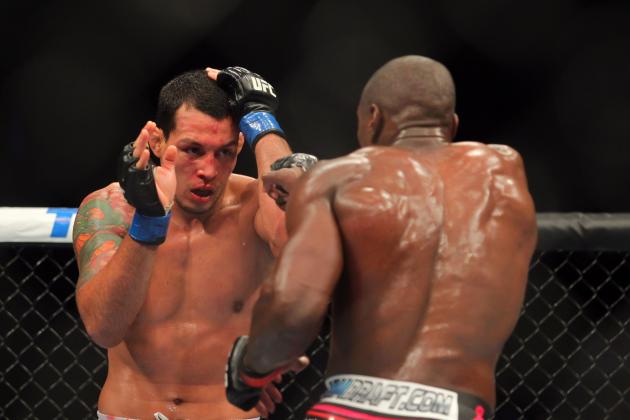 Brad Penner-USA TODAY Sports

Vinny Magalhaes' first stint with the UFC lasted two fights, both losses. After going 7-1 outside the promotion, he was brought back in 2012. Magalhaes won his return bout, submitting Igor Pokrajac at UFC 152. His next bout didn't go as well. Magalhaes was on the losing end of a unanimous decision in that one, watching as Phil Davis had his hand raised in victory.
Magalhaes will face Anthony Perosh at UFC 163, and he is fully expecting to win this fight. Just how confident is Magalhaes? Confident enough to tell Fight! Magazine that if he losses to Perosh, he deserves to be cut from the organization.
With those words, Magalhaes has upped the pressure on himself considerably. If Perosh does pull of the victory, Magalhaes would do well to avoid Joe Silva when he makes his way into the Octagon after the fight.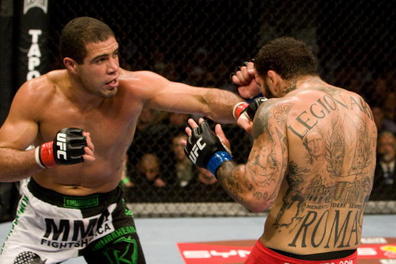 Josh Hedges/Zuffa LLC via Getty Images
Between November 2006 and August 2009, Thales Leites fought eight times for the UFC. During that span, he put together a 5-3 record. Leites was 5-1 heading into his past two bouts during that run and found himself released from the promotion after losing to then-UFC middleweight champion Anderson Silva and Alessio Sakara.
Since then, Leites has gone 6-1 with smaller promotions, winning four of those fights by submission.
Leites is returning to the UFC at the right time. The UFC middleweight division has a lot of moving parts right now, and a convincing win over Tom Watson may launch Leites right up the rankings.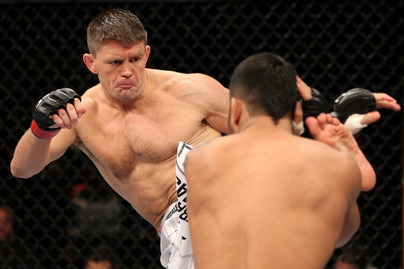 Josh Hedges/Zuffa LLC/Zuffa LLC via Getty Images
Some eyebrows were raised recently when UFC middleweight Tom Watson told Fight! Magazine, "I believe I'm the most exciting fighter in MMA, maybe in combat sports."
Watson has two UFC fights to his name, both preliminary card bouts. Watson lost his UFC debut but rebounded with a double bonus winner in his next fight, taking home "Knockout of the Night" and "Fight of the Night" honors. At UFC 163, Watson will graduate to the main card, meeting Thales Leites.
Watson's set the bar pretty high, as far as expectations of his performance go, now he'll have to live up to them. If he fails to deliver anything less than a spectacular decision, expect his countryman Michael Bisping to take notice and let Watson know about it.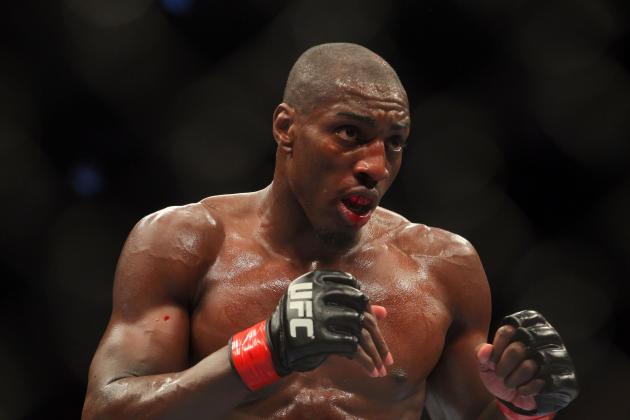 Brad Penner-USA TODAY Sports

The last time Phil Davis had the opportunity to leap up the UFC light heavyweight rankings, he was on the losing end of a unanimous decision to Rashad Evans. Davis, coming off two consecutive victories, is once again facing a huge opportunity to make a statement when he faces top-ranked Lyoto Machida at UFC 163.
Patience is the key in this fight. If Davis can avoid rushing in, and focus on the fight more than putting on a show, he has a chance. If he happens to become restless and rushes in, odds are good that he will get to see what the ceiling of the HSBC Arena in Rio looks like.
A win over Machida and Davis is in the conversation for the next title shot. If Davis loses, it's likely that he'll be stuck in that no man's land of UFC gatekeeper.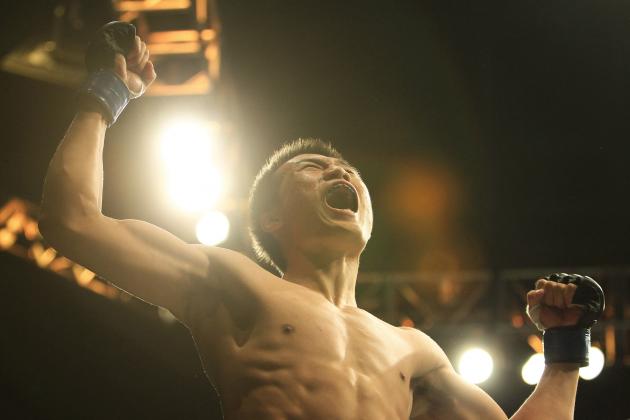 Tom Szczerbowski-USA TODAY Sports

We know that Chan Sung Jung is not going to shy away from the striking of UFC featherweight champion Jose Aldo. After all, he didn't pick up the nickname "The Korean Zombie" because of his affinity for zombie flicks. He was given that moniker because he can take a huge amount of punishment and still have the ability to keep going forward.
That's all well and good, but taking a beating and defeating one of the most devastating strikers in the UFC today are two completely different animals.
Current odds (via Bovada) have Aldo at -800 to Jung's +500. As a percentage, that gives Aldo an 88.89 percent chance of retaining his title.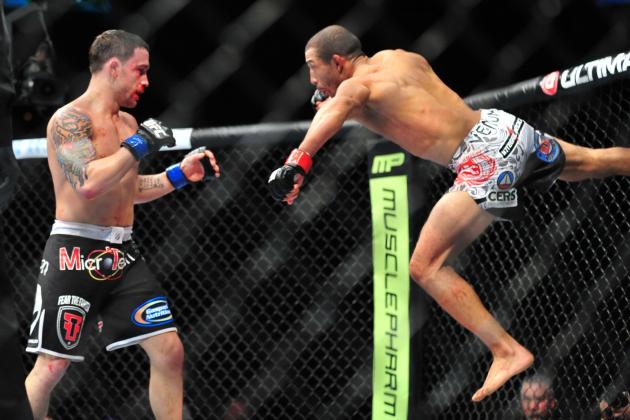 Gary A. Vasquez-USA TODAY Sports

Jose Aldo is currently the No. 4 fighter in the UFC's pound-for-pound rankings. The fighter who resides directly above him, Anderson Silva, had been ranked at the top of that list until his knockout loss to Chris Weidman at UFC 162. Aldo did not move up in the rankings after Silva's defeat, but light heavyweight champion Jon Jones and welterweight champion Georges St-Pierre did, leapfrogging over the supine body of Silva.
Can Aldo deliver a performance that will move him one rung up the ladder, passing Silva in the rankings?
Aldo has all the skills to do so. He's a devastating striker with speed to spare and the ability to place his strikes with deadly accuracy.
The table is set for Aldo to solidify his grip on the featherweight title and to also make a move in the pound-for-pound rankings.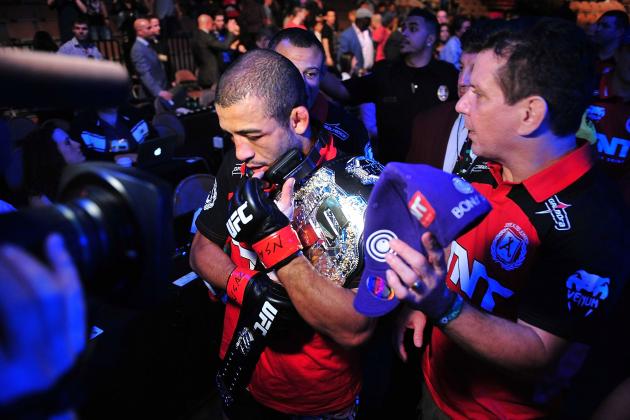 Gary A. Vasquez-USA TODAY Sports

This is the (more than million) dollar question. The past three UFC cards that have taken place in Brazil were not pay-per-view cards. Instead, these cards were shown on Fuel and FX. As such, fans could tune in without going out of pocket to see cards that were loaded with Brazilian fighters who may not have been all that familiar to them.
UFC 163 is not a free card. After you get past the main event between Jose Aldo and Chan Sung Jung, and the co-main event between Lyoto Machida and Phil Davis, there may be some question as to who some of these fighters are. That question may make it difficult for some fans to generate enough interest in the event to justify investing in the pay-per-view.
Also hurting the UFC's chances of a solid buyrate is the fact that between August 3 and September 4 there will be three fight cards broadcast gratis on Fox Sports 1. Oh, and there is also a pay-per-view thrown in there as well that has a bit more name recognition to it.
This one is going to be a tough sell.