Tyson Gay Reportedly Failed Multiple Drug Tests This Year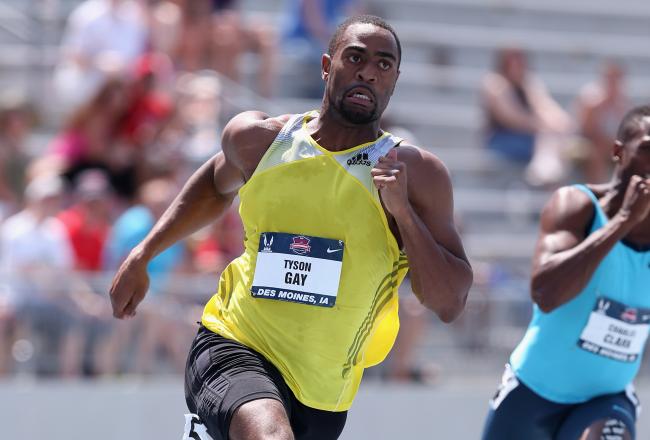 Andy Lyons/Getty Images
Olympic sprinter Tyson Gay's fall from grace continues, with reports that the American sprinting champion failed not one but multiple drug tests this year, according to ESPN.
UPDATE: Saturday, July 27, by Sam Westmoreland
According to a report from Sky Sports:
American sprinter Tyson Gay's 'B' sample from an out-of-competition drug test on 16 May has been confirmed positive for a banned substance.

And the Associated Press reports that Gay has failed more than one drug test this year, one of his positives coming at the US Championships in June, where he won both the 100 and 200m.

The US Anti-Doping Agency's chief executive Travis Tygart has confirmed that Gay has returned a second positive test, though he did not specify where that test was taken.

Regarding the May test, Tygart said: "We can confirm that the 'B' sample analysis of a sample collected from Mr Gay has been completed and that the 'B' sample analysis has confirmed the 'A' sample findings.

"The results of these tests were expected given Mr Gay's acceptance of responsibility for the substances found in his body as soon as he was notified of the 'A' sample results."
One of Gay's positive tests came at the 2013 U.S. Championships back in June, where the 30-year-old won both the 100- and 200-meter events.
As a result, Gay could face a two-year ban, which is the standard penalty for a first-time offender. Cooperation with the U.S. Anti-Doping Agency could result in a reduced penalty, however.
Gay made news earlier this month when he had tested positive for a banned substance in a test taken in mid-May. That test was said to be an out-of-competition test administered ahead of the 2013 National Championships.
The veteran sprinter has since acknowledged the positive test, but according to Gay, the positive test was a result of trusting someone he shouldn't have, per ESPN:
I don't have a sabotage story. I don't have any lies. I don't have anything to say to make this seem like it was a mistake or it was on USADA's hands, someone playing games. I don't have any of those stories. I basically put my trust in someone and I was let down.
Earlier this month, not long after the positive tests were revealed, Gay announced that he would not be competing at the World Championships in Moscow as a result of the failed test. Shortly after the tainted results were made public, Adidas suspended its sponsorship of Gay.
A native of Lexington, Ky., Gay represented the United States at both the 2008 and 2012 Olympic Games. He failed to medal in Beijing in 2008, but he won a silver medal with the men's 4x100 relay team last summer in London.
Gay's personal best of 9.69 seconds in the 100-meter dash is the fastest time ever recorded by an American.
This article is
What is the duplicate article?
Why is this article offensive?
Where is this article plagiarized from?
Why is this article poorly edited?