Denver Broncos: Examining Competition Across the Board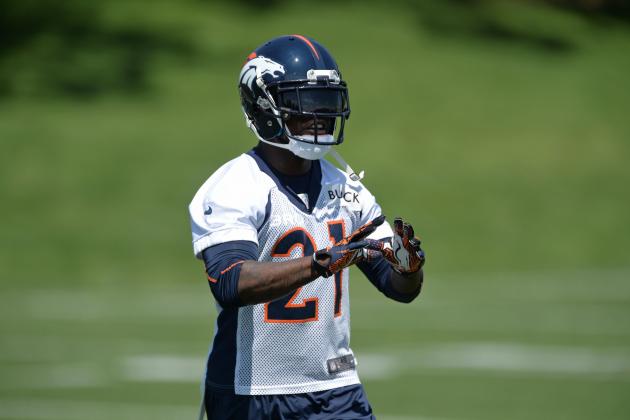 Ron Chenoy-USA TODAY Sports

The Denver Broncos have immense competition for starting roles. Many starting nods are up for grabs, leaving uncertainty for the fan base. However, competition is healthy and totes along elevated practice intensity and performance.
At running back, tight end, middle linebacker, strong safety and free safety, competition is heavy.
The projected starters for the other positions are as follows:
Quarterback—Peyton Manning
Wide Receiver—Demaryius Thomas (Split End), Eric Decker (Flanker), Wes Welker (Slot)
Left Tackle—Ryan Clady
Left Guard—Zane Beadles
Center—Dan Koppen
Right Guard—Louis Vasquez
Right Tackle—Orlando Franklin
Defensive Tackles—Sylvester Williams, Terrance Knighton
Defensive Ends—Robert Ayers, Derek Wolfe
Outside Linebackers—Von Miller, Robert Ayers
Preseason games will be all the more interesting with the grueling competition set to rock the Broncos' depth chart.
Begin Slideshow

»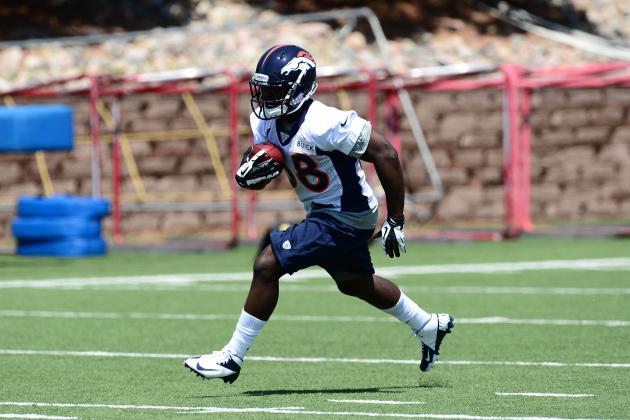 Ron Chenoy-USA TODAY Sports

The Broncos have a very interesting running back situation.
The options:
Montee Ball
The Broncos' 2013 second-round pick out of Wisconsin has immense upside, but will be brought up steadily due to a heavy, physically taxing career while at college. Ball was the feature back for several years at Wisconsin.
Ronnie Hillman
Hillman, a 2012 third-round pick, was a scatback last season. He was underweight and struggled with pass protection. However, he has bulked up, and this will help him run inside and pass block. A year of NFL experience will prove beneficial.
Knowshon Moreno
Moreno was a 2009 first-round pick who has been extremely disappointing. After a lackadaisical season start in 2012, he was benched until current free agent RB Willis McGahee was injured. Moreno was productive on the field, but has not capitalized on previous chances.
Projected Day-One Starter: Hillman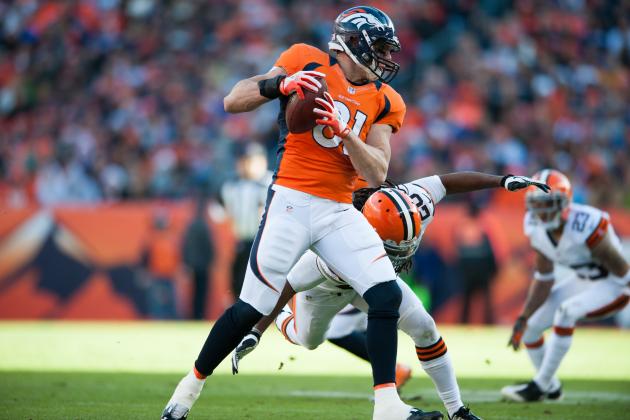 Dustin Bradford/Getty Images

The Broncos have several tight ends to choose from.
Joel Dreessen
Dreessen was one of Manning's favorite targets last season. He and Tamme took off pressure from WR's Demaryius Thomas and Eric Decker.
Jacob Tamme
He split time with Dreessen last year, and it worked. He has played with Manning since 2008 and has great chemistry with No. 18.
Julius Thomas/Virgil Green
Thomas and Green are the future of the Broncos' tight end position. Thomas supposedly looked phenomenal in OTA's, and Green is another potential breakout player.
Projected Day-One Starter: Dreessen/Tamme Split Time, with Thomas/Green Increasing Snaps As Season Goes On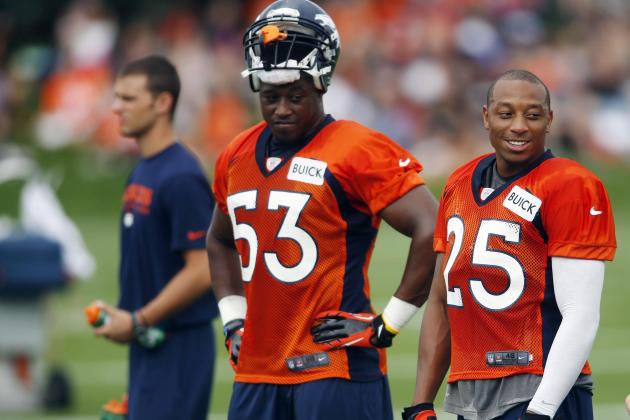 Chris Humphreys-USA TODAY Sports

After cutting MLB Joe Mays, two inexperienced middle linebackers are set to battle it out for the starting role.
Steven Johnson
Johnson's expectations were low in 2012. As an UDFA, Johnson made productive plays on special teams but hasn't broken out to be a clear middle linebacker starter yet. He has immense upside, yet lacks experience.
Nate Irving
Irving, additionally, has very little experience. However, he has been in the NFL for two years rather than Johnson's one, and that will be the difference unless the Broncos sign a veteran to seize up this position unit.
Projected Day-One Starter: Irving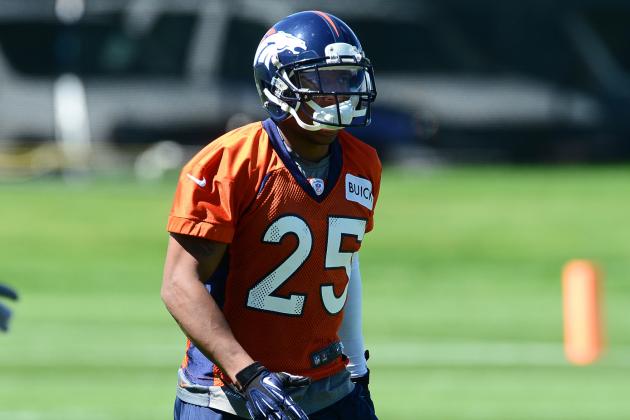 Ron Chenoy-USA TODAY Sports

The Broncos have a lot of talent at the cornerback position.
Champ Bailey
Bailey has been a staple of the Broncos' defense for years. Despite having a rough game versus the Baltimore Ravens, his 2012 campaign was very good.
Dominique Rodgers-Cromartie
DRC played well in Arizona, but things didn't quite work out in Philly. With a fresh start in Denver, he has a shot to rebuild his image.
Chris Harris Jr.
Harris was spectacular last season, but was under the radar. ProFootballGolden.com ranked him as the third-best young corner in the league, ahead of Patrick Peterson.
Kayvon Webster/Tony Carter/Omar Bolden
These players will fight for the dime role. Webster was a 2013 draft pick, and Carter made occasional appearances last year and performed better than expected. Bolden was hurt for much of the 2012 season.
Starters: Bailey, Harris, DRC, Carter (Dime)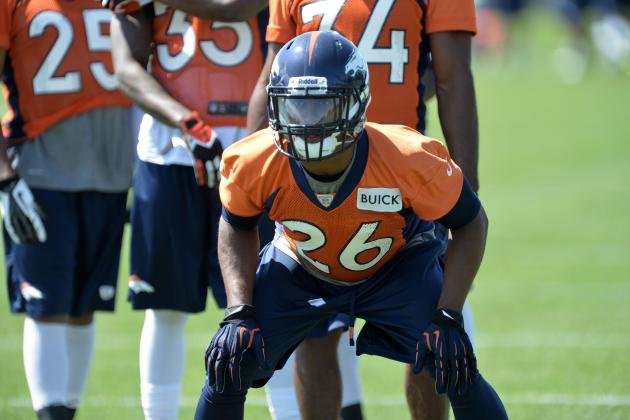 Ron Chenoy-USA TODAY Sports

After one blown play last season, the free safety position became one of scrutiny.
Rahim Moore
Moore improved immensely from his rookie campaign to his second-year campaign. He was a better tackler and coverage safety, however, his blown play in the playoffs put his season in tatters.
Quentin Jammer
The veteran begins his switch from cornerback to free safety, and despite having a lot of experience in the secondary, it will take some time for Jammer to adjust.
Projected Day-One Starter: Moore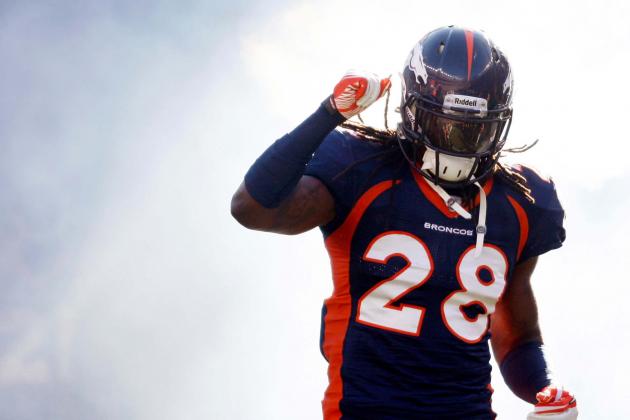 Chris Humphreys-USA TODAY Sports

The Broncos have another veteran/young player safety battle.
Quinton Carter
Carter had an injury-plagued 2012 campaign. His ability to recover from those injuries will dictate his success in 2013.
Mike Adams
Adams was a starter last year and was shaky at times. His veteran presence gives him an edge over Carter, however.
Projected Day-One Starter: Adams