8 Coaches Who May Not See Their 2014 Recruiting Class Graduate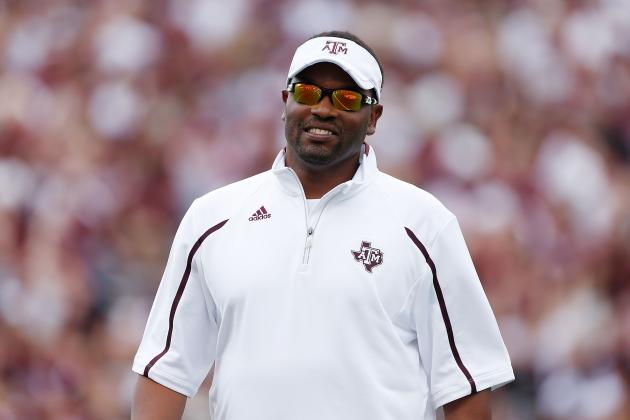 Scott Halleran/Getty Images

When a recruit is deciding which program he wants to sign with, stability is one of the main factors in his decision. No prospect wants to sign with a program whose staff could be gone before he graduates. Being comfortable is key for recruits, and they must be confident the coach they sign with will be the coach that sees them graduate.
However, that is not always the case. College coaches are frequently on the move, as contracts in college athletics are loosely bound. Whether a head coach moves on to another job, gets fired or retires, movement is prevalent in college football. Combining the outlook of this upcoming 2013 season with the 2014 recruiting cycle, several coaches could be on track to leave school before their 2014 class graduates.
The NFL could come calling two coaches with elite recruiting classes, while another coach is on the hot seat. Retirement could force several other coaches to tell their 2014 classes goodbye earlier than expected.
Begin Slideshow

»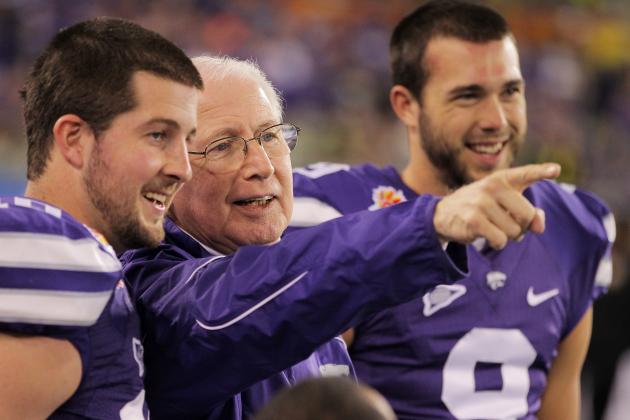 Doug Pensinger/Getty Images

Bill Snyder, who is 73 years old, started coaching at Kansas State in 1989. Sure, Snyder retired in 2005 and came back after three years, but, unfortunately, he can't coach forever.
Snyder is the face of Kansas State football, and the program would not be where it is today without his services. However, he is not getting any younger, so there will be some retirement talk in Manhattan within the next few seasons.
It would be a mild surprise to see Snyder on the sidelines in 2017, which is the year his 2014 class will graduate.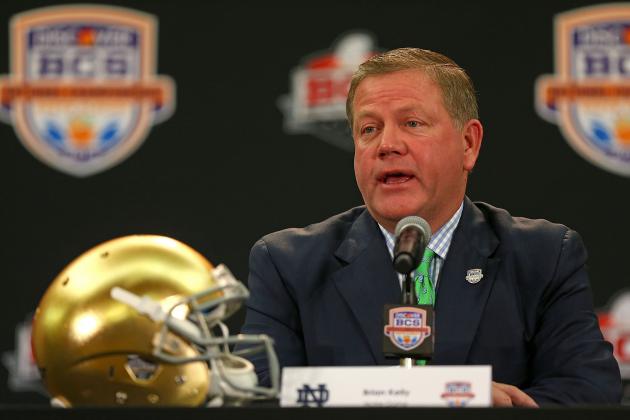 Mike Ehrmann/Getty Images

The Irish have re-established themselves as one of the nation's elite programs under Brian Kelly. A great offensive mind, Kelly is an intense competitor who likely would relish the opportunity to coach on the big stage: the NFL.
Kelly is intrigued by coaching in the pros, as he drew interest from the Philadelphia Eagles this past offseason, according to Gregg Rosenthal of NFL.com. He loves his job at Notre Dame, without question, but do not be surprised if Kelly interviews for several NFL head coaching jobs while his 2014 class is in South Bend.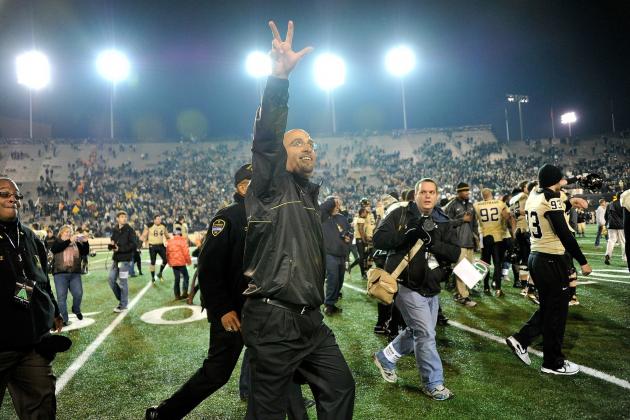 Frederick Breedon/Getty Images

James Franklin has signed two consecutive Top-25-caliber recruiting classes at Vanderbilt. There was a time when the feeling was pigs would fly before that was said about the Commodores.
Franklin is a living legend in Nashville, as he has elevated Vandy's confidence and talent level. He has done such an admirable job that athletic directors at other schools have likely taken notice.
Franklin will sign another solid class in 2014, but he may not see them graduate because he could be at a bigger school in a season or two.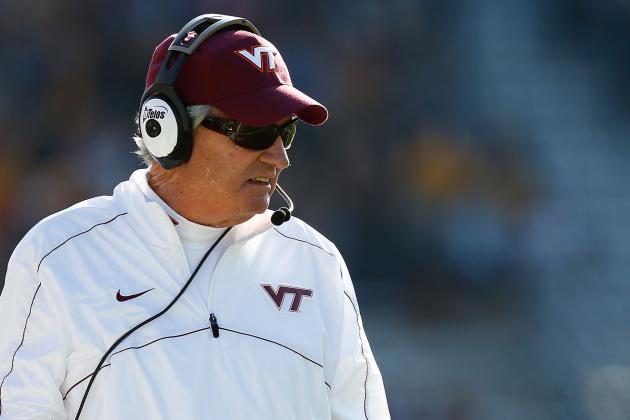 Jared Wickerham/Getty Images

Frank Beamer has had the Hokies playing "Beamer Ball" since 1987, as he is 66 years old and has won 216 games.
Beamer is one of the most stable coaches in the country, and has built his program on toughness, work ethic and clever special teams play.
However, Virginia Tech was a disappointing 7-6 in 2012, which has put some pressure on Beamer coming into the 2013 season. If the Hokies have a repeat of last year's frustrating season, Beamer will likely begin to hear retirement whispers in Blacksburg.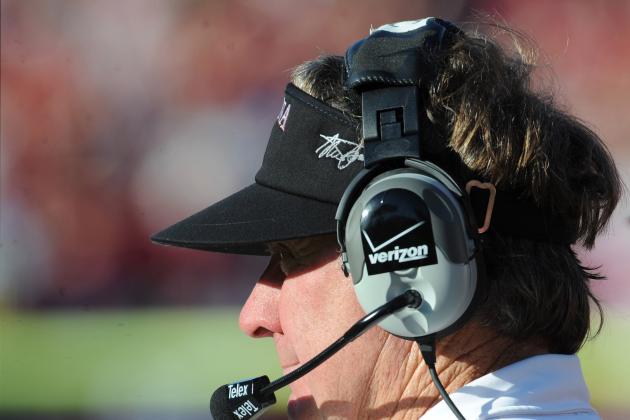 Al Messerschmidt/Getty Images

Steve Spurrier loves to coach football, well, offense at least. He's helped revolutionize the modern passing game, as his Fun 'N' Gun offense at Florida was impressive to watch. Spurrier is a smart guy, and he's also entertaining to listen to during interviews.
However, the ol' ball coach is 68 years old and golf is a close second passion of his. The Gamecocks will sign another solid recruiting class in 2014, but the golf clubs are a serious threat to them graduating with Spurrier as their head coach.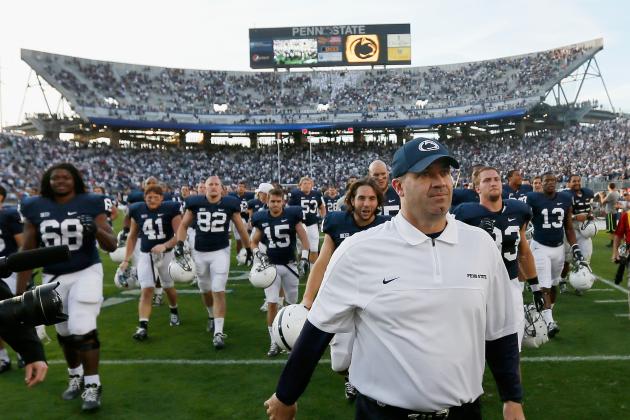 Rob Carr/Getty Images

Bill O'Brien made a name for himself as the offensive coordinator of the New England Patriots. He is an NFL-style coach who surprised a lot of people by going 8-4 during a tough time at Penn State in 2012.
O'Brien's performance as a first-year head coach in Happy Valley caught the eye of the NFL, as the Philadelphia Eagles and Cleveland Browns spoke with him about their head coaching positions, per Mary Kay Cabot of The Cleveland Plain Dealer.
Penn State amended O'Brien's original contract, and if he takes an NFL head coaching job now his buyout is significantly less than if he left for any other reason, says Ian Rapoport of NFL.com.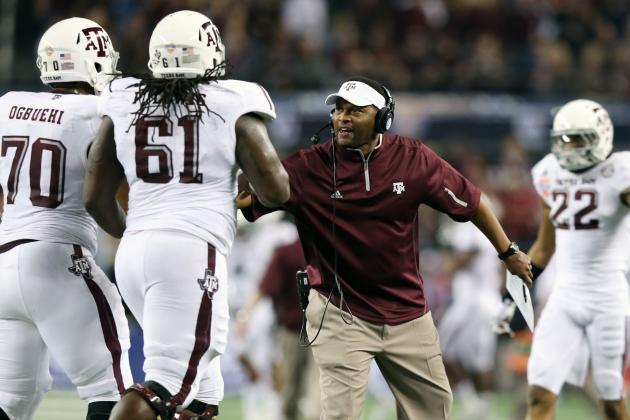 USA TODAY Sports

Kevin Sumlin is one of the brightest offensive minds and head coaches in the country. He is a player's coach who is beloved in College Station.
Sumlin likely will sign a Top-10 recruiting class, but the prospects who sign with the Aggies may not see him stay around much longer. The Aggies' head coach attracted the attention of three NFL teams this offseason, says Bruce Feldman of CBSSports.
Sumlin did not rule out coaching in the NFL in a June interview with Tom Fornelli of CBSSports.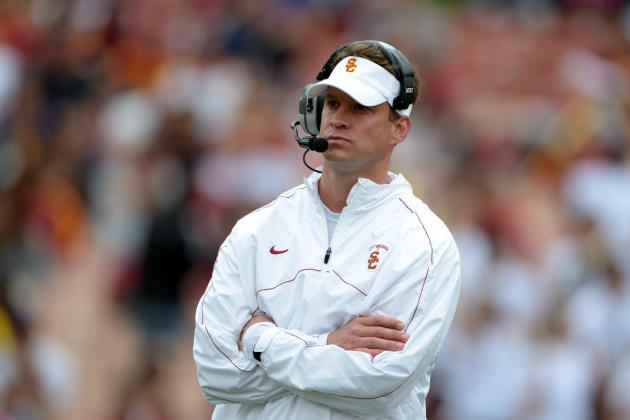 USA TODAY Sports

USC had national title expectations in 2012, only to finish the season with a 7-6 record. They endured one of the most disappointing seasons in recent team sports history, as most of the blame fell on head coach Lane Kiffin's shoulders.
Kiffin was not hired by USC athletic director Pat Haden, and although Haden has given him a vote of confidence according to Arash Markazi of ESPNLosAngeles.com, Kiffin still is perceived to be on the hot seat.
It is hard to imagine Kiffin on the sidelines in Los Angeles in 2014 if he finishes with another 7-6 record. He is clearly coaching for his job in 2013.
Edwin Weathersby is the College Football Recruiting Analyst for Bleacher Report. He has worked in scouting/player personnel departments for three professional football teams, including the New York Giants and Cleveland Browns.